NBA Summer League: The Sixers May Have Found the Perfect Ben Simmons Replacements Already on the Roster
The Philadelphia 76ers looked like they had the talent for not only an NBA Finals run this season but for many seasons to come. The Sixers thought they had a young, dynamic duo of Joel Embiid and Ben Simmons that would make them one of the teams to beat in the East. However, the team – and specifically Ben Simmons – got exposed in the second round of the 2021 NBA playoffs. The upstart Atlanta Hawks beat them in Game 7, sending Simmons' and the entire franchises' future into doubt.
The Simmons/Sixers relationship is now a mess, and the franchise must figure out how to move on while keeping their title aspirations alive. The good news for Philly fans is that if Summer League is any indication, there are two players already on the roster that may be able to give the team an upgrade over their soon-to-be-former star, Simmons.
The Philadelphia 76ers relationship with Ben Simmons has fallen apart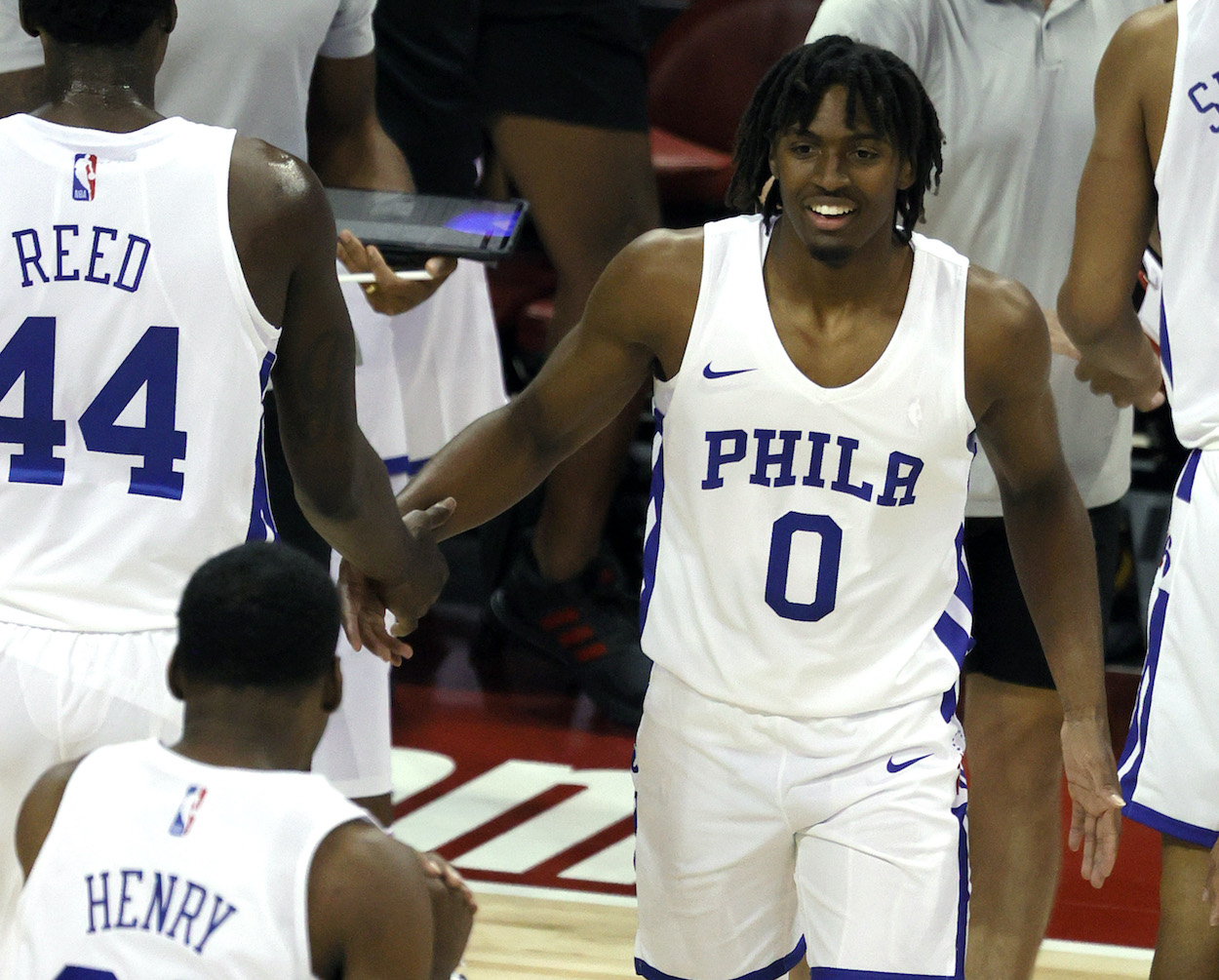 After one 19-14 season at LSU where Ben Simmons failed to lead the Bayou Bengals to March Madness, the Sixers took the Australian-born star No. 1 overall in the 2016 NBA Draft. Simmons didn't suit up his entire first year as an NBA player due to a foot injury. Once he came back for the 2018-19 season, though, he rewarded the Sixers right away. He averaged 15.8 points, 8.2 assists, and 8.1 rebounds per game on his way to Rookie of the Year.
While this gave Sixers fans reason for optimism, Simmons failed to develop his game over the next three seasons. In 2021, he put up the lowest statistical averages of his career, putting up just 14.3 points, 6.9 assists, and 7.2 rebounds.
The true catastrophe came in the playoffs, though, when Simmons' horrific free throw shooting and complete refusal to shoot in big spots doomed the Sixers' season. He went 15 for 45 from the line against Atlanta and passed up a wide-open dunk down two in the waning minutes of Game 7, instead, choosing to dish off to Matisse Thybulle, who couldn't finish the play. 
After the game, both his coach, Doc Rivers, and Embiid struggled to not flat out say he cost the team the game. 
In the 2020 offseason, speculation that the Sixers will trade Simmons is rampant, and both sides seem eager to move on. If the Sixers do, they may already have some ready-made replacements on the roster to make the transition easier. 
Tyrese Maxey is dominating Las Vegas Summer League 
Simmons' offensive regression killed the Sixers in the playoffs and made it evident that they need to find some guards and wings in the offseason that can shoot from deep and score the basketball. These are the players that will compliment Embiid well and, on defense, with the former Kansas big man and Thybulle, the team can stand to take a step back if these players aren't lock-down defenders like Simmons.
In Summer League, Tyrese Maxey is showing he could be precisely what Philly needs and maybe even much more.  
Maxey is a 6-foot-2 Texan who played one season at Kentucky before the Sixer picked him No. 21 overall in 2021. He had a promising rookie campaign, averaging 8.0 points and 2.0 assists in 15.3 minutes per game. His per 36 and per 100 possession numbers were even better, though, averaging 18.6 and 25.2 points in these categories, respectively.
Maxey put up games of 22, 30, and 39 points during the regular season and scored a vital 16 points in Game 6 vs. Atlanta.
Leading into his second season, Maxey is leading the Sixers' Summer League team in Las Vegas, both literally and figuratively. He is by far the most mature player on the floor when he plays in Vegas and has put up crazy numbers.
Maxey scored 21 points in his first game to go with five rebounds and four assists against the Dallas Mavericks. In game two, he took it up a notch against the Hawks with 31/6/5.
The most exciting thing for Sixers fans is that Maxey is creating his own shots, which is something Philly needs. If he can add a little more playmaking and up his assist numbers, he could be a perfect Simons replacement.
Isaiah Joe is looking good in Sixers Summer League too
The other Sixer lighting it up at Summer League is Isaiah Joe. He is a guard from Arkansas who the Sixers picked 28 spots after Maxey in 2021. He averaged just 9.3 minutes and 3.3 points per game in 2021, but he is a sharpshooter with good long-range potential. 
In Summer League, Joe is starting to show some of that ability from downtown. He was 4-8 from deep and scored 15 points in game one. In game two, he dropped 21 points, shooting 38% from deep and going a perfect 4-4 from the line.
If Maxey and Joe can keep this up and translate it to the real NBA season, it could be great for the Sixers. It would mean they don't have to get a star like Damian Lillard to make a Simmons trade successful. They could fill Simmons' role with a rotation of Maxey, Joe, Thybulle, and Seth Curry. 
On the other hand, the emergence of Maxey and Joe might just make them better trade bait. General manager Daryl Morey might have more ammunition now to go after Lillard or Bradley Beal, which most Sixers fans wouldn't mind either. 
All stats courtesy of Basketball Reference