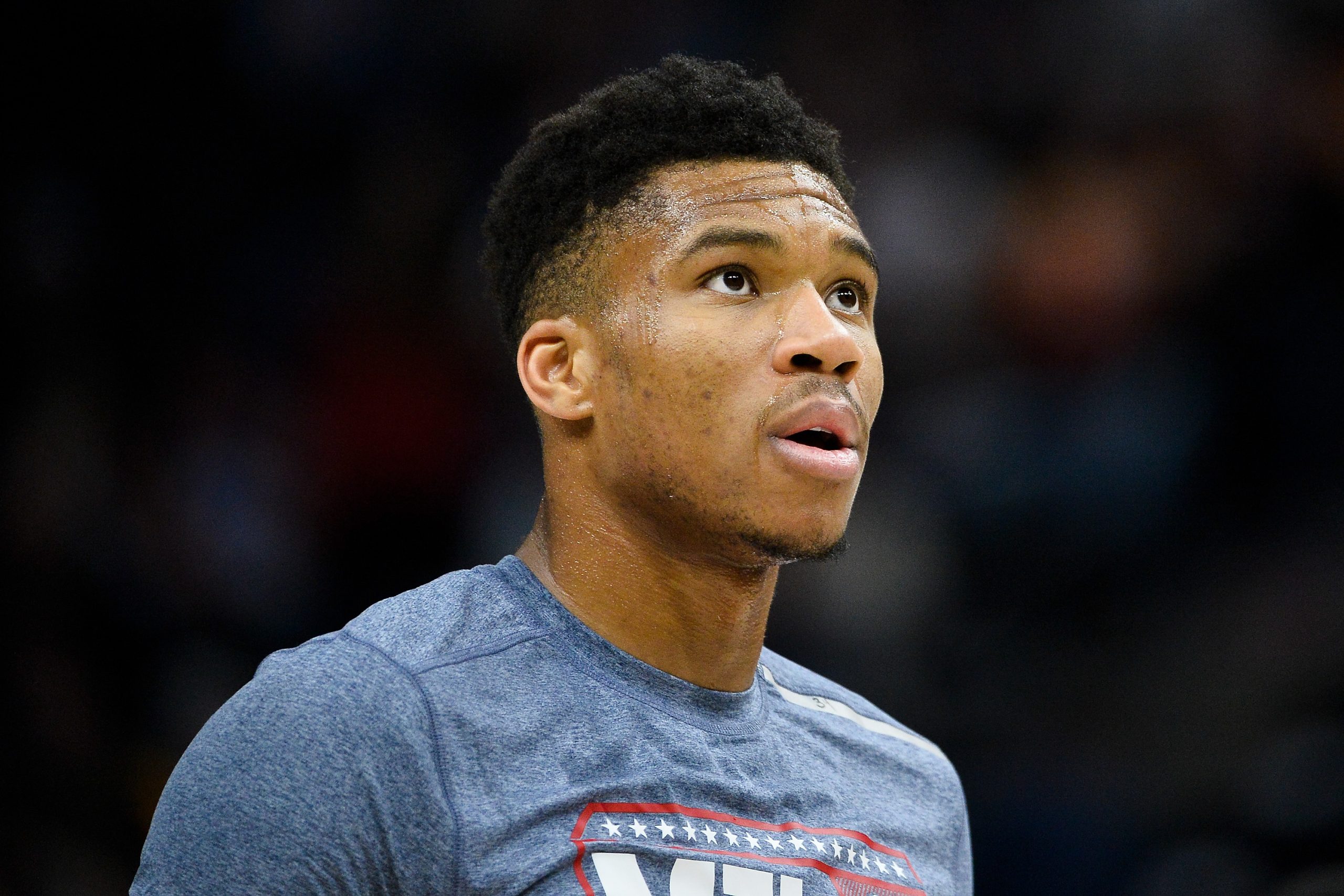 How Good Is Alex Antetokounmpo? Giannis Said He Could Be the Best of the Brothers
Giannis Antetokounmpo said his brother Alex could be better than him.
Get ready for Greek Freak II. Alex Antetokounmpo, the younger brother of Milwaukee Bucks star and two-time MVP Giannis Antetokounmpo, is making waves. The 19-year-old recently had a workout with the Indiana Pacers and opened some eyes with his athletic ability.
Could the younger Antetokounmpo hear his name called at the 2021 NBA Draft? If teams listen to Giannis, he will. The Greek Freak said his brother could definitely be better than him.
Who is Alex Antetokounmpo?
Should Alex Antetokounmpo's name be called at the draft, he would become the fourth member of the family to play in the NBA. The Bucks selected Giannis with the 15th pick in 2013, beginning a trend of brothers in the league. Thanasis, a teammate of Giannis' in Milwaukee, was drafted in 2014. Kostas, who earned a championship ring with the Los Angeles Lakers in 2020, was selected in 2018.
Alex is the youngest of the group and is ready to make his move. He's a 6-foot-8 forward with a wingspan of 7-2. He's raw, as was the case with Giannis, but is loaded with athletic ability.
According to NBA.com, he was an all-state selection at Dominican High School in Whitefish Bay, Wisconsin, as a junior and senior. He averaged 20 points, 7.3 rebounds, 2.4 assists, and 1.6 blocks per game in 2019-20. He spurned scholarship offers from DePaul, Ohio, and Green Bay to pursue a career overseas.
"I felt as if it was the best decision for me as far as developing," he said earlier this week.
Alex Antetokounpo 'can be better than me'
Alex brings a high level of intensity to the court. He knows he has a lot to work on, but so did all of his brothers. When asked to describe his game, he said "energetic" and then also considered himself a leader while addressing his lack of experience.
 "I would say I'm a leader, pretty vocal on and off the court," he said. "I just try to contribute to the game in any way I can. Obviously, I'm kind of a raw talent, but just my versatility. I'm able to do a lot of things on the basketball court. Definitely my measurements, I have long arms, the way I can affect the game with my length."
Sound familiar? Giannis was described the same way before he made his way to the NBA. In fact, Giannis, back in 2019, said he believed Alex could eventually become the better player.
"I definitely think Alex can be better than me," Giannis told Bleacher Report when speaking of his then-17-year-old brother. "He stays motivated. He wants this. That's what makes him special. He's not satisfied."
Giannis is Alex's biggest fan, always pushing and encouraging him.
"Just trust me," Giannis tells his brother. "I've been in your shoes. You got this."
Alex has been motivated by his brothers' success
Three Antetokounmpo brothers have played in the NBA. There are three championship rings – one for each. Alex got some added incentive to join the club when Giannis and Thanasis both got their rings this year when the Bucks knocked off the Phoenix Suns.
"It's unbelievable," he said to NBA.com. "Just to be able to witness it and kind of be a part of it through them and just seeing how happy they are and how deserving they are.
"I was talking to my mother…16,000 people in the arena, 60,000 people right outside it. I was asking her, 'When is the next time you're going to see that many people happy at the same time?' She was like, 'I might never see it.' It was a crazy, crazy, crazy experience. I hope I get to witness another experience like that in my life."
With only two rounds in the draft, Alex is a question mark when it comes to getting selected. He'll almost be surely invited as a free agent if he isn't taken.
With raw talent and some serious genetics, the ceiling is high. Some team may take a chance on him in Thursday's draft. Why wouldn't you want an Antetokounmpo on your team?