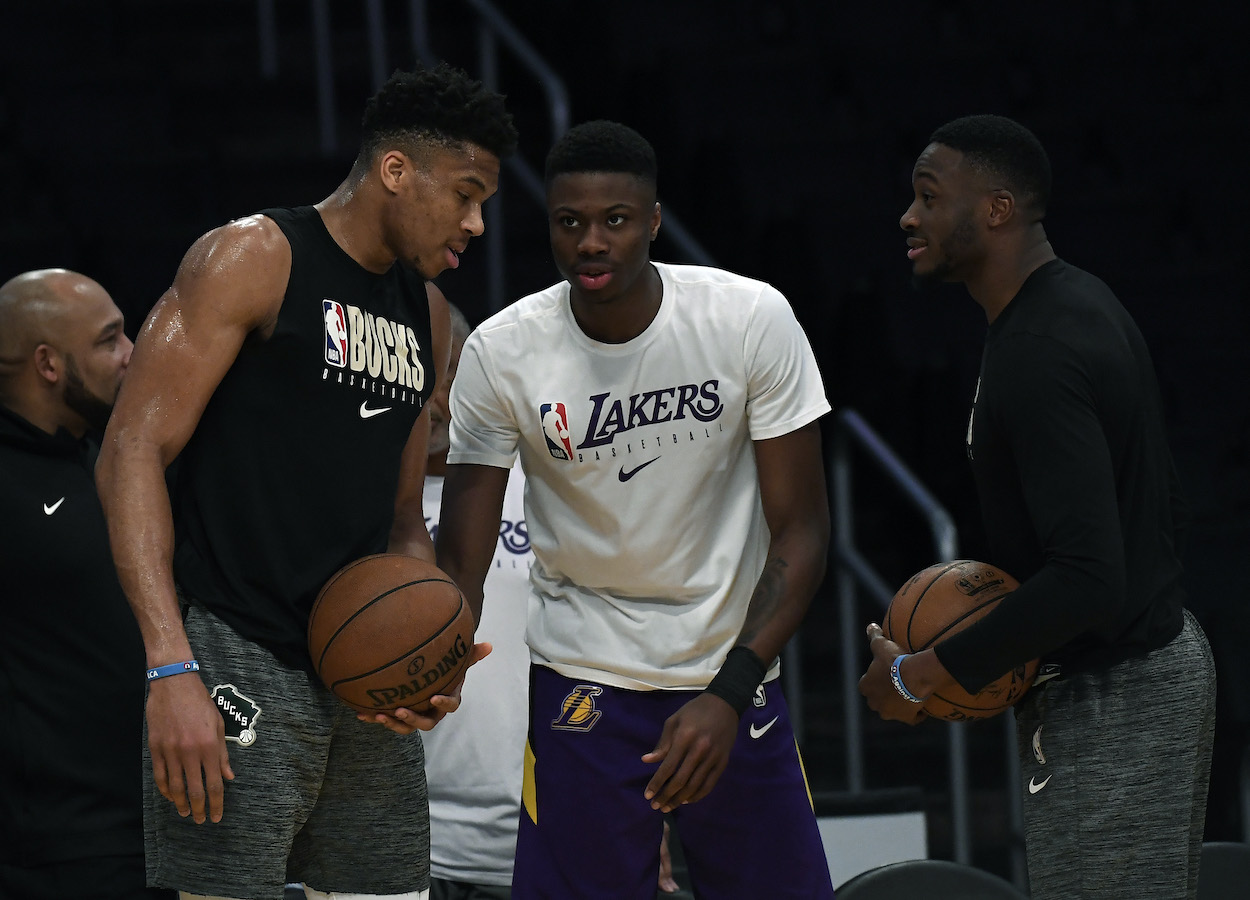 Giannis Antetokounmpo's 'Favorite Moment' of His NBA Career Didn't Even Involve Him Touching a Basketball
Giannis Antetokounmpo recently had his "favorite moment" of his NBA career involving his two brothers, Kostas and Thanasis.
Giannis Antetokounmpo already has a slew of memorable moments from his young NBA career that will last a lifetime. Hearing his name called in the draft and making his NBA debut in 2013, making his first All-Star Game in 2016, and winning back-to-back MVP awards in 2019 and 2020 all top the list, but none of them can compare to Antetokounmpo's favorite moment of his career.
Last week, Antetokounmpo shared an NBA floor with two of his four brothers for the first time. When Giannis, Thanasis, and Kostas all huddled together after the game to soak it in, Antetokounmpo knew no award or trophy would ever top that historic and touching moment.
The Antetokounmpo brothers grew up with dreams of making the NBA
Giannis Antetokounmpo grew up in Athens, Greece with his Nigerian immigrant parents and his four brothers — Francis, Thanasis, Kostas, and Alex. To help his family earn a living in Greece, Giannis teamed up with his brothers to sell watches, CDs, sunglasses, and other accessories on the streets.
But when they weren't hustling for some extra cash, the Antetokounmpo brothers were dreaming of making it to the NBA someday. Giannis, Thanasis, and Kostas all started playing basketball when they were teenagers, and all three immediately proved to be special talents.
After the three brothers started their pro careers overseas, Giannis became the first sibling in the family to make it to the NBA. He was drafted by the Milwaukee Bucks in 2013 and has since become one of the biggest superstars in the league. Thanasis, Giannis' older brother, followed him to the NBA in 2014 when he was drafted by the New York Knicks. After returning to Greece to play professionally for two years, Thanasis was signed by the Bucks to become Giannis' teammate.
In 2018, Kostas became the third brother to make it to the league when he was drafted by the Philadelphia 76ers. He made his NBA debut with the Dallas Mavericks that season and was later signed by the LA Lakers.
Giannis Antetokounmpo's surreal moment with Thanasis and Kostas
On March 31, the Antetokounmpo brothers made NBA history when all three took the floor at the same time during a game between the Bucks and Lakers. By doing so, they became just the second trio of brothers to all play on the same NBA court simultaneously. The Holiday brothers (Jrue, Justin, and Aaron) accomplished the feat in 2019.
During the brief stint in which they were all on the court together, Thanasis even bullied his little brother, Kostas, by making a step-back jumper in his face. Luckily for Kostas, Giannis at least took it easy on him.
"I don't know. Thanasis is just ruthless, man," Giannis said after the game. "Went in, had the step-back on his little brother. Come on, man. How can you do that to your little brother? I had the opportunity to do the same, but I didn't."
After the game, the three brothers stood together at mid-court as they tried to grasp the gravity of the moment. It was a special visual for the Antetokounmpo family and the NBA as a whole.
Giannis calls the reunion his "favorite moment" in the NBA
Forget his two MVP awards, his five All-Star appearances, his Defensive Player of the Year trophy, and his All-Star Game MVP nod. For Giannis Antetokounmpo, his favorite moment in the NBA will forever be what transpired last Wednesday night.
"This moment today is probably my favorite moment I've had so far in the NBA," Giannis said after the game. "You can never have a feeling like this, no matter what you do. You win a game with a buzzer beater, you score 50, you score 40 — like, it does not frickin' matter.
"This moment, just seeing the guys that I grew up with, and we slept in the same bed, and we were looking at the ceiling and imagining if we were ever going to play in the NBA, if we were ever going to make it and just being on the same court while our mom is having her phone and videotaping the whole thing — I think it's priceless, and nobody can take this away from us. I think this is the best moment we've ever had in the NBA."