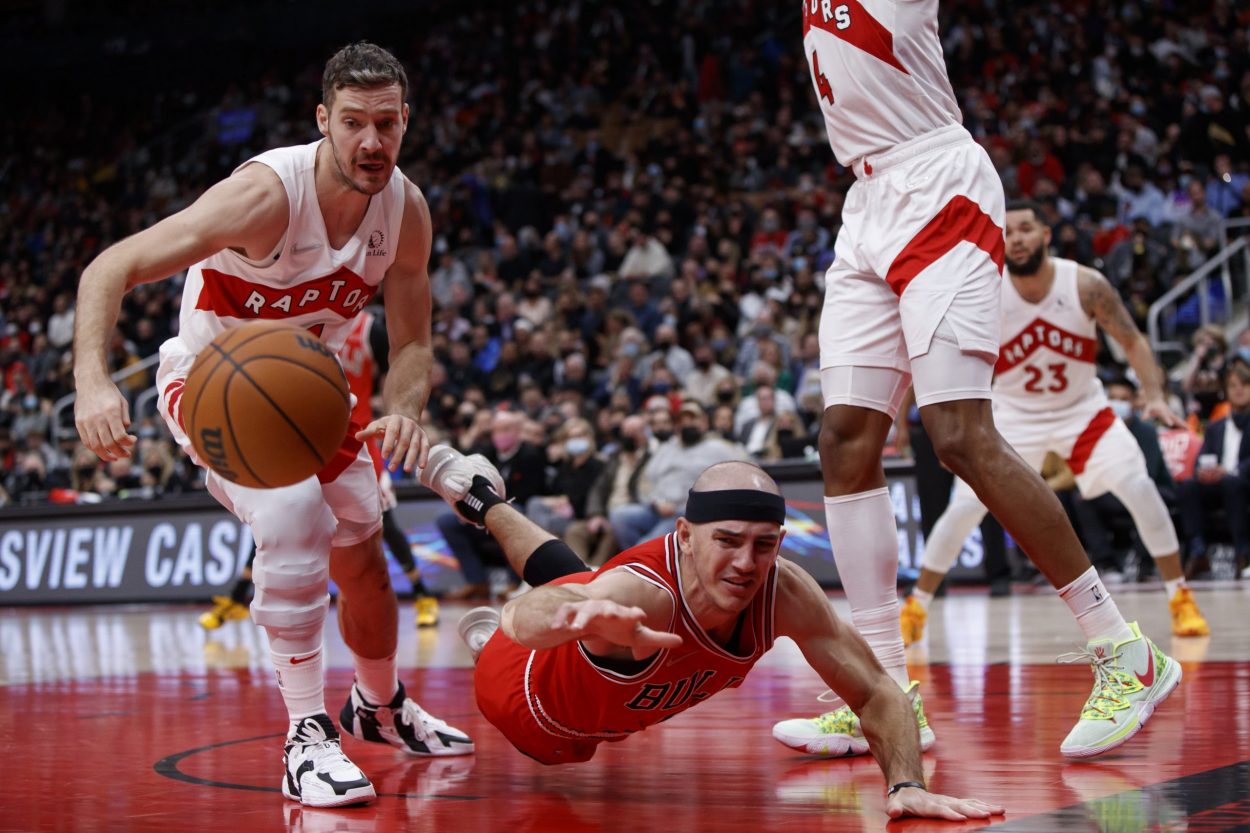 Alex Caruso Is Already Remedying the Chicago Bulls' Biggest Weakness
Alex Caruso's defensive playmaking abilities and communicative skills are having an instant impact on a Chicago Bulls team that ranks second in defensive rating early in the 2021-22 NBA season. Can Caruso and Co. maintain their defensive excellence in November, when the schedule gets much tougher?
Alex Caruso probably ranked third in the rankings of the Chicago Bulls' most important offseason signings. However, through Chicago's first four games, he's been every bit as impactful as Lonzo Ball and DeMar DeRozan.
The Bulls desperately needed perimeter defenders entering the 2021-22 season. Caruso is giving them a robust communicative presence and someone who disrupts offenses with his ability to get deflections and play the passing lanes. He is galvanizing a Chicago team that needs to make defensive gains if it hopes to make a playoff run this season.
Alex Caruso signed a four-year, $37 million contract with the Bulls this past summer
The Los Angeles Lakers faced a tough choice this past summer. With cap constraints looming over the entire offseason, the Lakers essentially had to decide between re-signing Alex Caruso and Talen Horton-Tucker. They chose THT, allowing the Bulls to make their move.
Chicago signed Caruso to a four-year, $37 million contract in free agency. The move reflected the aggressive nature of Bulls executive Arturas Karnisovas' front office.
Karnisovas previously executed a splashy move to land Nikola Vucevic before the 2021 trade deadline. That move did not pay immediate dividends for the Bulls, as they missed the playoffs. However, Karnisovas grew more zealous. He orchestrated separate sign-and-trades for Ball and DeRozan, giving the Bulls two more key players to add to their core of Vucevic and Zach LaVine.
The Caruso signing never had the same sense of grandeur as the acquisitions of Ball and DeRozan. Still, Caruso is showing why he's every bit as impactful as the more high-profile names on Chicago's roster.
Caruso is one of the better defenders in the NBA early in the 2021-22 season
Alex Caruso is already having a transformative impact on the Bulls' team defense.
Caruso is tied for the NBA lead in deflections per game (4.8) and is tied for second in steals per game (3.3), according to NBA.com.
Chicago ranked 24th in the NBA in forcing turnovers last season. It is currently forcing 19.5 turnovers per game through the first four contests, which is good for third in the league.
However, Caruso gives the Bulls defense far more than just a playmaker. The 27-year-old effectively communicates with teammates, anticipating pin-down screens and calling out switches when necessary. The Bulls' rotations have been crisper. They are doing a better job of recovering for contests and fighting over screens to get back to individual matchups.
Caruso boasts sound instincts as a help defender as well. He sinks into the paint to help Vucevic and other frontcourt mates when they gravitate to the weak side, forcing slashers to make tough decisions and sometimes forcing turnovers.
Chicago's team defense is looking capable early in the year. It ranks second in defensive rating (97.9) in the early going. Whether the Bulls can sustain this high level on that end will be determined in the coming weeks.
The Bulls face a daunting schedule in the next couple of weeks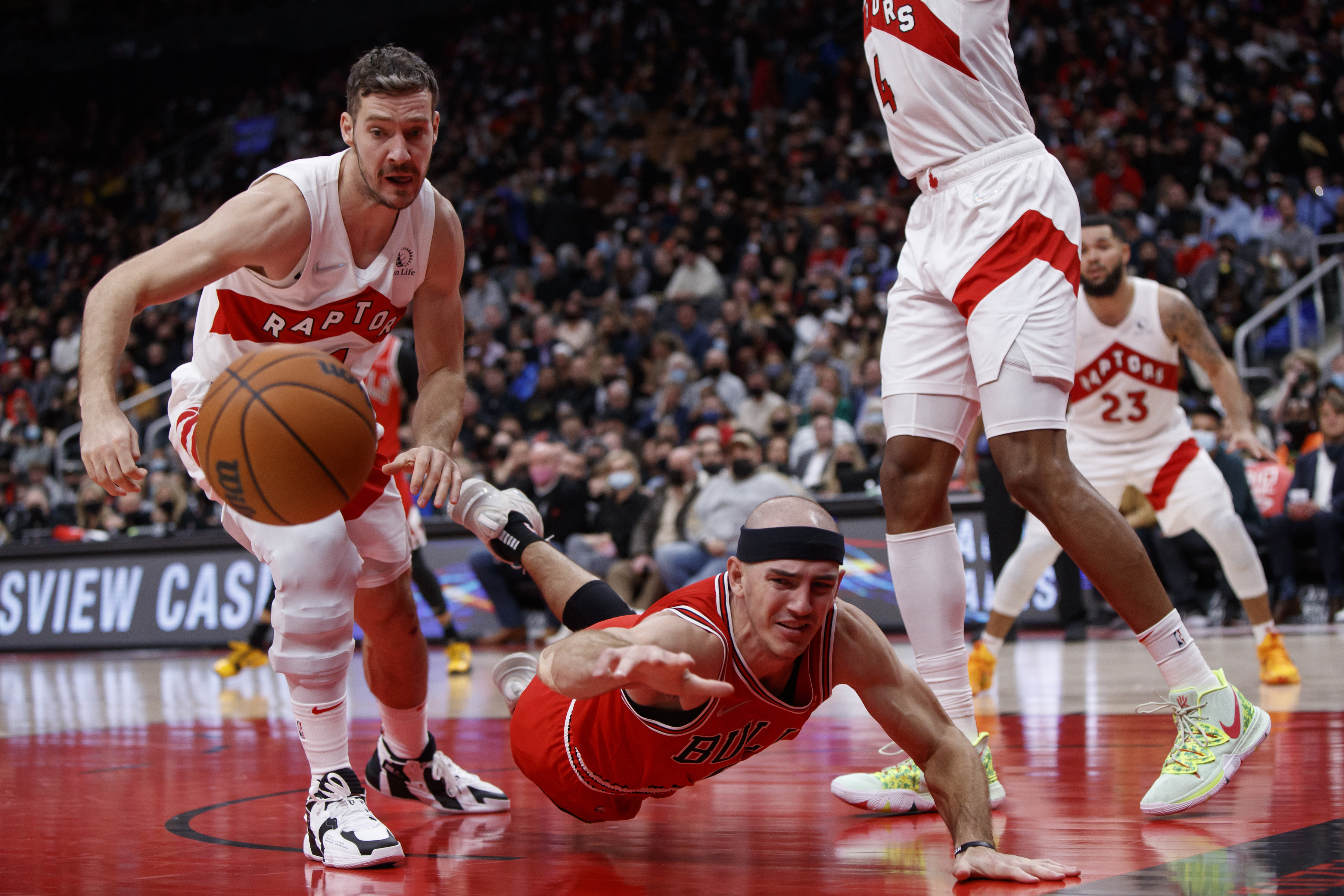 Bulls fans will see what this team is really about as the calendar flips to November.
Chicago had a reasonably easy slate to start the season, opening the campaign with a pair of matchups against the Detroit Pistons and also playing the New Orleans Pelicans and Toronto Raptors. Things get significantly more challenging in the next couple of weeks.
The Bulls kick off a difficult stretch Thursday against the New York Knicks. Chicago concludes October against the Utah Jazz before opening November with a date with the Boston Celtics. It then faces the Philadelphia 76ers (twice), Brooklyn Nets, Dallas Mavericks, Golden State Warriors, both LA squads, Portland Trail Blazers, Denver Nuggets, and Knicks again between Nov. 3 and Nov. 21. That's a tough slate of games, especially considering LaVine is playing through an injured thumb.
Defense has been an early calling card for Caruso and the Bulls. But the next 13 games come against teams with more offensive firepower, making for a strong early test of Chicago's playoff merits.
Stats courtesy of Basketball Reference unless otherwise noted.