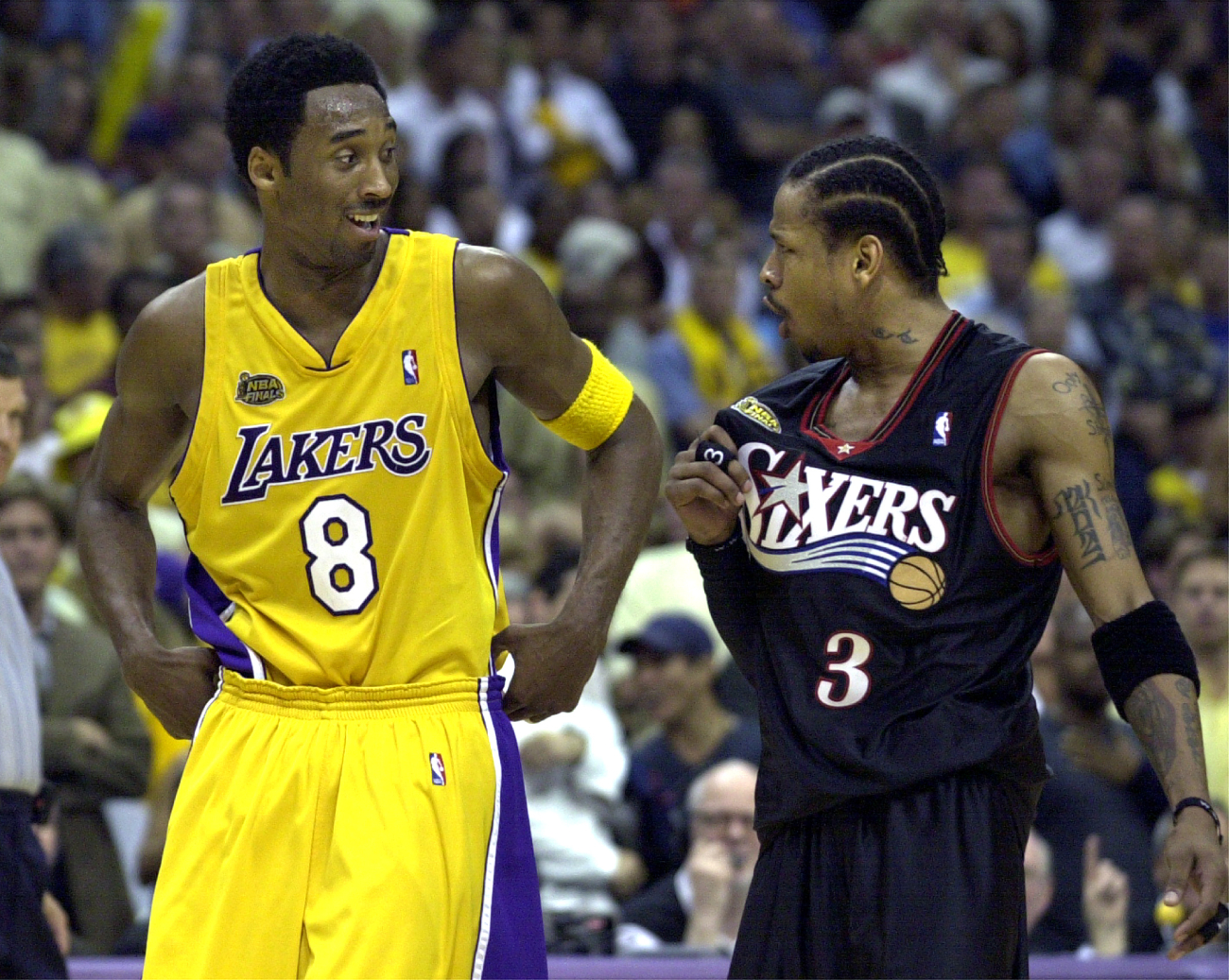 Allen Iverson Just Wrote an Emotional Letter To Kobe Bryant
Many people have been recently taking time to remember the great Kobe Bryant. In fact, Allen Iverson just wrote him an emotional letter.
Many people have been remembering and honoring the great Kobe Bryant recently. Despite his death coming seven months ago, it feels like it just happened. It still feels fresh to basketball fans, players, coaches, and anyone else within the basketball community. One former player to recently pay tribute to the LA Lakers legend has been Allen Iverson. He actually wrote an emotional letter to Bryant.
The basketball community has been honoring Kobe Bryant
Fans and those who were close to Bryant, have had plenty of reasons to honor him recently. Aug. 23 would have been his 42nd birthday. Additionally, the next day was Aug. 24 (8-24), which symbolizes the two numbers he wore throughout his NBA career, No. 8 and No. 24.
The NBA honored Bryant and his daughter Gianna recently, who also died in the helicopter crash with him in January, along with seven others. The Lakers also wore jerseys in honor of Bryant, and have tweeted several tweets about him. Nike has additionally posted several posts on social media in honor of Bryant for what they are calling Mamba Week.
Many also wished Bryant a happy birthday, including his former teammate on the Lakers, Pau Gasol.
"With tears in my eyes today," Gasol posted on Instagram. "I just wish so badly that you were here celebrating your bday with your girls and family. I miss you and Gigi so much brother. I will always be thankful for how much you have impacted my life in so many different ways."
He and Allen Iverson were legends in the same era
Bryant and Allen Iverson were both in the 1996 NBA draft class. Iverson went No. 1 overall, and Bryant went No. 13.
They both ultimately became NBA legends too. Iverson is a Hall of Famer as he was the 1996-97 Rookie of the Year, the 2000-01 MVP, and an 11-time All-Star. Iverson also led the NBA in steals per game three times and in points per game four times. He ultimately averaged 26.7 points per game and 6.2 assists in his career. Iverson's points-per-game average is seventh all-time in NBA history, and his steals-per-game average (2.2) is ninth all-time.
Bryant is also a Hall of Famer as he was an 18-time All-Star, the 2007-08 MVP, a five-time NBA champion, and a two-time NBA Finals MVP. He also led the NBA in points per game twice and earned All-Defensive team honors 12 times. Bryant averaged 25 points per game, 5.2 rebounds, and 4.7 assists for his career. Additionally, his 33,643 career points are fourth all-time.
Iverson and Bryant also met in the NBA Finals once in 2001, as the Lakers defeated the Philadelphia 76ers in five games 4-1. Bryant averaged 24.6 points per game, 7.8 rebounds, and 5.8 assists in the series while Iverson averaged 35.6 points per game and 5.6 rebounds.
Allen Iverson wrote an emotional letter to Kobe Bryant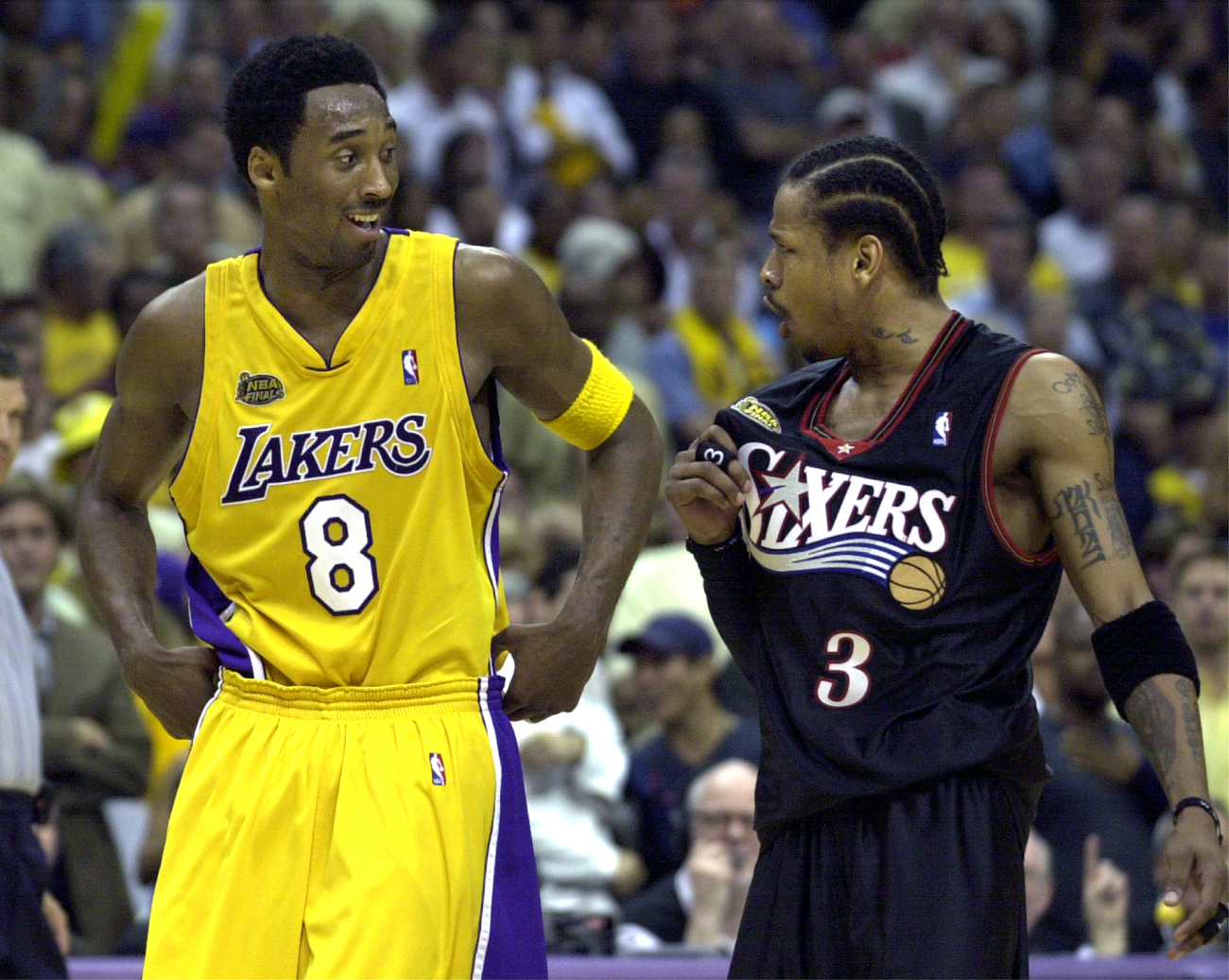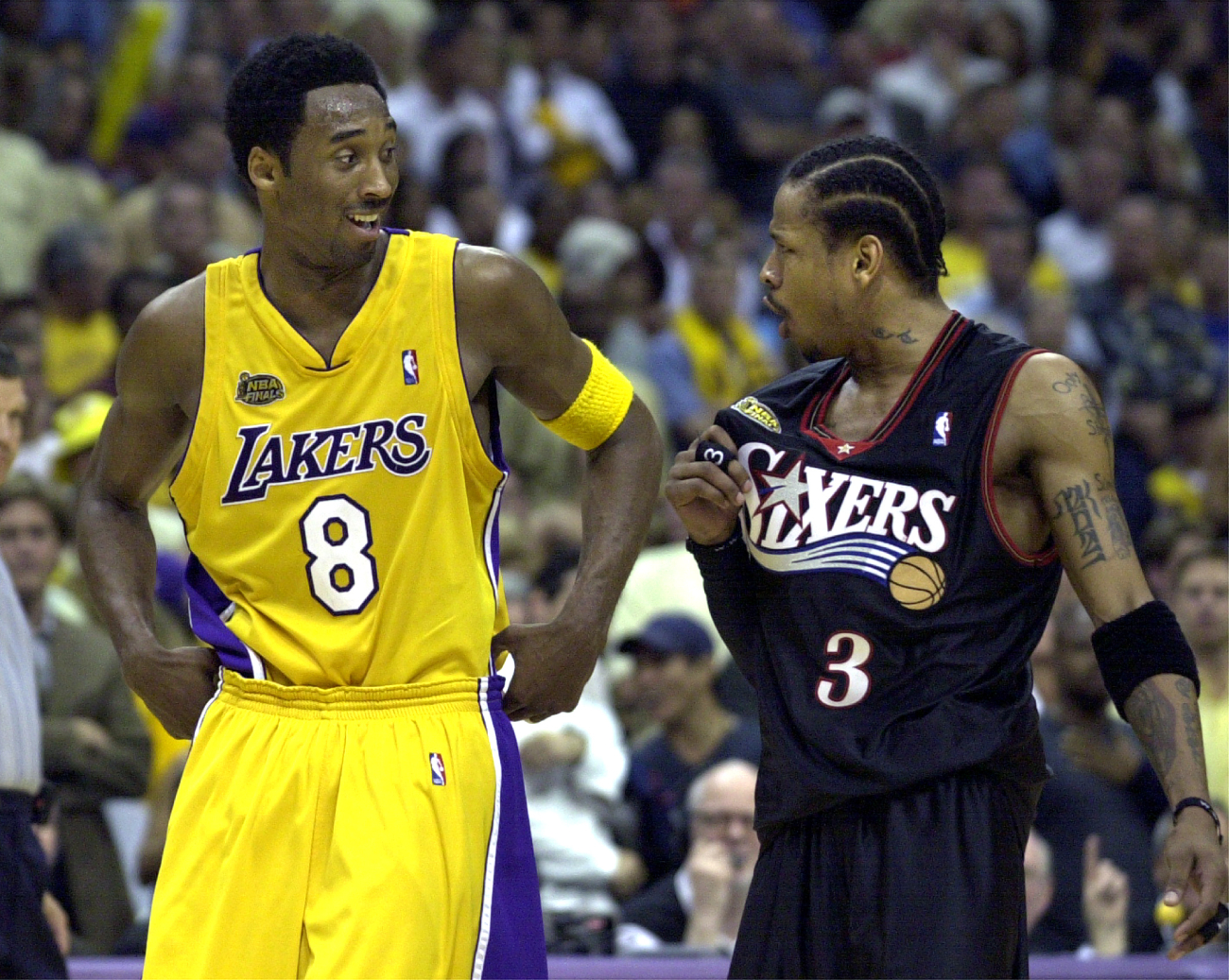 In a piece that came out on Aug. 24, Iverson wrote a letter to Bryant in The Players' Tribune.
"The first time I saw you going up against Black Jesus (Michael Jordan), when you were 18 years old, I knew you were a killer," Iverson wrote. "That's when I realized you were going to be a legend in this game. You were going hard at Mike that night. No fear whatsoever. I mean, I knew from passing you in traffic over the years that you were a dog. But when I saw you going at Black Jesus like that? That's when I knew you were a kindred spirit."
Iverson also wrote, "You're not here on this earth anymore, but you're not gone, either. You just say the name Kobe Bryant, and the memories come back in a split second. I can see you pointing your finger up in the air, walking off the court after you dropped 81 on Toronto. I can see you jumping up in the air just like MJ after you won the title."
To close out the letter, Iverson said, "I don't really know how to say goodbye to an NBA legend, a father, a husband, a friend. I don't really have the words. All I know is … I love you, brother."
Allen Iverson and Kobe Bryant are NBA legends. Their respect for each other was evident too.
Stats courtesy of Basketball Reference