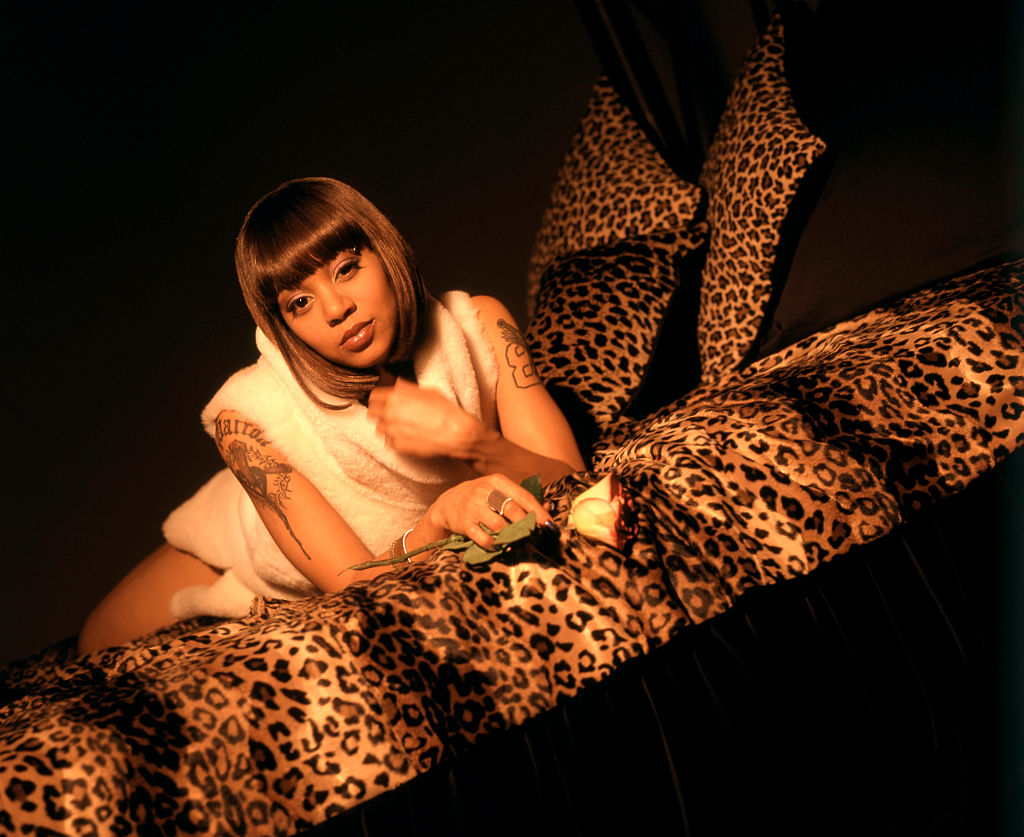 Andre Rison's Mansion Was Torched by a Female Hip-Hop Star
Lisa "Left Eye" Lopes was a Grammy-winning performer who had an at-times story relationship with NFL receiver Andre Rison.
As Tom Brady and Alex Rodriguez can confirm, an athlete doesn't always have to be the only celebrity in a relationship, which can make for chaotic schedules and occasional conflicts over priorities. The stakes increase substantially when emotions run hot, like the night Lisa "Left Eye" Lopes burned down the home of NFL star Andre Rison outside Atlanta.
Andre Rison and Lisa Lopes were a two-career couple
Wide receiver Andre Rison played 12 NFL seasons with seven teams, but his five most productive years were with the Atlanta Falcons from 1990-94. He made 423 catches and scored 56 touchdowns over 78 games in that stretch and averaged 13.3 yards a reception.
Rison's career totals included 743 catches, 84 touchdowns, and an average of 13.7 yards a catch. He was first-team All-Pro in his second season in the league and was selected to the Pro Bowl five times.
Lopes was a star in the music world with the group TLC and also a talented dancer and music producer. Besides writing much of TLC's music, she designed many of the group's wardrobes and helped handle artwork and other aspects of marketing. She earned four Grammy Awards.
Lopes also embarked on a solo career and reached No. 1 once on the British charts and the top 10 twice in the United States.
A complicated relationship between stars
Lisa Lopes turned herself in to police on June 10, 1994, the day after a fire at NFL star Andre Rison's mansion heavily damaged the million-dollar structure. She entered rehab less than a week later and was ultimately convicted of arson and sentenced to live at a halfway house and serve five years of probation.
Lopes contended that the fire starting in a bathtub was an accident resulting from her trying to burn some sneakers Rison had just purchased, but it was just another incident in a volatile relationship that reportedly included an extended physical altercation that night.  
Rison and Lopes had started dating in 1993, and the football player was arrested shortly afterward after an incident in a parking lot in which he allegedly physically abused the singer. Charges were later dropped, and Rison denies ever having abused Lopes.
The documentary series Hopelessly In Love earlier this year delved into the relationship between Rison and the singer and revealed Lopes was also involved with the late rapper Tupac Shakur, whom she met in 1991. Friends say Lopes was in love with both men. Adding to the complicated dynamic, Rison and Shukur were introduced to each other and became friends before the receiver met Lopes, and Shakur sometimes used the recording studio in Rison's mansion.
"It was a strange love story because she and 'Pac' never slept together, and she and Andre were in a full-fledged relationship. Andre had her heart and Tupac had her soul."


Trena Smith, friend of Lisa Lopes
Lisa Lopes' life ends in tragedy
Andre Rison signed with the Cleveland Browns in early 1995 while Lisa Lopes was in a diversion program in the aftermath of the arson incident. While Lopes was in the diversion center, Rison was traded to the Cleveland Browns putting further distance between the two.
Lopes spoke in a documentary about how meeting a struggling mother in rehab affected her and led to the singer adopting the woman's 8-year-old daughter.
However, Lopes died at the age of 30 in April 2002 in an automobile accident in Honduras, where she was helping to organize charity work.