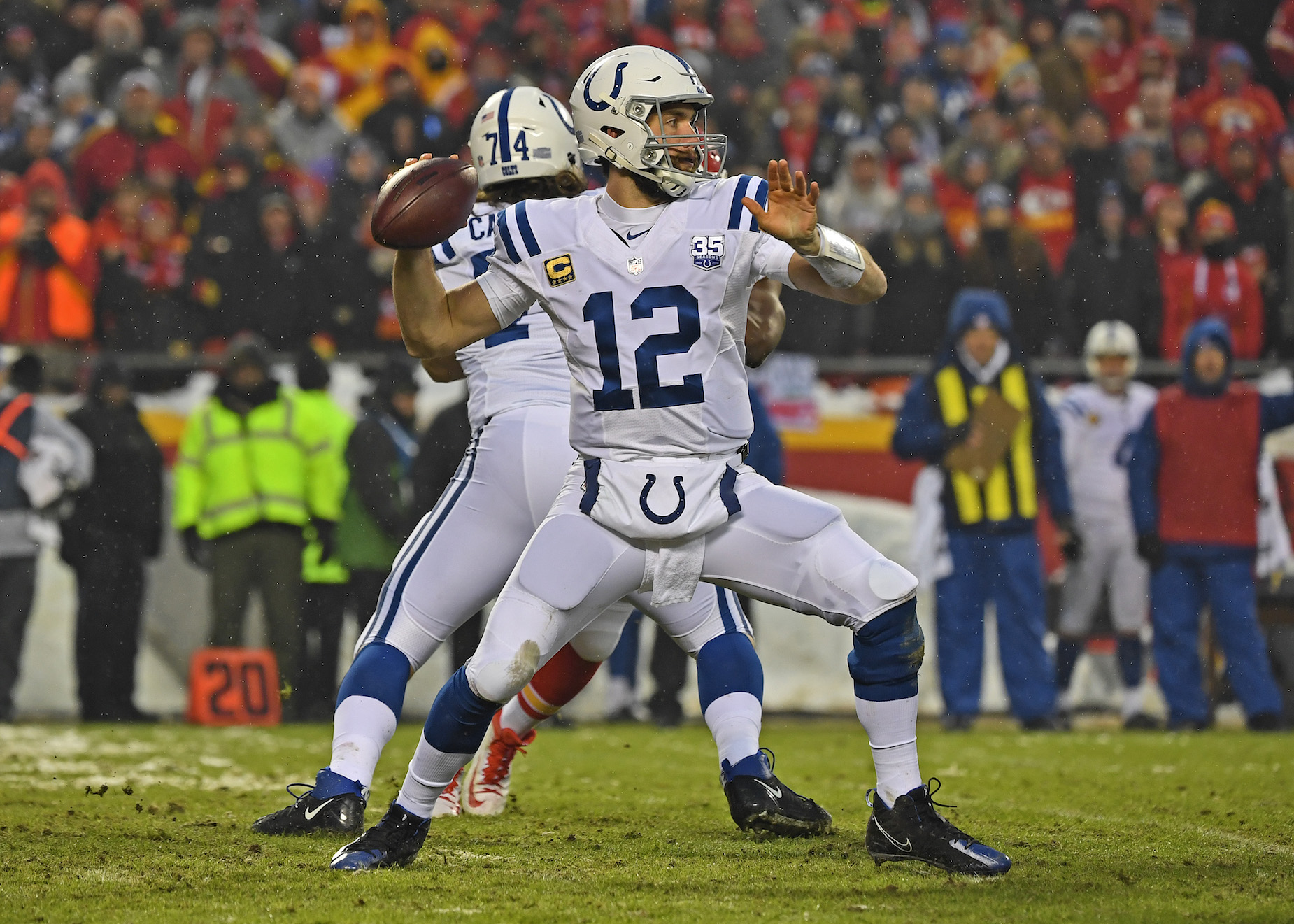 Andrew Luck Wasn't Just the Indianapolis Colt's $100 Million Man; He Was Also Their 'Librarian'
During his time on the Indianapolis Colts, Andrew Luck was more than just the starting quarterback; he was also the team's librarian.
In the modern NFL, everyone is hoping to find a franchise quarterback. For seven years, the Indianapolis Colts had their man in the form of Andrew Luck. While injuries eventually forced the quarterback into an early retirement, he looked like a legitimate talent during his time on the gridiron.
Andrew Luck wasn't just the Indianapolis Colts' star player and on-field leader, though. In the locker room, he also acted as the team's librarian.
Andrew Luck was a star during his time with the Indianapolis Colts
These days, Andrew Luck is more remembered for his sudden retirement than anything else. The untimely end to his career, however, shouldn't overshadow what he accomplished on the gridiron.
While Luck eventually grew into a star, his football career started fairly quietly. The quarterback began his NCAA career as a redshirt freshman at Stanford; during his first year under center, he posted unremarkable numbers. In 2010, however, Luck exploded. He turned in two back-to-back 3,000-yard, 30-touchdown seasons, finished second in Heisman Trophy voting twice, and lifted the Cardinal to national prominence before entering into the 2012 NFL draft.
When draft day rolled around, the Indianapolis Colts selected Luck with the first-overall pick. The quarterback promptly repaid their efforts by throwing for 4,374 yards and guiding the club to 11 wins.
Unfortunately, injuries proved to be Luck's undoing. He missed half of the 2015 season with a shoulder injury; he had surgery after the 2016 campaign and missed the entire 2017 season recovering. Despite returning to action in 2018, the quarterback decided to call it a career before the next campaign began. In total, he started 86 games across eight seasons, throwing for 23,671 yards and 171 touchdowns. That performance helped him earn more than $100 million in salary.
Acting as the Colts' librarian
If you watched Andrew Luck play during his NFL career, you know that he was a talented quarterback. Away from the field, though, he served the Colts in a different capacity.
In the NFL, where locker-room chatter usually centers on video games or hip-hop music, Luck has forged a reputation as the Colts' very own librarian," Kevin Clark wrote in a 2015 Wall Street Journal story. "In the same way that Oprah Winfrey has become known for vaulting books she likes to popularity across the country, Luck can make his favorite reads become the talk of the Colts' locker room. Some of the books he recommends are for inspiration, players say, if a teammate is going through a tough time. Others are passed on simply because Luck enjoyed leafing through them."
That role, however, shouldn't be surprising given Luck's background. The quarterback was the co-valedictorian of his high school class; at Stanford, he studied architectural design and was an academic All-American.
If you're interested in leafing through Luck's library, the quarterback once said that Papillon is his favorite book; "he's also partial to the historical novels of Bernard Cornwell."
These days, Andrew Luck has plenty of time to read
As NFL fans everywhere know, Andrew Luck isn't taking the field for the Indianapolis Colts anymore. While no one knows exactly what the former quarterback is up to in retirement, it's safe to assume that he has plenty of time to read.
"A year removed from what he called the hardest decision of his life, Luck is happy, according to those close to him. His body has finally healed. The pain that dogged him for years is gone," Zak Keefer wrote for The Athletic. "Luck has moved on."
While the quarterback still keeps in touch with some of the Colts, he's busy being a husband and father. Presumably, he's cracking open a good book from time to time.
Stats courtesy of Sports-Reference and Pro-Football-Reference. Financial information courtesy of Spotrac