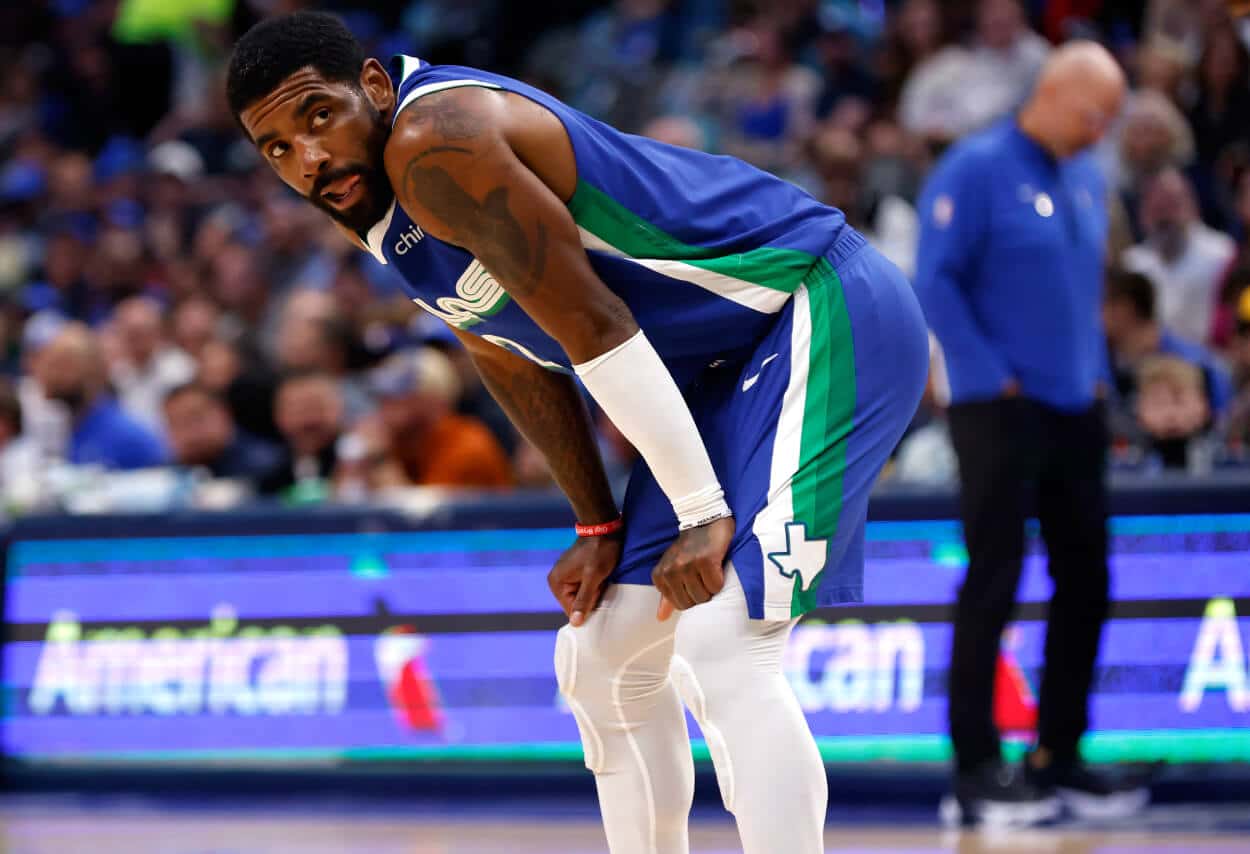 Another Kyrie Irving Experiment Failed Miserably, but Charles Barkley Explains Why Teams Will Keep Calling
Will any team want Kyrie Irving after another disastrous year? Charles Barkley believes there will still be interest in the point guard.
Kyrie Irving was supposed to help provide a boost to the Dallas Mavericks. Instead, things quickly headed in the wrong direction. What was once a promising season for the Mavs officially ended Friday without a playoff berth.
Irving sat out Friday's home loss to the Chicago Bulls with a right foot injury, and the loss eliminated Dallas from play-in contention. Four other Dallas players also sat out, essentially giving up on a season that had some promise when the Mavericks traded for Irving in February. The addition of Irving followed a similar pattern — some calling it the "Kyrie Curse" — that took place with the Boston Celtics and Brooklyn Nets. Despite that, Charles Barkley explains why Irving will continue to field calls in the offseason.
The Kyrie Irving deal did not go over well in Dallas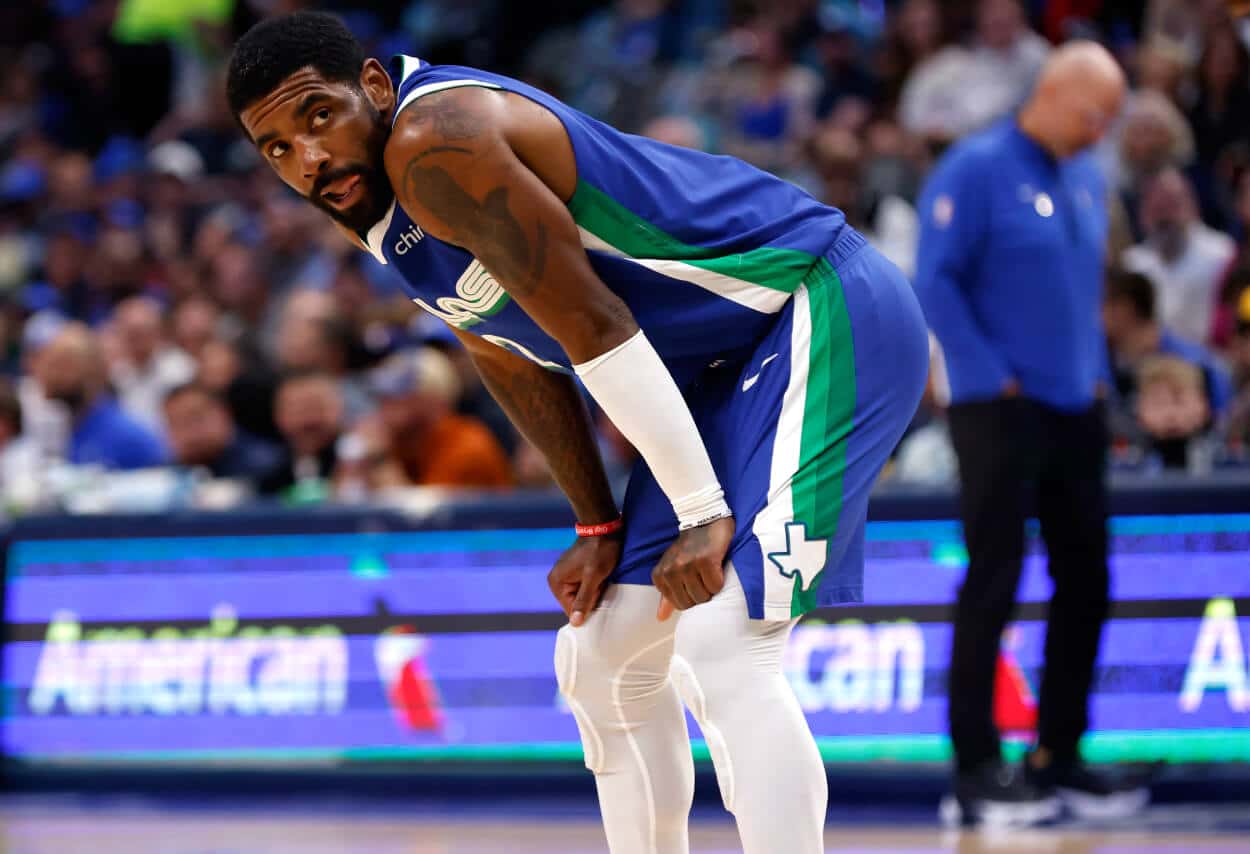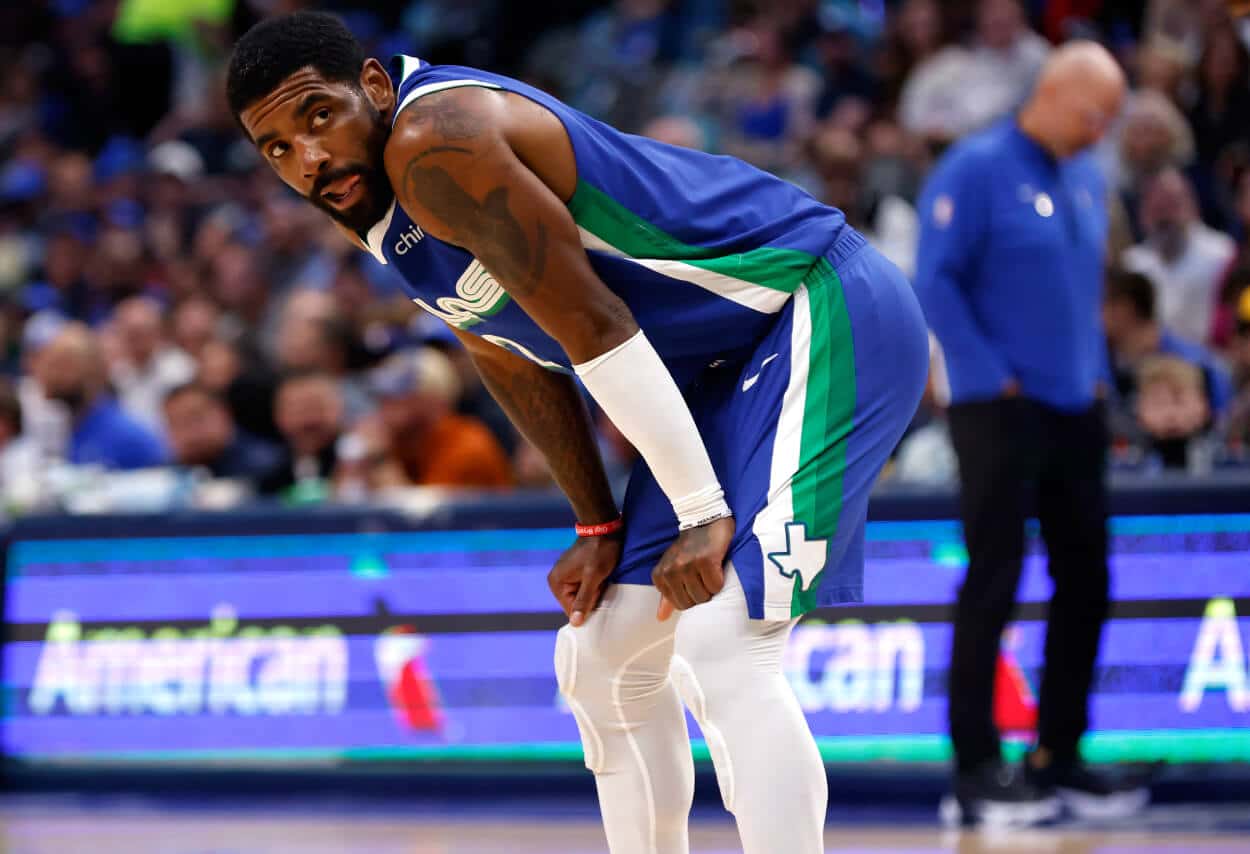 This isn't what the Dallas Mavericks had in mind back in early February. The Mavs held their own at 29-26 when they pulled the trigger on a blockbuster deal that brought the disgruntled Irving to Texas. Irving publicly said he wanted the be traded from the Brooklyn Nets, and they obliged.
It was a gamble for Dallas, which already had a superstar in Luka Doncic. The Mavericks gave up Spencer Dinwiddie, Dorian Finney-Smith, two second-round picks, and an unprotected first-rounder in 2029. Irving is in the final year of his contract and will become a free agent after this season.
The move was made to get Doncic some help and help the Mavs make a push for a strong playoff run. Instead, Dallas went 9-17 after the trade. The Mavericks saw their postseason hopes officially come to an end Friday. While Irving is a skilled player, the result should surprise nobody. The same happened to the Celtics and the Nets when Irving was on their roster. Is it fair to place the demise of the Mavericks squarely on Irving? No. But he's made the case easy to at least make it a topic.
With the Celtics, he failed to show any leadership skills after being brought in to lead a talented, young team that included Jayson Tatum and Jaylen Brown. The Celtics made the postseason both times with Irving on board. In the first year, Irving was injured, and he missed the entire playoffs. Boston came within one game of reaching the NBA Finals.
He played in Boston's postseason run the following year and was highly ineffective as the Milwaukee Bucks bounced Boston in five games in the conference semifinals. Despite telling Celtics season ticket holders he'd re-sign with Boston when his contract ended, Irving bolted town and signed with the Nets. He teamed up with Kevin Durant and James Harden. Irving never got past the conference semis before he made his public plea for a trade.
Charles Barkley insists teams will still want Irving next year
Irving isn't a winner, nor is he a leader. He can score, and he might have the best handles of anyone in the NBA, but the bottom line is his inability to take a team to the next level.
During a recent appearance on the Dan Patrick Show, Patrick and Charles Barkley spoke about the failure in Dallas. Barkley said he knew all along that it wouldn't work.
"When it first happened, they asked us on the air," Barkley told Patrick. "This is never gonna work. It's a bad idea. They both need the ball. It was never going to work. It's going to be a very interesting offseason for that team."
Patrick then asked the 11-time All-Star what team is going to want Irving.
"Somebody, Dan," Barkley insisted. "Somebody is gonna want Kyrie. Everybody thinks they can fix somebody. He's a great individual player. Some coach, some team is gonna think we can make this work. This is like his third or fourth team. Somebody always gonna think — and it hasn't worked — but there's always a team that's going to say I think I can make this work.
"Even though I hated the trade for Dallas, I think this could be a good thing, whether they take him off the books or do a sign-and-trade."