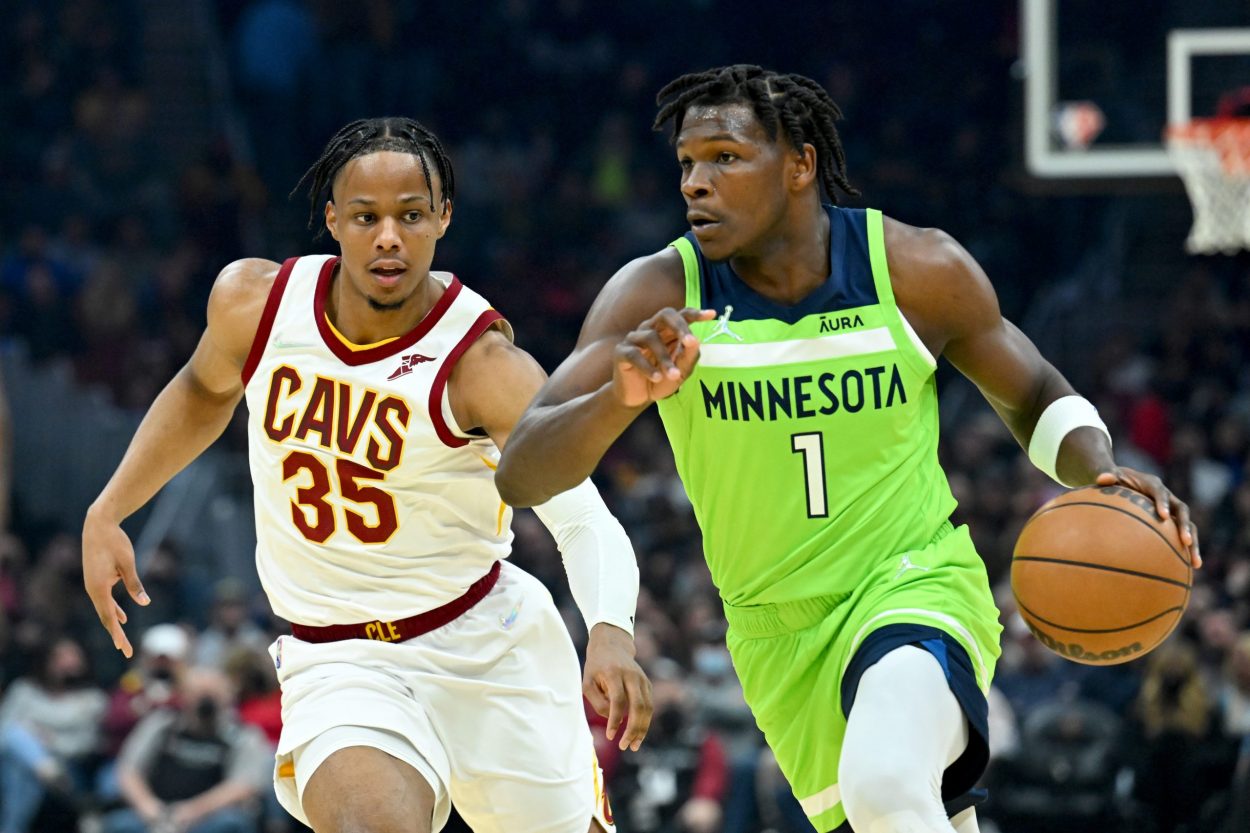 Troubling Anthony Edwards Update Lessens Timberwolves' Win Over Warriors
The Timberwolves earned a big win over the Warriors, but they also have an Anthony Edwards dilemma on their hands.
The Minnesota Timberwolves earned a statement win over the Golden State Warriors on Tuesday night. However, the victory feels more bittersweet because of the uncertainty surrounding Anthony Edwards' knee.
Edwards missed his first game in over two months with soreness caused by tendinitis. Given the sheer number of minutes he has played in his first two NBA seasons, it's not much of a surprise that Ant feels banged up. However, the T-wolves don't yet know how best to remedy the situation.
Minnesota can only count on an underrated Karl-Anthony Towns to power its success for so long. The Timberwolves need Edwards on the floor if they hope to make a deep playoff run. Simultaneously, they need to exhibit an abundance of caution for his health.
It's a maddeningly frustrating dilemma.
"Everything on the table" for Anthony Edwards after he sits against the Warriors
Timberwolves fans had nearly every reason to enjoy Tuesday.
Minnesota put together a terrific defensive showing against the Warriors, holding Golden State to 13-of-45 shooting from beyond the arc while forcing 17 turnovers. Stephen Curry scored 34 points, but he needed 24 shots and went just 5-of-16 from beyond the arc.
On the other end, Towns scored 39 points and looked unstoppable all night against one of the NBA's staunchest defensive units. Malik Beasley poured in 20 points off the bench.
Still, the injury update T-wolves head coach Chris Finch gave on Edwards hung over everything.
Minnesota sat the 2020 No. 1 overall pick to rest his knee after he began experiencing more soreness. Finch said (h/t Blue Wire podcasts) "everything is on the table" for Ant and added that the issue could linger for the remainder of the season.
The relative unknowns regarding Edwards' status are a bit scary. Minnesota needs its ambitious scoring guard if it hopes to make any noise come playoff time.
The Timberwolves are a much better team with Edwards on the floor
Anthony Edwards' brilliant individual season merited All-Star consideration. He's undoubtedly been a net positive player for the Timberwolves in his sophomore campaign.
Edwards' progression as a three-level scorer has him on pace to join an elite company. He's averaging 21.4 points and has seen jumps in his true shooting percentage and three-point volume. The 20-year-old has also impacted the game in other areas, averaging 4.7 rebounds, 3.7 assists, and 1.5 steals.
These aren't just counting stats. Edwards contributes to winning.
The Timberwolves outscore opponents by 4.2 points per 100 possessions with Edwards on the floor. When he sits, they get outscored by the same margin. That's an 8.4-point swing.
Edwards can sometimes stay glued to the ball and take ill-advised perimeter jumpers. But his shot-creation and ability to get downhill makes his teammates more dangerous offensively. Similarly, although Ant occasionally struggles as an on-ball defender, his upside as a playmaker who can create deflections and play the passing lanes make a difference for the T-wolves on that end.
However, while Minnesota could use Edwards for the playoff push, it might not have a choice but to give him a prolonged rest.
Minnesota must play this close to the chest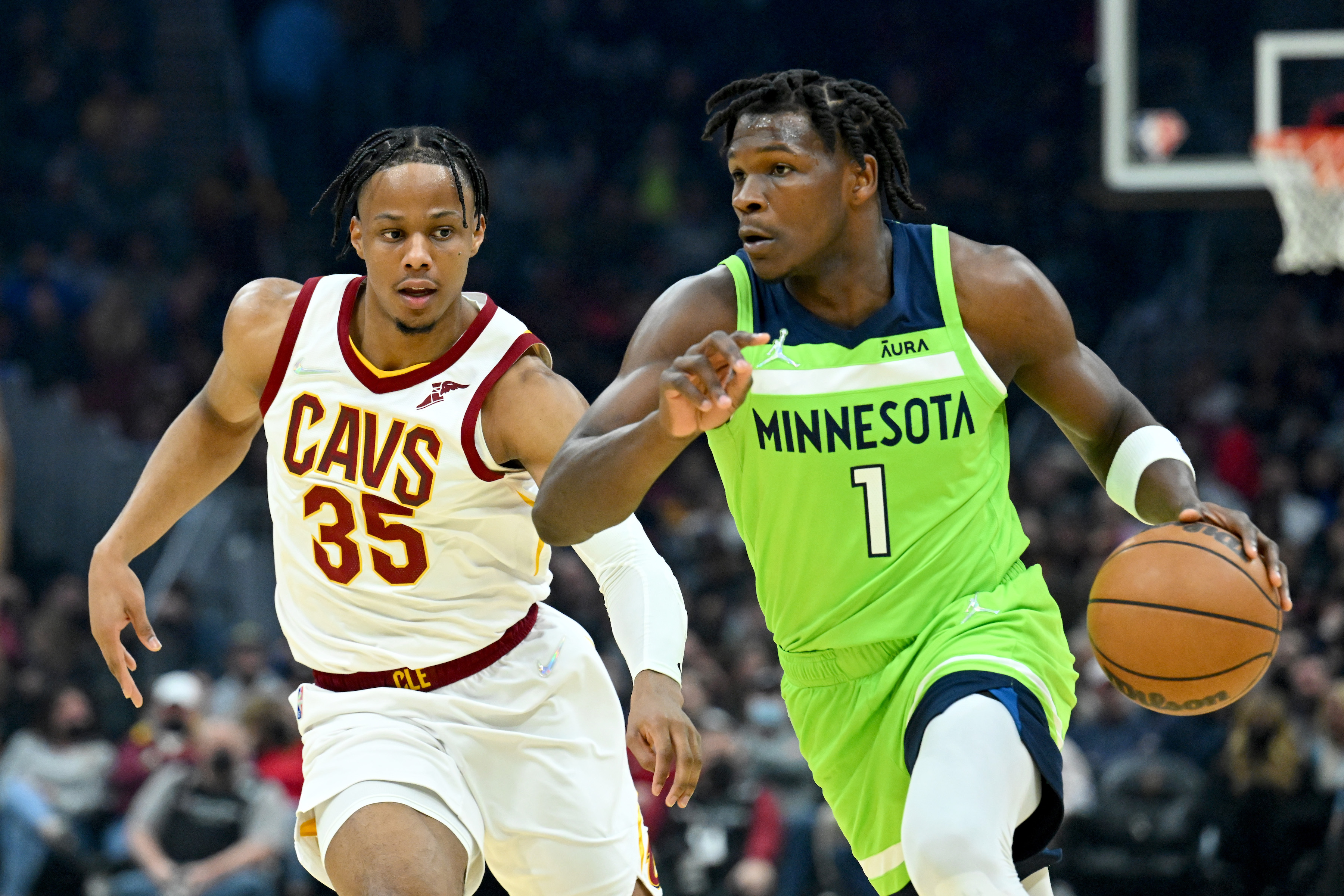 The knee soreness is starting to have a tangible impact on Anthony Edwards.
After averaging 23.5 points on 60.2% true shooting in January, Ant's scoring average plummeted to 16.5 points last month. The true shooting slipped all the way to 47.8%, and Edwards made just over 38% of his twos.
That kind of production is not conducive to Minnesota's success. The Timberwolves need a healthier Edwards and thus might choose to rest him for the next several games, even if they've generally been better with him on the floor.
The good news for Minnesota is that D'Angelo Russell can fill a combo guard role, while Malik Beasley has shown some signs of life and provides scoring off the bench.
Edwards is vital to the T-wolves' success and advancing past the play-in tournament. But they may need to take a step back rather than continuing to trot him out there with a sore knee.
Stats courtesy of Basketball Reference.