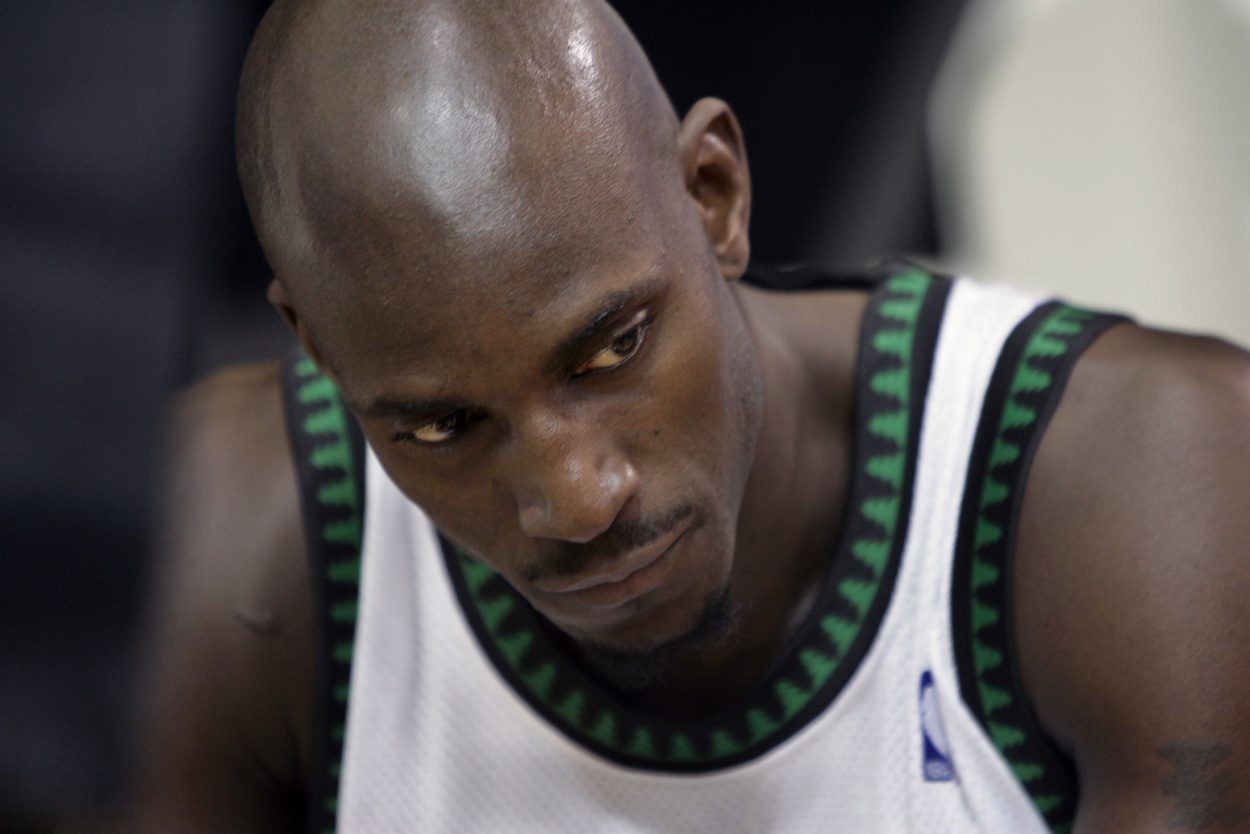 Kevin Garnett Cost Himself Multiple Rings Because of Strange Allegiance to Timberwolves
Kevin Garnett never wavered in his commitment to the Minnesota Timberwolves, but his loyalty cost him multiple NBA titles.
Kevin Garnett left his heart and soul on the floor during his 13-plus seasons with the Minnesota Timberwolves. His passion and undying loyalty to the T-wolves made him a heroic figure in Minneapolis. It also cost him the chance to win multiple NBA championships.
Garnett almost single-handedly made the Timberwolves into a relevant franchise in the early 2000s. His two-way dominance resulted in 10 All-Star appearances and the 2003-04 MVP Award. But for all of KG's greatness and allegiance to Minnesota, the franchise rarely showed him the same.
When Garnett joined the Boston Celtics ahead of the 2007-08 season, he remained one of the greatest power forwards in the game. The trash-talking savant won Defensive Player of the Year and helped lead the C's to a title. But injuries contributed to Garnett's decline in the following seasons, and he never won another ring.
Maybe KG could have some more hardware if he elected to forego his fielty to a shady Timberwolves organization.
Kevin Garnett beefed with the Timberwolves organization
Kevin Garnett had his sights set on winning a championship for the Timberwolves. Former team governor Glen Taylor's motivations were far less clear and definitely more misguided.
As KG blossomed into a superstar in his first couple of seasons, Minnesota made a staggering six-year, $121 million commitment to the youngster out of Farragut Academy. But the T-wolves only did so after Garnett rebuffed the first extension offer, per SB Nation.
Indeed, Taylor tried to weasel his way around standard operating procedures. He and former team general manager Kevin McHale cost the team numerous draft picks with an illegal signing of former NBA big man Joe Smith.
The loss of compensation proved brutal because the T-wolves refused to spend around Garnett.
Minnesota allowed breakout seasons to essentially wither and die, with Tom Gugliotta, Stephon Marbury, and Chauncey Billups all leaving the team. Sam Cassell played a significant role in Minnesota's run to the Western Conference Finals in 2004, only for the T-wolves to trade him. Not to mention, Taylor demanded that McHale fire Garnett's beloved head coach, Flip Saunders.
However, despite everything collapsing around KG, he never asked out of Minnesota.
Garnett never requested a trade
In the modern era, it's typical for star players to seek out other destinations when things aren't going their way. The James Harden-Ben Simmons trade perfectly encapsulates this idea.
As the lone star on a poorly-run team, one might have presumed that Kevin Garnett would do the same. But he never requested a trade.
Garnett once said he felt obligated to achieve the ultimate goal with the T-wolves because he "built" the organization from the ground up, per The Athletic. He also appeared to care very little about some of the pitfalls of playing for a small-market team to which today's superstars seem far more privy.
"I would hear a bunch of whining and it's snowing and it's cold and why are we practicing. Man, you know what this was when you signed up. If you don't want to be here, get the f**k up out of here, man. Guys know this. Guys know what you sign up for. I never asked for a trade because I never wanted to be traded."

–Kevin Garnett, via The Athletic
Even before being traded to the Celtics, Garnett never wanted to leave. He still maintained an almost maniacal belief that he could bring a championship to Minnesota.
Given the leadership group he played for, however, winning a championship with the Timberwolves never seemed likely. Realistically, that devotion cost him the opportunity to win more rings.
A wasted prime in the wintry winds of Minneapolis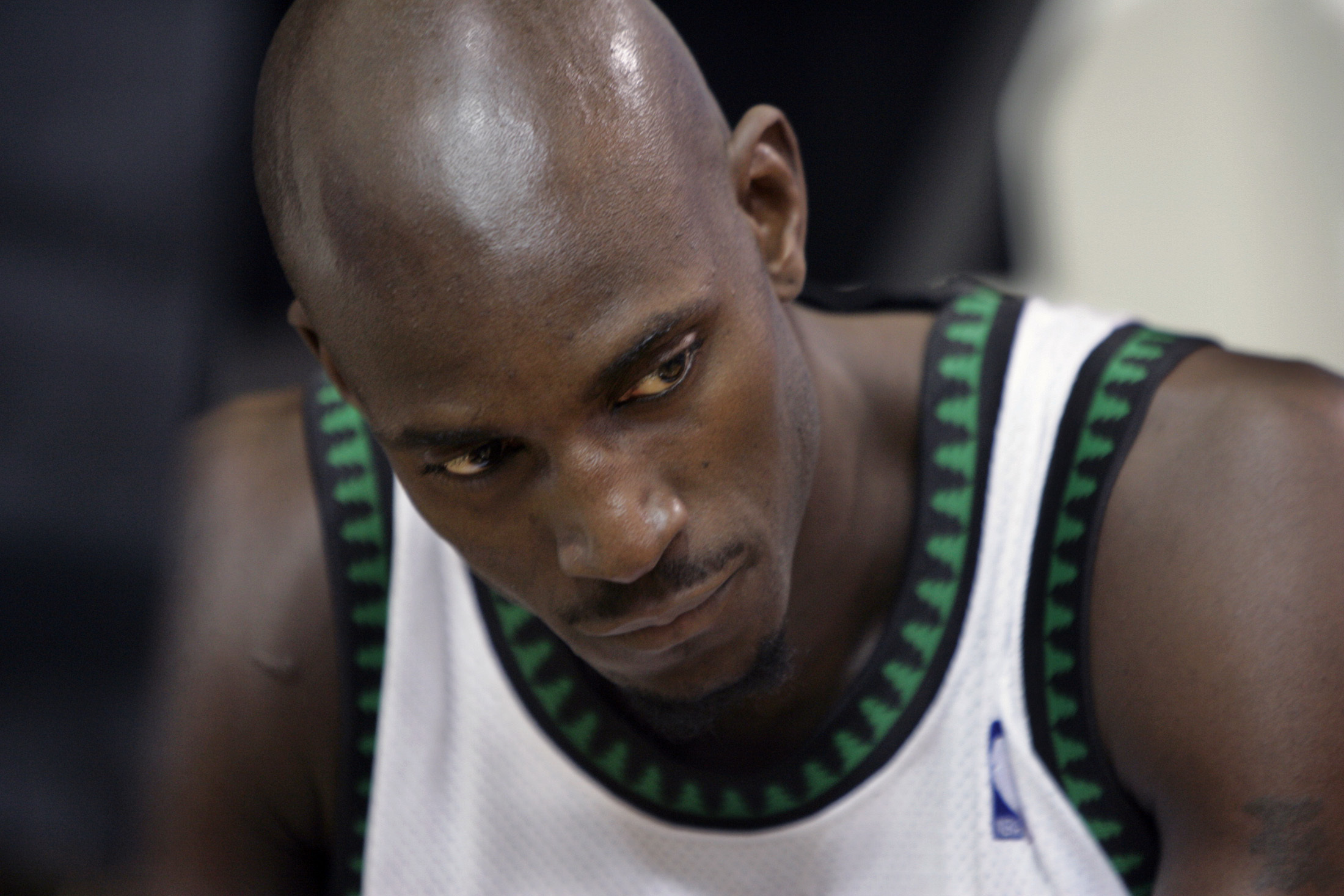 Kevin Garnett wasted his prime in Minnesota.
Garnett made it to the playoffs eight times in his first twelve seasons with the Timberwolves. But Minnesota only made it out of the first round once, when it reached the Conference Finals in 2004. That's a major indictment against the organization.
The Hall of Fame 4-man ranked in the top five or better in value over replacement player in every season from 2000 to 2007. He led the NBA in that category twice (2004 and 2005) and ranked second on two other occasions. The numbers clearly show KG was one of the best players in the world during that time. Yet, the T-wolves couldn't even get out of the first round.
Once Garnett came to Boston, injuries began to take their toll. He played over 70 games just once following the 2007-08 season and was mostly a shell of his former self after a knee injury in 2009.
It doesn't seem fair that KG has just one ring, considering his dominance in the early 2000s. Yet that's precisely how everything transpired, with Garnett saying this spring that he wishes he left Minnesota sooner.
The Big Ticket has animosity for Glen Taylor to this day, and he severed all ties after a failed ownership bid. Those hard feelings are warranted, though Garnett owes much of his shortcomings to his steadfastness with a franchise that never had his best interest in mind.
Stats courtesy of Basketball Reference unless otherwise noted.