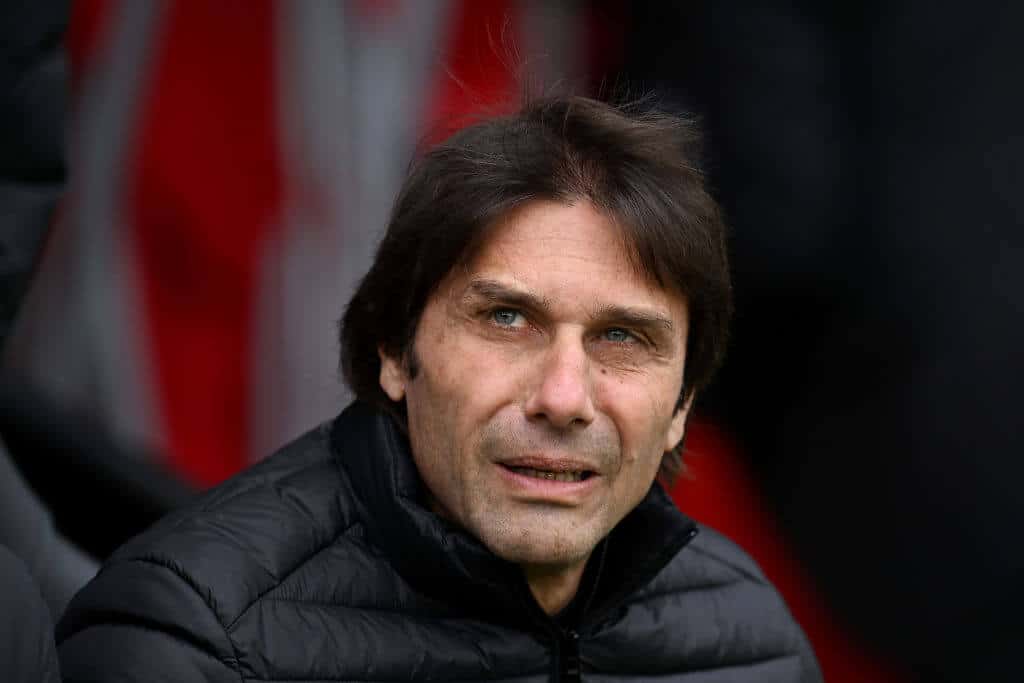 Antonio Conte Contract: Spurs Have No Reason Not to Part Ways With the Italian ASAP
At this point, it seems safe to say that Antonio Conte's Tottenham contract didn't work out. The deal, however, does give Spurs the chance to turn the page ASAP.
In the world of soccer, most contract talk focuses on the players. While that largely makes sense — they're the ones actually on the pitch who can win or lose matches — there is another piece of the puzzle to consider: the manager. The bench boss can, for better or worse, shape the sentiments around the team. Just consider Antonio Conte and the current situation at Tottenham Hotspur.
Although the Italian has always been something of a live wire, he took things to a new level on Saturday. After watching his squad blow a lead to Southampton, Conte went scorched earth and spent his post-game press conference ripping the players, Tottenham's ownership, and the club itself. It was so outside the norm that it almost resembled performance art.
Since then, speculation has swirled about what the future holds. Regardless of how the manager tries to explain his behavior, though, the Antonio Conte contract situation means that Tottenham have no excuse not to act.
Let's break it down.
Antonio Conte contract: Spurs have an option to keep the manager around, but it's impossible to imagine that happening
Throughout his career, Antonio Conte hasn't stayed in a job for more than a few seasons. Barring an incredible twist, it seems like his time at Tottenham will continue that trend.
The Italian moved to North London in November 2021 and signed what The Athletic has confirmed to be an 18-month contract. That pact is set to expire a the end of June 2023, but Spurs do have a one-year option to keep Conte for another season. At this point, though, it feels more likely that Arsene Wenger will walk through the door and lead Tottenham to a title.
While Conte managed to lead Spurs into the Champions League last season, he's never seemed that positive about his time in North London. Press conferences have featured complaints about the squad and a backdrop of uncertainty. It's almost as if the manager wants everyone to know that he has options, and if Tottenham doesn't comply with demands, he's happy to leave.
And, in complete fairness, that does fit Conte's employment history. As noted above, he hasn't lasted very long in any managerial role. The Italian's time at Inter Milan, for example, ended after two years; he and the club reportedly clashed over transfer plans before parting ways by mutual consent.
Things reached the nadir on Saturday, though, as the Italian uncorked an all-timer after seeing his team choke away a two-goal lead against Southampton. Conte ripped his players while seeming to suggest that, despite ownership remaining the same, the carousel of Tottenham managers are the ones who are blamed for the club's failure to win a trophy. He seemed like a man who had nothing to lose; either he didn't care about losing his job, or he knew that it was only a matter of time until he was leaving, anyway.
Since then, there have been various reports about how Tottenham's brass has responded to the spectacle on the south coast. It seems clear, however, that an Antonio Conte contract extension isn't on the cards.
At this point, there's no reason to keep Antonio Conte around
After Sunday's matches, the Premier League entered an international break. And, at the risk of regurgitating a cliche, that's the logical time for Tottenham to make a managerial change.
First, let's consider what we know about the existing Antonio Conte contract. As mentioned above, it's set to expire in June and contains a one-year option. It's also incredibly lucrative, being worth somewhere in the neighborhood of £15 million per season.
That limited term — as we've established, Conte is probably going to be gone in a matter of months — lessens the weight of the decision. If there's no prospect of a brighter future, why not make the change ASAP? It's not like the Italian has Spurs flying right now.
One possible objection could be the financial cost of making a managerial change. Again, though, the fact that the two parties will most likely part ways at the end of June should make things easier. If you can afford to pay Conte's salary for those final two months, you can afford to give him that same money to stay away. (And, if there's some larger payout for due upon firing that we don't know about, then Daniel Levy should be criticized for that, given the Italian's history.)
Beyond the finances, though, Conte's time has run out from a philosophical perspective, too. Tottenham have tried two win-now managers (Jose Mourinho and Conte), and neither worked out. At the risk of invoking the other side of North London, it's time for the club to decide on a vision and stick to it. If it's theoretically important to play free-flowing, attacking football, then that needs to start with a manager and work its way down.
Are you going to find that leader in March? Probably not, but there's no reason to keep Conte around in the meantime. The results haven't been there, and if his press conference was any indication, he doesn't really want to be present, either.
If you trust 538's Premier League odds, then Spurs have a 25% chance of finishing in the top four. While that's a valuable carrot, it shouldn't save Conte's job, either. We're already talking about a one-in-four-chance, not an advantageous position to choke away, so why not go all-in? At this point, it's probably more likely that the players will fight for someone like Ryan Mason, anyway.
Anyone who's even superficially familiar with Tottenham Hotspur should be familiar with the idea that "To dare is to do." The current situation — the reality of Antonio Conte's contract, the manager's post-game rant, and the club's position — provides a perfect, if unideal, opportunity to put that motto to the test.