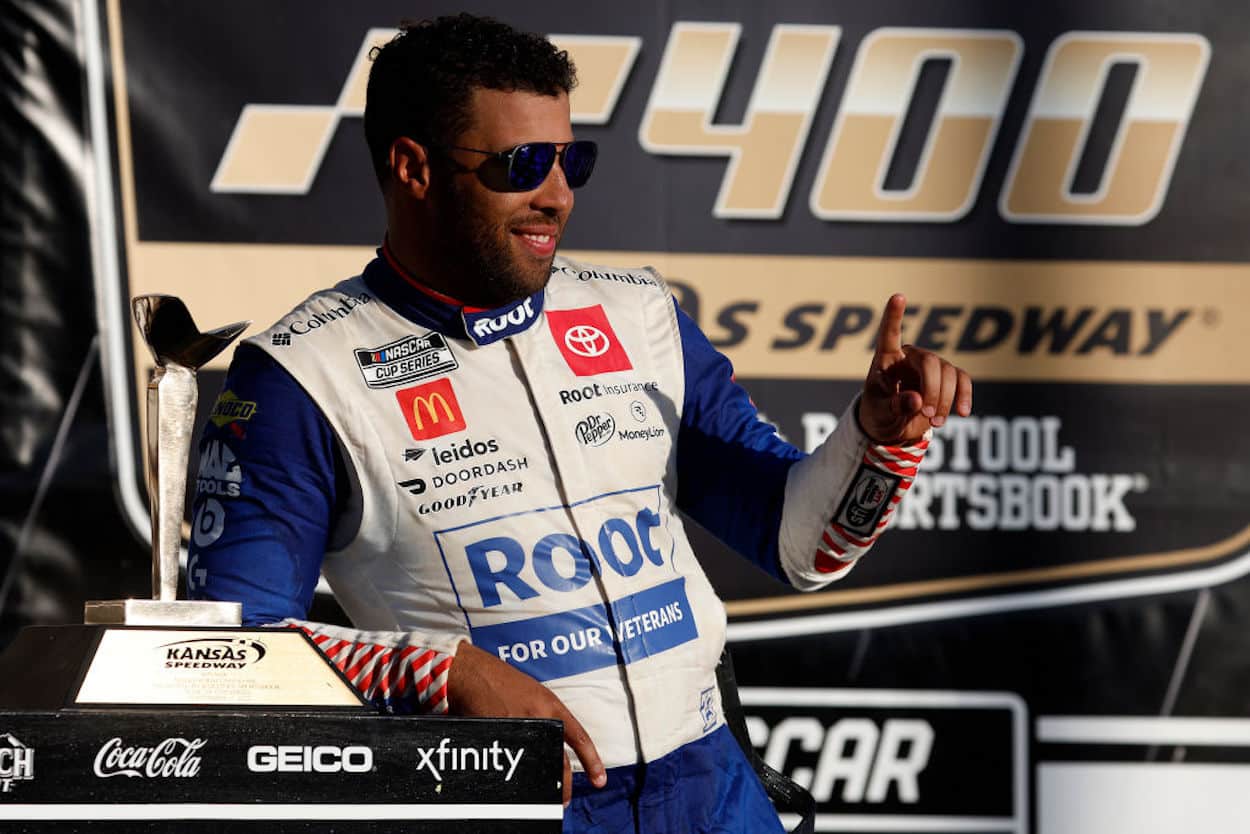 Anyone Who Still Doubts Bubba Wallace Needs to Give It a Rest
Bubba Wallace has his share of critics, but he's consistently proven that he's more than capable of deserving a top spot on the Cup Series circuit.
With his victory on Sunday at Kansas Speedway, Bubba Wallace became just the 10th driver to score a NASCAR Cup Series win in both 2021 and 2022.
While that's a notable achievement that puts Wallace in an elite club, it's hardly all that the Cup Series' only African American driver has done to prove that he's a top-tier talent who's plenty deserving of the opportunity to compete with a frontrunning team at the sport's highest level.
No, long before Wallace became a two-time Cup Series race winner — which he did on Sunday when he led 58 of 267 laps in the 23XI Racing Toyota — the Mobile, Alabama native had already showcased his enormous talent on countless occasions.
Let's take a look at several of them.
Bubba Wallace's driving abilities were obvious long before his NASCAR days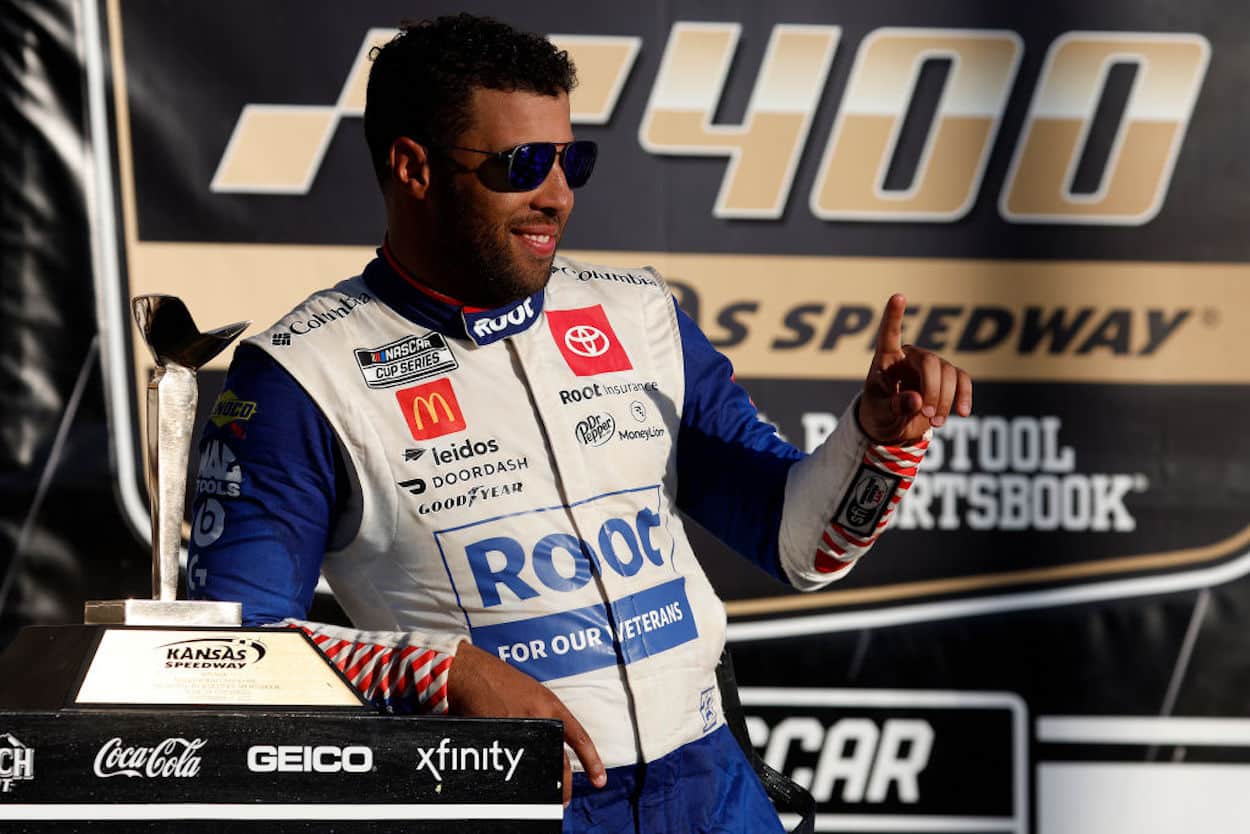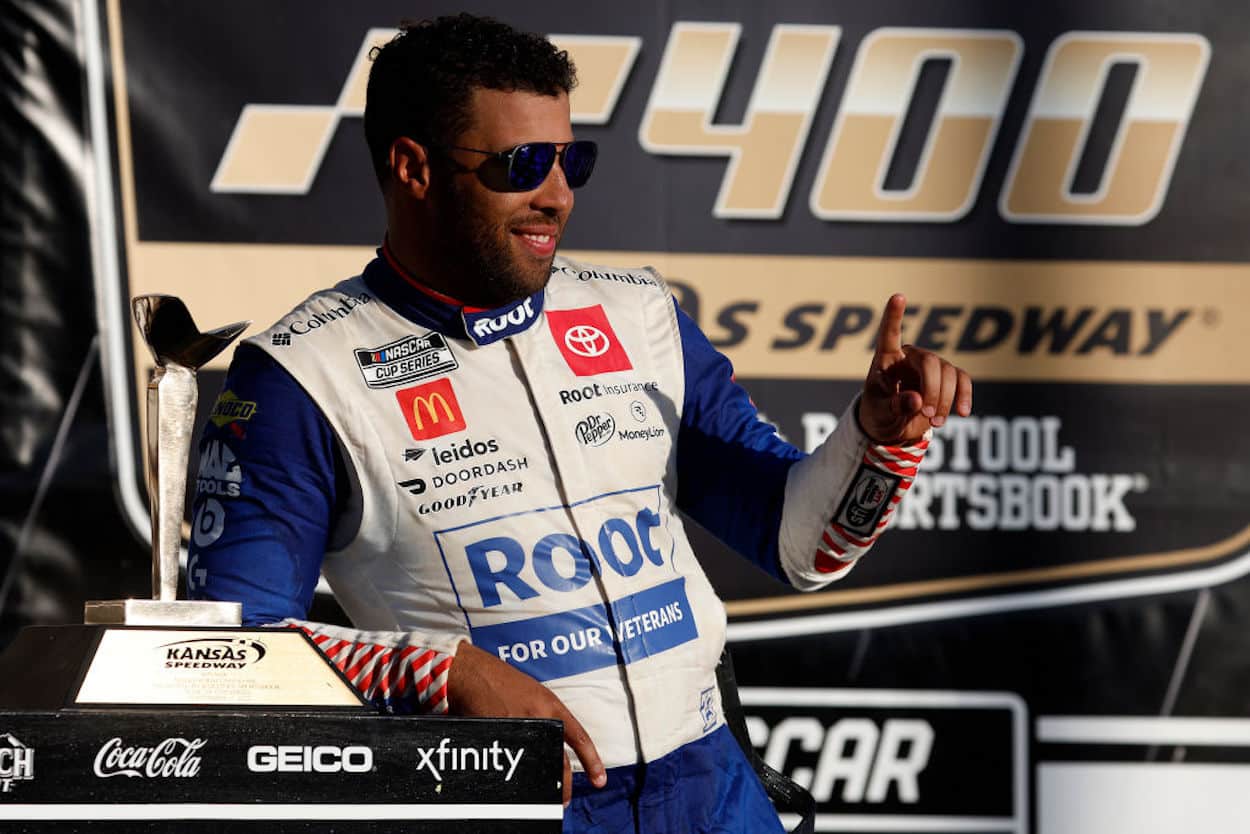 Before ever strapping in a NASCAR Cup Series car, Bubba Wallace was a race winner many times over at many levels.
As a pre-teen in 2005, he won 35 of 48 Bandolero races he entered and became the first driver in the history of Charlotte Motor Speedway's Winter Heat series to capture all six races en route to the championship. The following year brought more success for Wallace as he prevailed 11 times and posted 34 top-10 finishes in 38 INEX Legends car starts.
Wallace's first foray into full-bodied stock cars came in 2007 when he began racing Late Models for his family-run team at various tracks across the Southeast. This continued through 2009, with Wallace — at 14 years old — becoming the youngest Late Model winner at Franklin County Speedway in Virginia. Over the 2008 and 2009 seasons, Wallace went to Victory Lane three times and amassed 11 top-five finishes in 23 Late Model events that included nine starts in the particularly competitive UARA Late Model division.
"Each and every weekend, my dad would always look for the stiffest competition to make us better," Wallace said during the media availability that followed his Cup Series win on Sunday at Kansas. "It was a lot of fun. I remember showing up to these places for the first time and just trying to be the best of the best."
Wallace's career progression continued in 2010 when he won twice and finished third in the ARCA Menards Series East standings, along with also winning the series' rookie-of-the-year award. Wallace added four more victories over two more seasons in ARCA, enjoying a particularly fruitful 2011 that produced three wins, three poles, and 11 top-10 finishes in 12 races. That same year, Wallace also led the second-most laps in the series and earned a "most improved driver award" for gaining the most positions on the race track.
But this was just the beginning.
Bubba Wallace's work in the Truck and Xfinity series made him deserving of a Cup ride
In 2013, Bubba Wallace took a huge career leap in going full-time NASCAR Camping World Truck Series racing for Kyle Busch Motorsports. He finished eighth in the standings but more notably made NASCAR history that fall at Martinsville Speedway when he became the first African American driver to win a NASCAR national touring series race in nearly 50 years.
Wallace put on an even more impressive driving display for KBM in 2014 when he went to Victory Lane four times on the way to a third-place points finish — and his reward was an opportunity to go full-time NASCAR Xfinity Series racing with Roush Fenway Racing over the next two-and-a-half seasons.
Although Wallace never won with RFR, which by that point had started to lose its grip as one of NASCAR's premier organizations, he recorded six top-fives and 31 top-10s. In 2017, Wallace made his Cup Series debut in a four-race substitute role for injured Aric Almirola in Richard Petty Motorsports' iconic No. 43 car. 
When Almirola joined Stewart-Haas Racing in 2018, RPM had an opening in the No. 43 car and called on Wallace to fill it. Wallace then promptly went out and finished second in the 2018 Daytona 500, his first start as the No. 43 car's full-time driver. Although Wallace never won in three full seasons as the driver of the No. 43, he showed flashes of brilliance. In 2020, his final season in the car, he improved dramatically in virtually every statistical category from the previous two years — which proved to be enough for him to get a call from Denny Hamlin and NBA legend Michael Jordan, who wanted him to come compete for their brand new Cup Series team — 23XI Racing — in 2021.
Wallace accepted the offer and notched his first career Cup victory in a rain-shortened race at Talladega last fall. This season, 23XI expanded to become a two-car organization by adding veteran Kurt Busch to the fold. However, Busch suffered a season-ending injury in a crash at Pocono in late July, which led the organization to ask 19-year-old Ty Gibbs to sub for Busch in the 23XI's No. 45 car. 
But prior to the playoffs beginning two weekends ago at Darlington, the organization put Wallace in the No. 45 and moved Gibbs to Wallace's No. 23 in hopes of giving the organization its best possible chance to compete for the owner championship with the No. 45 team (the No. 23 team isn't in contention for the owner title). So Sunday's race at Kansas was Wallace's second start in the No. 45 car — which he's scheduled to drive through the end of the year — and he wasted no time assuring his bosses that they'd made the right move.
"It was a very simple decision for us," Hamlin said during his media availability following Sunday's race. "I think we knew that Bubba was going to take a lot of pride in being the flagship driver for us these last 10 [races]."
The best days appear to be ahead for Bubba Wallace, no matter what his critics think
Even before jumping in the No. 45 car and going to Victory Lane in just his second start as the substitute for Kurt Busch, Bubba Wallace was already enjoying a career season at the Cup Series level.
He opened 2022 by finishing second — once again — at the Daytona 500 and had posted a career-high four top-five and seven top-10 finishes before ever taking the green flag this past weekend at Kansas. During one particularly strong stretch of races from mid-July through early August, Wallace finished no worse than eighth in four consecutive starts — the last of them coming at Michigan, where he started from the pole and finished second.
The following week, 23XI inked Wallace to a multi-year contract extension.
"He just took a huge jump this year, in his craft, from last year," Hamlin said on Sunday at Kansas.
Wallace's crew chief, Robert "Bootie" Barker, agrees.
"It's a pleasure working with Bubba," Barker said at Kansas. "He has gotten better and better."
Indeed he has. But in all reality, Wallace has been quite a good driver for quite a long time. He wouldn't have made it this far in his career, otherwise.
And that's true even if his critics — who are many — aren't willing to admit it.
Like Sportscasting on Facebook. Follow us on Twitter @sportscasting19 and subscribe to our YouTube channel.