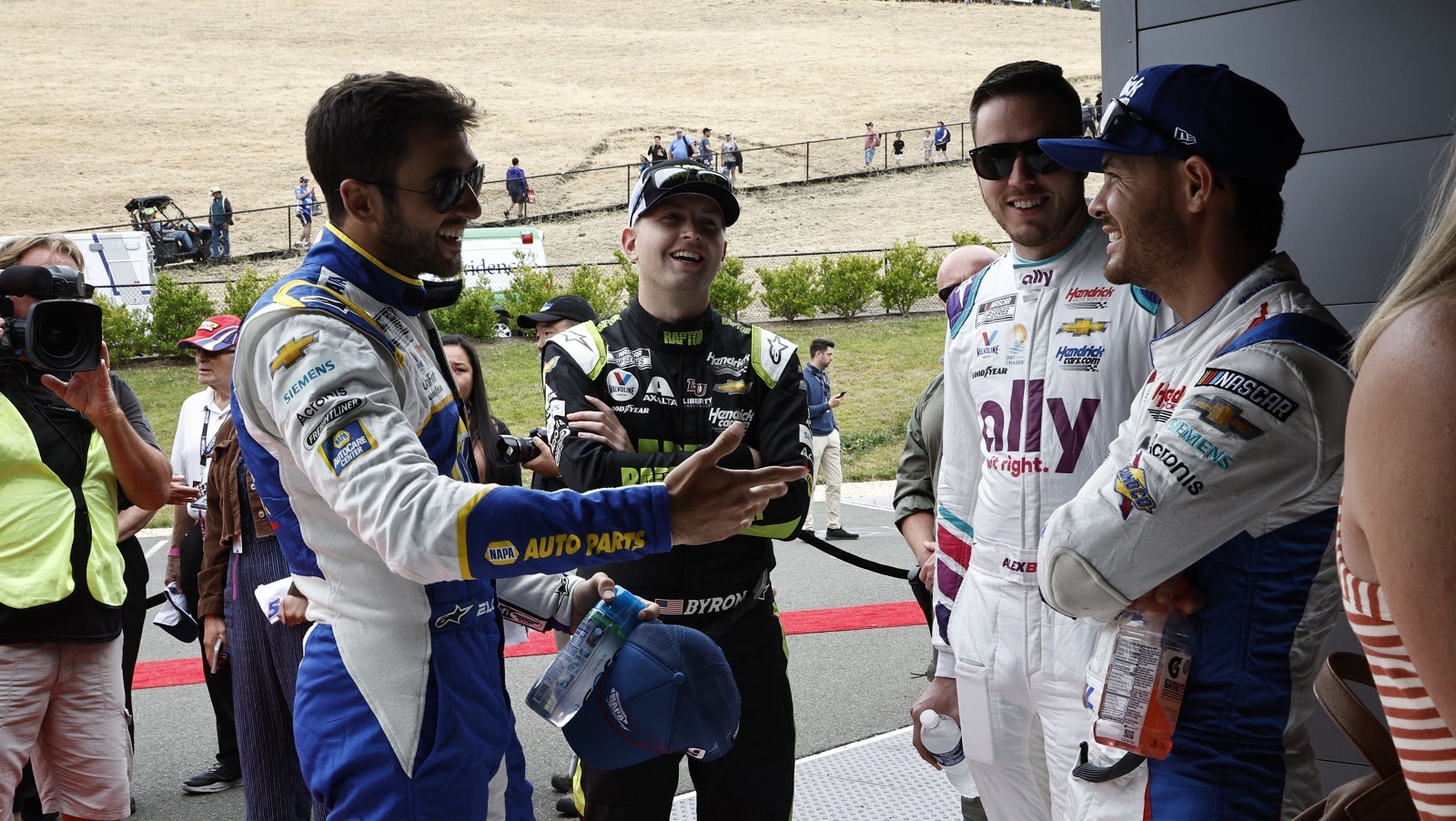 Kansas Was Exactly the Day Hendrick Motorsports Needed After the Darlington Near-Disaster
The Hendrick Motorsports drivers mostly dropped the ball in the Darlington playoff race two years in a row and then rallied the next time out.
Haven't we seen this script before? A year ago, Hendrick Motorsports got off to a horrendous start in the playoffs before largely pulling it together a week later. On Sunday at Kansas Raceway, Alex Bowman led all four HMS drivers to finishes in the top 11 to put the memory of another Darlington debacle behind them.
Consequently, the winningest team in NASCAR Cup Series history is in better shape than a year ago, even if Kyle Larson isn't putting up the outlandish numbers of a year ago.
Darlington was a wake-up call for Hendrick Motorsports a year ago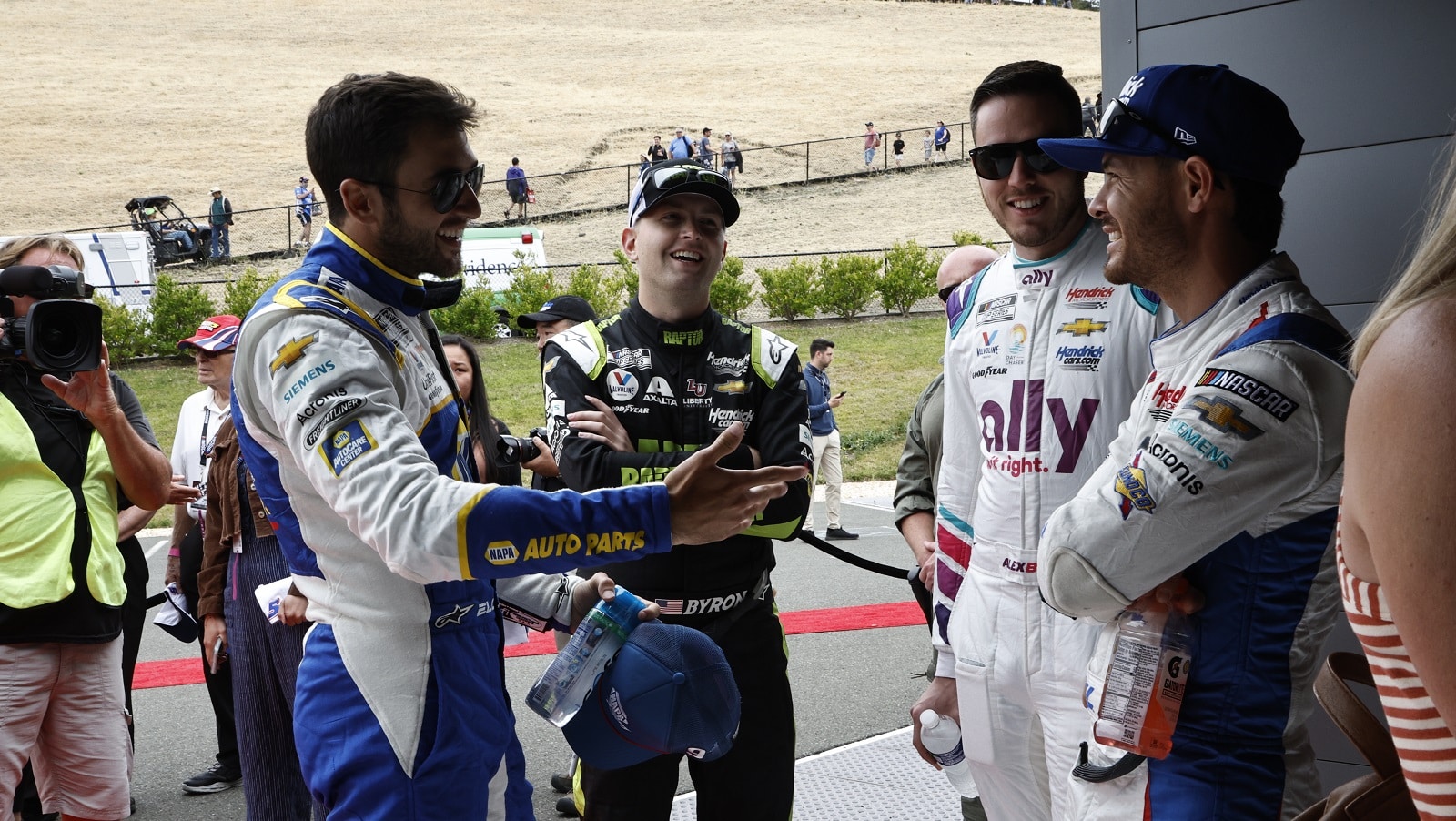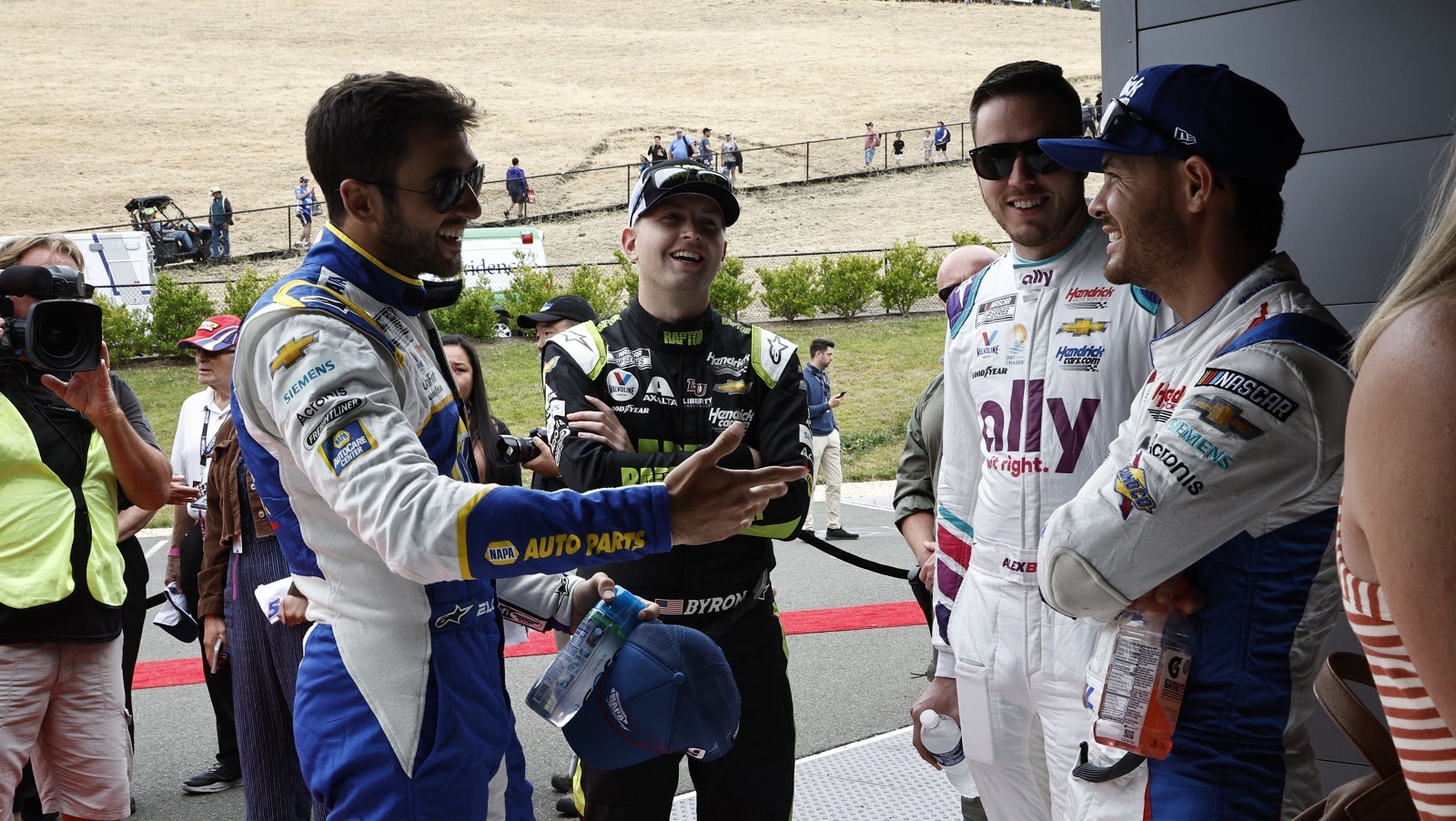 While Kyle Larson was the big story of the NASCAR Cup Series season, his Hendrick Motorsports teammates all won regular-season races to join him in the 2021 playoffs. Larson arrived at Darlington as the No. 1 seed. Chase Elliott was fifth, Alex Bowman sixth, and William Byron eighth.
Right out of the gate, however, disaster struck. Byron got taken out by a crash midway through the race, and Elliott joined him in the garage after wrecking with 40 laps left. Bowman wrecked on Lap 17 and spent the rest of the day multiple laps down. Only Larson (second to Denny Hamlin) came away with positive vibes.
A week later at Richmond, Elliott and Larson placed in the top six to solidify their standing. Bowman and Byron finished 12th and 19th, respectively, but Byron was still below the cut line.
As is the case again this year, Bristol was the first elimination race. Byron finished third, and all four HMS drivers made it into the round of 12. Keep in mind, though, that would not be enough to get Byron (or Bowman) through to the semifinals.
Kansas rescued Hendrick Motorsports from another down day at Darlington
Throw out his win at Las Vegas three races into the current year, and Alex Bowman really didn't have much of a regular season, leaving him as the 15th seed in this season's NASCAR Cup Series playoffs.
Still, he and William Byron were the stars of an otherwise disappointing playoff opener at Darlington as they finished 10th and eighth, respectively. Just minutes into that race, Kyle Larson reported a power loss that twice required him to pit. It was the second week in a row that the No. 5 Chevy experienced problems under the hood, and it prompted the other Hendrick Motorsports crew chiefs to wonder if their cars might be vulnerable to the same issue.
Crew chief Cliff Daniels' team resolved the issue in Larson's car, but the damage was done. The best the defending series champion could manage was to fight back to a 12th-place finish.
Meanwhile, Chase Elliott wrecked himself on Lap 113 of the scheduled 367 and finished last in the field. It dropped the 2020 series champ from first to ninth in playoff points.
Sunday at Kansas was the tonic HMS needed. Bowman placed fourth, Byron sixth, Larson eighth, and Elliott 11th. As a result, all four are in the top eight in points heading to Bristol, where the field will be trimmed to the top 12.
The 'wrong' drivers are leading the way for HMS
At 58 points ahead of 13th-place driver (and teammate) Kyle Busch, Christopher Bell of Joe Gibbs Racing has clinched his transfer into the round of 12 before even stepping foot in Bristol Motor Speedway on Saturday night. At just 10 points behind Bell, William Byron has just about secured his own advancement.
Meanwhile, Alex Bowman sits in sixth place, 30 points ahead of Busch, the first driver below the cut line. That qualifies him as justifiably confident, though certainly not secure.
So, what's wrong with this picture? Well, the two stars of the Hendrick Motorsports lineup, and the NASCAR Cup Series' past two champions, are bringing up the rear on the team.
Elliott is seventh with 2,078 points, putting him 28 points above the cut line. Kyle Larson is one point behind Elliott.
Don't expect that to last. But do expect HMS to advance all four cars out of Bristol and perhaps again three weeks later after an afternoon at the Roval.
Like Sportscasting on Facebook. Follow us on Twitter @sportscasting19 and subscribe to our YouTube channel.
Got a question or observation about racing? Sportscasting's John Moriello does a mailbag column each Friday. Write to him at [email protected].