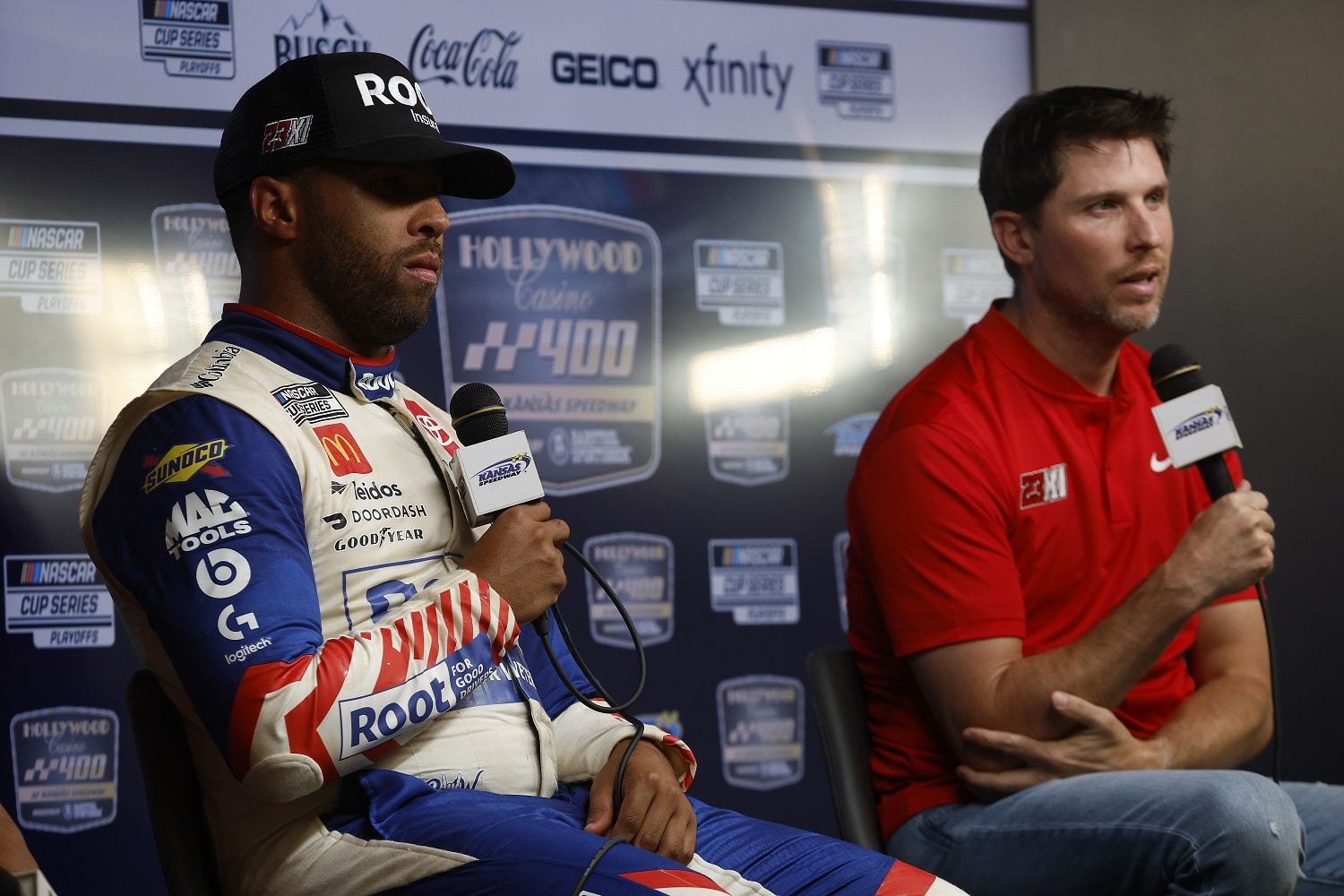 NASCAR's Denny Hamlin Problem Will Eventually Blow up in Its Face
Denny Hamlin has a conflict of interest driving for one Cup Series team while owning a piece of another.
NASCAR has a Denny Hamlin problem that's been hiding in plain sight for two seasons. The sport's executives would be wise to fix it now rather than explain it later.
Hamlin finishing second to Bubba Wallace on Sunday at Kansas Speedway was awkward. Then again, so were the previous 63 races involving the pair. It's just that this one was more noticeable.
Denny Hamlin has been wearing two hats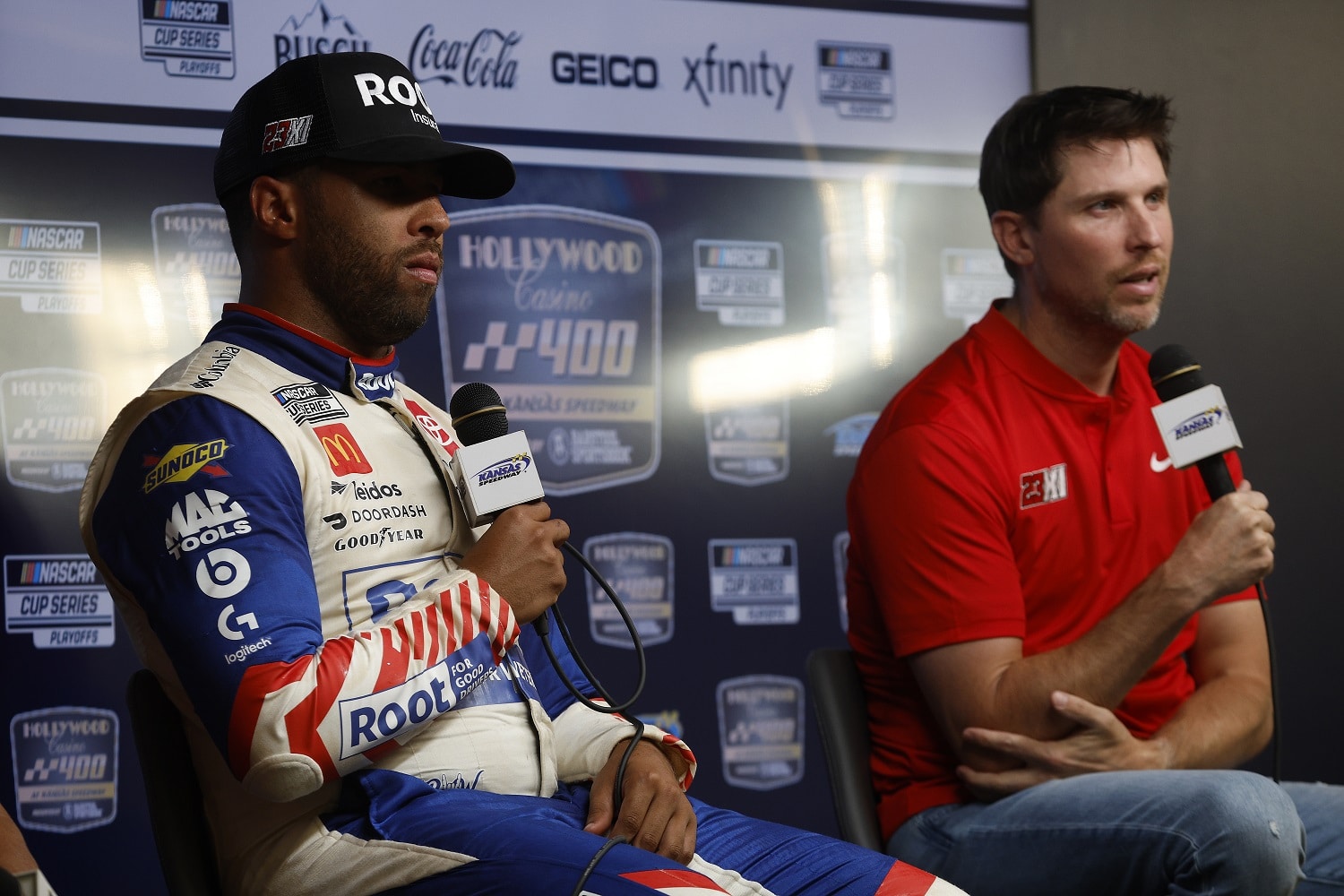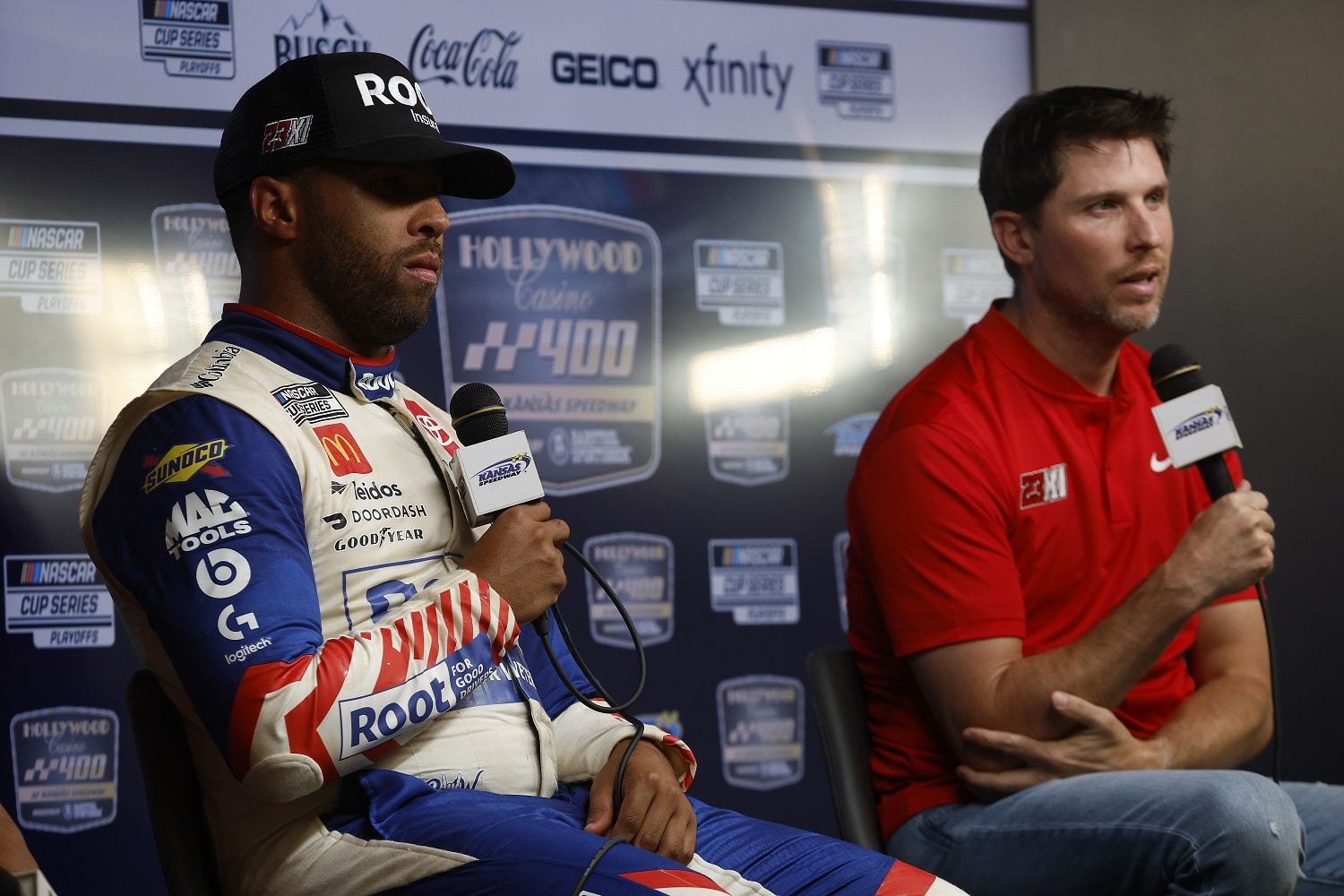 When retired NBA superstar Michael Jordan plunged into NASCAR at full speed in 2020, he brought in Denny Hamlin as an investor and to play a big role in getting the organization off the ground. One crucial early decision was selecting the first driver for 23XI Racing's No. 23 Toyota, and they signed Bubba Wallace, who was finishing up at Richard Petty Motorsports.
In September 2021, 23XI removed the interim label and made Steve Lauletta its permanent president. However, Hamlin's status as a co-owner as well as a longtime driver in the Cup Series means he remains involved in major decisions, such as expanding to two cars this season. Hamlin was crucial in bringing Kurt Busch aboard as the second driver. More recently, he helped recruit Tyler Reddick, who will start at 23XI in 2024.
During all this time, Hamlin has not missed a start in the No. 11 Toyota for Joe Gibbs Racing, which has an alliance with 23XI. Hamlin has scored a pair of victories in each of the past two seasons, raising his career total to 48 checkered flags in the Cup Series.
Joe Gibbs Racing and 23XI Racing are closely aligned
There is not a single NASCAR Cup Series team that is truly independent, beginning with relationships with Chevy, Ford, and Toyota that allow for the sharing of expertise. Beyond that, few teams have the wherewithal to build engines, so Hendrick Motorsports and Roush Yates Engines each handle the job for multiple teams.
And then there are technical alliances, which involve varying levels of support between teams running the same manufacturer's cars. Richard Childress Racing is among the busiest, with agreements with Petty GMS, Trackhouse Racing, and Kaulig Racing.
There are only two Toyota teams, so it's natural for 23XI Racing and Joe Gibbs Racing to exchange data through the manufacturer. Beyond that, JGR hires and trains the pit crews for both organizations. (Denny Hamlin revealed this summer that 23XI will do its own hiring and training next season.)
Most notably, 23XI brought in JGR Xfinity Series star Ty Gibbs late in the regular season to replace the injured Kurt Busch. At about the same time, JGR shuffled members of pit crews between the cars of its own Christopher Bell and 23XI's Bubba Wallace.
NASCAR's Denny Hamlin problem will eventually blow up
In a sense, it became apparent late in Sunday's race at Kansas that Denny Hamlin couldn't lose. Hamlin was safely in second place, and the car ahead of him was the No. 45 Toyota of Bubba Wallace, which Hamlin co-owns with Michael Jordan.
There was absolutely nothing improper taking place on the track as Hamlin slowly gained on Wallace over several laps before ultimately running out of time and tire grip. However, how would it have looked had Hamlin caught and passed Wallace?
Hamlin is racing for the drivers' title as well as the owners' championship on behalf of Joe Gibbs Racing; Wallace is competing only for the owners' championship for 23XI Racing. Winning races means more money both for driver and team, but the real money in the sport is attached to owner points at the end of the season.
Winning the race would have automatically advanced Hamlin to the round of 12 after next weekend's race at Bristol and earned him more points that could help with subsequent playoff transfers. From a purely financial perspective, however, he made more money when Wallace won.
Again, everything in the race appeared to be on the up and up. And Hamlin said the right thing afterward.
"I nearly wrecked to catch him off of (Turn) 4. I got loose and hit the fence," he told reporters. "I was driving as hard as I could. Nothing will ever come free when you are driving for me. If you think I'm going to let you win, you better get another job."
Nevertheless, the mere appearance of impropriety can be nearly as bad as impropriety itself. How many times in the past five seasons did Valtteri Bottas relinquish position to Mercedes teammate Lewis Hamilton under instructions or "suggestions" from the team? As much as fans admire Hamilton, some had to hold their nose over the stench from such manipulation.
With legalized sports wagering now pervasive in the United States, NASCAR is sitting on a timebomb by continuing to allow Hamlin to drive for one team while holding a financial stake in another.
Should something unexpected happen in a future race while Hamlin is battling the Nos. 23 or 45 Toyotas for the win, conspiracy theories will materialize, and the integrity of the sport will be questioned.
Like Sportscasting on Facebook. Follow us on Twitter @sportscasting19 and subscribe to our YouTube channel.
Got a question or observation about racing? Sportscasting's John Moriello does a mailbag column each Friday. Write to him at [email protected]