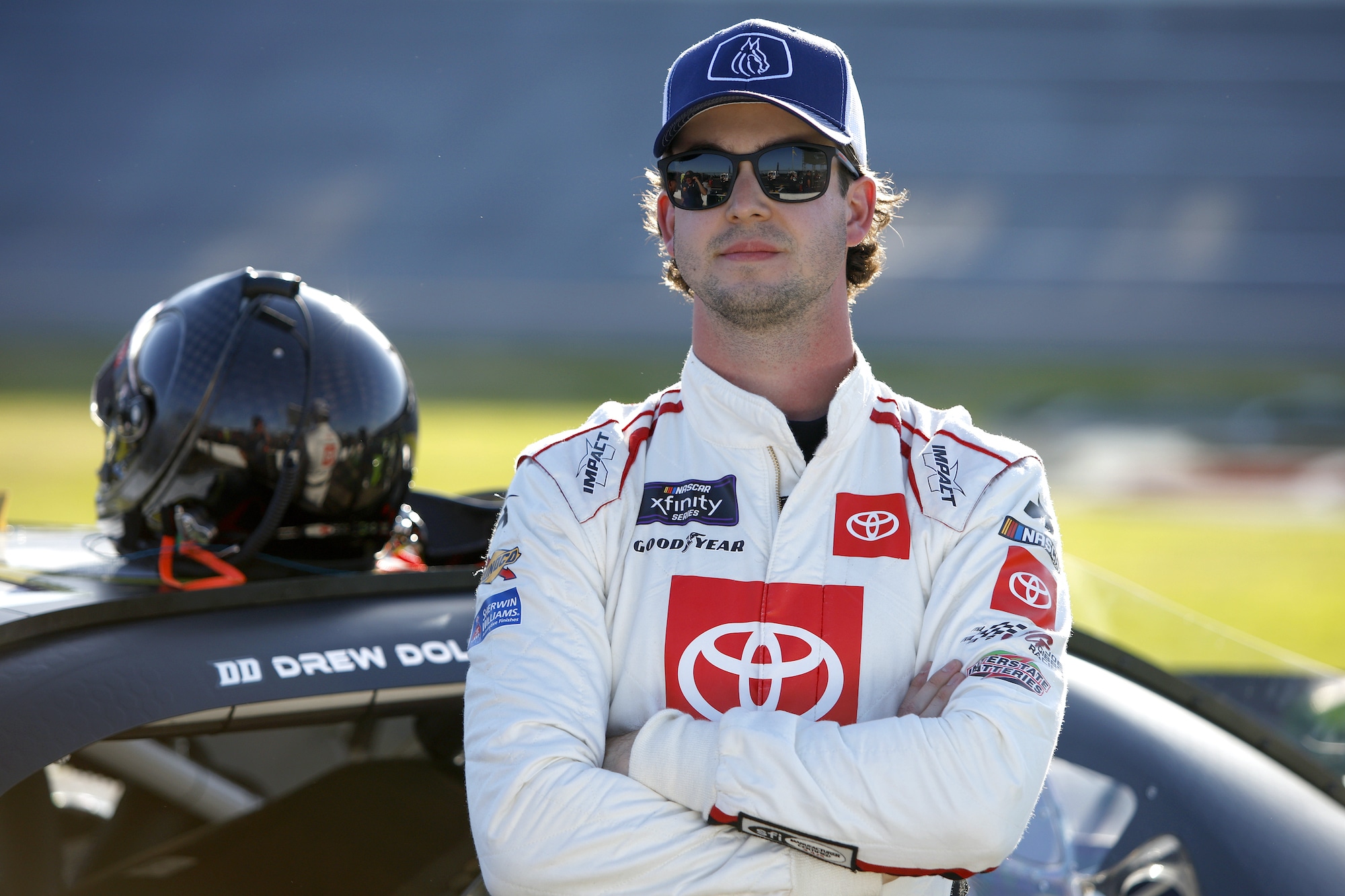 Unhappy ARCA Series Car Owner Goes Off on Drew Dollar During Live Interview, Cusses, and Calls Driver a 'Pure Lack of Talent'
Drew Dollar caused a crash that took out the leaders at Kansas and his former car owner went off on live television, cursing, and telling the driver to quit racing.
The ARCA Series is where young drivers like Drew Dollar go to learn and hone their race craft with the hopes of moving up to one of NASCAR's top three national touring series. Saturday's race at Kansas produced entertaining on-track action but it's what was said after the leaders got into a crash just past the halfway point that is making headlines. 
Drew Dollar wrecks Corey Heim in ARCA race at Kansas
Corey Heim and Drew Dollar were undeniably the two best cars on the track at Kansas Speedway. Heim, driving for Venturini Motorsports, and Dollar, driving for Kyle Busch Motorsports, started at the front and easily maintained those positions through the first 50 laps. 
On a restart with 43 laps to go, it all changed. 
Dollar, who was on the inside of Heim, got loose going into the turn, slid up into the side of the No. 20 car, jamming it hard into the outside wall. Both cars bounced off the wall and slid down into the infield grass, Heim receiving the worse end of the deal. His day was done.
After Dollar's team repaired his right-front damage, he returned to the track but didn't last long as his right front went down and he slammed hard into the wall, ending his day. 
Owner goes off and cusses on live television
A few minutes after the crash, FS1's Kate Osborne caught up with the owner of Heim's car, Billy Venturini, and he had plenty to say about the incident.
"I know how David Gilliland feels," Venturini said. "Drew wrecks all your s*** when he's driving for you and then he wrecks it all when he's racing against you. So I can understand why he punched him in the eye over at Bristol last year.
"Just typical bonehead move by Drew. He's killed a couple of my cars here, and now he's killed one and he wasn't even driving for it. Just look at it. Pure lack of talent. Great kid. Does not need to be a race car driver. He's got a lot of other things he could probably do and make a good living."  
Dollar drove full-time for Venturini in the ARCA Menards Series in 2020 and earned his first career win at Talladega. He ran a part-time schedule for the team in 2021 and eight Truck Series races for Kyle Busch Motorsports. He's running a part-time ARCA schedule for KBM in 2022. 
Dollar caused another similar accident at Daytona in Xfinity Series debut
Unfortunately, Dollar's damage isn't limited to the ARCA Series. He made his Xfinity Series debut with Joe Gibbs Racing this year at the season-opening race in Daytona. It didn't go well. Early in the first stage, the 21-year-old got loose on the inside lane — much like Kansas — but this time shot up the track in front of Jeremy Clements, collecting the No. 51 car and ending his day. 
The veteran driver was understandably unhappy and took to Twitter, saying something similar to what Venturini said in Kansas. "That's what happens when you have guys that buy rides that shouldn't be out there," Clements tweeted. 
Dollar has developed a reputation early in his career as a driver that costs teams dollars. That's going to have to change soon or, as Venturini said, he's going to have to seek out other ways to make a living.