JGR Lines Up Backup Plan Should Kyle Busch Need to Leave On Short Notice
Kyle Busch is about to become a father for the second time, which could require him to miss a NASCAR Cup Series race.
He's been on a nice roll for more than a month, but Kyle Busch isn't invincible. After five straight top-10 finishes in NASCAR Cup Series action, he's perilously close to a DNF. In fact, it could even be a DNS, as in "Did Not Start."
Busch is on call 24/7 these days while awaiting a message to hop the next flight home for the birth of his daughter. But with the way the No. 18 Toyota has been cruising along, Joe Gibbs Racing has no interest in parking the car should he have to take off on short notice.
Samantha and Kyle Busch are going to be parents again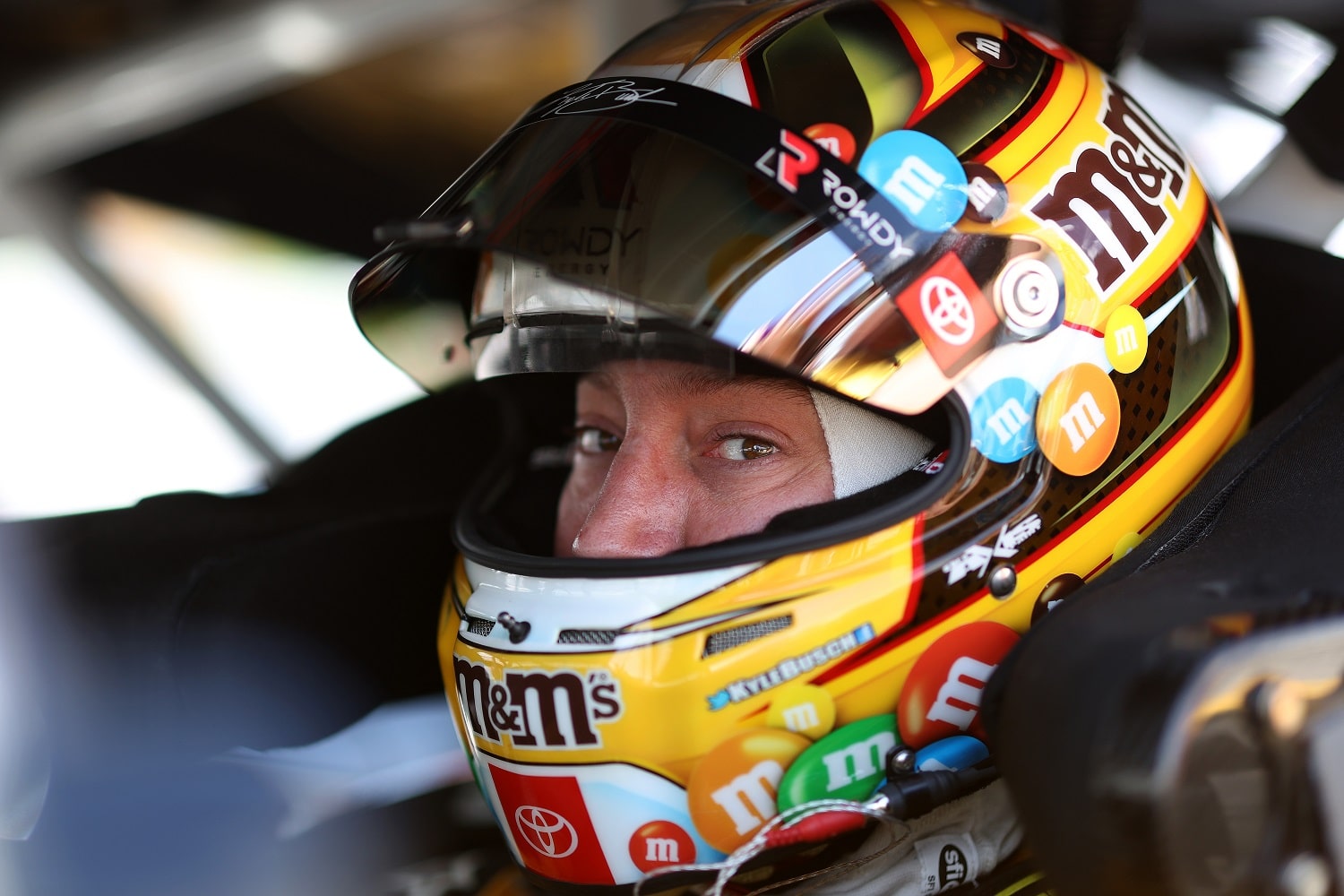 Samantha and Kyle Busch revealed last year that they would soon have a daughter joining a family that already includes 6-year-old son Brexton, but it was not without complexities. She endured miscarriages in the past, so the couple conceived through In Vitro Fertilization with a surrogate.
The driver and his wife have dedicated considerable time and effort toward their Bundle of Joy Fund, a charity described as "advocating for infertility education and awareness and removing financial barriers by granting monetary awards to couples who require fertility treatments" to bear children.
At the moment, however, they're focusing on themselves, because the surrogate is within days of her due date. As such, Kyle Busch and the Joe Gibbs Racing team have been making plans so that the driver can be there for the birth, even if it pulls him out of action Sunday at Darlington or next weekend at Kansas.
Trevor Bayne is ready to step in for Kyle Busch
There is an extra man in Joe Gibbs Racing meetings this week. Team owner Joe Gibbs has designated Trevor Bayne as the reserve driver to step in for Kyle Busch if necessary.
There's nothing particularly challenging about making the switch since the setup of the car would be the same regardless of the driver. The only adjustment would be in the driver's seat, and Bob Pockrass of Fox Sports reported that JGR addressed that during the week. Bayne was fitted in the shop for a seat insert that would replace Busch's insert, assuring maximum comfort. He also spent time in the simulator.
Bayne hasn't won in the Cup Series since his surprising victory in the 2011 Daytona 500, and he hasn't driven in NASCAR's top series since 2018. However, JGR brought him aboard this season for a handful of appearances in the Xfinity Series, where he landed in the top five in his first two assignments.
It's apparent now that Joe Gibbs signed Bayne knowing that he might need a one-off pinch-hitter.
Ty Gibbs will have to wait a little longer
It's hard to say whether Ty Gibbs isn't ready for the Cup Series or if the Cup Series isn't ready for Ty Gibbs. Either way, the teenage Xfinity Series star apparently wasn't under serious consideration as a reserve driver for Kyle Busch. Instead, Trevor Bayne got the assignment.
Gibbs, 19, won the pole for Saturday's Xfinity race at Darlington but finished 16th for his worst race showing of the season other than a day at Talladega that ended in a wreck. He's won seven of his 29 career starts and is chomping at the bit for his first crack at the Cup Series.
"It's not my decision, but I would definitely like it to be (considered)," Gibbs said in a media availability before the weekend. "The only thing I could do is just keep racing and show my abilities and do as best I can. But, yes, I would like it to be me. But Trevor's got a lot of experience. He's a great driver and great guy."
All stats courtesy of Racing Reference.