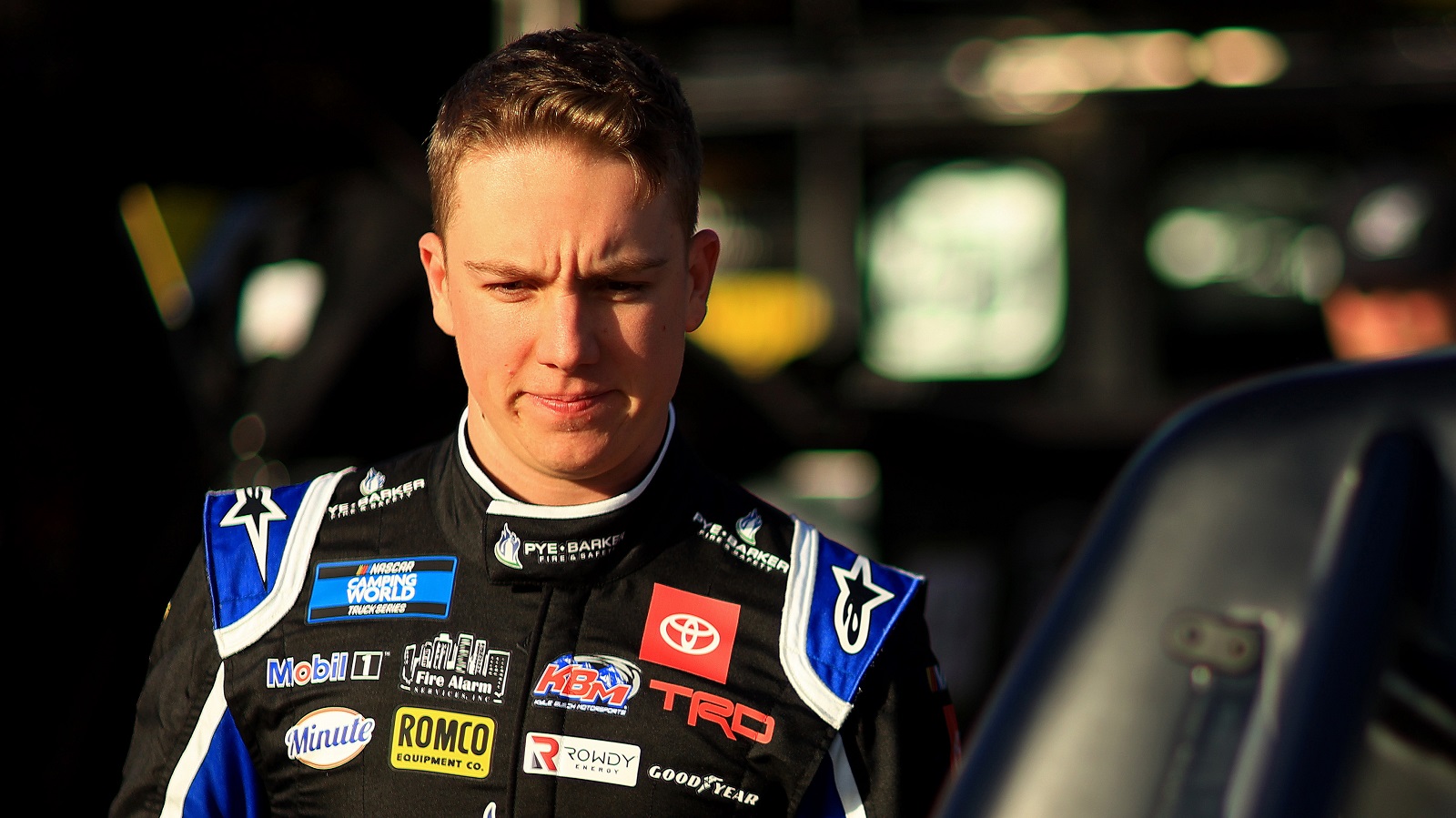 Trevor Bayne Suddenly Has Company From John Hunter Nemechek at JGR
The combination of John Hunter Nemechek and Trevor Bayne puts the Joe Gibbs Racing No. 18 Toyota in good hands in the NASCAR Xfinity Series.
Just like picnic pavilions at the county park and hotels at summer hot spots, reservations for the No. 18 Xfinity Series Toyota are filling up, too. Joe Gibbs Racing announced this week it's handing the keys to that car to John Hunter Nemechek for three races.
That happens to be the car that NASCAR veteran Daniel Hemric drove to the 2021 season championship, but he's not the driver affected by the latest development.
The Joe Gibbs Racing lineup looks different in 2022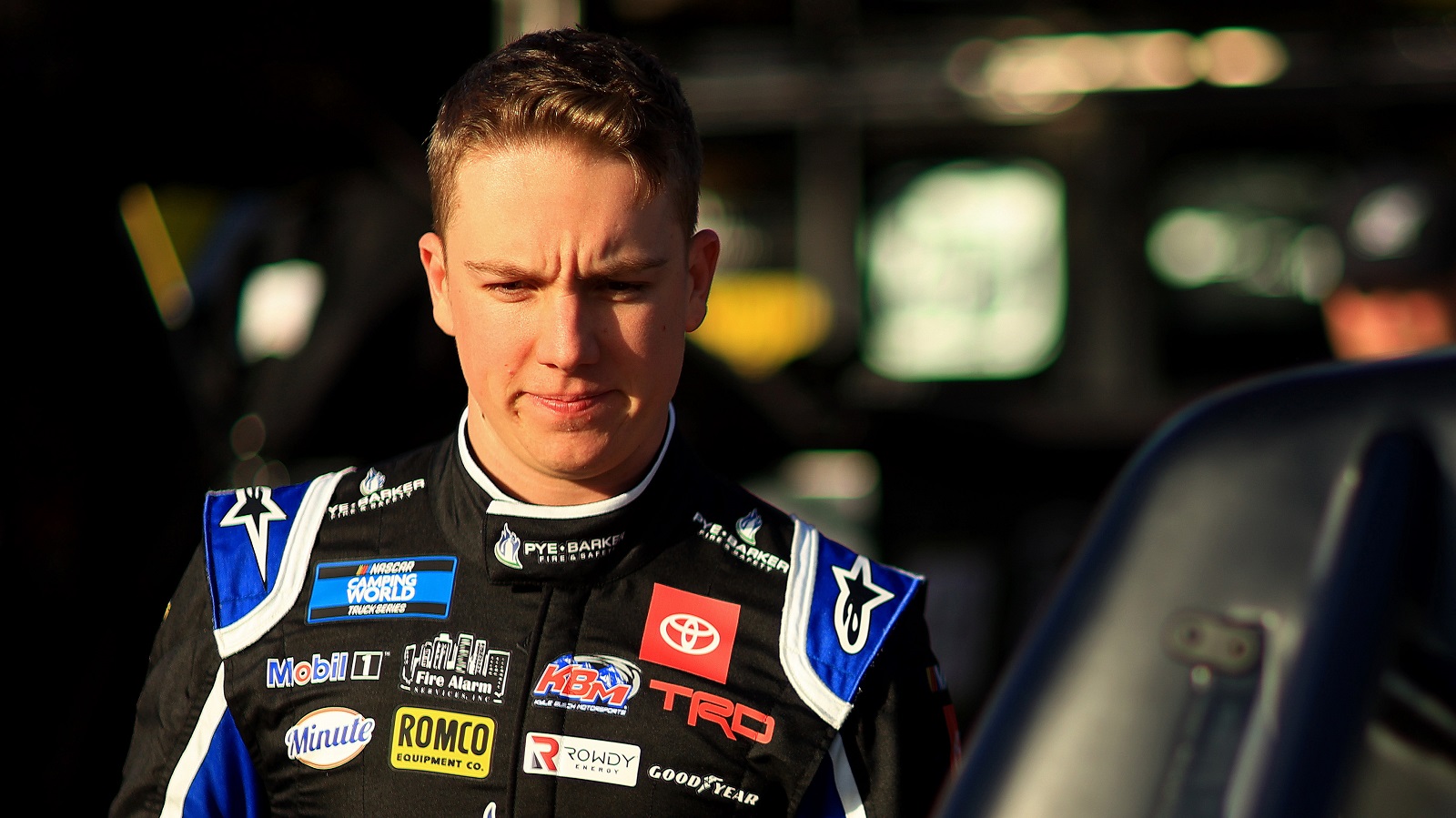 There are always more drivers than cars in the NASCAR Xfinity Series, so sharing is a way of life. It gets a little tougher for drivers without a full-time ride when owners mothball cars, and Joe Gibbs Racing was one of those teams this offseason.
JGR ran Daniel Hemric, Brandon Jones, and Harrison Burton full-time last year, with a fourth car split among multiple drivers, including the organization's Cup Series contingent.
Hemric left for Kaulig Racing after earning the 2021 Xfinity Series championship, and Burton moved up to the Cup Series this season with Wood Brothers. That necessitated changes at JGR.
Jones returned for his fifth season with JGR, and owner Joe Gibbs made the predictable move by handing the No. 54 car to grandson Ty Gibbs, who won four times in 18 starts a year ago at the age of 18. Instead of bringing aboard another full-time driver, however, JGR retired the No. 20 Toyota for now and turned the No. 18 into a shared ride.
Drew Dollar is handling the superspeedways, Ryan Truex signed on for four starts, and JGR brought in Trevor Bayne with a schedule for seven rides.
Trevor Bayne is off to a great start but has new competition
Drew Dollar made it through just 14 laps before wrecking at Daytona to open the season in the Joe Gibbs Racing No. 18 Toyota. Then, Ryan Truex wrecked late in Las Vegas. Results improved drastically once it was Trevor Bayne's turn behind the wheel.
Bayne led 24 laps on his way to third place at Auto Club Speedway and then led 28 laps and placed fourth at Phoenix Raceway after starting on the pole. That was followed by the announcement that Bayne will pick up an additional ride in the car this weekend in Atlanta.
Given his journey since winning the 2011 Daytona 500 a day short of his 20th birthday, that qualifies Bayne as one of the best stories a month into the NASCAR season.
Now, it's John Hunter Nemechek's turn to make up for lost time, and he'll be taking his turn in the No. 18 Toyota beginning April 2 at Richmond Raceway. Nemechek made a name for himself with six truck victories from 2015-18, was a regular in the top 10 in Xfinity races for two years, and then struggled to 27th place in Cup Series points for Front Row Motorsports in 2020.
That sent Nemechek back to the truck series with Kyle Busch Motorsports last year, where he won five races and finished third in the series.
The No. 18 is in good hands with Trevor Bayne and John Hunter Nemechek
John Hunter Nemechek will be driving in three races for Joe Gibbs Racing for the second straight Xfinity Series season. He won at Texas Motor Speedway and placed sixth at Phoenix last year in the No. 54 car that was magic for everyone as Kyle Busch (five), Ty Gibbs (four), Nemechek, and Christopher Bell combined for 11 victories.
With the announcement that Nemechek, who ran fifth at Phoenix in a Sam Hunt car after leading 11 laps last week, will race at Richmond, Dover, and Fort Worth, Joe Gibbs Racing has committed to running the car 19 times before accounting for likely appearances by its Cup Series drivers.
So, it's probable that JGR will send the car to the starting grid in every race this season. What remains to be seen is whether Nemechek or Bayne might be able to line up sponsorships to pick up another race or two.
If so, the No. 18 Toyota would certainly be in good hands.
All stats courtesy of Racing Reference.