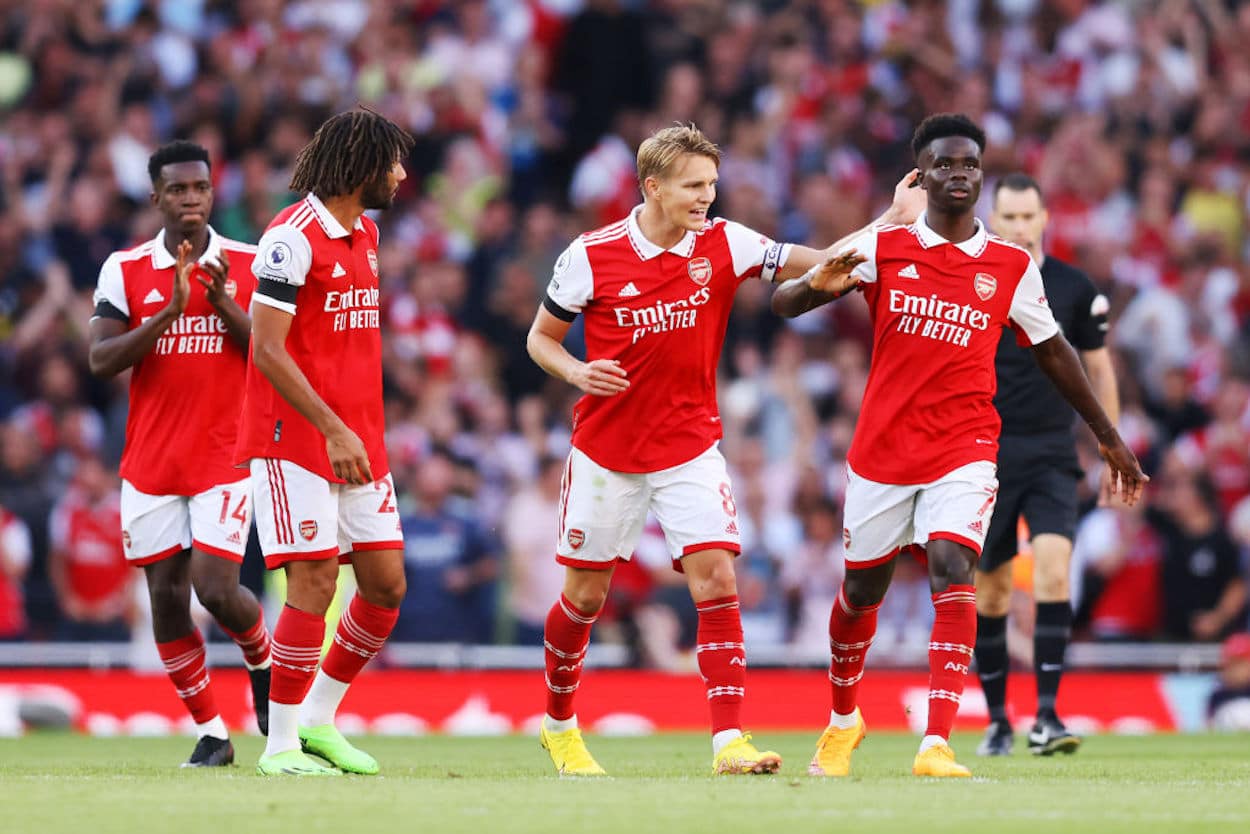 Arsenal's Comeback Win Can't Overshadow the Scary Reality of Their Lack of Depth
Arsenal won again to keep the good times rolling, but their injury-related changes are a reminder that the job isn't done just yet.
While Arsenal didn't exactly put in a classic performance against Fulham, most of their supporters won't really care. The Gunners showed grit, character, and whatever other intangibles you'd like to name as they fought back to secure a 2-1 win. It might not have been convincing, but it's easy to hold up as a "good soccer teams win when they don't play well" sort of performance.
If we look beyond the result, though, the match did shine a scary spotlight on one Arsenal reality. The schedule is about to ramp up, and Mikel Arteta is still dealing with a rather thin squad.
Arsenal weren't at their best without Oleksandr Zinchenko and Thomas Partey
Across the first three matches of the Premier League campaign, Arsenal had the luxury of naming a consistent starting 11. When it came time to face Fulham, however, things finally changed.
Oleksandr Zinchenko, who's transformed the Gunners' structure in precaution after, sat out as a precaution spraining his knee. Thomas Partey, the club's midfield anchor, also missed out with a tight quad. Kieran Tierney and Mohamed Elneny took their respective places on the pitch.
And while the final result is (theoretically) all that matters, the changes did have some noticeable knock-on effects. Tierney tried to tuck into the midfield like Zinchenko did but isn't as natural on the ball as the Ukrainian; he also combined less successfully with Gabriel Martinelli, whether that's down to a lack of chemistry or a clash of styles.
Elneny's inclusion also affected how Arsenal moved the ball from back to front. While Partey is uniquely suited to be a one-man midfield — he can receive the ball on the half-turn and either beat a defender or make a progressive pass — the Egyptian is more prone to playing things safe and recycling possession. That slowed down the Gunners' build-up play and forced players like Martin Odegaard drop deeper and deeper.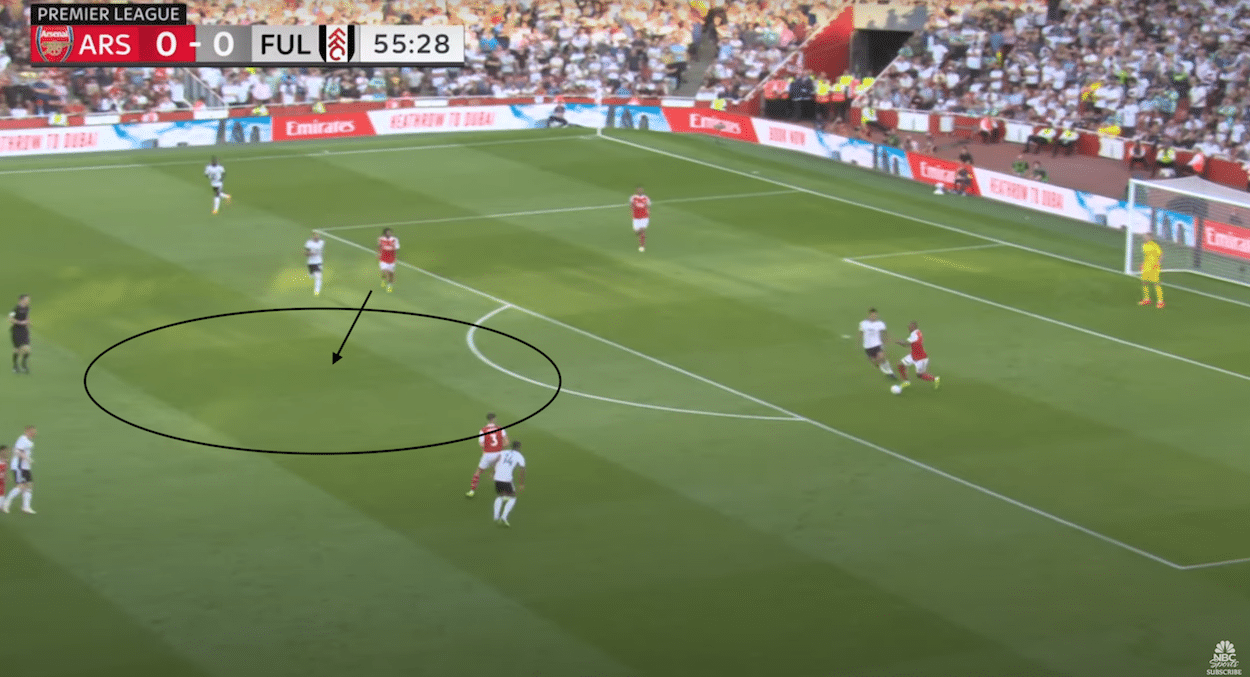 While it's not the perfect example due to some complicating factors, consider Fulham's goal as seen in NBC Sports' official highlights. While Gabriel shoulders the majority of the blame (and Bukayo Saka didn't do him any favors with the pass), look at the Brazilian's options when he receives the ball. Normally, Partey would be occupying the circle at the center of the frame, providing a safe pass to break the press. Elneny, however, hadn't made up the ground from providing Saka support prior to the pass (his support there largely consisted of standing next to a Fulham player), leaving a gaping hole in the middle of the pitch.
Ideally, Elneny would have occupied that central space and, in turn allowed Tierney (#3) to pull further wide to stretch Fulham's pressing line across the pitch. That didn't happen, though. Faced with no clear passing options and a tough-to-control pass, Gabriel was caught on the ball.
Could the big Brazilian have simply cleared the ball? Yes, but that reality would have still shown the drop-off from losing Thomas Parety. The Ghanaian is a unique player, but one injury shouldn't cause a domino effect that culminates in a complete stylistic change. That's how Arsenal missed out on the Champions League last year.
The Gunners now have to stick or twist in the transfer market as their schedule ramps up
Last year, Arsenal were faced with the unique (at least for them) situation of only playing one match during most weeks. This season, though, things will be quite a bit different.
Thanks to qualifying for the Europa League and a compressed schedule due to a winter World Cup, the Gunners are going to be hitting the pitch pretty often. They face Aston Villa on Wednesday, August 31, and then play three sets of Sunday-Thursday matches in September before a break. October gets even tougher with nine matches; three of those domestic dates are against Tottenham, Liverpool, and Manchester City.
That reality means Arsenal would already have to be rotating and testing their depth. While you could argue the Europa League matches will feature the B team at best, Saturday's game emphasizes just how thin the squad is, especially in the center of the park.
While it's tough to replace Thomas Partey on a one-for-one level, there needs to be a better option. Right now, Arteta can plug in Elneny, hope Albert Sambi Lokonga can do the job, or rob Peter to pay Paul and play either Zinchenko or Odegaard in a deeper role. None of those are ideal; it's just about finding the least bad alternative.
The (potential) silver lining, though, is that the transfer window is still open. Youri Tielemans isn't the perfect Partey replacement, but he's probably available should Arsenal want to pull the trigger. Reports suggest that the Gunners are prioritizing a winger, however, so the Belgian might not be bound for the Emirates this summer. While it would be naive to suggest playing without Partey on Saturday would have forced Arteta and Edu Gaspar to call an audible, can they really feel confident with the midfield options currently at their disposal?
That's the million-dollar question facing Arsenal. Things are looking good, but two injuries on Saturday were a reminder of how things went wrong last year. And, no matter how optimistic you may be as a Gooner, reliving the end of the 2021-22 campaign is certainly a scary thought.
Like Sportscasting on Facebook. Follow us on Twitter @sportscasting19 and subscribe to our YouTube channel.