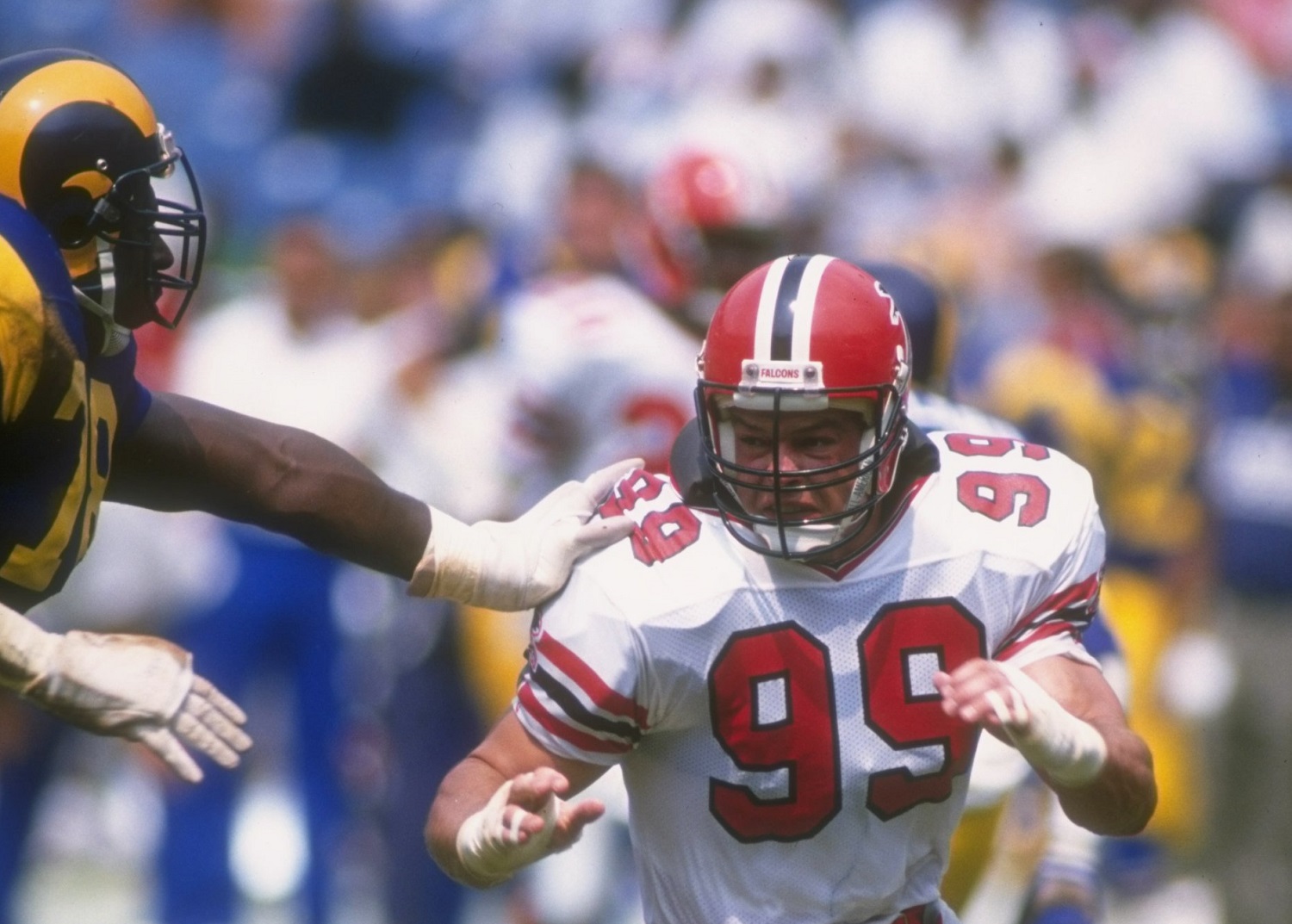 Ex-Atlanta Falcons Defender Tim Green Has ALS and Is Under Attack in His Own Hometown
Retired Atlanta Falcons defender Tim Green disclosed his ALS diagnosis in 2018. He is under fire for substandard conditions at a large apartment building he owns in Syracuse, where he played college football.
Tim Green has been a college football star, an NFL lineman for the Atlanta Falcons, a prolific author, a network analyst, and a lawyer. He's also an ALS patient. Now, people in his hometown see him as a problematic landlord.
Tim Green has had a vast and varied career
Before beginning an eight-year NFL career with the Atlanta Falcons in 1986, Tim Green was the recruit widely credited with reviving the moribund Syracuse University football program. Dick MacPherson arrived as the head coach in 1981 and shortly afterward was able to convince Green, from the nearby town of Liverpool, to stay in Central New York. It stabilized recruiting, and Green went on to become a first-round pick in the NFL draft.
As his playing days wound down, Green published Ruffians, the first of his more than 30 novels, and joined Fox Sports as an NFL analyst. He also set off on a more than 20-year career practicing law.
Green, who dabbled in coaching high school football in Central New York, and his son Troy also have invested in a string of apartment complexes valued at $26 million, according to Syracuse.com.
He announced his ALS diagnosis in 2018
Tim Green went public in November 2018 with the news that he had been diagnosed with amyotrophic lateral sclerosis, frequently referred to as Lou Gehrig's disease. Green's symptoms had begun five years earlier with neurological problems in his hands that doctors initially attributed to football-related elbow injuries. Doctors dug further when Green's voiced weakened, and they determined he had a slow-progressing form of ALS.
According to Syracuse.com, there has been a subsequent deterioration of some motor skills. ALS affects nerve cells in the brain and the spinal cord, weakening muscles. Green, now 57, went public with his condition when it became apparent that friends and acquaintances would start noticing changes.
Ex-Falcons defender Tim Green is under attack
Tim Green's name has been back in the news in Central New York this year, and it has not been in a good way. In mid-March, a 93-year-old woman was found dead in her residence in Skyline Apartments, one of the Syracuse properties owned by retired NFL player Tim Green and his son Troy, according to Syracuse.com. Police ruled her death a homicide.
The incident shined light on myriad health and safety problems at the 13-story tower with 365 apartments and spurred calls for action to resolve complaints about trash and feces in stairwells, erratic heat and water service, and bed bug infestations.
Mayor Ben Walsh promised to take the Greens to court to compel them to improve conditions or face potential seizure of the building. He also raised the possibility of criminal charges. Citing 12 arrests at the complex for drug-related offenses in the past two years, the city has already moved to require the owners to hire 24-hour security and install cameras.
Walsh accompanied code inspectors on an inspection of the facility.
"What I saw and what I heard will stick with me forever," he said. "I'm done with excuses. I'm done with second chances. Actions speak louder than words. The track record of the owners is abysmal."
Tim Green and his son purchased the property in 2016.
Like Sportscasting on Facebook. Follow us on Twitter @sportscasting19.