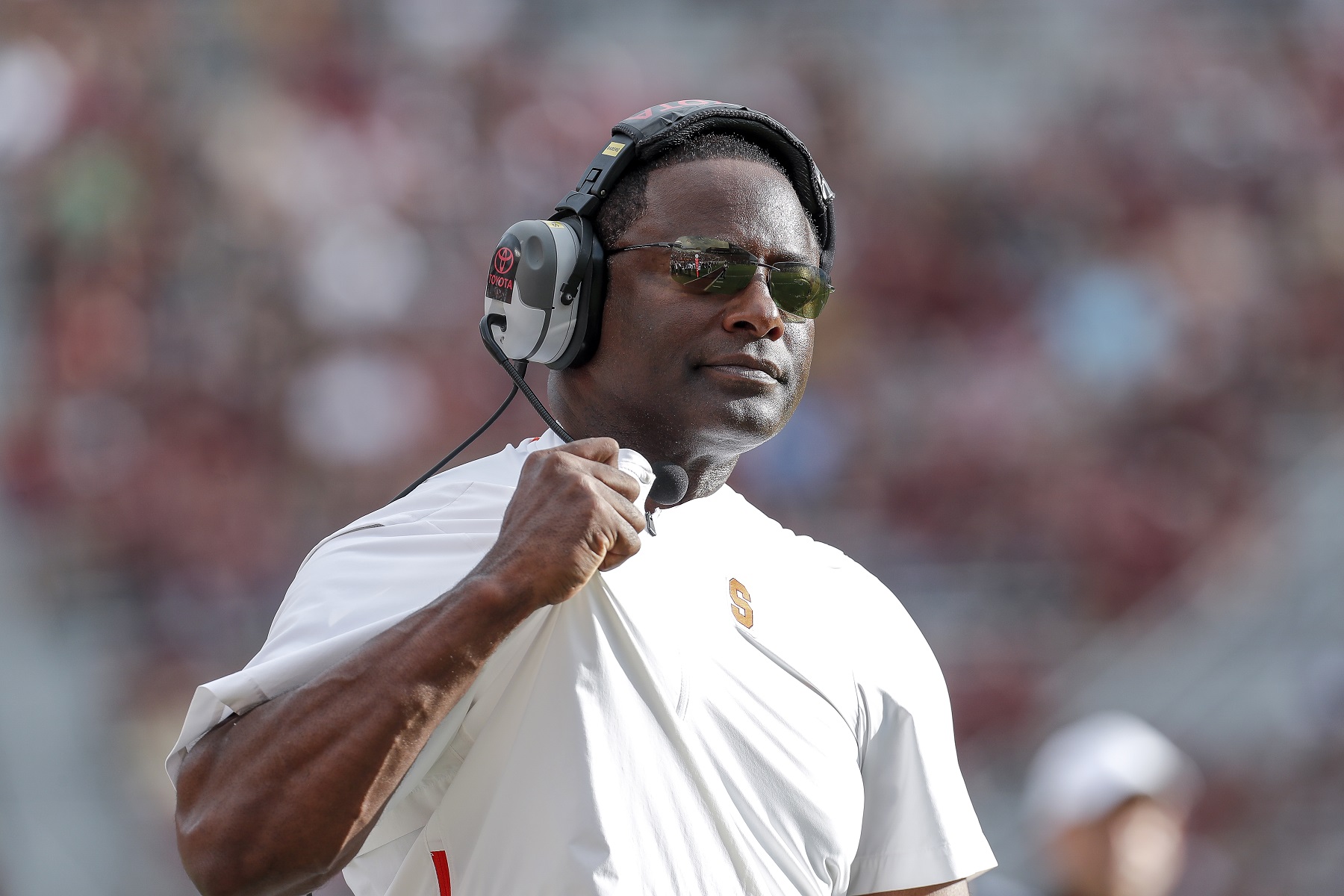 The Dino Babers Era With Syracuse Football Has To End Soon
The loss to Liberty University, which had never defeated an ACC opponent, raises questions about how much longer Dino Babers might last at Syracuse University.
Syracuse University is on its seventh head football coach since the day Jim Boeheim took over the Orange basketball program in 1976. The school that has graduated the likes of Jim Brown, Floyd Little, Dwight Freeney, and Donovan McNabb to the NFL needs to get to work on coach No. 8, because it's unimaginable that Dino Babers can survive losing to Liberty University.
Liberty University thrashed Dino Babers and Syracuse, 38-21
Don't kid yourself. There actually can be shame in losing to an unbeaten team midway through the college football season – and Syracuse Orange proved it. Forget the fact that coach Dino Babers' team was without injured starting quarterback Tommy DeVito on Oct. 17. The Syracuse defense got thrashed for what feels like the 30th time in Babers' four-plus years as head coach.
For every injured impact player that Syracuse was missing during a home game in an empty dome, Liberty University had one of its own. When it was over, though, Liberty had rolled to 38-21 victory.
Syracuse is off to a 1-4 start for the first time since 2008. Liberty, which has only played in the FBS since 2017, is 5-0 for the first time since 2008, and the rout marked the Flames' first victory over an ACC opponent in nine tries.
"It doesn't matter if they're ACC, SEC," Liberty defensive back Javon Scruggs said before the game. "It doesn't matter. At the end of the day, we're going up there to play football."
What Syracuse was playing isn't clear, though it definitely wasn't defense. The Flames seared Syracuse for 338 yards on the ground and 182 in the air.
The Dino Babers era is approaching its expiration date
His dwindling support base can point to another injury-plagued year and a roster certainly affected by COVID-19 opt-outs. Still, Syracuse coach Dino Babers has to be running out of time. An ACC coach can get away with signing two- and three-star recruits for only so long against conference opponents that scarcely give those prospects a look.
The stunning, 27-24 victory over second-ranked Clemson on Oct. 13, 2017, has long since been forgotten. Babers just lost to a Liberty University team that is still a recruiting class away from ramping up to the full complement of FBS scholarship players.
Babers arrived at Syracuse in 2016 after two years as head coach at Eastern Illinois and then two more at Bowling Green. His combined mark at those schools, who were attracted by Babers' four years on the staff at UCLA and then four more at Baylor, was 37-16.
At Syracuse, Babers has slipped to 24-30 – and that includes a 10-3 mark in 2018 that optimists presumed was an indication that the Orange had turned the corner. However, Babers and Syracuse slipped to 5-7 last fall.
Where does Syracuse go from here?
Syracuse has not chosen particularly well since Dick MacPherson left after the 1990 season to coach the New England Patriots. Paul Pasqualoni was promoted from linebackers coach and lasted 14 seasons, but his early success came with MacPherson's players. Non-stop staff turnover eventually drove recruiting into the ground.
It's mostly stayed there since, and New York is barren recruiting territory compared to nearby states like Ohio and Pennsylvania – where Syracuse barely competes.
Four years of Greg Robinson (10-37) was at least one too many, and then Doug Marrone (25-25) and Scott Shafer (14-23) made respectable goes of it. When Dino Babers arrived in December 2016, he rescinded offers to numerous Shafer commits.
If Syracuse rescinds its commitment to Babers, it might face the prospect of an expensive buyout. Syracuse never confirmed details of Babers' December 2018 extension, but it is believed his deal runs through 2024. A private university can't easily eat contracts, and that might be Baber's best hope of sticking.
Data compiled by USA Today puts Babers' salary at $3.2 million, which is toward the low end of Power 5 schools. Given how massive the rebuild would be, Syracuse will probably need to throw another $1 million or more onto the pile to interest an FBS head coach or coordinator whose star is on the rise if it fires Babers.