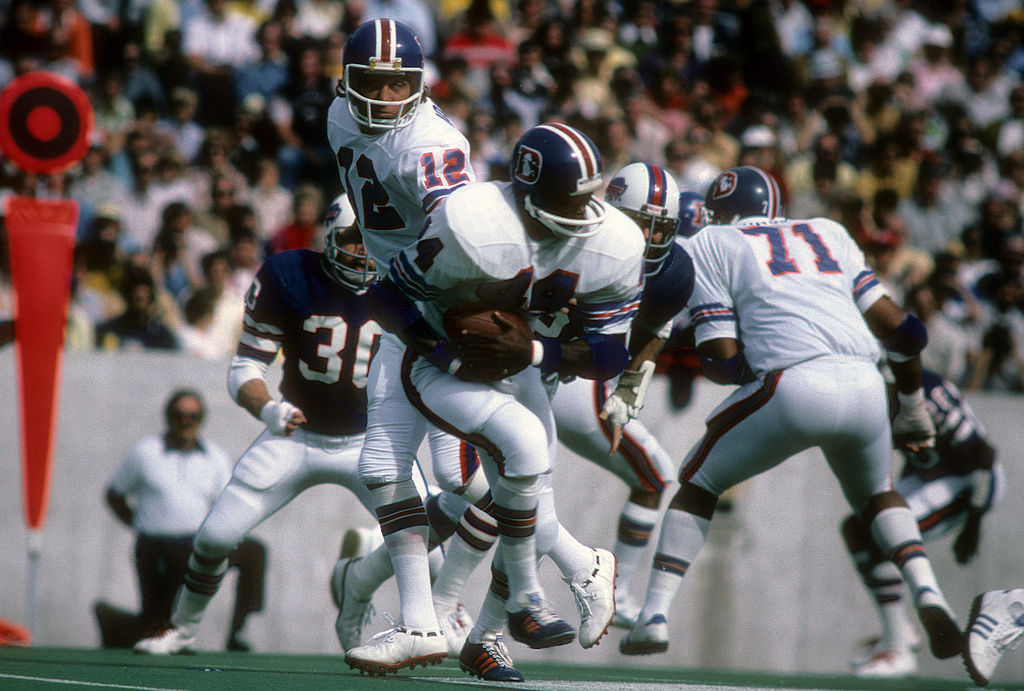 NFL Hall of Famer and Broncos Legend Floyd Little Fighting for His Life
Floyd Little was a star running back for the Denver Broncos in the 1970s and earned a trip into the Hall of Fame in 2010. Today, he's in a battle for his life.
Floyd Little was a three-time All-American running back at Syracuse University before debuting for the Denver Broncos in 1967. Despite his smaller size, Little became a star running back in the NFL for the Broncos, fighting off much bigger defenders. Today, Little is in the biggest fight of his life as he battles an aggressive form of cancer.
Floyd Little becomes another star No. 44 running back
At Syracuse University, Jim Brown is recognized as the best football player in the school's history. He wore the No. 44. Several years later Ernie Davis attended Syracuse and wore the same No. 44. He became the first African-American to win the Heisman Trophy. Floyd Little had planned on attending Notre Dame until he had a meeting with Davis. Davis changed his mind.
In 1963, Davis tragically died of leukemia at the age of 23. A year later, Little honored the commitment he had made to Davis to play at Syracuse and wore the same No. 44. Little became a star for the Orangemen from 1964-66, where he was a three-time All-American. In his Syracuse career, Little ran for 2,704 rushing yards and scored 46 touchdowns.
In 1967, the Denver Broncos selected Little as the No. 6 overall draft pick. 
Little becomes a star for the Denver Broncos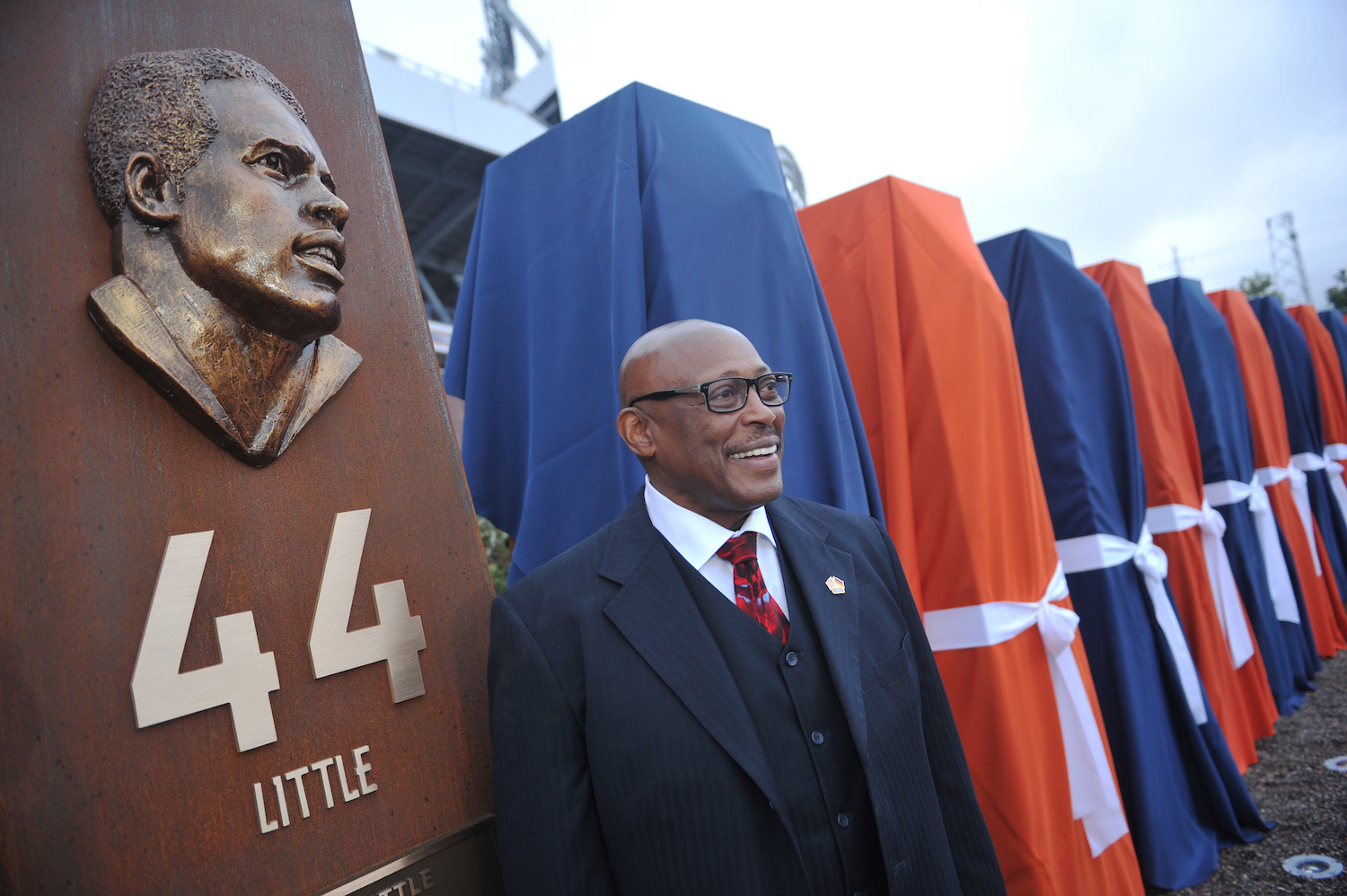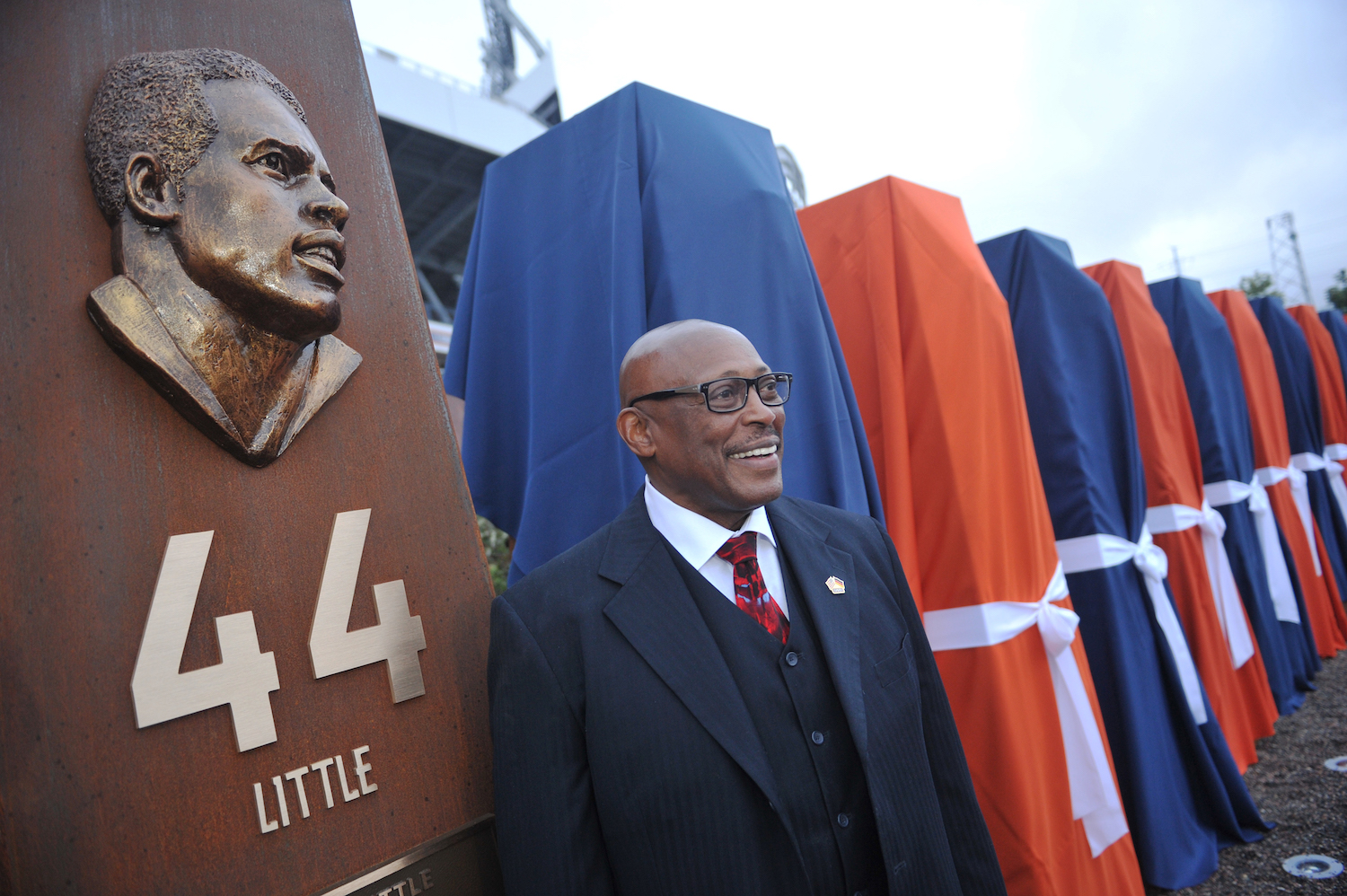 In Floyd Little's rookie season in the NFL, he did exactly what was expected when he arrived in Denver. He rushed for only 381 yards but led the NFL in punt return yardage at 16.9 yards per return. He led the NFL in all-purpose yards his rookie season with 1,626 yards.  
The following year Little had his first Pro Bowl season and once again led the NFL in all-purpose yards with 1,825. In 1969, Little played in just nine games but earned Pro Bowl and All-Pro honors as he rushed for 729 yards and caught passes for another 218 yards. He scored seven touchdowns. 
After another Pro Bowl season in 1970 in which he led the AFC in rushing, Little's best season came in 1971 when he led the NFL in rushing with 1,133 yards and added 255 more receiving yards. He also scored six touchdowns.
Little had his fifth and final Pro Bowl season in 1973 when he rushed for 979 yards, had 423 receiving yards, and led the league in scoring 12 touchdowns. He played two more seasons with the Broncos before retiring after the 1975 season. At the time he left the game, Little was the NFL's 7th all-time leading rusher.
Floyd Little facing the toughest fight of his life
In 1983, Floyd Little was recognized for his college career when he was inducted into the College Football Hall of Fame. A year later, the Broncos recognized their former star running back by including him in the inaugural class of the club's Ring of Fame. In 2010, Little was inducted into the Pro Football Hall of Fame with Jerry Rice, Emmitt Smith, Russ Grimm, Rickey Jackson, John Randle, and Dick LeBeau.
Today, 77, Little lives in Las Vegas with his wife DeBorah but his health is failing. Former Syracuse teammate Pat Killorin said Little is fighting a treatable but aggressive form of cancer. Killorin has created a GoFundMe page to help raise money for the ailing Hall of Famer.
"No doubt it will be the toughest fight of his life," Killorin wrote on the GoFundMe page. "Although he has lived a full life admired and enjoyed by many, Floyd doesn't believe he has yet written, with his Lord and Savior Jesus Christ, the final play of his life."
Killorin said Little, who returned to Syracuse and worked in the athletic department in a fundraising capacity from 2011 until 2016, is part of Syracuse royalty right alongside Jim Brown. 
"Jimmy Brown is the greatest back ever, but Floyd Little is right next to him, as far as I'm concerned, walking hand in hand down that football field."

Pat Killorin
Syracuse retired the No. 44 jersey honoring Brown, Davis, and Little in 2005. In 2015, bronze statues of Little, Davis, and Brown were unveiled on campus.