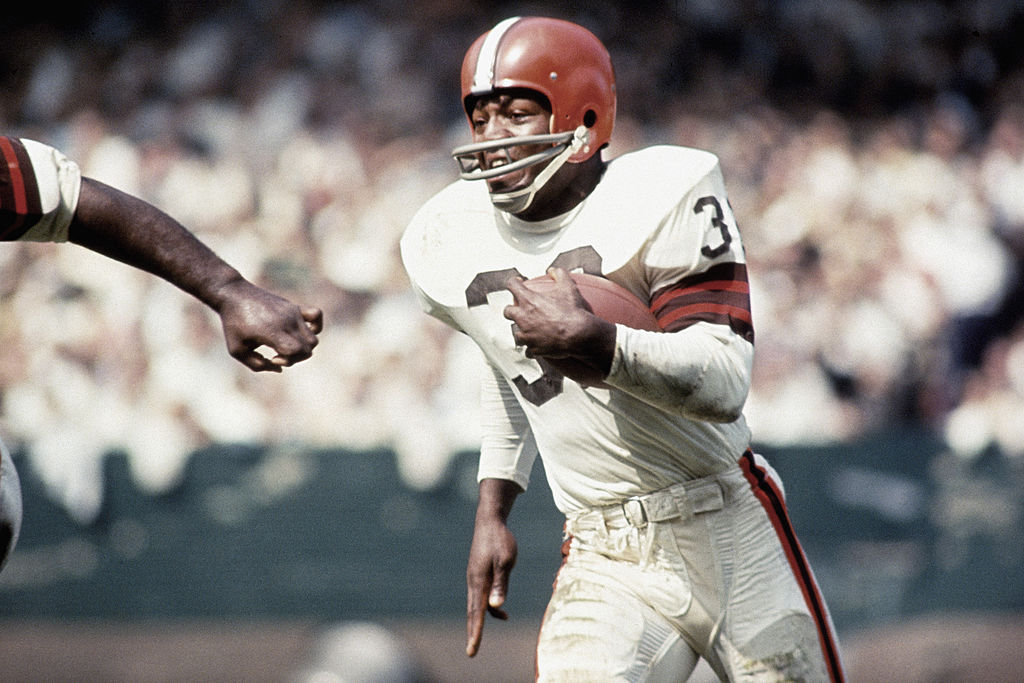 Why Did Jim Brown Shock the NFL and Retire so Early?
Jim Brown was just 29 years old when he retired from the Cleveland Browns as the NFL's career rushing leader.
Art Modell did what just about no NFL defense was able to do in 118 games over nine seasons: He shut down Jim Brown. The Cleveland Browns owner tried pressuring the superstar running back into putting his movie career on hold and ended up pushing Brown into retirement.
Jim Brown was the best in the business
Jim Brown retired after the 1965 season as the NFL's career leader in rushing yards and would probably still be No. 1 today had he not abandoned his career at the age of 29. He started in the NFL in the era of 12-game regular seasons and averaged 1,617 yards a year over the last three seasons back when NFL teams played 14 games.
Still, Brown rolled up 12,312 yards – at an average of 5.2 yards a carry — and 106 touchdowns on the ground to go with 262 catches and 20 scores on receptions. Dallas Cowboys great Emmitt Smith played nearly twice as many games as Brown en route to setting the current NFL record of 18,355 yards on the ground.
Brown's pro accomplishments came after a scholastic career on Long Island as a multi-sport star and then double duty at Syracuse University, where his feats on the field earned him induction into the College Football Hall of Fame and the U.S. Lacrosse Hall of Fame. He was inducted into the Pro Football Hall of Fame in Canton, Ohio, in 1971.
He was selected the greatest football player by The Sporting News in 2002 and the greatest college football player ever by ESPN earlier this year.
Jim Brown was a two-career man
The acting bug bit Jim Brown near the end of his football career and led to his retirement. Brown's first Hollywood role came in 1964 when he played a cavalry soldier in a Western called Rio Conchos. The running back was working on his second movie in 1966 when his difficulties with Cleveland Browns owner Art Modell began.
Brown had been signed for a role as one of the 12 convicts recruited to go to France in World War II to assassinate Nazi officers ahead of the allied forces' landing at Normandy. However, bad weather in England put filming for The Dirty Dozen behind schedule and kept him from arriving home at the start of football training camp.
Brown's absence frustrated Modell, whose Browns were coming off an 11-3 season and a loss in the NFL championship game one year after winning the title. He threatened to fine Brown for each week the star player missed, prompting the running back to announce his retirement.
"I may have acted hastily (with Brown) in 1966. If I had told him to just forget training camp and show up when he could, I think he would have returned. But it wasn't fair to the coaches and players."

Cleveland Browns owner Art Modell
Fortunately for Modell, Leroy Kelly stepped in at running back and rattled off three consecutive 1,00-yard seasons, averaging 14 touchdowns a year. However, the Browns have not been back to a league championship game since Brown's final season.
The movie career blossomed
The Dirty Dozen was a commercial success and helped Brown land the lead in The Split, a 1969 movie that earned him a $125,000 paycheck – twice what he was making each season toward the end of his Cleveland Browns career.
More starring roles followed, including 100 Rifles with Burt Reynolds and Raquel Welch in 1969. He had nearly 20 more roles to his credit within a decade, followed by a steady stream of television roles. His most recent movie appearance came in Draft Day with Kevin Costner in 2014.