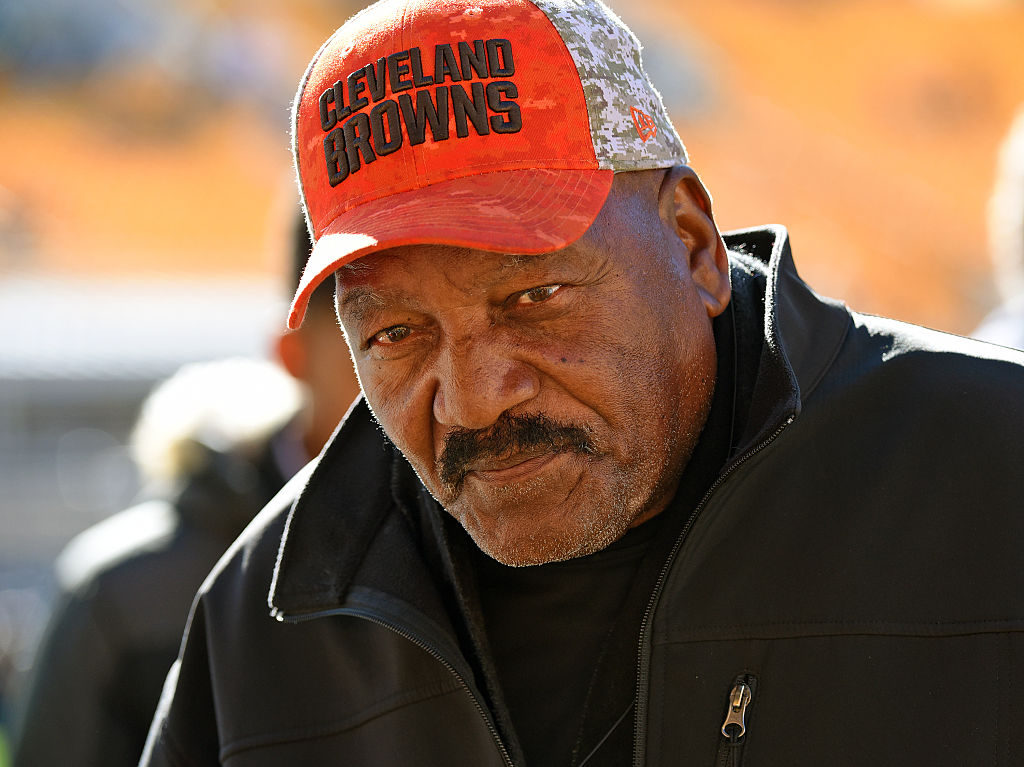 What is Jim Brown's Net Worth?
Jim Brown retired from the NFL in 1965, but the Cleveland Browns legend has built up a substantial net worth in his post-playing career.
Any discussion about the greatest football player of all time begins with Jim Brown. The legendary Cleveland Browns running back simply couldn't be stopped. In fact, the only thing that stopped him from putting up even more gaudy numbers was himself.
Though the nine-time Pro Bowler retired after just nine seasons, that didn't stop him from acquiring a tremendous amount of wealth. From TV appearances to a full-fledged acting career, Brown certainly carved out more than his fair share of income streams long after his playing days.
Jim Brown became an NFL legend in Cleveland
Looking back at Jim Brown's statistics, his dominance jumps off the page. Playing in a run-first era predicated on physicality and violence, the bruising back bullied opposing defenses. At 6-foot-2, 232 pounds, Brown had a remarkable build and impressive speed for a man of his size. In just nine seasons, he totaled 12,312 rushing yards and 106 touchdowns. He added another 262 receptions for 2,499 yards and 20 more scores. He led the NFL in rushing in every season except 1962, when he still tallied 996 yards and 13 TD.
With Brown as the focal point of the offense, the Browns actually enjoyed tremendous success. Cleveland had a winning record in every season Brown played. Along the way, the Georgia native racked up eight first-team All-Pro selections and three MVP awards. In 1964, Brown paced the way with 1,446 rushing yards and helped Cleveland bring home a Super Bowl title.
The Browns actually made it back to the championship the following season. However, the Green Bay Packers bottled Brown up, holding the Hall of Famer to just 50 yards on 12 carries. Cleveland lost its back-to-back bid and has never played in a Super Bowl since that 1965 season. Brown retired despite tying his career-high with 17 rushing touchdowns.
Hall of Fame running back carved out a successful acting career
Football was just the beginning for Brown. In fact, he actually dipped his toe in the acting waters right before he retired. Brown's first big-screen appearance came in 1964, when he played a soldier in a western film called Rio Conchos. It wasn't a tremendous hit, but it set the stage for what turned out to be a highly respected acting career.
The former star running back caught his big break with The Dirty Dozen. In the film, Brown plays a convict sent to France during World War II to assassinate German military officers. Because of the film's success, Brown earned a multi-film contract from MGM, one of the biggest media companies in the industry.
That opened up a world of possibilities for the man considered to be the greatest football player of all time. Brown took on lead roles in a number of films throughout the 1970s, and continued to make smaller appearances even up to 2014 in the movie Draft Day starring Kevin Costner.
What is Jim Brown worth today?
Besides acting, Brown dabbled in a number of other business ventures. He co-wrote an autobiography called Out of Bounds that was published in 1989. He even made headlines for pursuing legal action against EA Sports and Sony for using his likeness in the Madden NFL video game series. Ultimately, he got $600,000 to dismiss the case.
Brown got back in the sports game in several different ways. In 2013, he was named a special adviser to the Browns—a franchise that he essentially built. He also became a partial owner of the New York Lizards of Major League Lacrosse in 2012.
With such a storied career both on and off the field, there's no doubt Brown amassed quite a bit of capital. According to Celebrity Net Worth, the 84-year-old has a current net worth of about $50 million. Considering he only made about $60,000 a year on his last NFL contract, that's extremely impressive. Just imagine what type of NFL salary he would command today.