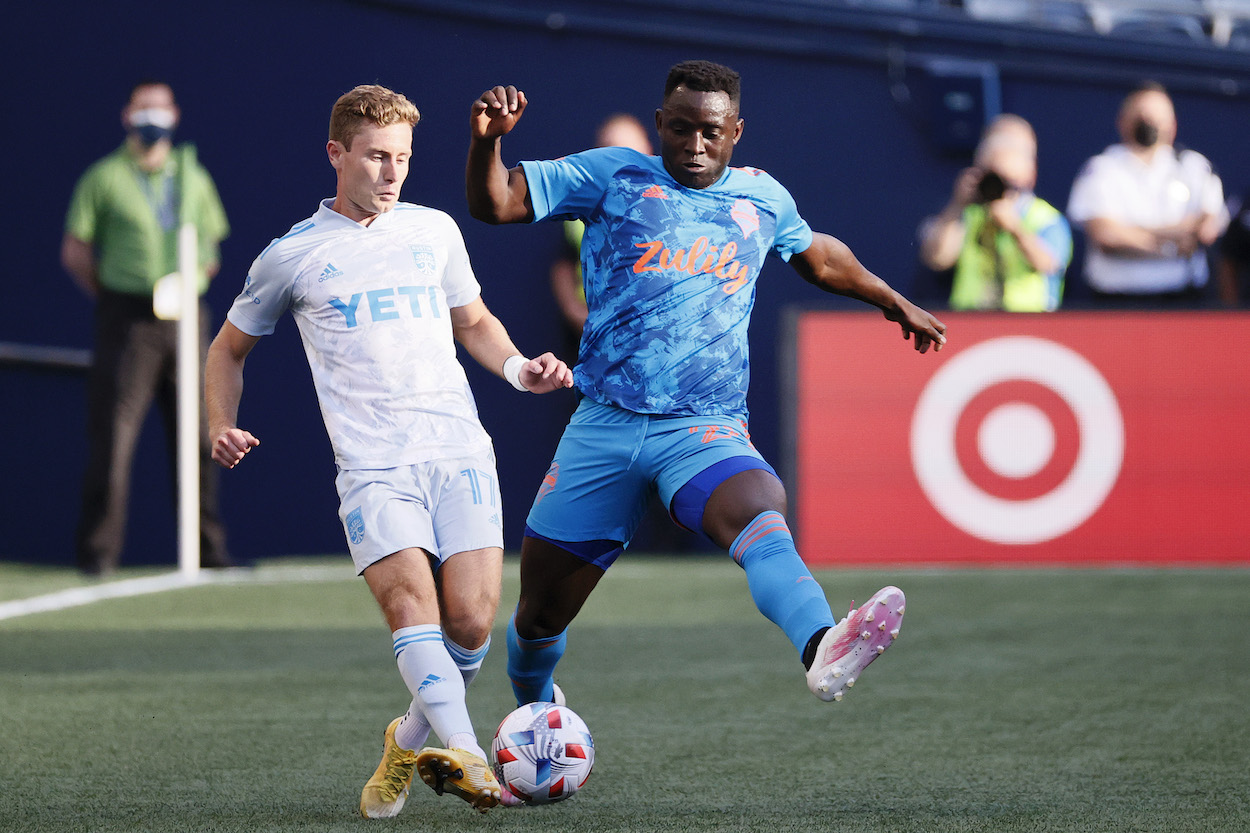 Austin FC Earns a Tough Point in Scoreless Draw on Road Against League's Best Club in Seattle
Austin FC earned a solid result on the road against Seattle with a scoreless draw.
In a season of firsts, Austin FC settled for its first tie in franchise history, but it felt more like a win considering the opponent and circumstances. In the seventh road contest to open the season and after losing three in a row, the visitors took on the best club in Major League Soccer in the Seattle Sounders on Sunday night and came away with a scoreless draw, earning a much-deserved point before heading into the international break. 
Austin FC held scoreless in last two matches
There's no question Austin FC surprised many people around the league, winning two of its first three matches, all of them on the road. However, since that fast start, the club has come back down to earth.
The change in fortune can be traced back to Kansas City, where Los Verdes played solid and held a 1-0 lead when captain Alex Ring got sent off after receiving his second yellow card. Sporting KC came to life and scored two unanswered goals late to hand Austin a tough 2-1 defeat.
Austin's offensive attack in the final third has struggled much of the season. Since the loss in Kansas City, the team had its chances against the LA Galaxy and Nashville, but failed to capitalize and finished both matches without scoring a goal. Through six games this season, Austin had been shut out three times. 
Struggle in first half on road in Seattle 
While playing on the road is challenging enough, taking on the league's best team in Seattle presented a whole other set of challenges. The first half against the Sounders appeared to be much of the same for Austin. 
The visitors came out and looked one step slower than the home team, which entered the contest with a league-best 5-2-0 record and sitting atop the Western Conference with 17 points. Following the game, head coach Josh Wolff said Seattle came out with a different look than expected and forced his staff to make some first-half adjustments around the midway point of the half that helped settle his team down. 
"After about 20 minutes, we changed a little bit of our structure," Wolff said. "Got a little more stability. But mostly, we had to fight and grind through that first little bit. They're a tough team…It made it challenging."  
Austin FC comes out with strong second-half performance and earns draw
Austin started the second half looking like a different, much more aggressive team. Wolff said that was by design.
"Offensively, I think we played ourselves into the game," he said. "Once we dealt with their pressure and committed to the idea to get around the ball, think about we want to process the ball across the field and advance, we did a much better job. We created some very good chances again. Right now, for whatever reason, we can't get it to go in."
Austin finished the contest with 12 total shots, including three shots on goal, but settled for a point in a scoreless draw. Wolff said it was a much-deserved result. 
"I think it helps with morale. Knowing each game, going away, how difficult it is to win, in particular in Seattle," Wolff admitted. "This has been the best team in the league thus far this season. They score goals. They don't give up many goals. And they're just a really well-balanced professional team. We knew it was going to be tough. We answered the fighting and the grinding." 
With the international break, Austin FC returns to action on June 12 for a second matchup in Kansas City before finally returning home on June 19 for the first-ever home match at Q2 Stadium against San Jose. 
Like Sportscasting on Facebook. Follow us on Twitter @sportscasting19.