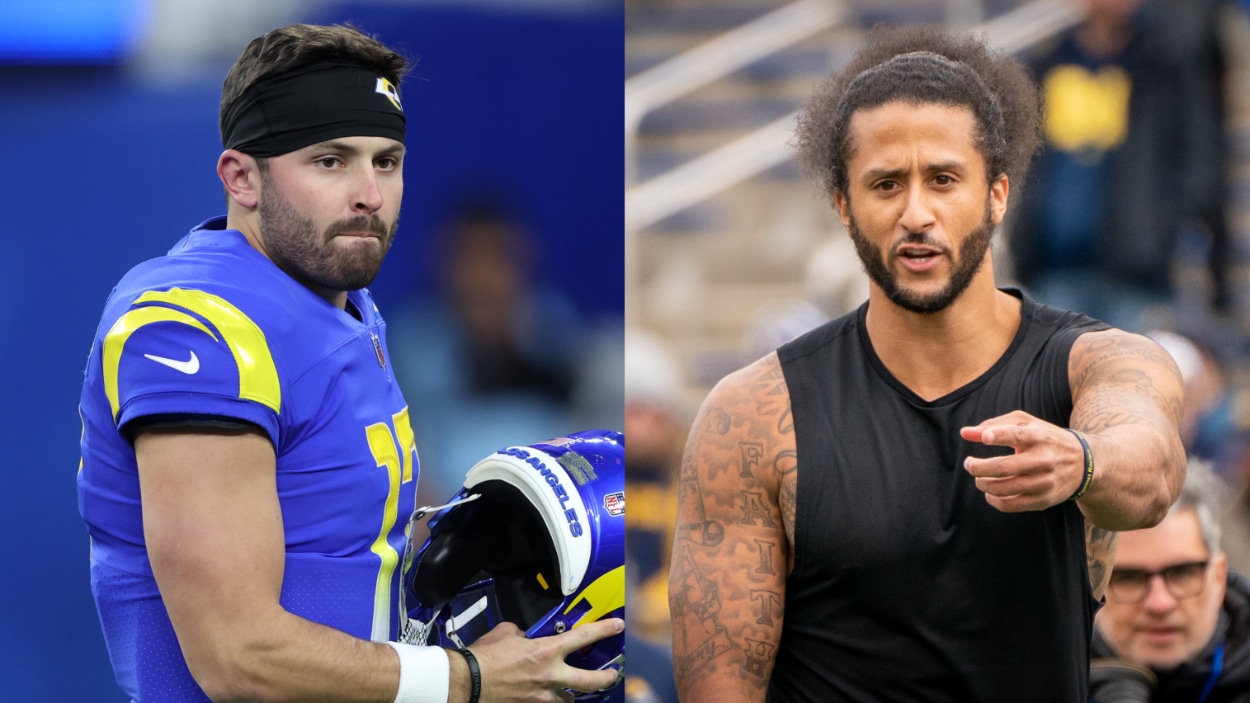 Baker Mayfield Destroys Media Argument for Not Signing Colin Kaepernick
After Baker Mayfield led the Rams to a win after just 52 hours with the team, it shines a light on a common anti-Colin Kaepernick argument.
Since he last played a professional snap in 2016, media members have made many arguments as to why an NFL team hasn't signed former quarterback Colin Kaepernick. He'd be a distraction in the locker room. He's not that good. The fans would revolt. It would take too long to learn the playbook. We've heard them all, and while some may be true, that last one just got debunked in a big way on Thursday night, as Baker Mayfield led the Los Angeles Rams to a stirring comeback win 52 hours after signing with the team.
Baker Mayfield debunked a common Colin Kaepernick argument 
Ahead of Baker Mayfield's triumphant return to the NFL in a Thursday Night Football win over the Las Vegas Raiders, reports surfaced that the former Carolina Panthers QB might start. FOX Sports host Nick Wright was one of the first people to make the connection between this situation and the ever-ongoing Colin Kaepernick saga.
 "During the early part of [Colin Kaepernick] 's blackball, some of the loudest media voices that were prompting themselves as unbiased, no-agenda observers … one of the arguments they would give as to why a team wouldn't sign Colin Kapaepnick was, 'Well, it'll take — for anybody — two, maybe three weeks before you can put them on the field. Gotta learn the offense. Gotta learn the playbook. So, yeah, the quarterback's out for a few weeks, but you can't sign Kap because, by the time he's up to speed, the quarterback is back.' And it was taken as gospel!" Wright exclaimed.
Wright then pointed to the fact that Mayfield might start on Thursday at 8 pm ET after signing with the Rams at 4 pm ET on Tuesday. If that was even possible, Wright concluded, then the argument that Kaepernick couldn't do it was false.
And what Wright didn't know at the time was while Mayfield didn't start, he did play, and he pulled off a miraculous comeback that may make people rethink what quarterbacks can do with a new team on short notice.
The Rams' miraculous comeback over the Raiders 
After one series of three John Wolford handoffs, Sean McVay called for the newest Ram, Baker Mayfield, to enter the game.
Down 10-0, Mayfield engineered a 29-yard field goal drive to keep the game from getting out of reach. From there, Mayfield was solid throughout the game, with some spectacular throws mixed in. On the other side, the Raiders reverted to their early-season, head-scratching form and couldn't crest the 16-point mark.
That allowed the Rams to stay in the game and Mayfield to lead 75- and 98-yard touchdown drives at the end of the game to get his new team the win.
At the end of the game, after 52 hours with the organization and studying the playbook on a plane like a college student cramming for a test they'd blown off, Mayfield was 22-of-35 for 230 yards with one touchdown and no interceptions.
As Nick Wright noted, the fact that this could even possibly happen (and then it did!) blows up one of the arguments against signing Colin Kaepernick. But did it?
How the Baker Mayfield-Rams situation is different than a possible Colin Kaepernick return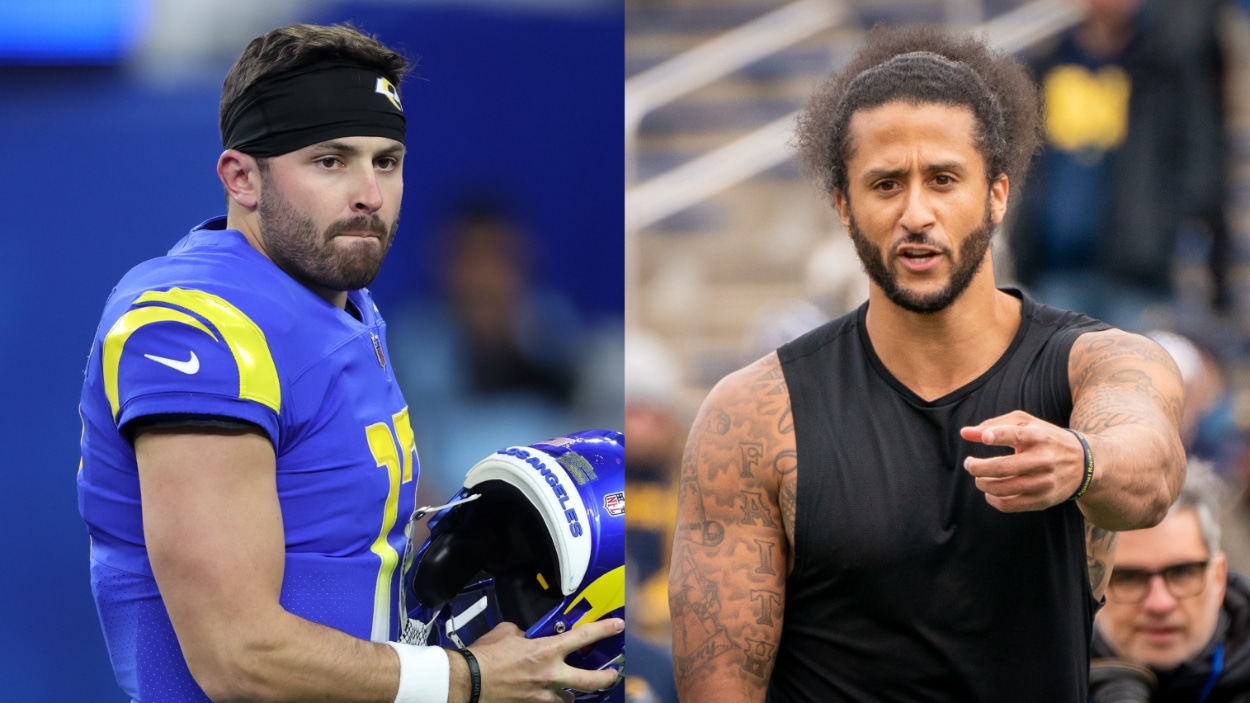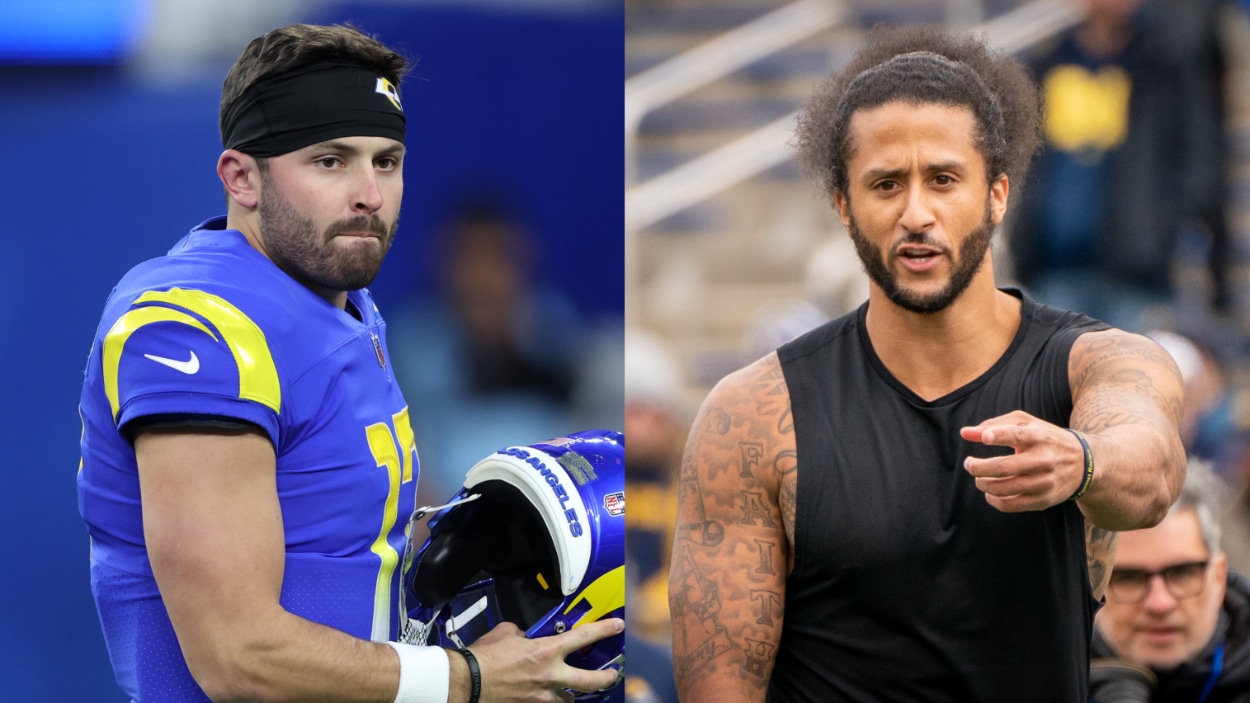 NFL playbooks are dense and complicated, and each one uses its own language and terminology. They are hard to pick up and comprehend. However, it's not nuclear physics, and even if it was, the people learning them are akin to the world's greatest nuclear physicists.
It's safe to say that the Baker Mayfield situation debunks the myth that there is no way a quarterback could learn enough of a playbook to play on short notice.
 That said, Mayfield and Rams coach Sean McVay are a rare combination who may have simply been uniquely equipped to do this so flawlessly.
McVay is an offensive genius who famously has perfect recall of football play. Meaning he can tell you what play he called and why he called it in his 2018 Week 4 win over the Minnesota Vikings.
As for Mayfield, as much as he is a bust to this point on some levels, he is a Heisman-winning, No. 1 overall pick who's played in the NFL for five years and took a team to the playoffs. You don't get all that without being in the upper 1% of the 1% in terms of football talent and knowledge.
Also, Mayfield played for Kevin Stefanski in Cleveland, who, like McVay, comes from the Mike Shanahan coaching tree and runs similar offensive concepts.
So, could Colin Kaepernick sign with a team on Tuesday and play on Thursday? The answer is maybe. If it was the right offense and Kaepernick still has a sharp football mind, he might be able to. However, the Mayfield-Rams win was likely the best-case scenario in a situation like this.
That said, the narrative of Kaepernick needing two, three weeks, or more to get acclimated now seems like a complete exaggeration.