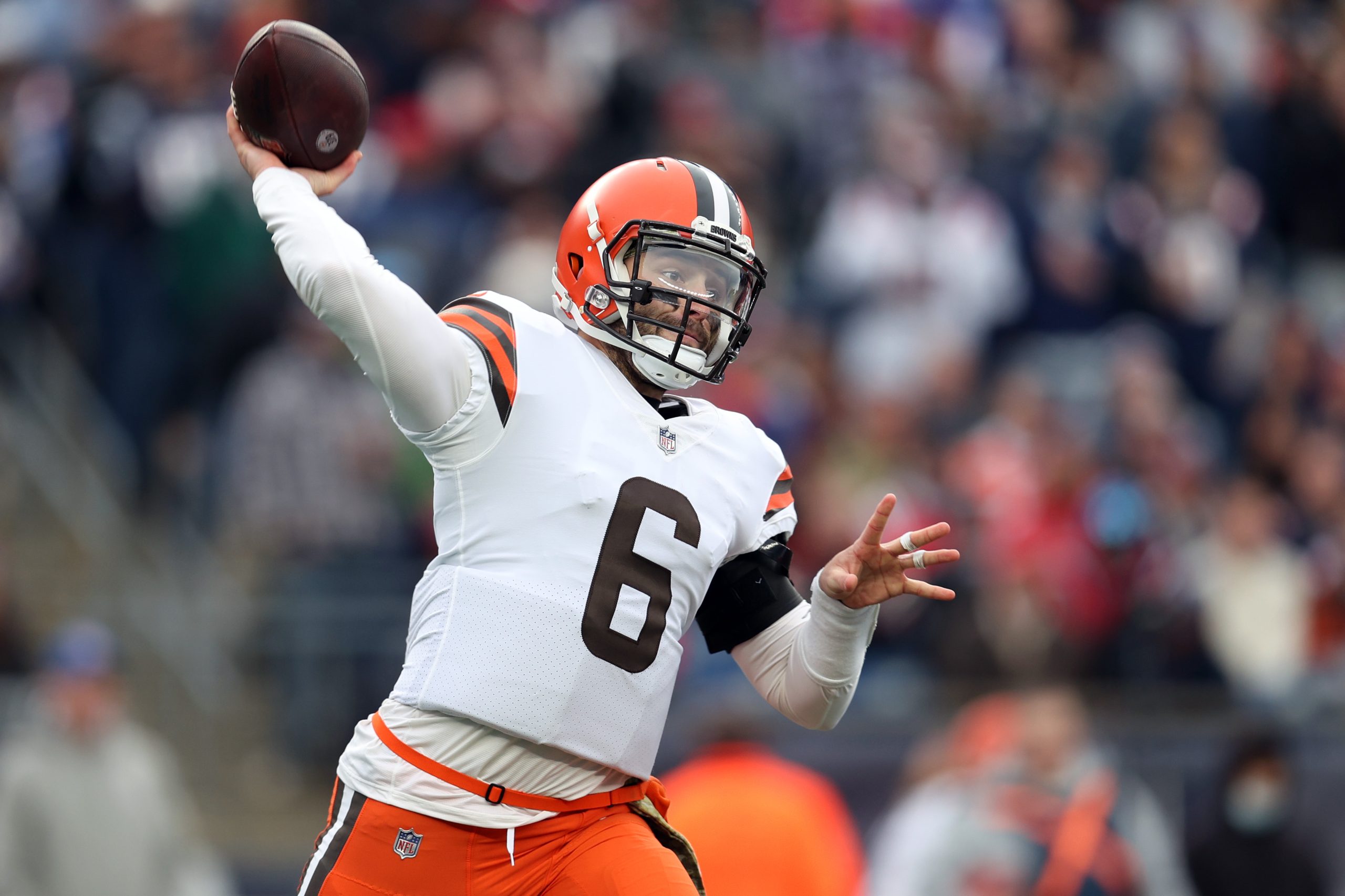 Baker Mayfield Would Be an 'Upgrade' Over Mac Jones, Says FS1's Nick Wright
Is Baker Mayfield really a better option than Mac Jones?
Baker Mayfield's next NFL move is up in the air. Will he be traded or will the Cleveland Browns be forced to cut their former No. 1 pick? Speculation over where the former Heisman Trophy winner will take his next snap is all over the place after DeShaun Watson will now call Cleveland home.
Fox Sports 1's Nick Wright turned some heads recently, lumping Mayfield and the New England Patriots together. Although he doesn't believe it will happen, Wright says if Bill Belichick brought in the four-year veteran, it would be an "upgrade" over Mac Jones.
Baker Mayfield looking for a new NFL home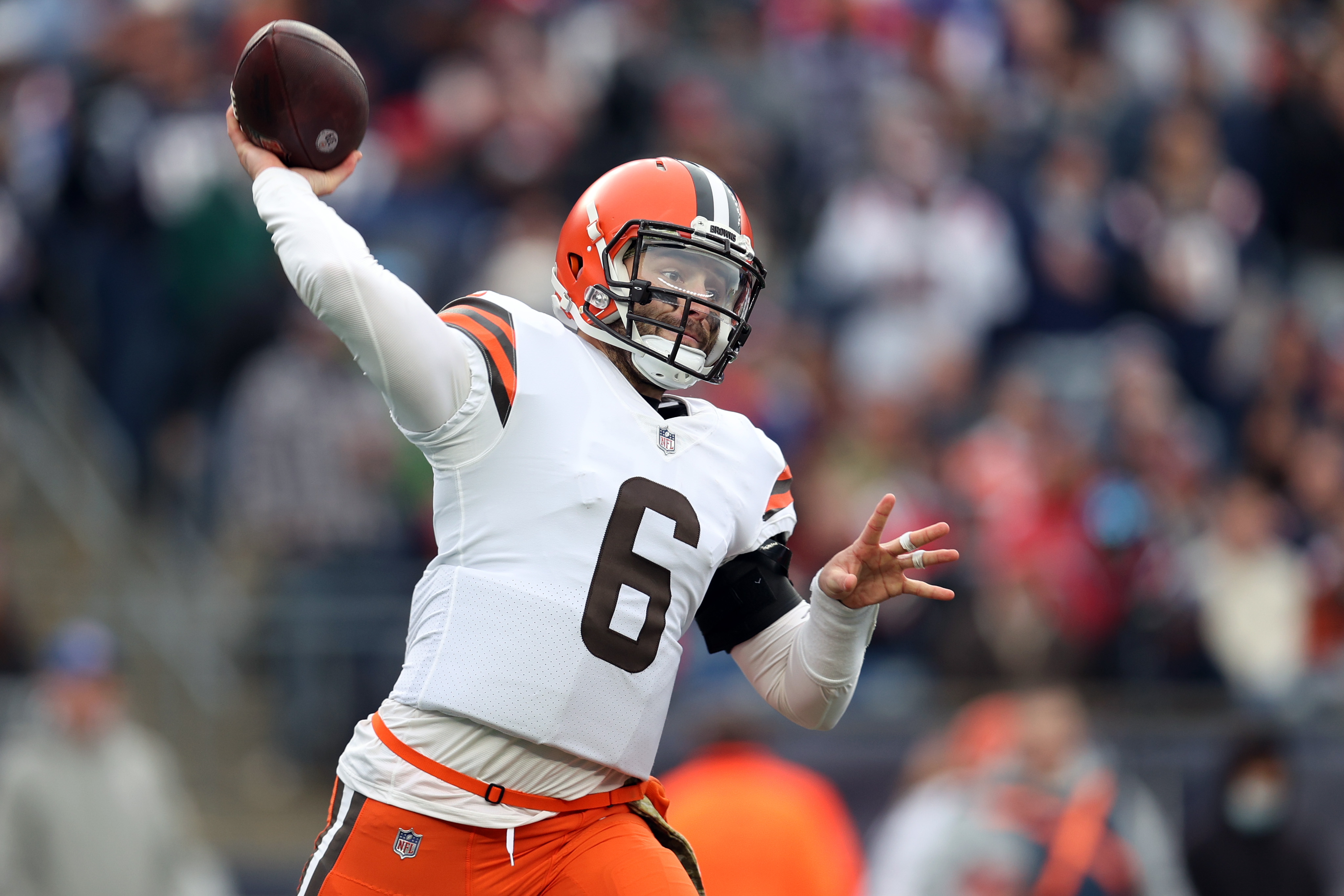 Mayfield is just 26 years old but he never quite lived up to expectations as the No. 1 pick in the 2018 NFL Draft. He took over after the team went 0-16 in 2017 and went 6-7 in his 13 starts as a rookie as the Browns finished 7-8-1. In 2019, he followed it up with another six wins in a 6-10 season.
Mayfield had a breakout season in 2020, leading the Browns to an 11-5 record. He threw 26 touchdown passes with just eight interceptions. Mayfield and the Browns outlasted the Pittsburgh Steelers 48-37 in the opening round of the playoffs before falling to the Kansas City Chiefs the following week. Last season, Mayfield played through a torn labrum, and the Browns stumbled to an 8-9 mark.
The Browns elected to move on from Mayfield this offseason. They signed Watson, the former Houston Texans quarterback to a five-year deal worth $230 million after acquiring him in a trade. The Browns surrendered first-round picks in 2022, 2023, and 2024 as well as a 2023 third-round pick and a 2024 fourth-round pick, per ESPN.
The Browns also received a fifth-round pick in 2024 from the Texans.
Baker Mayfield would be an 'upgrade' over Mac Jones with the Patriots, according to Nick Wright
Although he's 29-30 in the regular season for his career, Mayfield will certainly have some suitors for next season. He's still as good as several NFL starters around the league. Fox Sports 1's Nick Wright raised some eyebrows recently when he said Mayfield would be a better fit than Jones with the Patriots, although he thinks it won't ever happen.
"Once upon a time there were rumors the Patriots wanted to draft Baker in the first round," Wright said on First Things First. "The Patriots are looking around the AFC, and you know what they know?
"They know that their best-case scenario with Mac Jones is that one day he's the ninth-best quarterback in this loaded quarterback conference. They should be looking for an upgrade but they won't be."
Wright mentioned 10 teams that should be on the Mayfield watch. He admitted his No. 9 team, the Washington Commanders, just traded for Carson Wentz, and the No. 10 team, the Patriots, will be controversial. The Colts also made a deal for Matt Ryan.
Wright said Mayfield would be an upgrade over one-third of the league's starters. He didn't just say Mayfield would be an upgrade over Jones, but he said he'd be a "clear upgrade" over any one of the starters for those 10 teams — that includes Jones.
Mayfield should have several teams calling, but likely won't pay the asking price
Albert Breer of Sports Illustrated reported the Browns are seeking a first-round pick for Mayfield. That's clearly a tough sell for a guy who was banged up a year ago and has a losing record in his career.
Mary Kay Cabot of Cleveland.com said the Browns have not fielded many calls for teams interested in trading for Mayfield. She said if the Browns are forced to release him, the rival Steelers will be quick to pounce on him.
"I knew as of Thursday that the phone was not ringing off the hook for Baker Mayfield, and that this might get a little challenging," Cabot said on the Orange and Brown Talk podcast. "Somebody told me today that the Steelers will pounce on Baker Mayfield if they cut him. They would take him in a minute.
"I'm sure a lot of people would. I mean if you can get him for nothing, and the Browns have to eat that money, certainly somebody would grab him."