Baron Davis Could Have Played With LeBron James on the Heat but Says the Cavaliers Made Him Promise He Wouldn't Join The King in Miami: 'You Will Probably Be the Piece He Needs to Win a Championship'
When LeBron James went to the Miami Heat in 2010, he left many people in Cleveland upset. Fans were devastated, and, as you likely remember, Cleveland Cavaliers owner Dan Gilbert was furious.
The Cavs, however, weren't just going to let The King easily win a title with his new squad. In fact, former NBA All-Star Baron Davis recently said the team made him promise that he wouldn't go to the Heat once he and the franchise officially parted ways in 2011.
Baron Davis got traded to the Cleveland Cavaliers in 2011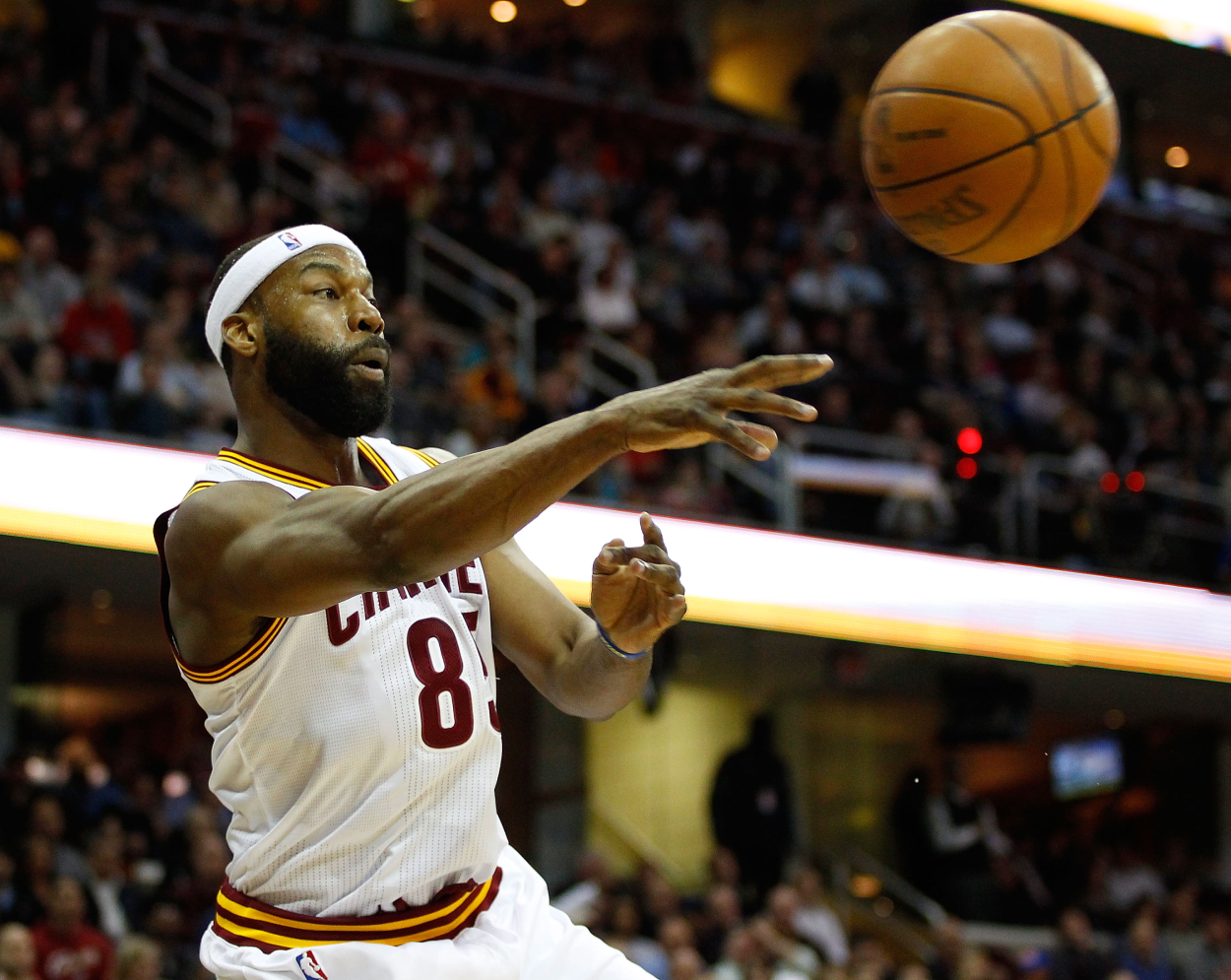 Davis was an electric NBA player during his prime. He earned two All-Star selections with the Charlotte/New Orleans Hornets, averaged over 20.0 points per game in multiple seasons, and he led the league in steals per game twice.
In 2011, though, Davis was near the end of his NBA career, and the Los Angeles Clippers traded him and a first-round pick to the Cavaliers for Jamario Moon and Mo Williams.
The Cavs were in rebuilding mode at that time given that LeBron James had just left the franchise for the Miami Heat the summer before. And the trade for Davis actually set them up for the future, as the pick they received in the deal later turned into Kyrie Irving.
But Davis only played in 15 games for Cleveland. While he played well, averaging 13.9 points and 6.1 assists, the Cavs still used their amnesty clause on him after the season. The clause was a part of the league's previous Collective Bargaining Agreement, as teams could use one amnesty to waive a player, and the contract wouldn't count against their salary cap.
So, after the Cavs waived him, Davis then played for the New York Knicks in 2011-12, his final season in the NBA.
Had he not made a promise to the Cavaliers, though, the UCLA product may have ended up in Miami with James.
Baron Davis said he had to promise the Cavs that he wouldn't join LeBron James on the Heat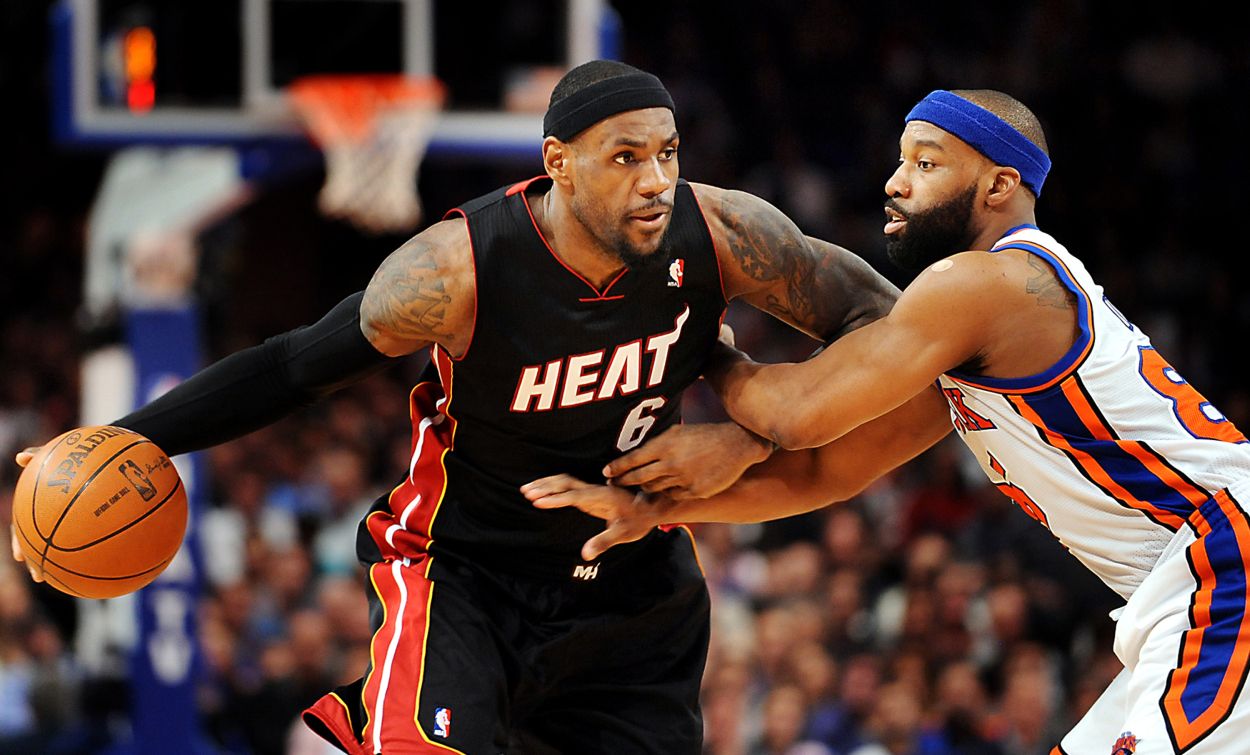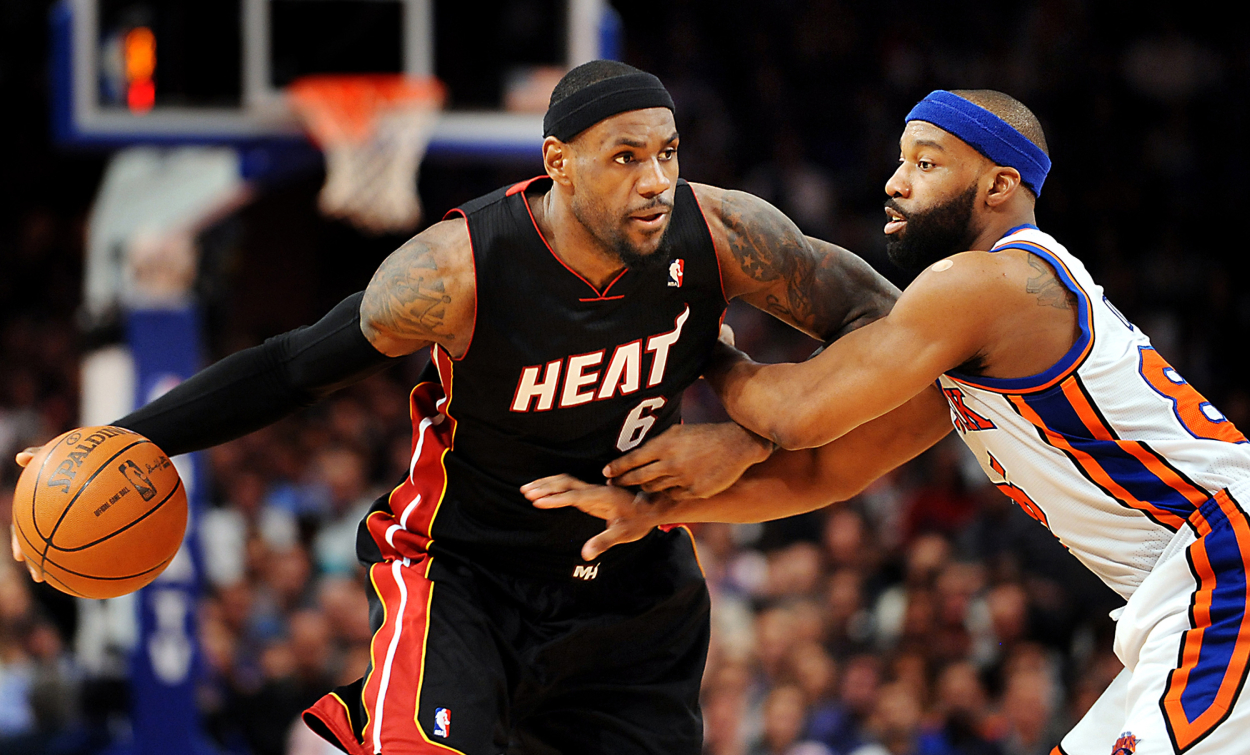 Baron Davis recently appeared on No Chill with Gilbert Arenas, and he revealed that he wanted to join LeBron James on the Heat in 2011. However, he says the Cavs essentially kept him from doing that.
"We coming in off the lockout, and I'm like, 'Yo, I'm about to get this amnesty,'" Davis said on the Sept. 28 episode. "… So, (former Cavaliers general manager) Chris Grant comes in and is like, 'Yeah, man, we gonna amnesty, but we really wanna keep you because we got Kyrie here.'"
It appears Davis didn't have a problem with mentoring the young guard, but the next comment the Cavs' GM allegedly made was interesting.
"He was like, 'But we'll amnesty you.' He was like, 'under one condition,'" said Davis, who added that he wanted to go to Miami if the Cavs amnestied him.
Davis continued: "He was like, 'Yo, you cannot go to Miami and go [team up] with LeBron because you will probably be the piece he needs to win a championship.' I said, 'Huh? So, you're telling me basically you're not gonna amnesty me because you know I'm going to go to Miami?' He was like, 'Yeah if you decide or commit to not going to Miami — you can go anywhere else — we'll amnesty you.' And I was like, 'Alright, cool.' And that's why I wound up going to New York."
The Cavaliers, noting that Chris Grant is no longer with the organization, declined to comment.
Davis likely wouldn't have made a significant difference for the Heat anyway. He only played in 29 games in 2011-12, and Miami still won the championship. But his comments just further prove the disdain the Cavs had for James after he left Cleveland in 2010.
The Cavs weren't happy when LeBron James left Cleveland and went to the Heat
Their alleged attempt to try and make it harder for LeBron James to win a championship wasn't the only time the Cavs — or at least people within the organization — showed their anger with The King's decision.
Following James' official Heat announcement, Cavs owner Dan Gilbert published a letter to Cleveland fans where he called the move a "cowardly betrayal," per ESPN. He also said that James made the announcement by using "a several-day, narcissistic, self-promotional build-up culminating with a national TV special of his 'decision' unlike anything ever 'witnessed' in the history of sports and probably the history of entertainment."
It seems that both sides worked things out, as James went back to the Cavs in 2014 and won them a championship in 2016. But that era was a dark time for the Cavaliers, and they apparently didn't want to see their former hero reach the promised land.
Stats courtesy of Basketball Reference
RELATED: LeBron James' Former Cavs Teammate Just Called Cleveland out for Being 'Scared' During LeBron's First Cavs Stint