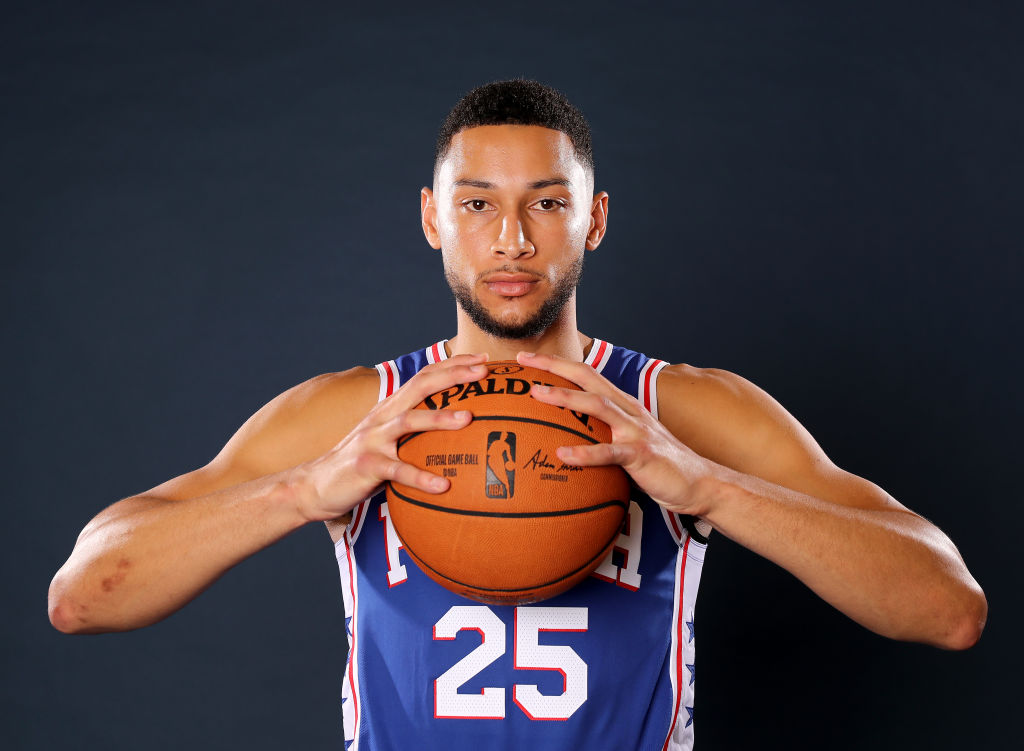 Ben Simmons Is Ready to Be the Leader the Philadelphia 76ers Need
Ben Simmons has had a solid first two seasons in the NBA, but this year he's determined to take the next step. Is he ready to lead?
Ben Simmons has been one of the fastest rising stars in the NBA over the last couple of seasons. The Philadelphia 76ers are in a prime position to contend for an NBA title, but Simmons will need to work out some kinks in his game for them to reach their true potential. 
Simmons has been putting in work all offseason, and it could spell trouble for the rest of the league. Today we will go over his offseason and what to expect from Philly for the 2019-20 NBA season.
Ben Simmons passes up national team duties
Since Ben Simmons is a member of the Australian men's basketball team, we were surprised he passed up the opportunity to play in the FIBA Basketball World Cup to focus on the upcoming NBA season.
This is a focus we haven't seen from Simmons in the past, and we think it is a clear message to the rest of the league how much of a threat he will be on the offensive end of the floor.
Offseason work
Tobias Harris spoke earlier this summer about Simmons adding a 3-point shot to his game. Even during his time at LSU, Simmons was reluctant to take an outside jumper, let alone a three. 
That has been the one major downfall of his game, no consistent threat from the outside. We aren't sure if this is based on a lack of skill or if it's just in his head (similar to Markelle Fultz). Either way, teams would load up the paint, forcing him to pass the ball to someone else, disrupting the entire flow of the offense.
There have been numerous videos of Simmons practicing his outside shot, and it should be encouraging for Sixers fans. 
Ben Simmons loving the game again
Here's what Simmons had to say about working on his game during the offseason (via the Associated Press): "I kind of got back to who I was and having fun with the game. I felt like the past season I lost that enjoyment side of it but I feel like this summer has been huge for me. Just the work I've been putting in, I kinda fell in love with putting that work in again and I've been in the gym every day working and the results have been paying off so I'm excited for the season to start."
We aren't surprised to hear these comments. During times last season having to play with Jimmy Butler and Joel Embiid could have been taxing, as three alpha males in one NBA locker room can lead to tension. Taking some time to focus on how to improve his game is a smart move by the former No. 1 overall pick.
New clutch performer?
With Butler heading to South Beach who will be the go-to perimeter option for the Sixers. Tobias Harris re-signed with the team and after putting up 16 points and eight rebounds per game in a Sixers uniform, he should be able to take some of the heavy lifting off of Simmons.
However, Simmons is an All-Star and an All-NBA talent so the team will be expecting him to take those late game shots whether he wants to or not. Al Horford is the new free-agent acquisition. Teaming him up with Joel Embiid will just make it harder for Simmons to use his customary athleticism to get to the paint for a dunk or layup.
Can Simmons step up to the challenge? We have until April to find out.
What his improved offense means for the Sixers
If Ben Simmons can attempt three or four 3-pointers per game, and land them at a respectable 30% clip, there's no reason he can't average 25+ points per game next season. It doesn't have to just be behind the arc, hitting mid-range jumpers during a fast break or off a screen will also make the Sixers offense that much tougher to stop.
A pick and roll with Embiid and Simmons would force the opposing team to pick their poison if Simmons can knock down a few jumpers per game. We think this could be a top-five offense in the league this season if he gets the green light.
How do you think Ben Simmons will play?
Are you expecting Simmons to return to his old form once the season starts? For more news from around the league be sure to check out our NBA section.