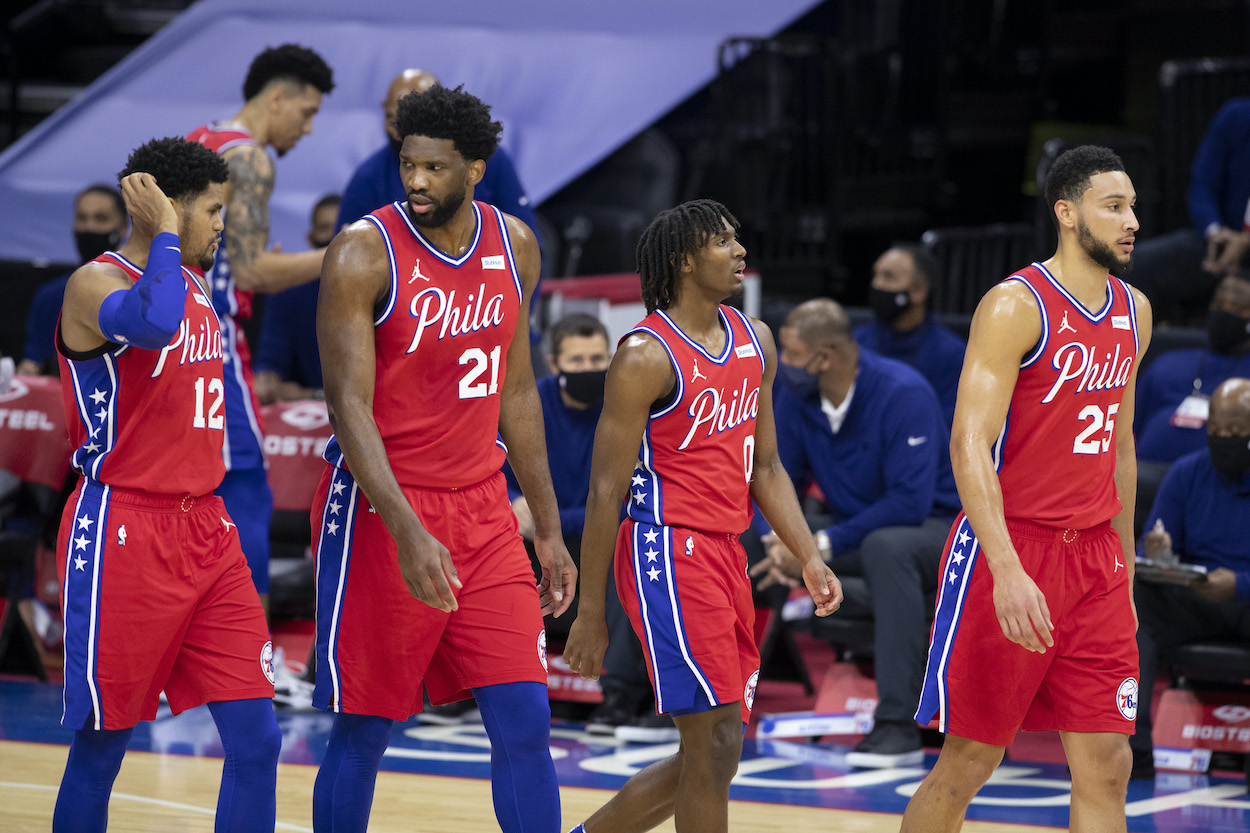 Ben Simmons Receives a Surprising Endorsement From 76ers Teammates After a Revealing Development in His Ongoing Saga
Ben Simmons has some allies in the 76ers locker room after all.
It's been an eventful few weeks for Ben Simmons and the Philadelphia 76ers. The All-Star point guard returned to the team this month after a lengthy holdout, but he's not expected to see the floor anytime soon due to his mental state not being where it needs to be quite yet.
Simmons' 76ers teammates seemed to be giving up on him because of his distracting behavior of late, but Joel Embiid and Tobias Harris recently changed courses and sent similarly supportive messages to their friend.
Joel Embiid urges 76ers fans to support Ben Simmons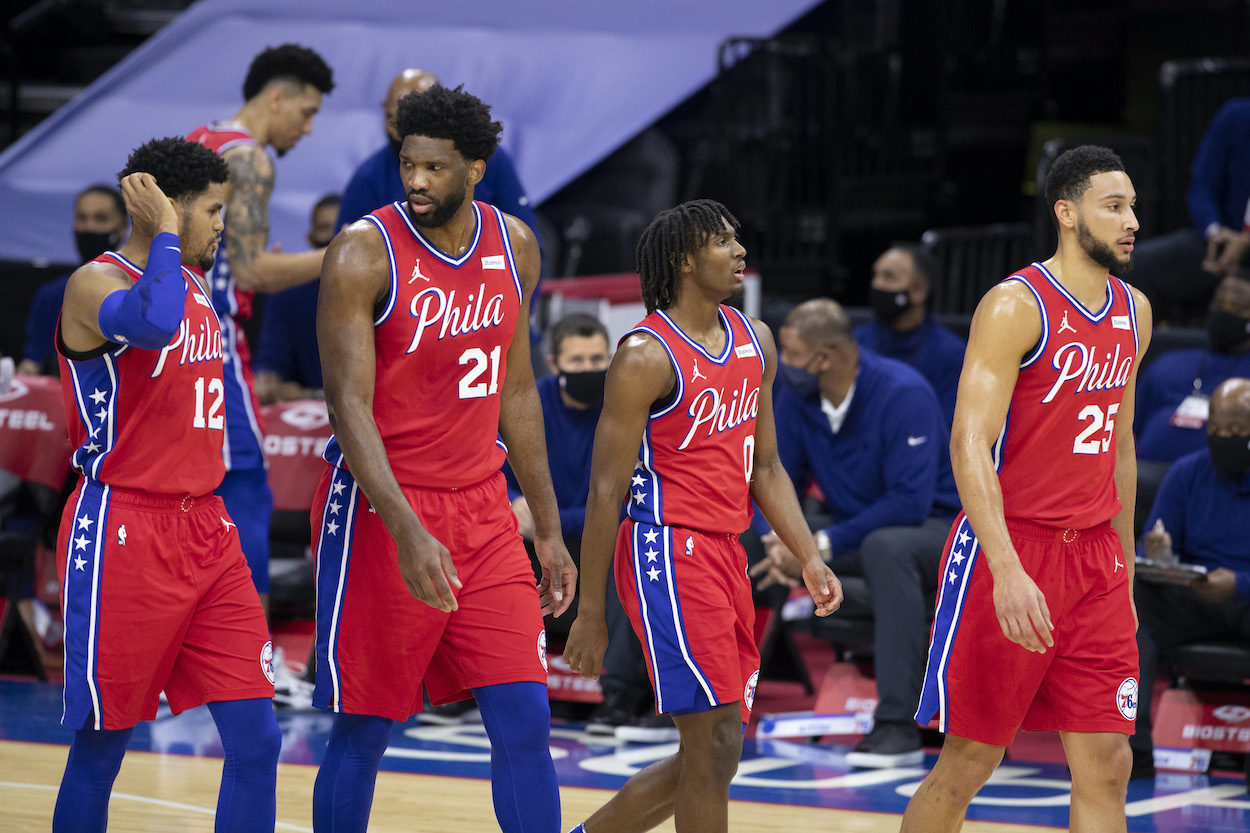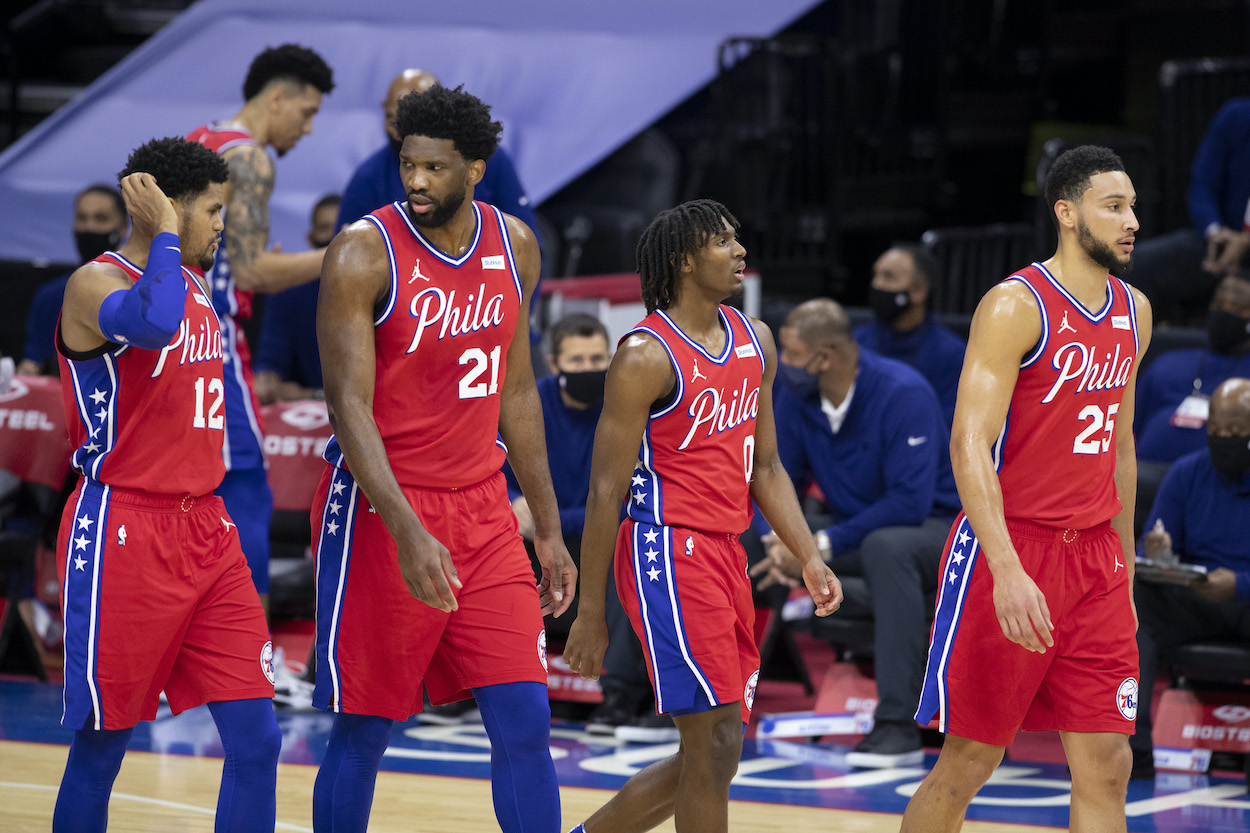 When the 76ers suited up for their 2021 home opener against the Brooklyn Nets on Friday, Embiid took the court by himself and addressed the crowd before tip. The superstar center, just a few days after saying he doesn't get paid to "babysit" his teammates, urged the Philadelphia faithful to support Simmons as he deals with some mental health issues.
"On behalf of my teammates, the organization, and myself, I just want to say thank you for your support for all these years," Embiid said. "A lot has happened the last few months, and I hope you guys continue to support us and our teammate Ben, because he's still our brother."
But Embiid wasn't the only Sixers star to come to Simmons' defense on Friday.
Tobias Harris sends a strong message of support to Simmons
Before the 76ers tipped off against the Nets on Friday, Harris took to Twitter and said the team is fully behind Simmons as he battles some demons off the court. The star forward echoed those thoughts after the game.
"At this time we have to respect his privacy, his space, and we've got to be there for him, with what he's going through and this process," Harris said.
It's easy to look at something on the surface and come to assumptions on a lot of things, especially athletes. In general, in this space we're depicted as superhumans, and you're not really supposed to have feelings or go through anything. So I think we just have to really understand he's a human first, and if he's going through something at times, we have to respect that and go through that as a team, organization, fans, all the way down the line.

Because when he's in here putting on a show and helping us get wins, everybody is cheering and praising. But we live in a, 'What have you done for me lately?' type world, but when that's not the case, it's easy to turn around. So at this time he needs more support. I just think we have to be there for him as a team, and I relayed that to the group. And I hope that message is loud and clear to the fans and everybody around the organization, and honestly, you guys, as well.

Tobias Harris
Now that's leadership.
The Simmons saga is about more than basketball
Just a few days ago, the NBA world (including myself) was piling on Simmons for being immature and dramatic since returning to the 76ers. But the revelation that Simmons is dealing with mental health issues and doesn't feel comfortable enough to suit up for the team changes everything about this saga.
Embiid and Harris get that. They would've been the first ones to throw Simmons under the bus last week, but they were the first ones to come to his side after the point guard revealed his mental health struggles to the team.
If Simmons is being truthful about his struggles off the court, his teammates will welcome him back with open arms once he's ready to take the court. But for now, all they can do is support him from afar, and they've been commendable in that respect.
Like Sportscasting on Facebook. Follow us on Twitter @sportscasting19.