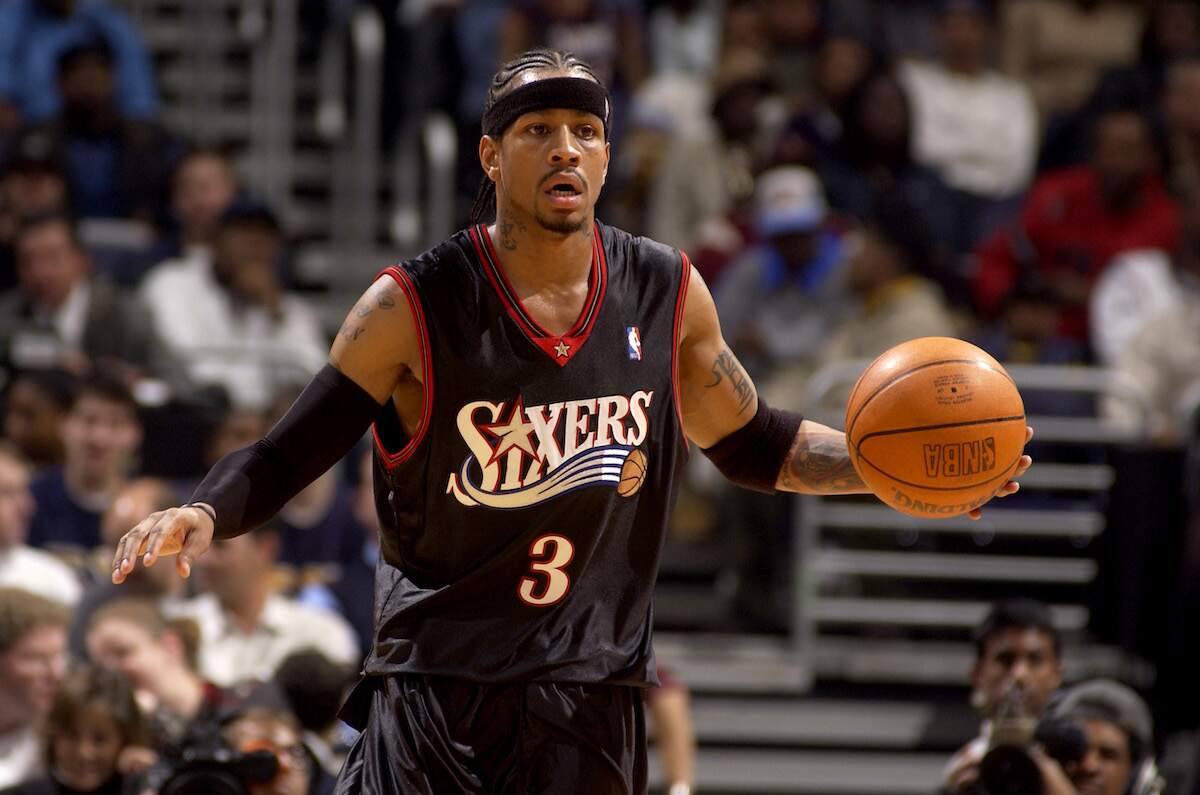 The Best Athletes to Ever Wear a Number 3 Jersey
These athletes made the number 3 jersey look pretty darn good.
Many athletes develop minor superstitions by the time they make it to the professional level of their respective sports. It makes for some particular attitudes about seemingly minor things like jersey numbers. There's magic in some of these numbers, especially if multiple great athletes have worn them in the past.
For our list of the 10 best athletes to ever wear a number 3 jersey, presented alphabetically by first name, we highlighted their professional careers only while donning the storied number. These athletes were chosen based on their accolades, statistical accomplishments, and talent while wearing a number 3 jersey.
Alex Rodriguez
Alex "A-Rod" Rodriguez wore the number three jersey during his massively successful stints with the Seattle Mariners and the Texas Rangers. Unfortunately, he had to give up his lucky number when he joined the Yankees.
His stint in the Bronx was rockier than expected, perhaps explained by his switch to unlucky number 13. But the 14-time All-Star, three-time American League MVP, and World Series champion probably isn't too worried about it.
Allen Iverson
Allen Iverson had one of the most captivating careers in the NBA, beginning with the 1996 draft and finishing with his retirement 14 seasons later. His deadly crossover, showmanship, and fearlessness among the trees in the paint made him an icon in the City of Brotherly Love.
The longtime Philadelphia 76ers point guard was one of the best to retire without an NBA Finals win, though he once carried his team to that final round. His career average of 26.7 points slots him in at No. 8 on the all-time leaderboard.
Babe Ruth
Many of the greatest athletes of all time wore the number three jersey. And how did it get that reputation? Look no further than Babe Ruth, the home run king who launched 714 balls out of the park during the deadball era.
Ruth wore the number three jersey across his stints on the Boston Red Sox, New York Yankees, and Boston Braves from 1914 to 1935. The seven-time World Series champion is still seen as the benchmark for an all-time great MLB player.
Bronko Nagurski
Early professional football didn't make players rich back in the 1930s. It took a certain kind of guts to consider it a career option, and Chicago Bears fullback Bronko Nagurski was one of the most feared to ever do it.
The Hall of Famer helped that famed early-era Bears squad win two NFL championships before moving on to professional wrestling full-time. But during World War II, he returned for a single-season revival to help a sorely understaffed team and notched another championship. From there, he permanently shifted to his wrestling career, working in a classic catch-as-catch-can style all the way through 1960.
Candace Parker
Many of the names populating this list are long retired. Candace Parker is still at it, representing number three the right way.
She helped revitalize the Los Angeles Sparks as her game matured, culminating in the team's first WNBA Finals win in years. A short stint on the Chicago Sky from 2021-22 also led to a championship. She's with the Las Vegas Aces now, playing under fellow WNBA legend Becky Hammon. In between all those major milestones, Parker also played for four overseas squads from 2010-18.
The living legend then joined Turner Sports as an NBA and NCAA basketball analyst. Whenever she does retire, she already has her media career kicked into full gear — if she doesn't take up coaching.
Chris Paul
Following in the footsteps of six-foot predecessor Allen Iverson, Chris Paul is another iconic point guard to put on the number 3 jersey.
While the veteran doesn't have any NBA Finals wins on his resume, his 12 All-Star selections are a testament to the quality of his career. Deemed the "Point God" for his high-assist numbers that aren't paired with elevated turnover figures, Paul has steadied one team after another, from the New Orleans Hornets to the Los Angeles Clippers to the carousel of teams for whom he's played during the later stages of his career.
CP3 has his nickname for a reason — all of them, in fact.
Diana Taurasi
Diana Taurasi is supposed to be slowing down. But the point guard, who has played for the Phoenix Mercury since 2004, can't stop scoring. In 2023, she became the first player in WNBA history to pass 10,000 career points. 
This living legend crossed that major milestone with flair, dropping a season-best 42 points. And she didn't miss any free throws in that unforgettable game against the Atlanta Dream.
Her contract with the Mercury doesn't run out until 2025, and at this rate, she might make a case to get re-signed even as she nears her mid-40s. Taurasi claims to be uninterested in coaching, so this is not a transitional phase of her career. She's here to play — and win.
Dwyane Wade
Dwyane Wade was the fifth overall pick of the 2003 NBA Draft. And while he played for three teams, he will forever be closely associated with the Miami Heat. He remains the franchise leader in almost every notable category for guards, thanks to his aggressive playing style that featured quick acceleration and rim-seeking athleticism regardless of the physicality levied against him.
The three-time NBA champion and 13-time All-Star averaged 22.0 points, 4.7 rebounds, and 5.4 assists throughout his career and helped define a culture in Miami that persists to this day.
Jimmie Foxx
From 1925 to 1945, first baseman Jimmie Foxx was one of the best-known names in baseball. He played for four teams but is most heavily associated with the Philadelphia Athletics and Boston Red Sox. He helped with the World Series twice, both with the A's.
Foxx wore the number three jersey for each of his three MVP seasons, including his Triple Crown-winning efforts in 1933. But he also threw on a few other numbers toward the tail end of his career after he'd finished racking up nine All-Star selections, assured himself a future spot in the Hall of Fame, and tallied the vast majority of his 534 career home runs.
Paolo Maldini
Superstar defender Paolo Maldini is one of the true legends of Champions League soccer.
He spent his entire career with AC Milan, from his youth career in 1978 all the way until his senior career came to a close in 2009. Il Capitano was a menace to opposing strikers, playing with a hard-nosed style that involved relentless slide tackles.
When he wrapped up his career, AC Milan retired his iconic number three jersey alongside him. The defensive legend is still a fixture in Italian soccer, regularly showing up to games to hang out with players and share hard-earned advice. He continues to be one of the most beloved living Italian athletes.
Best athletes to wear a number 3 jersey: honorable mentions
We considered so many great athletes who've worn a number 3 jersey. The following didn't quite make it on our top-10 list, but they're worth mentioning due to their incredible talent and prolific careers. More will join them as new talents distinguish themselves.
Alan Trammell
Bryce Harper
Butch Bouchard
Daryle Lamonica
Harmon Killebrew
Pepe
Pierre Pilote
Roberto Carlo
Russell Wilson
Thiago Silva
Zdeno Chara
Stats courtesy of Basketball Reference, Pro Football Reference, Transfermarkt, Baseball Reference, and Hockey Reference