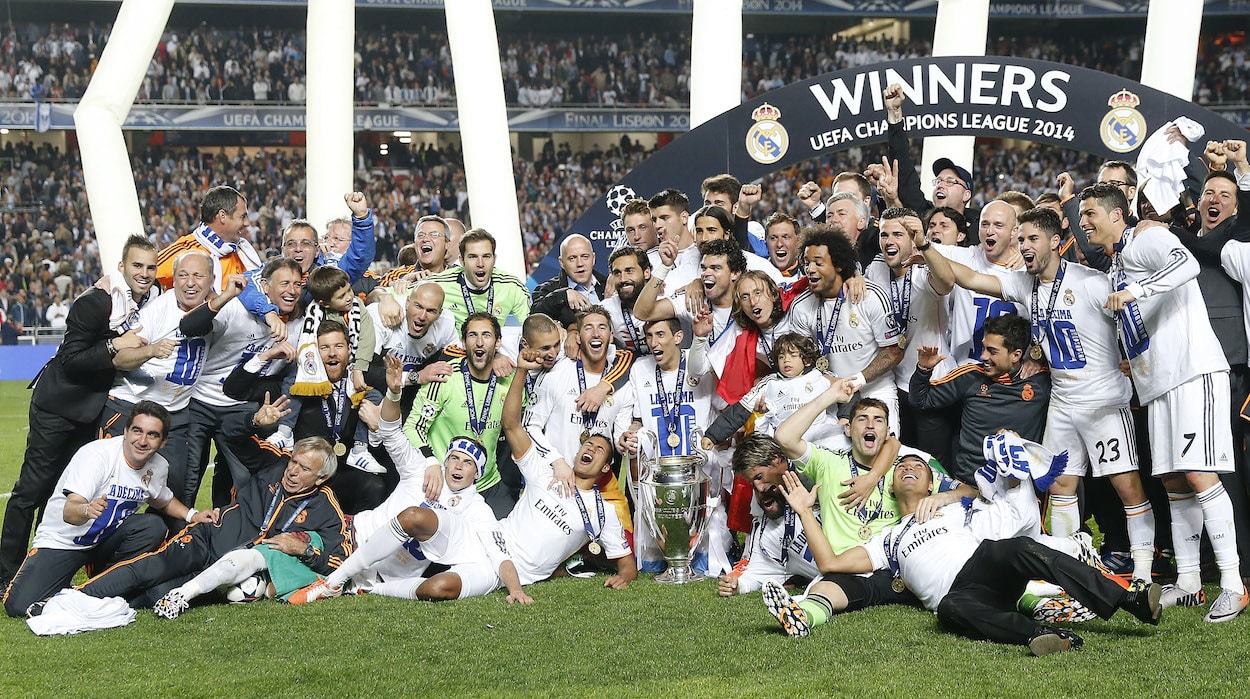 What Team Has Won the Most Champions League Titles?
The team with the most Champions League titles is Spain's Real Madrid. Read about those trophies and other fascinating UCL stats and facts.
The 2021-22 UEFA Champions League Final is upon us as Real Madrid takes on Liverpool in Saint-Denis, France. The final match is a culmination of a season-long tournament that pits the best soccer clubs in Europe against each other. This Europe-wide tournament has been going on in some form since 1955, so what team has won the most Champions League titles.
Real Madrid has won the most Champions League trophies with 13
The short answer as to what team has won the most Champions League titles is Spain's Real Madrid with 13.
When you get a little more technical, the answer is still Real Madrid, but the number drops to seven. That's because, prior to 1992, the tournament that pitted the winners and best finishers from the biggest leagues in Europe against each other was called the European Cup. The tournament changed its mane to UEFA Champions League for the 1992-93 season. 
The LaLiga side won its first European Cup during the first European Cup tournament in the 1955-56 season. Real Madrid followed that up by winning the next one as well and the one after that, and the two after that. All told, Los Blancos won the first five consecutive European Cups.
These teams featured two of the four five-time Champions League winners, forward Alfredo Di Stéfano and midfielder José María Zárraga.
Real Madrid also won six seasons later, in the 1965-66 campaign, to make winger Francisco Gent the only six-time winner in the tournament's history to this day.
Despite dominating the early years of the tournament, Real Madrid didn't win another European championship until the 1997-98 season. That kicked off a three-titles-in-five-years run with UEFA Champions League victories in 1999-200 and 2001-02.  
Another mini drought followed, but the Spanish side again made it to the Champions League podium in 2013-14 before ripping off three trophies in a row at the culmination of the 2015-16, 2016-17, and 2017-18 seasons.
Those four Champions League titles, added to his one with Manchester United, gave Cristiano Ronaldo five to join Stéfano, Zárraga, and AC Milan's Paolo Maldini.
The clubs behind Real Madrid in European trophies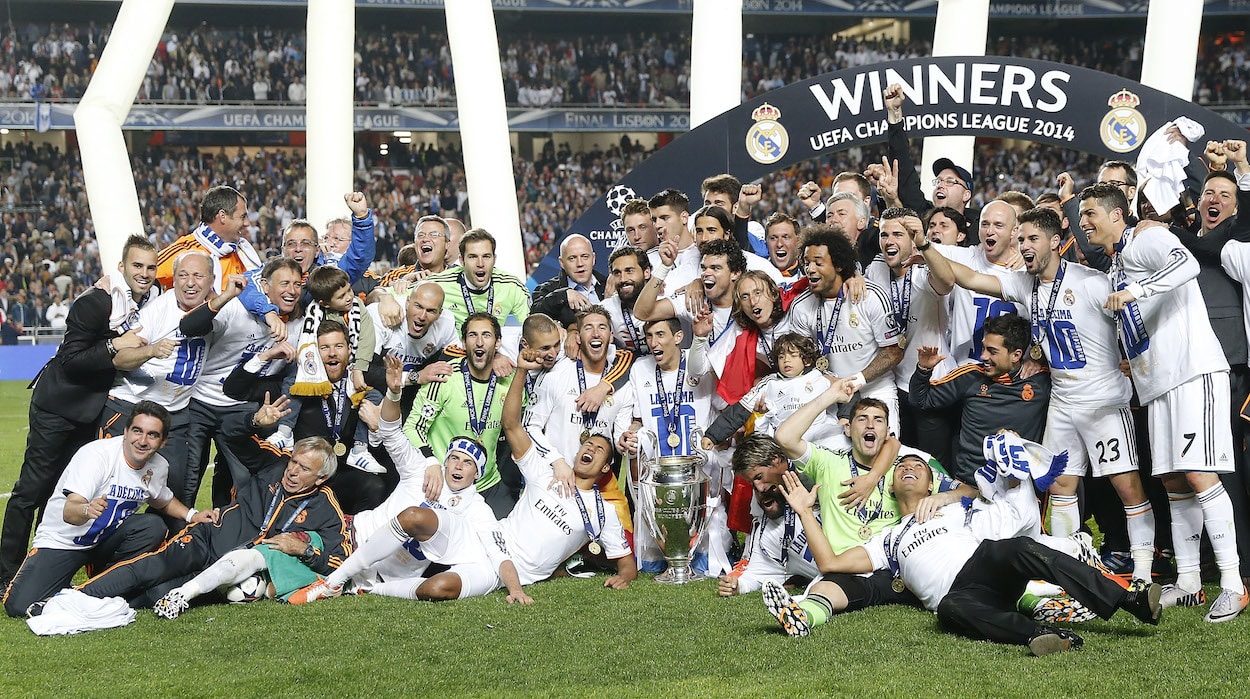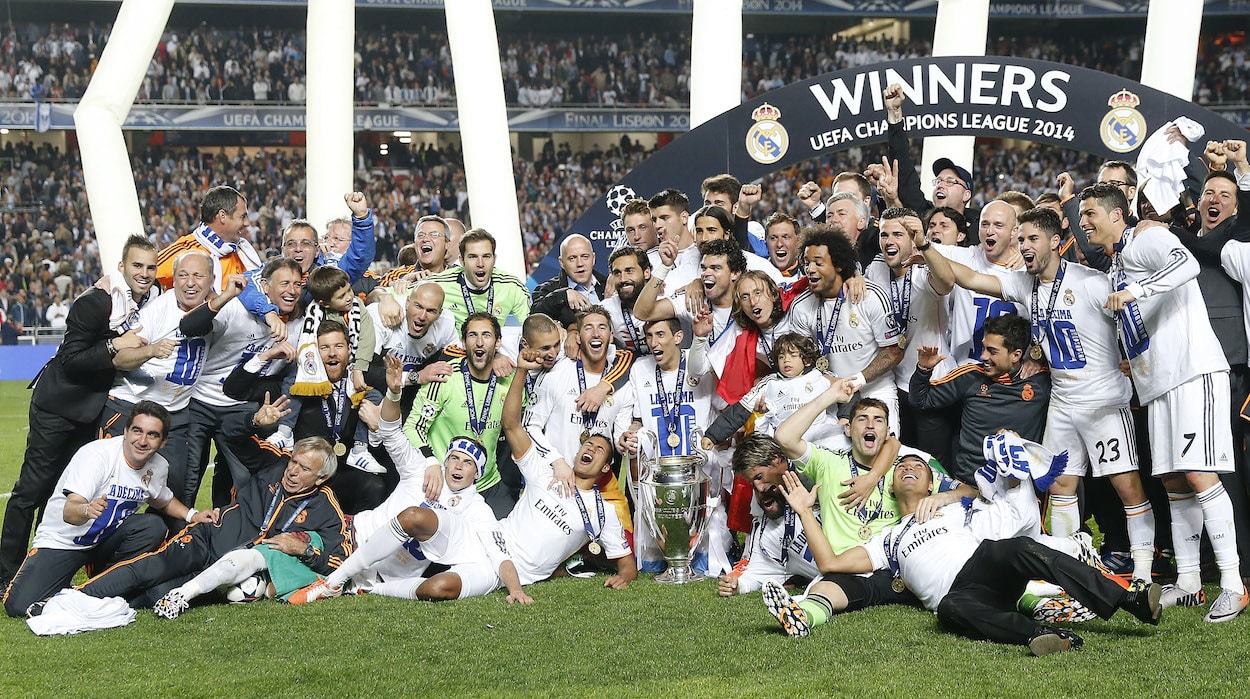 Only 22 clubs from 10 countries have even lifted the Champions League trophy in the tournament's 55-plus-year history.
Behind Real Madrid, the next five teams with the next most Champions League titles are:
AC Milan (Italy) — 7
Bayern Munich (Germany) — 6
Liverpool (England) — 6
Barcelona (Spain) — 5
Ajax (Netherlands) — 4
After that, there are two clubs with three (Italy's Inter Milan, England's Manchester United) and five clubs with two (Italy's Juventus, England's Chelsea and Nottingham Forest, Portugal's Benfica and Porto).
The final nine teams with just one win come from Germany (Borussia Dortmund, Hamburg), the Netherlands (Feyenoord Rotterdam, PSV Eindhoven), England (Aston Villa), France (Marseilles), Romania (Steaua București), Scotland (Celtic), and Yugoslavia (Red Star Belgrade).
The Champions League runners-up
Real Madrid or Liverpool will celebrate its 14th or seventh Champions League trophy, respectively, on Saturday. The other side will be (at least somewhat) lost to history.
However, there are some interesting stats and facts surrounding the runners-up of past European Cup and Champions League tournaments.
First, while Real Madrid has the most Champions League titles, the Spanish side has also lost three Finals. These were in 1962, 1964, and 1981.
The team that has the most second-place finishes is Juventus. The Italian club has won two trophies, but its teams have also lost an incredible seven final matches over the years. The last runner-up medal came in 2017 after a 4-1 loss to Real Madrid.
Nottingham Forest and Porto are 2-0 in Champions League Finals, while Feyenoord, Aston Villa, PSV Eindhoven, and Red Star Belgrade are 1-0. 
On the other side of the coin, Spain's Atlético Madrid is 0-3 in Finals, while their fellow LaLiga side Valencia is 0-2. France's Stade de Reims is the only other team two lose twice without a win. That club lost to Real Madrid in 1956 and 1959.
There are also three countries that have had teams make the final game but haven't brought home a trophy. These are Greece (Panathinaikos, 1971), Belgium (Club Brugge, 1978), and Sweden (Malmö FF, 1979).
Stats courtesy of UEFA.com
Like Sportscasting on Facebook. Follow us on Twitter @sportscasting19 and subscribe to our YouTube channel.