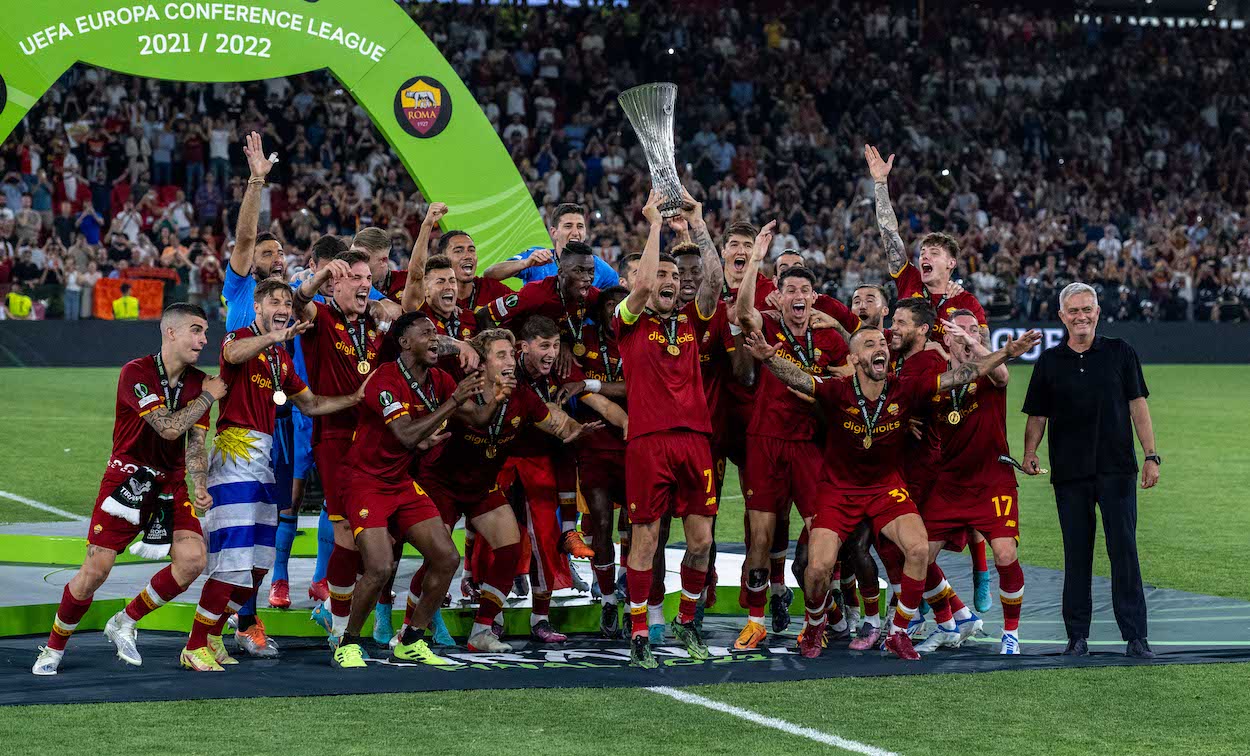 Roma's Premier League Rejects Win Inaugural Europa Conference League Final
José Mourinho and his band of castoffs from Roma beat Feyenoord 1-0 to take home the first-ever Europa Conference League title.
The penultimate major trophy of the 2021-22 European football season was awarded on Wednesday, May 25, as Serie A's AS Roma took down the Eredivisie's Feyenoord Rotterdam to win the first-ever Europa Conference League Final. The win qualifies manager José Mourinho's Italian squad for next year's Europa League, but it could mean even bigger things for the team built by "the Special One," and his band of English Premier League rejects.
José Mourinho built Roma with Premier League castoffs 
José Mourinho is brash, outspoken, and can wear out his welcome at a club relatively quickly. However, you can't deny he wins almost everywhere he goes.
The 59-year-old Portuguese skipper has won leagues, domestic cups, and European titles with Porto, Chelsea, Inter Milan, Real Madrid, Manchester United, and now, Roma.
By winning the inaugural Europa Conference League, Mourinho becomes the first manager to win all three major European trophies. He added this title to his two Champions League wins (Porto 2003-04, Inter Milan 2009-10) and a Europa League trophy (Manchester United 2016-17).
Before taking over at Roma, Mourinho had his worst spell as a manager with Tottenham Hotspur in the Premier League. His 51.1% winning mark was the worst of his career, and he failed to win a single trophy.
Cast-off from the best league in the world, Mourinho returned to Italy, where he won 62% of his matches at Inter Milan. To help build up his Roma side that hasn't won a domestic cup since 2009, the league since 2001, and a European cup since 1961, "the Special One" turned to players who the EPL also rejected.
In Mourinho's starting lineup for this Final were former Premier League players Rui Patrício (Wolverhampton Wanderers), Tammy Abraham (Chelsea), Ainsley Maitland-Niles (Arsenal), and Chris Smalling and Henrikh Mkhitaryan (Manchester United).
Additionally, Roma has several other players who didn't pan out at bigger clubs. This list includes Sérgio Oliveira (Porto), Carles Pérez (Barcelona), and Stephen El Shaaraway and Bryan Cristante (AC Milan).
Roma defeated Feyenoord 1-0 in the Europa Conference Final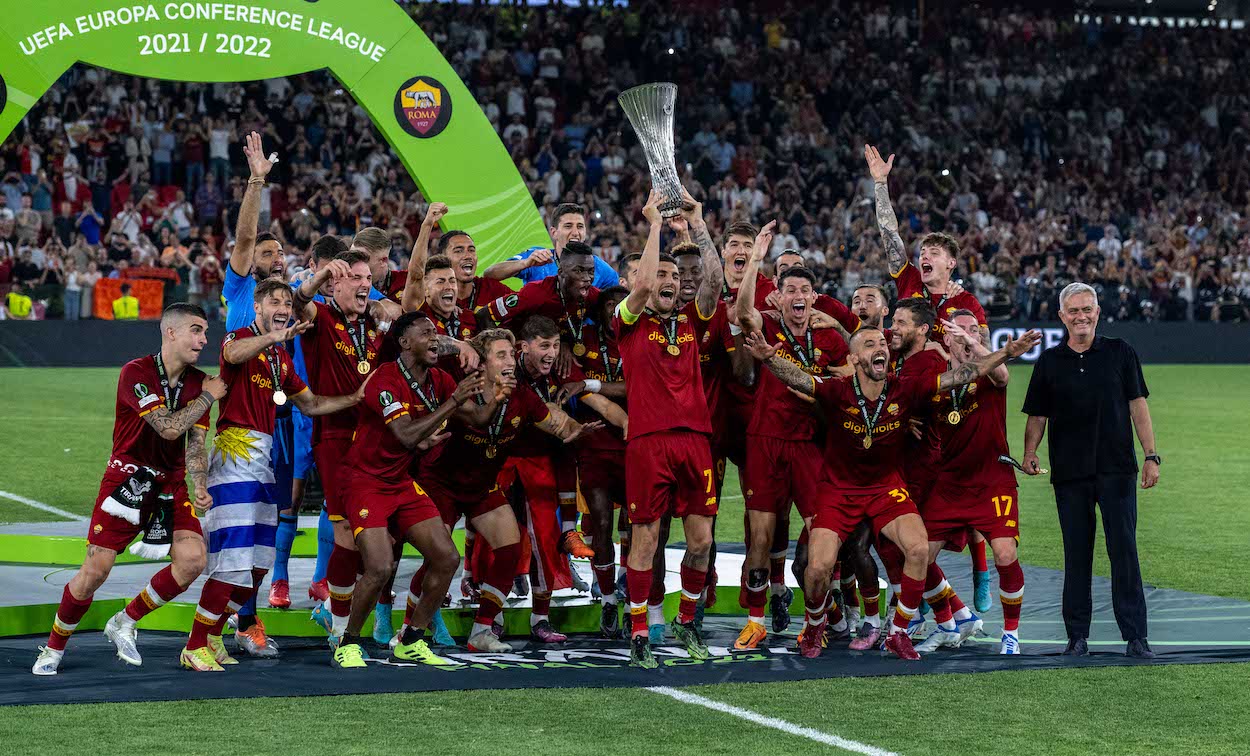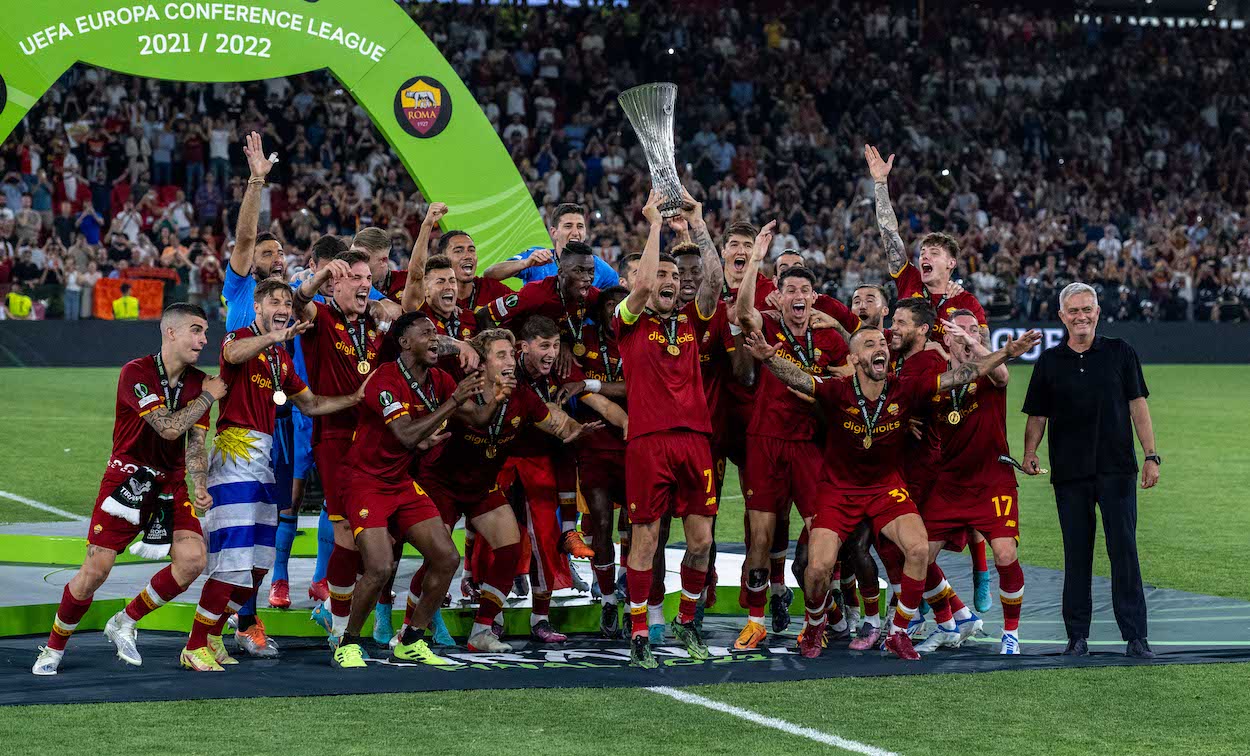 To reach the Europa Conference Final, Roma had to go through Vitesse (Netherlands), Bodø/Glimt (Norway), and Leicester City (England) in the knockout round to make the final.
For the Dutch side Feyenoord, Partizan (Serbia), Slavia Prague (Czech Republic), and Marseille (France) were the Round of 16, quarterfinal, and semifinal opponents.  
Air Albania Stadium in Tirana, Albania, hosted the tournament's final match, and the game was closely contested throughout.  
Roma star Henrikh Mkhitaryan went out early with an injury, and Sérgio Oliveira came in. Fifteen minutes later, center-back Gianluca Mancini sent a beautiful ball into the box. WInger Nicolò Zaniolo flipped the ball over keeper Justin Bijlow's shoulder to give Roma a 1-0 lead. 
Feyenoord kept the pressure on the Italian side for the entire game. However, it was to no avail against José Mourinho's hard-nosed defensive tactics. The Dutch team had a staggering 67% possession. The team also took 13 shots with five on target to Roma's nine and three. Feyenoord just couldn't get anything past veteran Portuguese keeper, Rui Patrício.
The win guarantees Roma a place in Europa League next season. Although, Mourinho and company already secured that place with a sixth-place finish in Serie A. However, with the club's first trophy in more than a decade, Roma will have its eye on a Champions League place in 2023.
Maybe it will even be with the help of even more Premier League rejects added in the offseason.
What is Europa Conference League?
If you're not familiar with Europa Conference League, don't worry, you're not alone. UEFA started the tournament for the 2021-22 season, and Roma is its first champion.
UEFA is the governing body that puts on the Champions League, the most prestigious professional European tournament, and Europa League, the second-tier European competition. These competitions have been part of the European football season since 1955. At that time, Champions League was the European Cup and Europa League was the Inter-Cities Fairs Cup.
For the just-ended 2021-22 season, UEFA added a third-tier European tournament, known as the Europa Conference League.
The top team or group of teams in each major European domestic league qualify for the Champions League. The next team or group of teams down go to the Europa League. Now, a third team (or batch of teams) heads to this tournament.
The number of teams that go to each level of tournament varies by league. For example, Italy's Serie A sends four teams to Champions League, two to Europa League, and one to Europa Conference League. Meanwhile, the Netherlands Eredivisie's one team to each, and a fourth to a Europa Conference qualifier tournament.
For the 2022-23 Europa Conference tournament, some of the most well-known qualifying teams include Fiorentina (Italy), West Ham United (England), FC Köln (Germany), Villarreal (Spain), and Rennes (France). Feyenoord also qualified for next year's tournament.
Like Sportscasting on Facebook. Follow us on Twitter @sportscasting19 and subscribe to our YouTube channel.