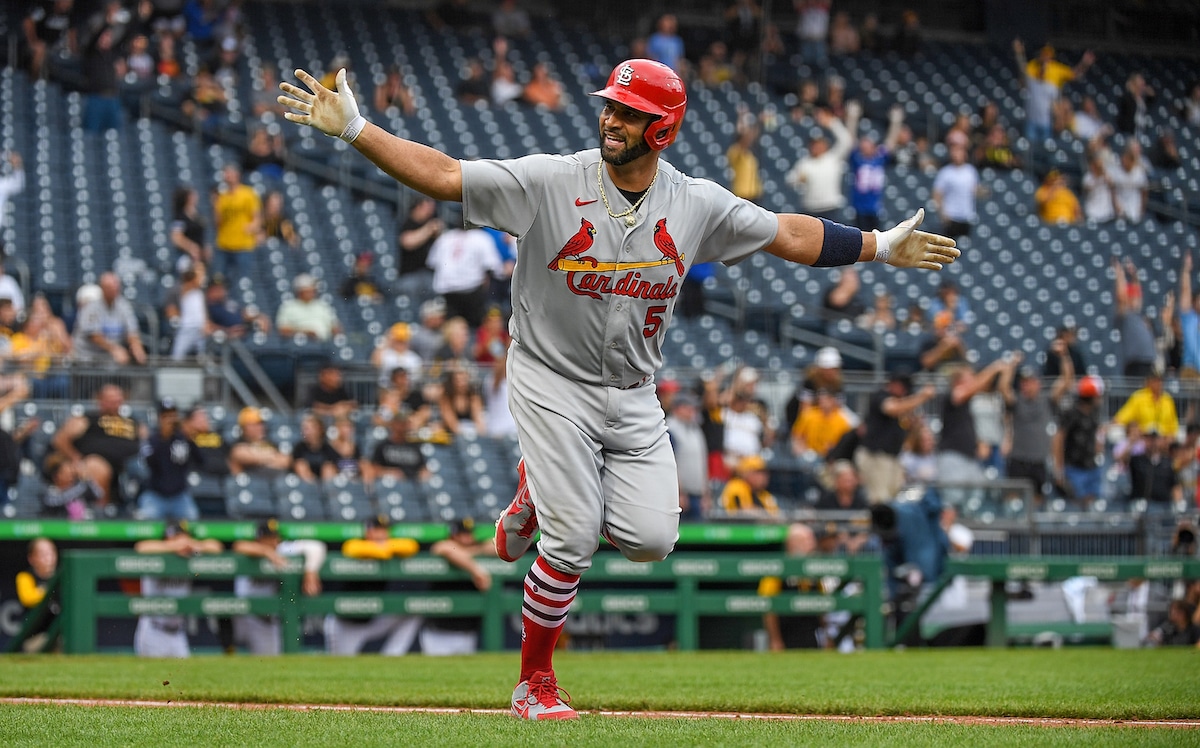 The Best Athletes to Ever Wear a Number 5 Jersey
Legends of many different sports wore the number 5 jersey at one point or another.
Albert Pujols smacked one home run after another while wearing a number 5 jersey — more so for the St. Louis Cardinals than the Los Angeles Angels. Kevin Garnett wore that same digit on his back during his memorable run with the Boston Celtics. Paul Hornung won MVP honors for the Green Bay Packers with No. 5 stitched into his uniform. And that's just scratching the surface of the legendary athletes who have chosen this number.
For our list of the 10 best to ever wear a number 5 jersey, presented alphabetically by first name, we highlighted their professional careers only while donning the chosen number. These athletes were selected based on their accolades, statistical accomplishments, and talent while wearing a number 5 jersey.
Albert Pujols
One of the most dominant players in baseball history, Albert Pujols thrived as a three-time MVP and 11-time All-Star who led the St. Louis Cardinals to two World Series titles. Throughout his 22-year career, the Machine hit 703 home runs and slashed an incredible .296/.374/.544. Only 28 players in the MLB archives have earned more WAR than his 101.5.
Denis Potvin
Inducted into the Hockey Hall of Fame in 1991, Denis Potvin spent 15 years as a defenseman for the New York Islanders and helped lead them to four championships. On his way to seven All-Star appearances and three James Norris Memorial Trophies, Potvin also broke Bobby Orr's record for most career goals by a defenseman, though he no longer sits atop that particular leaderboard.
Franz Beckenbauer
Franz Beckenbauer was among the best players for the German national soccer team, eventually leading his country to a World Cup Victory against the Netherlands in 1974 after getting third place in 1970 and second place in 1966. He was a four-time German Footballer of the Year and two-time Ballon d'Or winner who wore the number 5 jersey during the second half of his international career and for most of his time with Bayern Munich.
Jason Kidd
Wearing the number 5 jersey for most of his career — his Phoenix Suns tenure and second Dallas Mavericks stint notwithstanding — Jason Kidd dominated the court throughout his time in the NBA. Known for his incredible ability to drop dimes, the point guard led the league in assists per game five times, racked up plenty of triple-doubles, and compiled quite a resume with 10 All-Star appearances, nine All-Defensive selections, and a Hall of Fame induction.
Joe DiMaggio
Joe DiMaggio is undoubtedly one of the most iconic baseball players ever. With the New York Yankees from 1936-42 and 1946-51 (he missed three seasons due to military service), he earned three MVPs, two batting titles, and nine World Series victories. The Hall of Famer slashed .325/.398/.579 for his career and racked up 79.1 WAR, wearing the number 5 jersey for every season but his inaugural campaign.
Johnny Bench
Part of the famed Big Red Machine, Johnny Bench spent his entire 17-year career with the Cincinnati Reds and thrived as one of the best catchers of all time. A terrific fielder, he earned 10 Golden Gloves while bringing a pair of World Series titles to Cincinnati and collecting two MVPs for himself. No catcher has ever topped his 75.1 WAR, all of which was earned while he wore the number 5 jersey.
Kevin Garnett
Kevin "The Big Ticket" Garnett was one of the NBA's most dominant players throughout his career. Though he wore No. 21 during his legendary tenure with the Minnesota Timberwolves, he threw on the number 5 jersey when he joined the Boston Celtics for the 2007-08 season. His 2003-04 MVP and the majority of his 15 All-Star selections don't count here. But his '08 Defensive Player of the Year trophy does, and the same is true of his championship in Boston.
Nicklas Lidstrom
Detroit Red Wings star defenseman Nicklas Lidstrom won four Stanley Cups, seven James Norris Memorial Trophies, and the Conn Smyth Trophy. A member of the NHL 100th Anniversary Team and a 12-time All-Star who played at the peak of his position for over a decade, Lidstrom was inducted into the Hall of Fame when first eligible in 2015.
Paul Hornung
Nicknamed the Golden Boy, Paul Hornung played for the Green Bay Packers from 1957 through 1966. He helped bring four NFL championships to the model organization, as well as one Super Bowl once the league entered the more modern era. A two-time Pro Bowler who went on to make the Hall of Fame, Hornung was a scoring machine and do-everything weapon on the field, thriving as one of football's early superstars.
Zinedine Zidane
While his infamous headbutt in the 2006 World Cup final might be the first thing that comes to mind for many, Zinedine Zidane was still a legendary French footballer who wore the number 5 jersey throughout his time with Real Madrid (2002-05). Technically, his headbutt doesn't even factor in here since it came while he was wearing a 10 for France. Still, the Champions League winner in '02 dominated all competitions during his time in La Liga.
Best athletes to wear a number 5 jersey: honorable mentions
We considered so many great athletes who've worn a number 5 jersey. The following didn't quite make it on our top-10 list, but they're worth mentioning due to their incredible talent and prolific careers. More will join them as new talents distinguish themselves.
Baron Davis
Brooks Robinson
Carles Puyol
Carlos Boozer
David Wright
Dawn Staley
De'Aaron Fox
Dit Clapper
Donovan McNabb
Fabio Cannavaro
Fernando Redondo
Freddie Freeman
George Brett
George McAfee
Guy Lapointe
Guy Rodgers
Hank Greenberg
Jeff Bagwell
Nomar Garciaparra
Rio Ferdinand
Stats courtesy of Basketball Reference, Pro Football Reference, Transfermarkt, Baseball Reference, and Hockey Reference