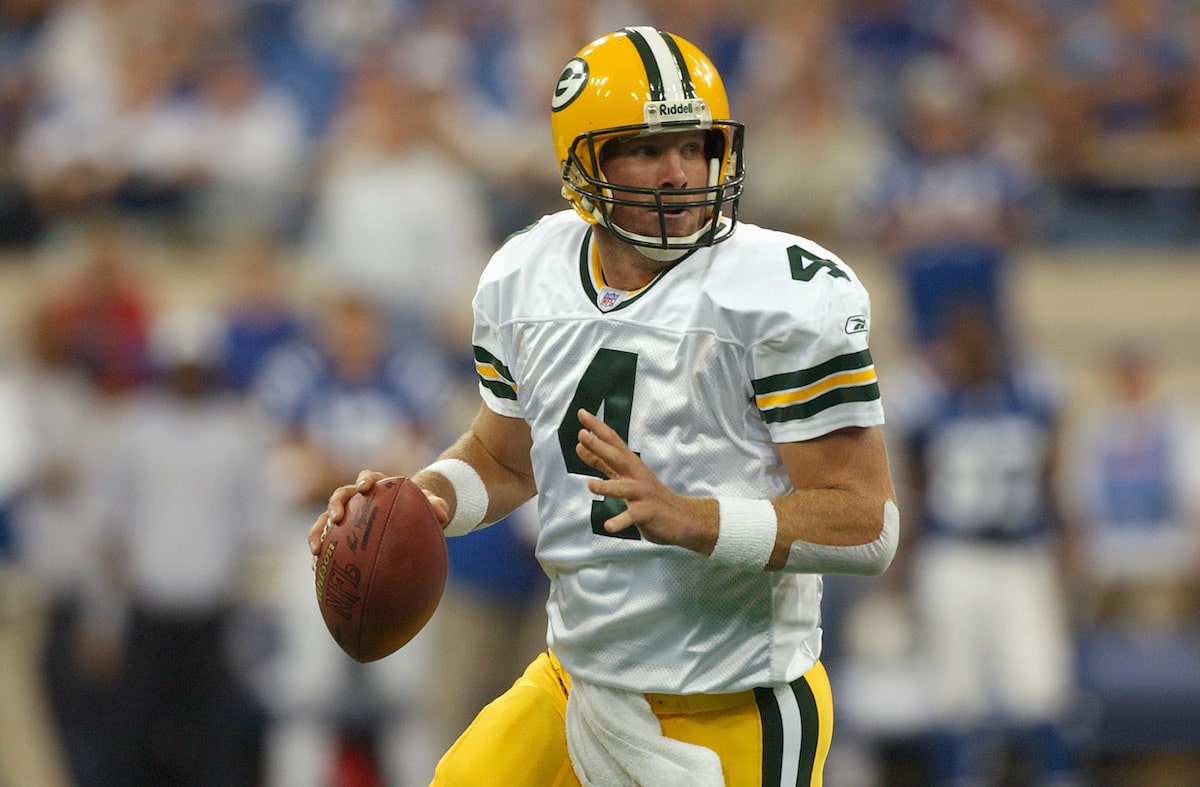 The Best Athletes to Ever Wear a Number 4 Jersey
These 10 athletes made the number 4 jersey look good.
Countless athletes have worn the number 4 jersey, but only 10 were good enough to make the list. From show-stopping hockey players to NFL quarterbacks to NBA standouts (and everything in between), these players thrived while making fans want to throw the same number on their own backs.
For our list of the 10 best athletes to ever wear a number 4 jersey, presented alphabetically by first name, we highlighted their professional careers only while donning the single-digit number. These athletes were chosen based on their accolades, statistical accomplishments, and talent while wearing a number 4 jersey.
Bobby Orr
Known for his iconic diving goal in the 1970 Stanley Cup Finals, Bobby Orr revolutionized how defenders play hockey. He won two Stanley Cups and a record eight consecutive Norris Trophies with the Boston Bruins. The man who won two Conn Smythe Trophies, two Art Ross Trophies, and three Hart Trophies scored 270 goals and recorded 645 assists throughout his career.
Brett Favre
Brett Favre led the Green Bay Packers to a Super Bowl win in 1997 and is one of the all-time leaders in passing touchdowns with 508. Only Peyton Manning (539), Drew Brees (571), and Tom Brady (649) have more through the conclusion of the 2022 NFL season. The gunslinger was an 11-time Pro Bowler and three-time MVP before earning a Hall of Fame induction in 2016.
Dolph Schayes
Dolph Schayes was one of the NBA's first stars. He played for the Syracuse Nationals, now the Philadelphia 76ers, from 1949 through 1964, leading the team to the 1955 NBA title before he received his eventual induction into the Hall of Fame. The 12-time All-Star shot only 38% from the field while averaging 18.5 points in his 996 appearances, but that first number was far more impressive in the early era of the Association.
Jean Beliveau
Regarded as one of the greatest leaders in sports history, Jean Beliveau led the Montreal Canadiens to an astonishing 10 Stanley Cups. The center was an Art Ross Trophy winner, a two-time Hart Trophy recipient, and a Conn Smythe Trophy winner. During his time with the Canadiens, he scored 507 goals, recorded 712 assists, and earned his 1972 induction into the Hall of Fame, wearing the number 4 jersey for every one of his peak seasons.
Joe Dumars
Joe Dumars' greatest accomplishments are his back-to-back NBA titles with the Detroit Pistons in 1989 and 1990. The shooting guard averaged 16.1 points per game during his 14 years in the Motor City and was named the Finals MVP after hoisting the trophy for a second time. Dumars was a six-time All-Star and five-time All-Defensive selection.
Lou Gehrig
Nicknamed the Iron Horse, Lou Gehrig played an astonishing 2,130 consecutive games — a record at the time — during his legendary tenure with the New York Yankees. The two-time MVP and Triple Crown winner won seven World Series in pinstripes and is easily one of the most recognizable figures in baseball — not just because of the disease that bears his name. He hit .340 with 493 career home runs over 17 years of MLB action.
Mel Ott
Mel Ott is one of the greatest home run hitters in baseball history. The prolific slugger recorded 511 home runs from 1926 to 1947 and was the first National League player to reach 500 dingers. Ott won the World Series with the New York Giants Giants in 1933 and was inducted into the Hall of Fame in 1951 as a 12-time All-Star who wore the number 4 jersey for all but two seasons.
Paul Molitor
Paul Molitor was an astonishing hitter for the Milwaukee Brewers, amassing 3,319 hits during his career. He was a seven-time All-Star who received MVP votes in nine different seasons (though he only finished in the top five twice) and won the World Series with the Toronto Blue Jays in 1993. Interestingly, his three-year stint north of the border was the only time he didn't wear the number 4 jersey, instead donning number 19.
Red Kelly
Red Kelly played as both a defenseman and a center during a 21-year NHL career that spanned from 1947 through 1967. He was an eight-time Stanley Cup winner, earning four apiece with the Detroit Red Wings and Toronto Maple Leafs. The lefty was inducted into the Hall of Fame in 1969 after scoring 281 goals and dishing out 542 assists.
Sidney Moncrief
One of the best defensive players of all time, Sidney Moncrief, made five All-Defensive teams and earned two Defensive Players of the Year awards. The two-way shooting guard with "the two C's" played for the Milwaukee Bucks from 1979 through 1989, averaging 15.6 points per game and shooting an impressive 50.3% from the field. Moncrief was inducted into the Hall of Fame in 2019.
Best athletes to wear a number 4 jersey: honorable mentions
We considered so many great athletes who've worn a number 4 jersey. The following didn't quite make it on our top-10 list, but they're worth mentioning due to their incredible talent and prolific careers. More will join them as new talents distinguish themselves.
Adam Vinatieri
Adrian Dantley
Bobby Grich
Candice Dupree
Carl Braun
Cesc Fabregas
Chauncey Billups
Chris Bosh
Chris Webber
Duke Snider
Javier Zanetti
Rob Blake
Ronald Koeman
Scott Stevens
Skylar Diggins-Smith
Vincent Lecavalier
Yadier Molina
Stats courtesy of Basketball Reference, Pro Football Reference, Transfermarkt, Baseball Reference, and Hockey Reference