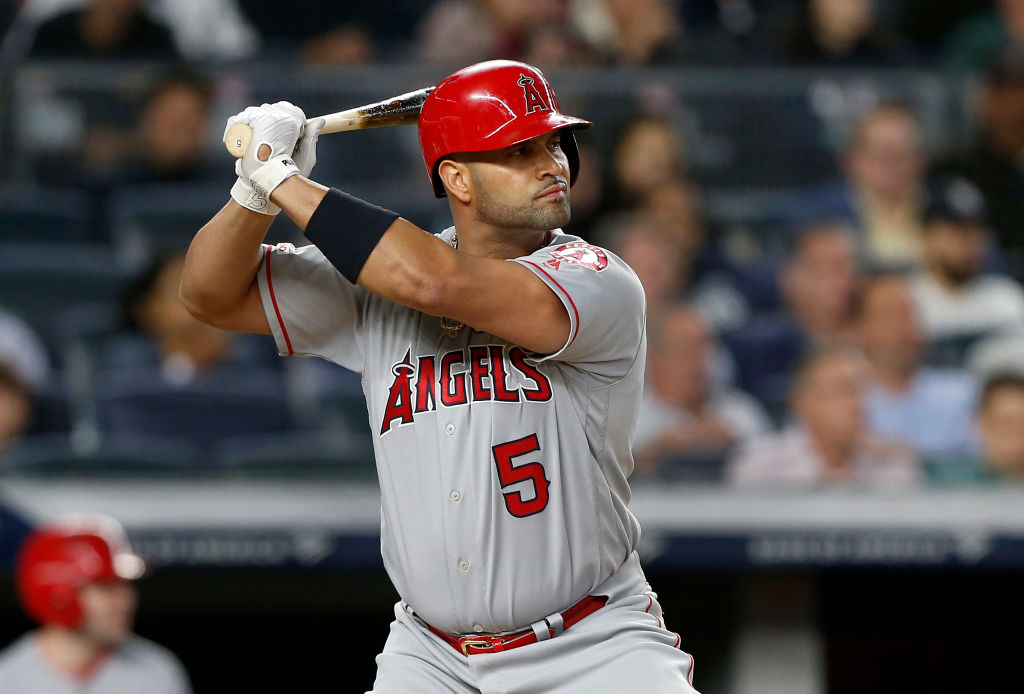 Albert Pujols Crushes His MLB Competition in a Key Statistic
Albert Pujols has been the leading beneficiary of MLB's latest live-ball era, hitting more home runs than any active hitter.
Pitchers and catchers are reporting this week, soon to be followed by the rest of their teammates. And judging by last season's Major League Baseball statistics, the hurlers can use the extra work when it comes to keeping the ball in the park.
One can make the case that nothing excites fans more in the course of a game that seeing a ball explode off the bat and land beyond the outfield fence. It happened a record number of times last season, extending a trend evident throughout the century.
Barry Bonds, Alex Rodriguez, and Ken Griffey Jr. are among the retired stars who cashed in on the trend relatively recently to finish with huge career numbers.
Meanwhile, some of the game's biggest active stars continue to roll up huge career numbers. Of those still playing, no one has swatted the ball out of the park more than Albert Pujols.
Home runs have been going up, up, up
This generation's curiosity about rising home run totals began in 2000 when the recent uptick peaked at 5,693 instances of batters touching 'em all. The trend was generally downward from there, hitting a bottom at 4,661 in 2013 and then a steep drop to 4,186 the following season.
But the balls started flying again beginning with 4,909 homers in 2015. The 2017 season saw a new high of 6,105 and then 2019 destroyed all records when batters hit 6,776 homers for an average of nearly 2.8 per game.
The Minnesota Twins set a record with 307 round-trippers, followed by the New York Yankees at 306. The Houston Astros belted 288, and four other teams hit at least 250 home runs apiece.
For all the excitement that a home run can generate in a game, it's worth noting the MLB attendance in 2019 slipped for the seventh consecutive year.
Albert Pujols has hit his share of home runs
Albert Pujols' production has slipped noticeably since leaving the St. Louis Cardinals after the 2011 season for the Los Angeles Angels. He was a career .328 hitter in the National League compared to .258 since in eight American League seasons.
But being a power hitter with 19 seasons under his belt in the liveliest of live-ball eras is worth something, and it's meant 656 home runs to Pujols. Though he doesn't figure to catch all-time leader Barry Bonds (762), it will be a while before any active player challenges Pujols.
Miguel Cabrera is second at 477 homers entering the season, with Edwin Encarnacion next at 414. Nelson Cruz (401) and Ryan Braun (344) round out the top five, all of whom are at least 36 years old.
At 32-years old, Jay Bruce (312) is the leader in the under-35 age group. For players under the age of 30 years, Giancarlo Stanton, 29, leads the way with 308.
Why are there so many home runs?
Baseball executives denied for years that they conspired to jack up interest in the sport by altering the approximately 1 million balls a year manufactured by Rawlings. They finally conceded in the past two years that something has changed, though they say it's out of their control.
One independent study pointed to a change in the composition of the ball, with more rubber and less silicon inside the nest of wound wool adding bounce to it.
MLB released its own analysis pointing to an aerodynamic change because the cover being shipped to Rawlings by its supplier was smoother. They also speculated that the way balls were being stored is making a difference.
Whatever the reason, the baseballs have been flying. We'll get our first indication of whether the trend in home runs continues when all 30 teams open the season on March 26.