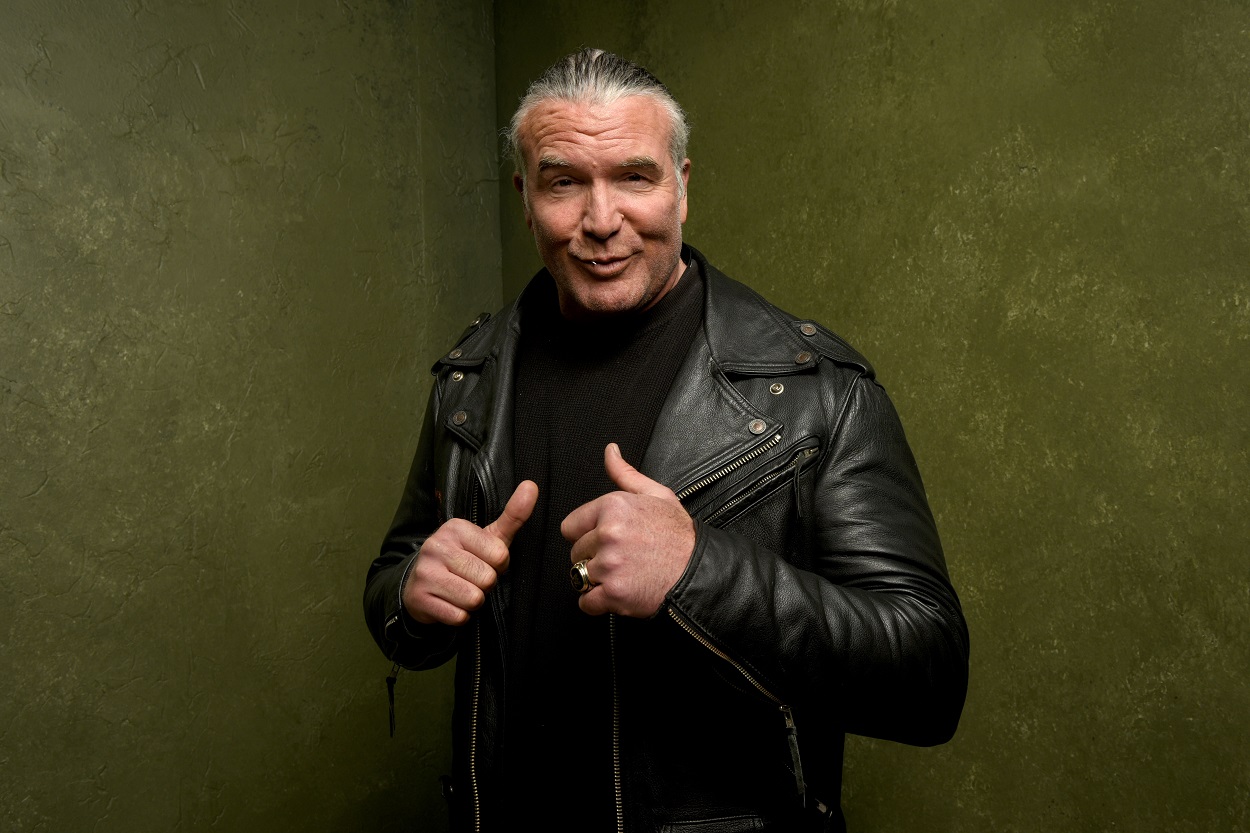 Scott Hall: Ranking the 5 Best Matches of the Two-Time WWE Hall of Famer
A look back on the greatest matches of two-time WWE Hall of Famer Scott Hall, aka Razor Ramon.
Razor Ramon. The Bad Guy. One-half of The Outsiders. One of the founding members of the nWo. Whatever you choose to go with, there's no doubt that two-time WWE Hall of Famer Scott Hall left his mark on the world of professional wrestling.
At 6-foot-7, 285 pounds, and just oozing machismo (yep, had to do it), Hall, who sadly died Monday at the age of 63, began his wrestling career in 1984. Starting in the NWA's Florida territory, the Maryland native then made his way to Jim Crockett's promotion in Charlotte before making a real name for himself in the AWA.
Hall spent four years in Minneapolis before bolting to WCW in 1989 and spent time overseas in the early '90s. But he became a true superstar as Razor Ramon in WWE (then WWF) in 1992. He became one of the faces of The New Generation almost immediately and became a massive star over the next few years before famously jumping back to WCW in 1996, a move that changed the course of the business forever.
Alongside fellow Outsider Kevin Nash and the rebranded Hollywood Hulk Hogan, Hall, and the famed New World Order became the hottest thing pro wrestling had ever seen, prompting Vince McMahon to fight back, resulting in the "Monday Night War" that brought unparalleled ratings.
Hall returned to WWE in 2002 following McMahon's purchase of WCW, but his unfortunate personal issues made that a short stay. He worked for TNA off and on for eight years and made sporadic appearances for independent promotions before wrestling his final match in 2016. He was inducted into the WWE Hall of Fame in 2014 on his own and then as a member of the nWo alongside Hogan, Nash, and Sean Waltman just last year.
While Hall somehow never won a world title in any major promotion, he was a four-time WWE Intercontinental Champion, a seven-time WCW Tag Team Champion, a two-time United States Champion, and a one-time WCW World Television Champion.
Now, some of Hall's greatest matches were of the tag-team variety, as that was obviously a big part of his career, especially in WCW. And he certainly had some great tag matches in WWE as well, including a phenomenal bout in 1994 that's been largely forgotten as he and Waltman (as The 1-2-3 Kid) took on Shawn Michaels and Kevin Nash (as Diesel) on an episode of The Action Zone. Don't worry if you don't remember that Sunday afternoon show on USA. Nobody does. It was truly one of the great tag matches of the decade.
But I wanted the focus on just Scott Hall today, given the circumstances. Yes, these are all matches from his WWE days as Razor Ramon, but one of his underrated WCW gems with Sting — his only televised world title match with the company — did nearly make the cut here.
So without further ado, I give you the top five singles matches of two-time WWE Hall of Famer Scott Hall.
5. 1994 SummerSlam vs. Diesel
This match featuring Hall as Razor Ramon taking on his future Outsiders running mate Kevin Nash as Diesel often gets forgotten about as it was on the same 1994 SummerSlam card as the epic cage match between Bret Hart and Owen Hart. But this bout was a lot of fun.
Members of The Kliq always seemed to work well with one another (as evidenced by the aforementioned tag match), and this was no different. With arguably the greatest NFL player of all time in Walter Payton in his corner, Hall took back the Intercontinental Championship he'd lost to Nash a few months earlier in an enjoyable 15-minute gem on the mid-card.
Vince wouldn't pair just anyone alongside "Sweetness" in front of an always-tough Chicago crowd, so Hall being put in that big spot was undoubtedly a big show of faith. The win here solidified his place as one of the biggest stars in WWE at the time.
4. 1993 Royal Rumble vs. Bret Hart
Remember how I said Hall never won a world title in any major promotion? Well, it's hard to do that when you don't get that many world title matches. And it may surprise you to know that his match against Bret Hart at the 1993 edition of the Royal Rumble was Hall's only televised WWE Championship match.
Now, at this time, Razor Ramon had only been on WWE television for less than a year. So to get a match with someone the caliber of "The Hitman" for the most prized possession in the industry was a genuine accomplishment. Hall obviously came up short in his effort, but the duo put on a great show that night in Sacramento.
3. 10/11/93 edition of Monday Night RAW vs. Rick Martel
This certainly wasn't one of Hall's most high-profile matches, but I'd put it up against almost any match of his career. On the October 11, 1993, edition of Monday Night RAW, Razor squared off against Rick Martel in a matchup for the vacant IC title, a match that came to be as they were the final two participants in a battle royal a week earlier.
Ramon and "The Model" put on an absolute clinic in a fantastic back-and-forth affair. Martel was a dynamite heel in his day and was the perfect opponent at this time for Hall, who'd turned face just a few months earlier. Finishing things off with The Razor's Edge, Razor captured his first of four IC titles. This particular reign would last 198 days.
2. 1995 SummerSlam vs. Shawn Michaels
You can essentially list this as 1A if you wanted to. But as this was the sequel to what you knew would be No. 1 when you clicked into this list, we'll just go ahead and list it at No. 2. This second Ladder Match between Hall and HBK was added to the SummerSlam 1995 card very late, clearly an attempt for more PPV buyers at what wasn't exactly the greatest time for WWE.
But while things overall may not have been great in WWE then, this match certainly was. Once again, as members of The Kliq usually did when facing one another, Hall and Michaels had unbelievable chemistry in this match. And having that Ladder Match experience under their respective belts allowed for more psychology than the first one, which is why some think this one is even better.
But the build wasn't there like it was for the first, and on a day like today, I'm certainly not going to make No. 1 a match that Scott Hall lost. So you know what the top spot is.
1. WrestleMania 10 vs. Shawn Michaels
Say hello to No. 1.
What else is there to say about this WrestleMania 10 classic that hasn't already been said? While not the first Ladder Match in WWE history, the epic bout between Hall and Michaels at Madison Square Garden set the bar for every Ladder Match that's followed it. And even nearly three decades later, it's easily still one of the best in professional wrestling history and one of the greatest WrestleMania matches of all time.
Hall helped revolutionize the industry that night in NYC, and his contributions to the world of professional wrestling as a whole will never be forgotten. To quote the man himself from his epic WWE Hall of Fame speech in 2014: "Hard work pays off. Dreams come true. Bad times don't last. But bad guys do."
And Scott Hall's legacy will certainly last forever.