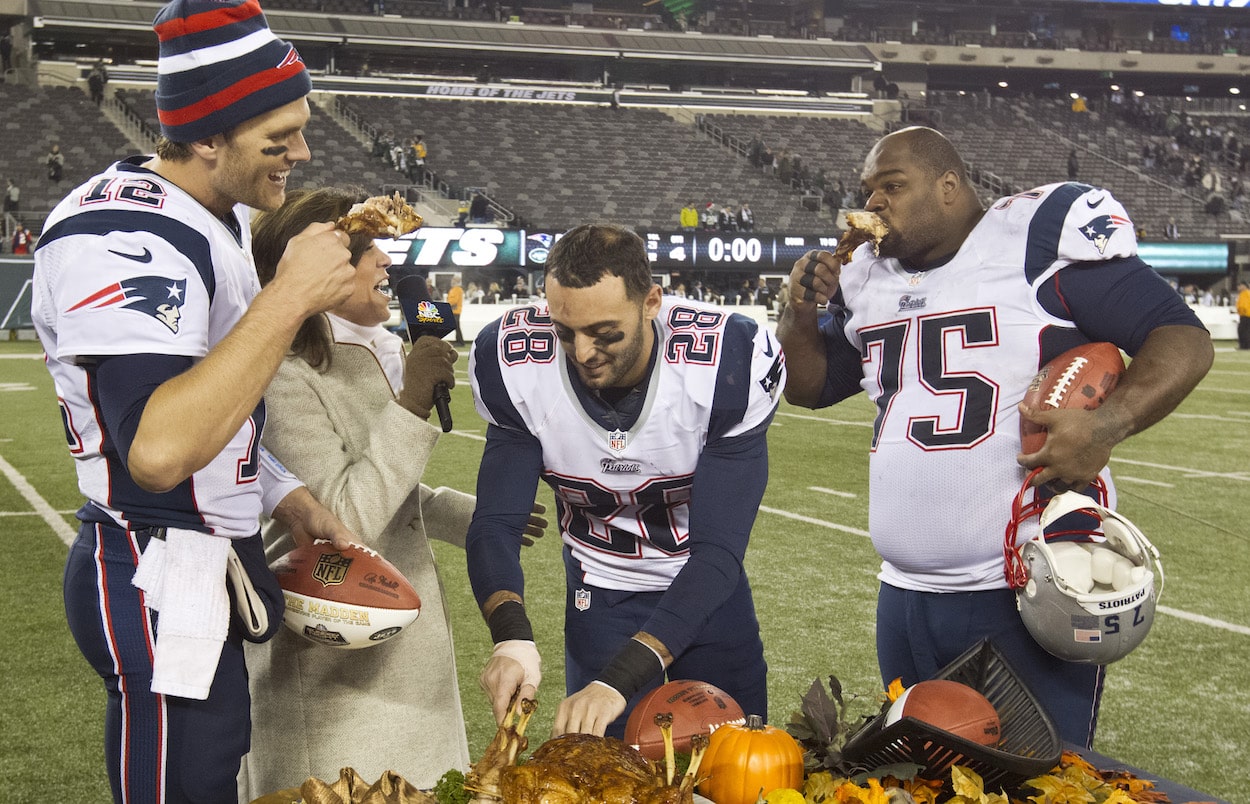 Ranking the 10 Best Thanksgiving Day QB Performances in NFL History
Tom Brady has two entries among the best Thanksgiving Day QB performances, but he's not at No. 1.
Turkey Day is a time for celebrations with family and friends, tryptophan-fueled naps, and NFL games on the television throughout the holiday. Plenty of Thanksgiving QB performances have taken center stage throughout the sport's long history of showcase games on late-November Thursdays, but these 10 performances have risen to the top of the pack.
To determine the order of the 367 qualified games by signal-callers from 1950 to the present, we're turning to QB Math's Total Yards Added (TYA) metric, which looks at fumble avoidance, sack avoidance, rushing success, and passing success to see how many more yards a given quarterback accumulated than a league-average player during the year in question would've with the same number of attempts.
Check out the honorable mentions first, then dive into the top 10 with as much vigor as you would have while battling an extended family member for the coveted final drumstick:
| Rank | Player | Year | Team | Opponent | Result | TYA |
| --- | --- | --- | --- | --- | --- | --- |
| 20 | Ben Roethlisberger | 2016 | Pittsburgh Steelers | Indianapolis Colts | W 28-7 | 160.537 |
| 19 | Tony Romo | 2009 | Dallas Cowboys | Oakland Raiders | W 24-7 | 163.312 |
| 18 | Tony Romo | 2008 | Dallas Cowboys | Seattle Seahawks | W 34-9 | 163.48 |
| 17 | Scott Mitchell | 1995 | Detroit Lions | Minnesota Vikings | W 44-38 | 168.727 |
| 16 | Troy Aikman | 1998 | Dallas Cowboys | Minnesota Vikings | L 36-46 | 169.179 |
| 15 | Bob Griese | 1977 | Miami Dolphins | St. Louis Cardinals | W 55-14 | 172.843 |
| 14 | Aaron Rodgers | 2009 | Green Bay Packers | Detroit Lions | W 34-12 | 173.181 |
| 13 | Kirk Cousins | 2016 | Washington | Dallas Cowboys | L 26-31 | 175.751 |
| 12 | Matthew Stafford | 2015 | Detroit Lions | Philadelphia Eagles | W 45-14 | 183.152 |
| 11 | Randall Cunningham | 1998 | Minnesota Vikings | Dallas Cowboys | W 46-36 | 189.881 |
View the bottom 10 Thanksgiving QB performances here, as well as the complete rankings of all such performances since 1950 here.
10. Jay Fiedler: 191.5 Total Yards Added for the Miami Dolphins in 2003
Even though he'd submitted a below-average performance just four days earlier in a one-point victory over Washington at home, Jay Fiedler took to the road and excelled, sparking a 40-21 win at the expense of a Dallas Cowboys squad that dropped to 8-4.
The 31-year-old connected on three touchdown passes to Chris Chambers and rarely let a football hit the turf. He was never sacked and never fumbled, completed 16 of his 20 attempts for 239 yards and that trio of scores, and even added a one-yard touchdown run on the game's opening possession.
By TYA, this was the best performance of Fiedler's NFL career.
9. Deshaun Watson: 194.121 Total Yards Added for the Houston Texans in 2020
Unlike Jay Fielder, Deshaun Watson didn't submit the best performance of his career on Thanksgiving Day. But he did come close since this 2020 showing for the Houston Texans trails only two other games.
Watson rose to prominence in part because of his dual-threat ability, but the Detroit Lions actually held him in check on the ground, limiting him to eight rushes for 24 yards and a single-carry high of 12 yards. They also brought him down on two sacks for a loss of 12 total yards.
But they had no shot of stopping Houston's aerial attack on Nov. 26, 2020.
Throwing to Will Fuller V, Brandin Cooks, Duke Johnson Jr., Keke Coutee, and C.J. Prosise — not exactly the most terrifying set of pass-catching threats — Watson completed 17 of 25 passes for 318 yards and four scores. The Texans entered the fourth quarter with a 26-17 advantage, but that quickly stretched into an insurmountable lead as a pair of deep strikes to Fuller (and a two-point conversion from Watson to Coutee) led to a 41-25 final score.
8. Greg Landry: 197.15 Total Yards Added for the Detroit Lions in 1970
The 1970s Detroit Lions were actually a competitive bunch during the regular season before falling to the Dallas Cowboys in the divisional round by a head-scratching 5-0 final score. Behind Greg Landry, who trailed only John Brodie, Fran Tarkenton, Sonny Jurgensen, Daryle Lamonica, John Hadl, and Craig Morton in TYA that season, they went 10-4, including a 28-14 takedown of the Oakland Raiders on Thanksgiving.
Mel Farr (20 carries for 104 yards and a touchdown) and Altie Taylor (14 carries for 63 yards) excelled on the ground, but Landry was the picture of efficiency under center.
Not only did he add to the tally with seven rushes for 77 yards of his own, but he went 10-of-15 for 176 yards and three touchdowns through the air. After falling into a 14-0 hole, he tossed scores to Taylor (12 yards) and Charlie Sanders (20 yards and six yards) to take a lead his Lions would never relinquish.
7. Peyton Manning: 198.326 Total Yards Added for the Indianapolis Colts in 2004
Peyton Manning's 2004 season for the Indianapolis Colts remains one of the greatest quarterbacking campaigns in NFL history. By TYA, it places behind only Dan Marino's 1984 masterpiece. Somehow, this was only his third-best showing of the year, even if it still stands out against the entire backdrop of Thanksgiving Day performances.
A Detroit Lions team that fell to 4-7 with the 41-9 loss at Ford Field didn't stand a chance.
Less than five minutes into the game, Manning hit Brandon Stokley for a four-yard touchdown to break the 0-0 deadlock. Just under six minutes later, he doubled down with a 12-yard strike to Stokley. Then came a 25-yarder to — you guessed it — Stokley with 2:20 remaining in the second quarter. And because a 20-6 advantage wasn't enough going into the locker room, he added a 13-yard touchdown to Marvin Harrison before halftime.
Manning still wasn't done, though, as he found Harrison for two more scores in the third quarter, finishing 23-of-28 for 236 yards and a staggering six touchdowns.
6. Brett Favre: 206.747 Total Yards Added for the Green Bay Packers in 2007
Don't be fooled by the final score of 37-26. This game was over well earlier as a pair of fourth-quarter touchdowns by the Detroit Lions narrowed the margin and pushed a blowout closer to respectability.
Brett Favre basically ensured a victory for the Green Bay Packers with a three-yard score to Ruvell Martin with 1:48 left in the third quarter. That was already his third touchdown pass of the day as he marched the Packers up and down the field, tallying 381 yards on a 31-of-41 line while avoiding sacks entirely.
Not only did he throw at least three scores in a game for the 63rd time in his career, pushing him past Dan Marino for the NFL record, but he also set a new Green Bay standard with 20 straight completions to outdo the previous mark of 18 established by both Lynn Dickey and Don Majkowski.
"If he's playing perfect, the sky is really the limit," wide receiver Greg Jennings said after the game, per Packers.com. "It felt like he was perfect today. He was pretty perfect in our eyes."
5. Tony Romo: 219.098 Total Yards Added for the Dallas Cowboys in 2006
Given the number of times they've played on Thanksgiving, the Dallas Cowboys were bound to have at least one entry, and it comes courtesy of Tony Romo. Any time you can throw seven incompletions and still nearly match that tally with your touchdown passes, you're probably going to be in good shape.
Such was the case here as the Dallas signal-caller went 22-of-29 for 306 yards and five touchdowns in a 38-10 shellacking of the Tampa Bay Buccaneers.
He responded to a game-opening Mike Alstott touchdown run with a 30-yard strike to Terry Glenn, pushed the Cowboys to a 14-7 second-quarter lead with a two-yard score to Glenn, hit Marion Barber III for a pair of touchdowns out of the backfield, and capped things off with a seven-yarder to Terrell Owens.
This was just the fifth start of Romo's NFL career, and he managed to double his touchdown tally in that role from five to 10.
4. Tom Brady: 233.901 Total Yards Added for the New England Patriots in 2012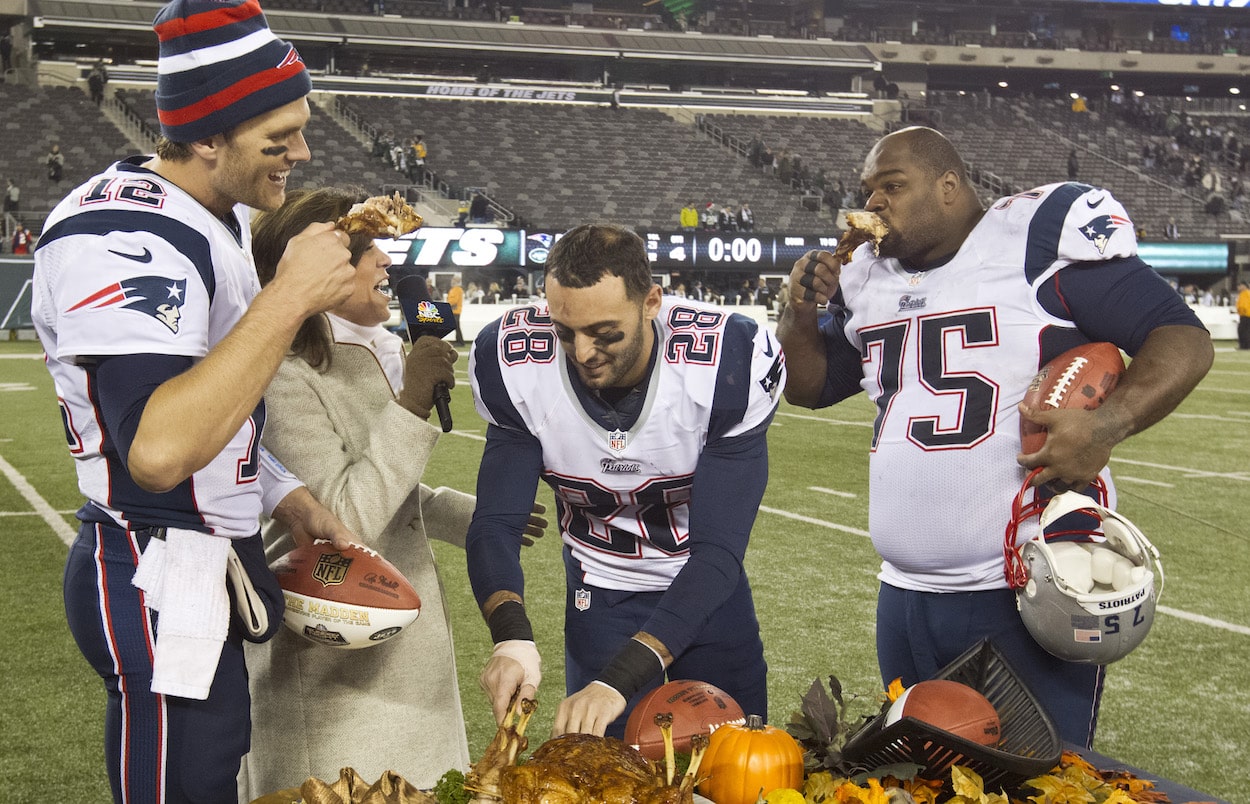 Tom Brady made his career debut in relief of Drew Bledsoe on Turkey Day during the 2000 season, and he had a middling performance as the Thanksgiving starter in 2002. But a decade later, he took advantage of the Thursday showcase by dismantling the New York Jets.
The second quarter alone of the 49-19 blowout was spectacular for Brady and unforgettable for both sides.
Brady threw a three-yard touchdown pass to Wes Welker on the first play of the 15-minute period. After Shonn Greene fumbled away New York's possession on a fourth-down attempt, the 35-year-old quarterback needed just one play to score courtesy of an 83-yard catch-and-run by Shane Vereen.
And then the wheels truly came off.
The Jets looked to build some momentum with a first-down pass from Mark Sanchez to Clyde Gates, but the ensuing play was the infamous "Butt Fumble," which Steve Gregory (who had recovered Greene's earlier fumble) returned for a touchdown. On the ensuing kickoff, Joe McKnight fumbled for the Jets, and Julian Edelman picked it up and scampered for yet another score, pushing the margin to 28-0. Brady hit Edelman for a 56-yard touchdown under six minutes later, and that essentially wrapped up the game before halftime.
The Michigan product ended up playing out garbage time and finished with 18 completions for 323 yards and three touchdowns on just 27 attempts, also rushing three times for five yards and a fourth trip to paydirt.
3. Tom Brady: 241.23 Total Yards Added for the New England Patriots in 2010
Tom Brady's 2012 performance may have been impressive, but he submitted his true Thanksgiving Day masterpiece two years earlier in a throwback-clad throttling of an overmatched Detroit Lions team that fell to 2-9 with the loss at Ford Field.
The GOAT candidate has earned the coveted 158.3 quarterback rating just three times in his regular-season career, and this was one of them. He turned his 27 pass attempts into 341 yards and four touchdowns (two apiece to Wes Welker and Deion Branch) and sparked a second-half turnaround that morphed a 17-10 deficit into a 45-24 victory.
The non-passing elements of Brady's performance were nothing special — he was sacked once for three yards and rushed four times for a single yard, partially due to a pair of kneel-downs at the end — but he more than made up for that with his right arm.
2. Dave Krieg: 251.397 Total Yards Added for the Detroit Lions in 1994
Even if Dave Krieg's overall resume pales in comparison to Tom Brady's, he did manage to get the better of the living legend with his 1994 exploits for the Detroit Lions.
His third start of the season came in a clash with the Buffalo Bills on Thanksgiving Day, and he was more than up for the task. He came out firing in the first quarter, opening the game with a seven-yard completion to Ty Hallock and then finding Herman Moore for a 51-yard flea-flicker score on the next play.
Interestingly, his next touchdown came on another two-play drive, this time at the end of the first half with a 33-yard completion to Moore and a 28-yard score to Aubrey Matthews that extended Detroit's advantage to 21-7.
Krieg finished the afternoon affair 20-of-25 for 351 yards and three touchdowns, maximizing his offensive output each time he called a pass play to outduel Jim Kelly and get Detroit back to a .500 mark on the year.
1. Philip Rivers: 269.125 Total Yards Added for the Los Angeles Chargers in 2017
Philip Rivers had never played on Thanksgiving Day before this 2017 appearance against the Dallas Cowboys, but the nerves seemed nonexistent when he let one pinpoint pass fly after another in the 28-6 victory.
He never took a sack despite Dallas generating three quarterback hits and a handful of hurries, and he dealt with tight throwing window after tight throwing window. None of it mattered.
Rivers couldn't be contained as he went 27-of-33 for 434 yards and three touchdowns. Two scores came in the third quarter after a slow first half featuring just three points, and the final strike featured a 42-yard pass to Keenan Allen midway through the fourth quarter. A Desmond King II interception return of an errant Dak Prescott throw cemented Los Angeles' win and capped the best game of Rivers' career, both subjectively and by TYA.
All Total Yards Added stats courtesy of Sports Math Network unless otherwise indicated.