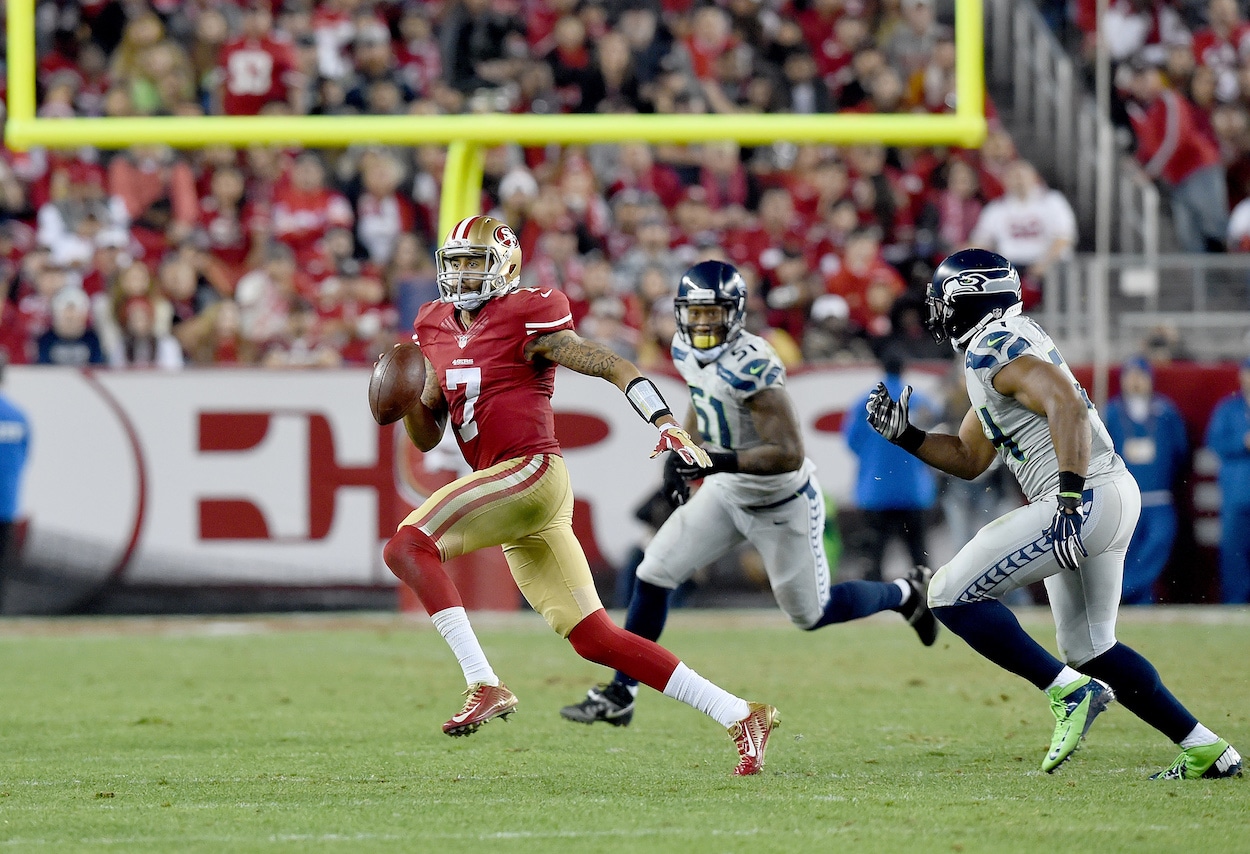 Ranking the 10 Worst Thanksgiving Day QB Performances in NFL History
Colin Kaepernick, Dan Marino, and other big names show up in this ignominious countdown.
Turkey, mashed potatoes, cranberries, naps, and NFL games on the television make for a pretty terrific Turkey Day. That said, you never know quite what you're going to get. That's not a reference to the quality of the turkey, but rather the Thanksgiving QB performances among the many marquee games on late-November Thursdays that have left you with a bad taste.
These 10 performances, after all, were memorably awful.
To determine the order of the 367 qualified games by signal-callers from 1950 to the present, we're turning to QB Math's Total Yards Added (TYA) metric, which looks at fumble avoidance, sack avoidance, rushing success, and passing success to see how many more yards a given quarterback accumulated than a league-average player during the year in question would've with the same number of attempts.
Check out the honorable mentions first, then plunge into the 10 worst outings as ferociously as you might grab the best seat in the house for the latest editions of Thanksgiving Day football:
| Rank | Player | Year | Team | Opponent | Result | TYA |
| --- | --- | --- | --- | --- | --- | --- |
| 20 | Scott Tolzien | 2016 | Indianapolis Colts | Pittsburgh Steelers | L 7-28 | -142.972 |
| 19 | Greg Landry | 1968 | Detroit Lions | Philadelphia Eagles | L 0-12 | -145.926 |
| 18 | Tom Dublinski | 1953 | Detroit Lions | Green Bay Packers | W 34-15 | -146.863 |
| 17 | Alex Smith | 2011 | San Francisco 49ers | Baltimore Ravens | L 6-16 | -147.443 |
| 16 | Eli Manning | 2017 | New York Giants | Washington | L 10-20 | -155.158 |
| 15 | Matt Ryan | 2019 | Atlanta Falcons | New Orleans Saints | L 18-26 | -158.554 |
| 14 | Joey Harrington | 2002 | Detroit Lions | New England Patriots | L 12-20 | -159.746 |
| 13 | Milt Plum | 1967 | Detroit Lions | Los Angeles Rams | L 7-31 | -160.403 |
| 12 | Jim Hart | 1975 | St. Louis Cardinals | Buffalo Bills | L 14-32 | -162.769 |
| 11 | Tony Romo | 2015 | Dallas Cowboys | Carolina Panthers | L 14-33 | -170.921 |
View the top 10 Thanksgiving QB performances here, as well as the complete rankings of all such performances since 1950 here.
10. Jonathan Quinn: -178.374 Total Yards Added for the Chicago Bears in 2004
The surprising aspect here isn't that Jonathan Quinn had a bad and forgettable performance but that he was on the field at all. The Tulane product hadn't stepped onto the turf for the Chicago Bears since late October, and he entered this game in relief of Craig Krenzel.
(Related: The recent and relatively recent history of Chicago Bears quarterbacks is, in a word, bleak.)
Quinn completed 10 of his 21 passes, led the Bears on exactly zero scoring drives (their lone points came on an R.W. McQuarters pick-six of Drew Henson), and tossed a pair of interceptions. Over the course of his five-year career for the Bears, Kansas City Chiefs, and Jacksonville Jaguars, he accumulated four passing touchdowns and six picks, so this wasn't exactly an aberration.
9. Jim Harbaugh: -184.499 Total Yards Added for the Chicago Bears in 1991
From one Chicago Bears quarterback to another.
And yes, Jim Harbaugh, far more famous for his coaching career and questionable Thanksgiving food-related opinions, did indeed serve as an NFL signal-caller decades ago. He just wasn't anything more than a forgettable option under center, tallying -603.3 TYA throughout his career and submitting the second-worst performance of his playing days on Thanksgiving Day in 1991.
As part of a 16-6 loss to the Detroit Lions at Pontiac Silverdome, Harbaugh went 27-of-47 for 244 yards, no touchdowns, and four interceptions. He also took a 13-yard sack and gained 40 yards on six carries.
Terry Taylor, Ray Crockett, and George Jamison all caught passes from him; the only issue was that they each played for the Lions.
8. Colin Kaepernick: -184.705 Total Yards Added for the San Francisco 49ers in 2014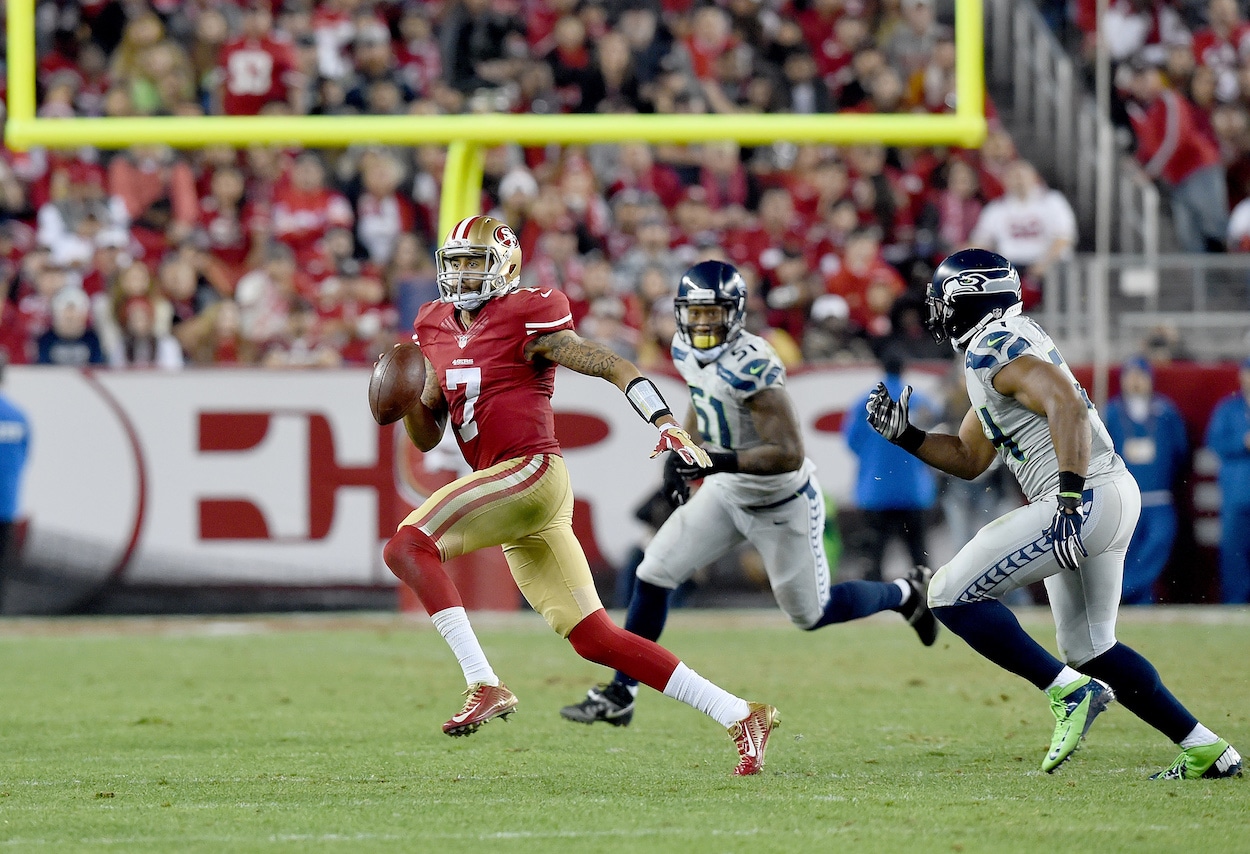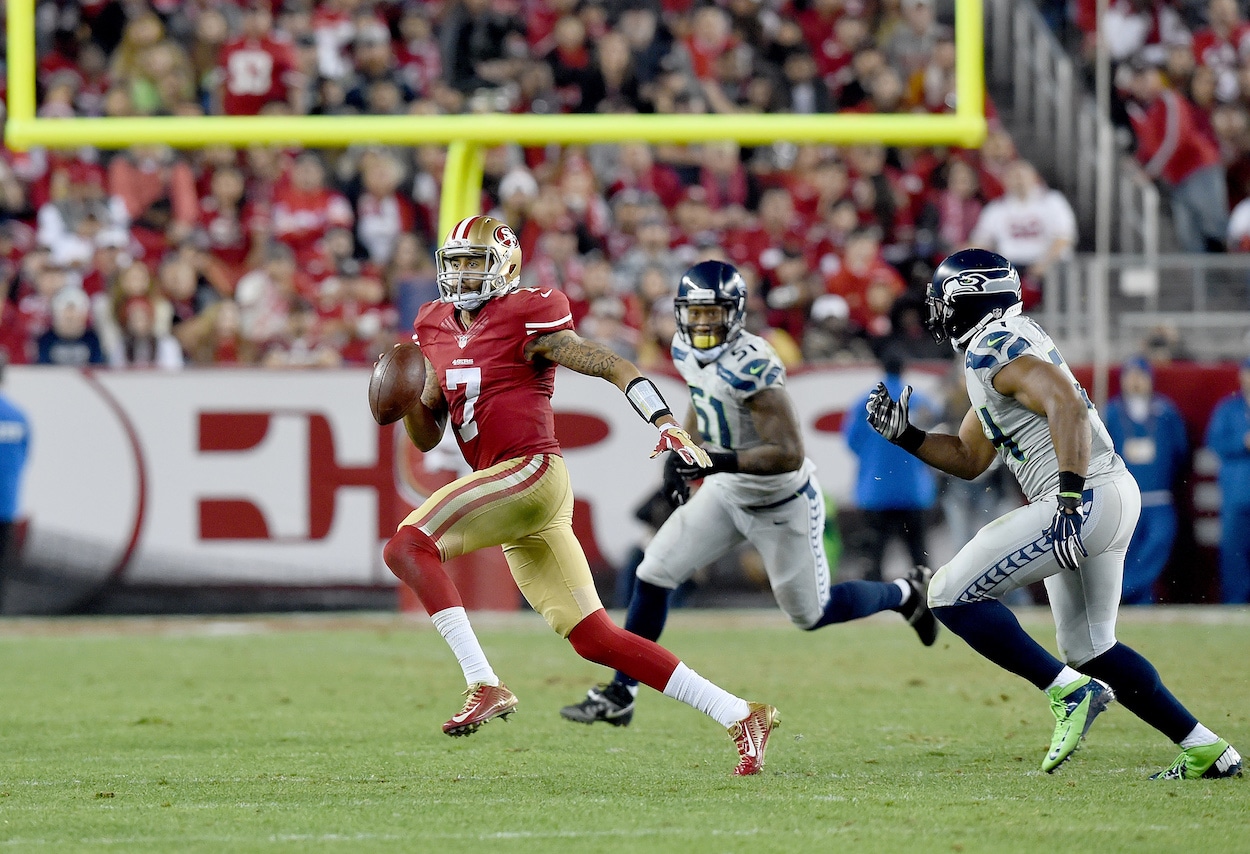 Colin Kaepernick played respectable football during the 2014 season, but this game was the exception and stood out as, rather easily, his worst performance that campaign. Of course, it came on a rather big stage since the 7-4 49ers and 7-4 Seattle Seahawks were battling it out in a competitive NFC West division.
Russell Wilson didn't do anything special for the Seahawks, but he looked phenomenal in comparison to a version of Kaepernick who went 16-of-29 for 121 yards, no touchdowns, and two picks, took four sacks for 21 yards, and scrambled just three times for 17 yards.
The 49ers could only muster 164 total yards and a 40-yard Phil Dawson field goal during the 16-3 loss.
7. Carson Palmer: -186.878 Total Yards Added for the Cincinnati Bengals in 2010
During his final year with the Cincinnati Bengals, Carson Palmer couldn't get anything going. He could only lead his squad to a 4-12 record, and his 26 touchdown passes narrowly surpassed his 20 interceptions.
A New York Jets outfit that entered the holiday season with an 8-2 record took full advantage.
During the 26-10 loss, Palmer was under constant duress, taking three sacks for 18 yards and getting hit by Gang Green defenders three more times. Given his lack of mobility, aggravated by an injury that had him in a walking boot prior to the game, he struggled to generate many unharried throws and went just 17-of-38 for 135 yards, one touchdown, and two interceptions.
Both picks came with a 36-year-old version of Terrell Owens as the intended target, and the past-his-prime veteran finished with three catches for a meager 17 yards on eight targets.
6. Troy Aikman: -194.622 Total Yards Added for the Dallas Cowboys in 1989
Troy Aikman made 10 Thanksgiving Day appearances throughout his career, and by TYA, they were evenly split as positive and negative performances. This was just the worst of the bunch by a rather substantial margin as the Dallas Cowboys posted a goose egg in a 27-0 blowout loss to the rival Philadelphia Eagles.
The future Hall of Famer was still in his rookie season, just two days removed from his 23rd birthday, and the inexperience showed against an Eagles unit that finished fifth in scoring defense under defensive coordinator Jeff Fisher.
Aikman only attempted 21 passes as the Cowboys tried to lean on an ineffective rushing game, and he completed just seven of them for 54 yards and three interceptions. Considering the picks were spread out to Eric Allen, Byron Evans, and Mike Golic, he nearly hit as many Philly defenders as he did Dallas pass-catchers (Steve Folsom, Derrick Shepard, Junior Tautalatasi, and James Dixon).
5. Len Dawson: -199.1 Total Yards Added for the Kansas City Chiefs in 1967
Completing half of your passes in any game is less than ideal. Completing just about a third of them? That's how you end up in a set of rankings like this one.
During a 44-22 loss to the Oakland Raiders, Len Dawson dropped back and let fly 32 times. Just 11 of those tosses found their intended targets, resulting in 130 yards, one touchdown, and a whopping four picks. Willie Brown and Warren Powers recorded two interceptions apiece, which is all the more impressive when just two Kansas City pass-catchers (Mike Garrett and Otis Taylor) topped that tally.
Don't be fooled by the 22 points the Chiefs posted, either. Kansas City scored a meaningless touchdown late in the fourth quarter after Jacky Lee entered the contest to put Dawson out of his misery.
4. Matthew Stafford: -202.032 Total Yards Added for the Detroit Lions in 2009
We're going all the way back to Matthew Stafford's debut season as a fresh-faced rookie quarterback out of Georgia for this one. And it was a rough debut season.
Stafford opened the year as the Week 1 starter and didn't look back, but his entrance to the NFL was filled with mistake after mistake. His TYA ended up fourth-worst in the league, beating only a 34-year-old Jake Delhomme, the Kansas City Chiefs version of Matt Cassel, and JaMarcus Russell.
He was actually worse in Week 9 against the Seattle Seahawks, but ending up below -200 TYA inevitably means disaster occurred. Such was the case in a 34-12 loss to the Green Bay Packers, who held the former Bulldog to 20-of-43 passing for 213 yards, one touchdown, and four picks while sacking him twice for 14 yards.
3. Brian Sipe: -206.398 Total Yards Added for the Cleveland Browns in 1982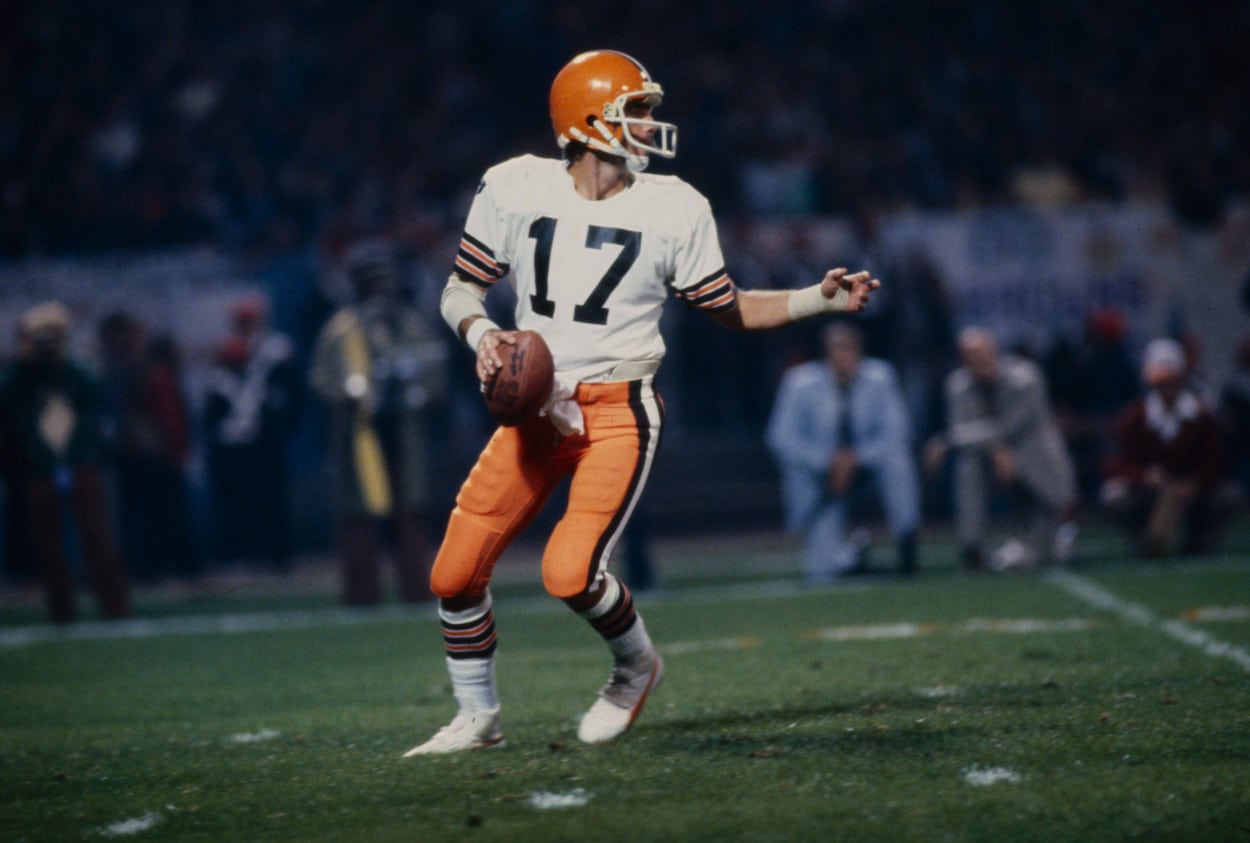 It's never great when all of your team's points come after the backup quarterback enters the game, but such was the case for the Cleveland Browns on Thanksgiving Day during the 1982 season. They scored on an 18-yard pass from Paul McDonald to Dino Hall in the fourth quarter to close the gap to 31-7 and then again on a two-yard Mike Pruitt rush, which took the score to its final 31-14 state.
Brian Sipe, though? He couldn't get anything going.
The Dallas Cowboys were a defensive juggernaut in 1982, finishing third in scoring defense, and they made life uncomfortable for Sipe throughout his time on the field. He was sacked three times for 28 yards and picked off three times while completing just 11 of his 23 passes for 85 yards.
Sipe remains one of the most productive passers in Cleveland history, per TYA, but this was the fourth-worst performance of his career.
2. Cliff Stoudt: -239.241 Total Yards Added for the Pittsburgh Steelers in 1983
Most of the quarterbacks in the featured spots enjoyed a great deal of success at some point in their careers, but that wasn't the case for Cliff Stoudt. He played eight NFL seasons for the Pittsburgh Steelers, St. Louis/Phoenix Cardinals, and Miami Dolphins, but he started in just 20 of his 66 appearances and finished his career with 23 passing touchdowns and 43 interceptions.
This Turkey Day showing didn't help his case.
The 1983 season was his one year as an entrenched starting quarterback, and it went … poorly.
The Detroit Lions entered Thanksgiving at .500, but they flat-out trounced the Stoudt-led Steelers, winning 45-3 as he went 9-of-25 for 83 yards and four interceptions. It wasn't just him, either. Mark Malone relieved him late in the contest and completed just two of his eight attempts for 16 yards and a fifth pick.
1. Dan Marino: -244.255 Total Yards Added for the Miami Dolphins in 1999
Cliff Stoudt to Dan Marino is a natural transition, right?
In the worst game of the Hall of Famer's career, everything fell apart. Granted, Marino was 38 years old and playing out the final year of his NFL tenure. He was recovering from a neck injury and returning from a five-game absence. He was even playing a Dallas Cowboys squad that finished the year fifth in scoring defense.
But this game was miserable.
Marino's Miami Dolphins got blanked, losing 20-0 as he went 15-of-36 for 178 yards and five interceptions. This contest was only the second time in his illustrious career that he tossed five picks — the first came 11 years earlier in a game that also featured three touchdown passes and 30 points for the Dolphins — and it was one of just three times he got shut out.
Marino ranks fifth all-time in career TYA, trailing only Peyton Manning, Tom Brady, Drew Brees, and Aaron Rodgers, so this putrid effort shows that even the true greats can have historically awful outings.
All Total Yards Added stats courtesy of Sports Math Network unless otherwise indicated.