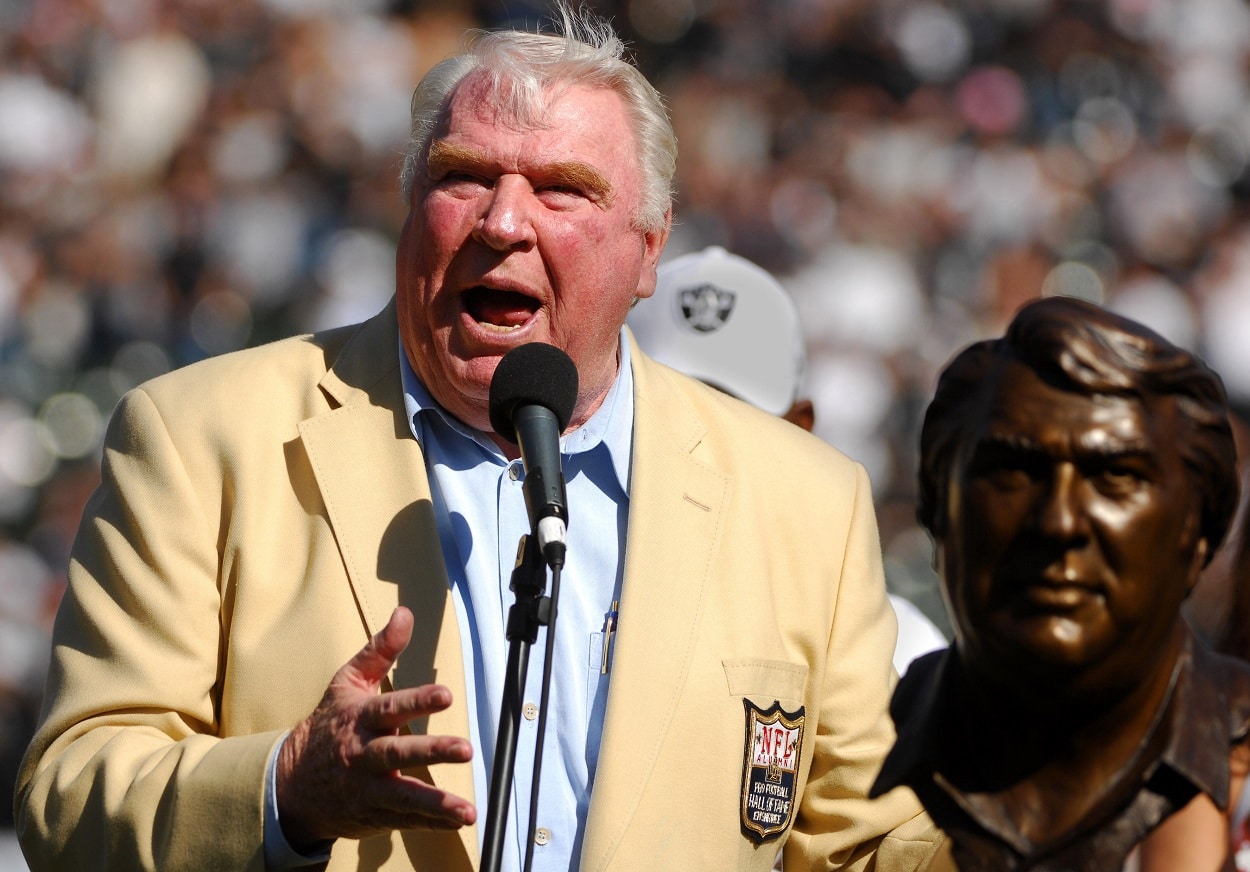 NFL Thanksgiving: John Madden, the Turkey Leg Award, and the Turducken
It's hard to think about Thanksgiving Day football without thinking of John Madden and his awesome turkey monstrosities.
Nostalgia surrounding football on Thanksgiving often revolves around two things: the Dallas Cowboys and Detroit Lions hosting games and John Madden ranting and raving about football and his favorite elements of the Turkey Day feast.
While the Cowboys and Lions still host games every season, it's unbelievably been two decades since Madden's last called a Thanksgiving game. The Super Bowl-winning coach sadly passed away in December 2021 at the age of 85.
But despite Madden no longer being with us, his Thanksgiving legacy lives on.
John Madden began the tradition of awarding turkey legs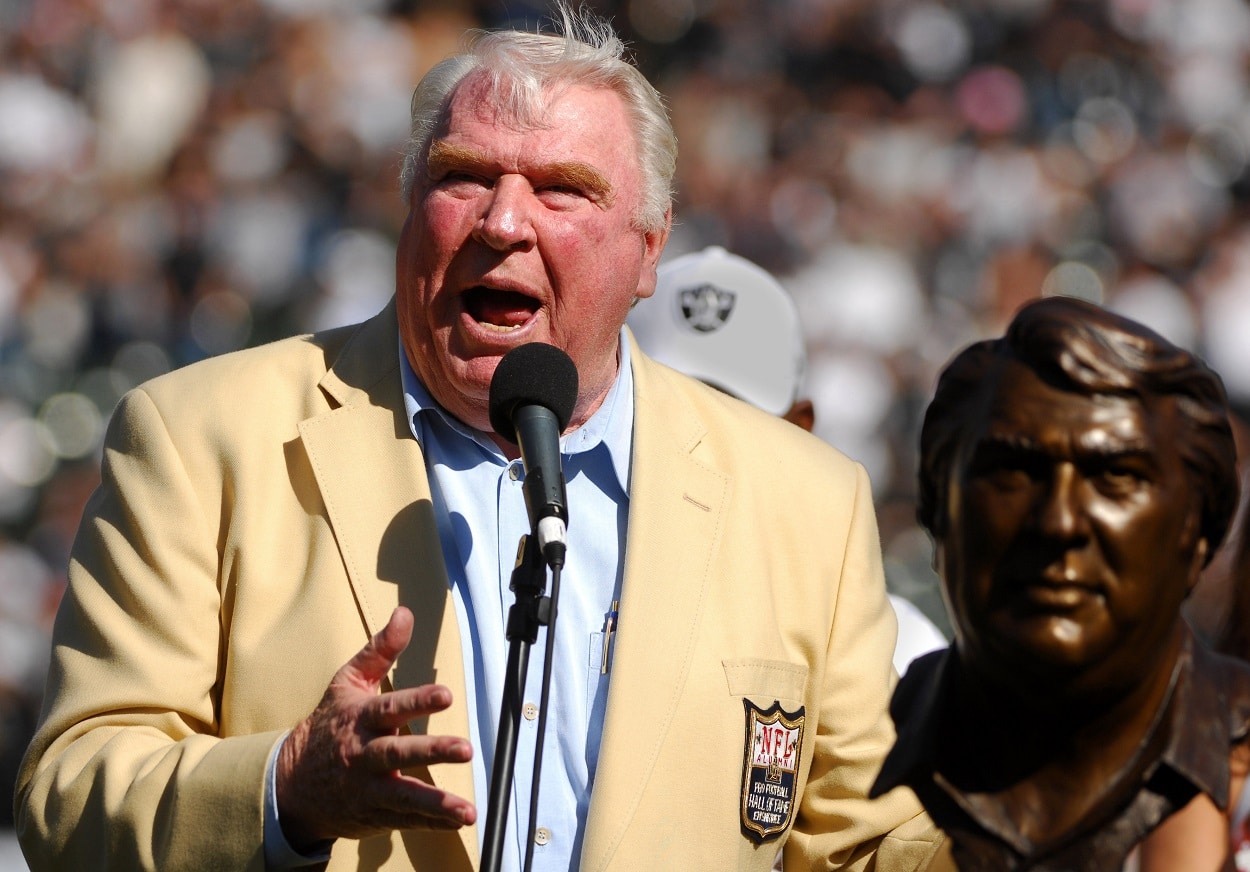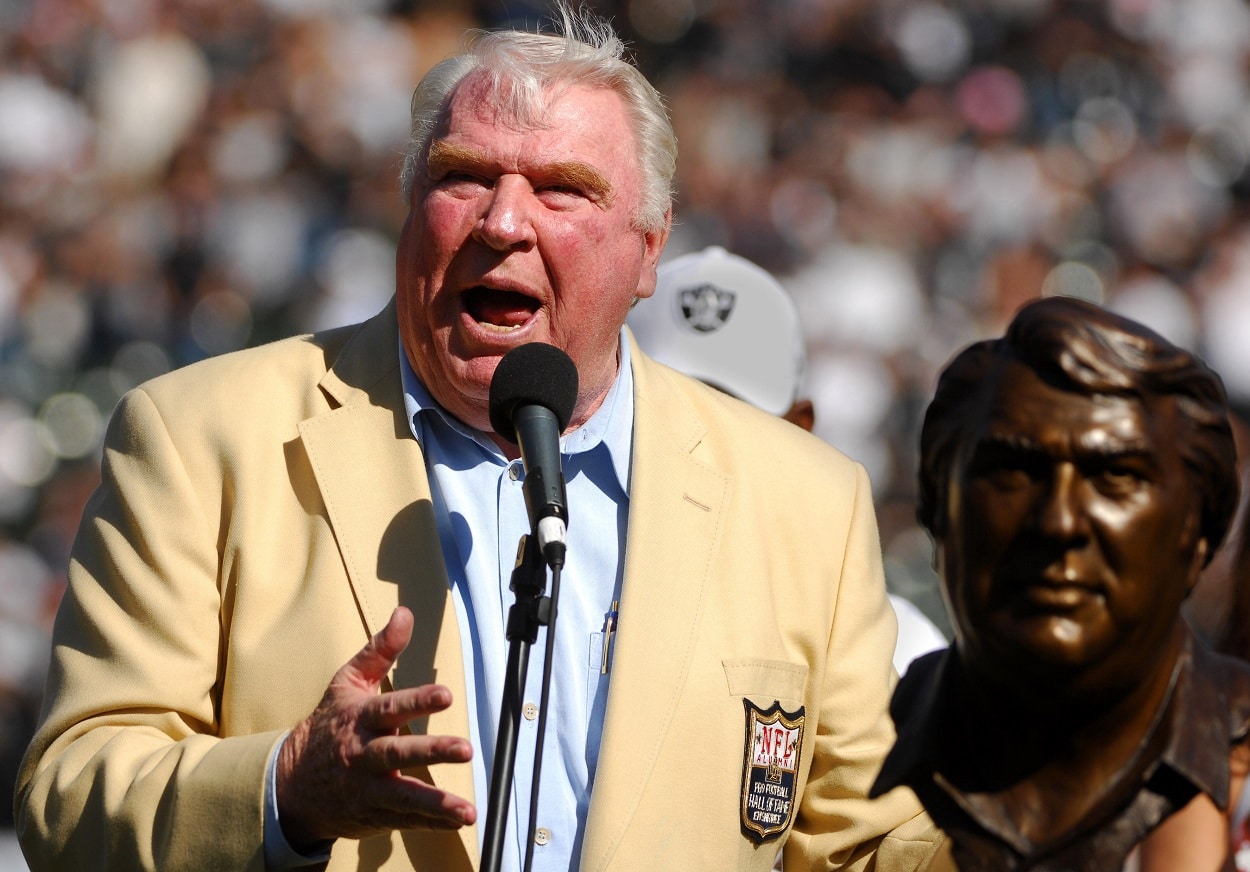 In 1989, Madden awarded the very first CBS Turkey Leg Award to Reggie White of the Philadelphia Eagles. The award was a legit cooked turkey leg, one the player would take a bite out of in his post-game interview.
In 1990, when he gave the turkey leg to Emmitt Smith, Madden said that he wished the turkey had five more legs so he could award the Cowboys' offensive linemen with turkey legs, too.
This comment led Joe Pat Fieseler, owner of Harvey's Barbecue Pit in Texas, to invent the six-legged turkey that became a staple of Madden's Thanksgiving broadcasts. When he moved from CBS to Fox in 1994, he took the Turkey Leg Award with him, distributing it until his last season with Fox in 2001.
Fox replaced the Turkey Leg Award with the much less popular Galloping Gobbler Award, which was retired in 2016 in favor of a Game Ball awarded to the game's MVP.
The NBC primetime game on Thanksgiving, which began in 2006, still awards the game's top players with turkey legs in honor of the Madden tradition.
John Madden and the turducken
You could hear the glee in John Madden's voice on Thanksgiving Day in 1996 when he described what the turducken was on the air.
"This is a turducken right here, where we've got, you know what a turducken is, a turducken, this thing here, is a de-boned duck, stuffed in a de-boned chicken, stuffed in a de-boned turkey," Madden explained to the viewers at home. "With stuffing. Now you're talking! And that has eight legs."
"You cut this right down the middle," Madden demonstrated with his hand. "And then you cut sideways, and you get a little turkey, and a little chicken, and a little duck. Now that's there, that's a turducken."
Sales of the turducken skyrocketed once Madden made people aware of the creation, which the former Raiders head coach once discussed with the New York Times.
"The P.R. guy for the Saints brought me one," Madden said. "And he brought it to the booth. It smelled and looked so good. I didn't have any plates or silverware or anything, and I just started eating it with my hands."
Madden and Thanksgiving go hand in hand
Again, it's been over two decades since Madden's last Thanksgiving Day broadcast, and his legendary legacy still lives on. His love for football and food were both contagious, and on what day do those two things come together more perfectly than Thanksgiving?
You probably won't see any turduckens or eight-legged turkeys or other such monstrosities on today's broadcasts. But we can all still remember them fondly, thanks to John Madden.
Have thoughts on this topic? Keep the conversation rolling in our comments section below.