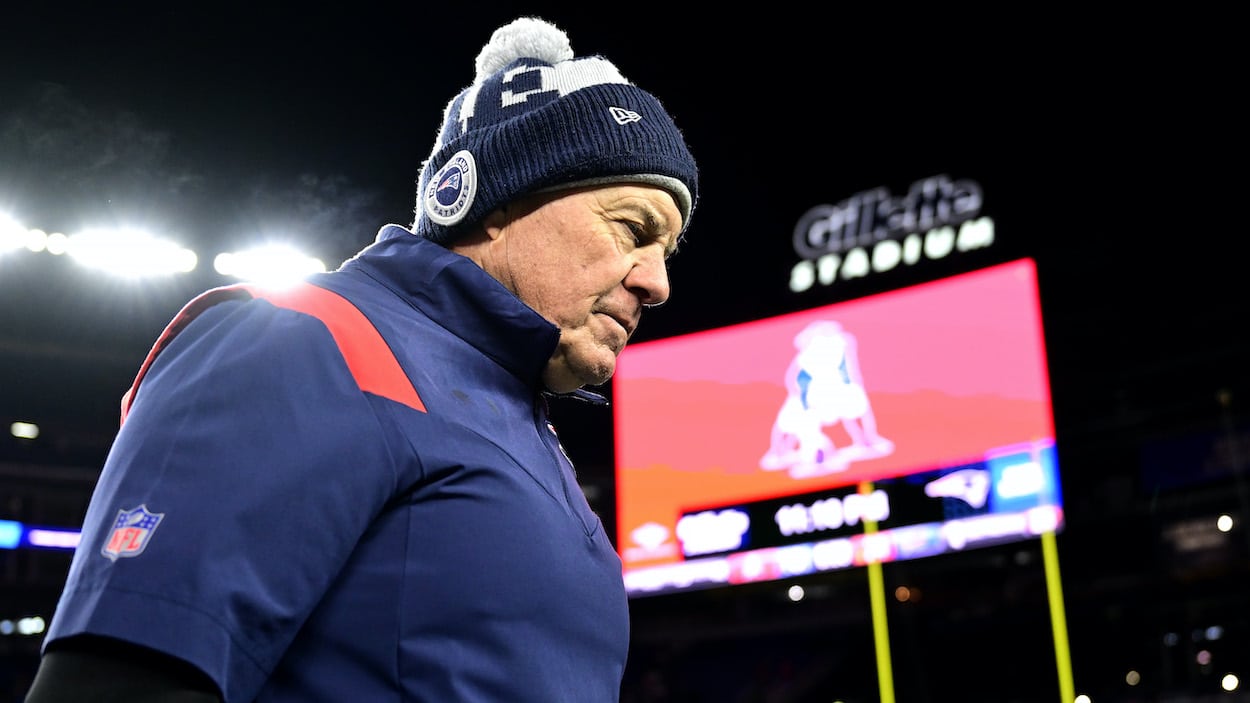 How Much Does the Bill Belichick Contract Pay, and How Long Will the Patriots Coach Be In New England?
The Bill Belichick contract handsomely rewards the Patriots coach for his success, but how much longer will he coach the team?
After winning six Super Bowls for the New England Patriots, it's no surprise that Pats owner Robert Kraft gave out a Bill Belichick contract for a lot of money. Now, though, as the Patriots have struggled without Tom Brady, many fans are wondering exactly what that Bill Belichick contract looks like and how long the legendary NFL coach will be with the team. Here is what we know about Belichick's deal with the Patriots.
The Bill Belichick contract makes him the highest-paid coach in professional sports 
Bill Belichick has six Super Bowls, putting him two clear of retired Pittsburgh Steelers head coach Chuck Noll. Behind Noll are former San Francisco 49ers coach Bill Walsh and former Washington coach Joe Gibbs with three each.
The Patriots' headman is also the second-all-time winningest coach with 327 wins (including playoffs). That puts him three ahead of George Halas and 20 wins behind Don Shula's 347 wins.
This unprecedented success has led to a Bill Belichick contract that dwarfs all other coaches in North American professional sports. According to Sportico on Twitter, Belichick makes $20 a year, which is $5 million more than the next highest-paid coach, the Seattle Seahawks' Pete Carroll.
Los Angeles Rams coach Sean McVay is third ($14 million), and the San Antonio Spurs Gregg Popovich comes in as the fourth-highest-paid and highest-paid NBA coach. Alabama's Nick Saban leads college football at $11.8 million, making him the eighth-highest-paid overall.
Being the most successful coach in America's most popular sport, it makes sense that the Bill Belichick contract pays him more than any other coach around. However, after Tom Brady left, Belichick hasn't had nearly as much success.
So, many Patriots fans are now asking, how long is the Bill Belichick contract?
How long will Belichick be with the Patriots?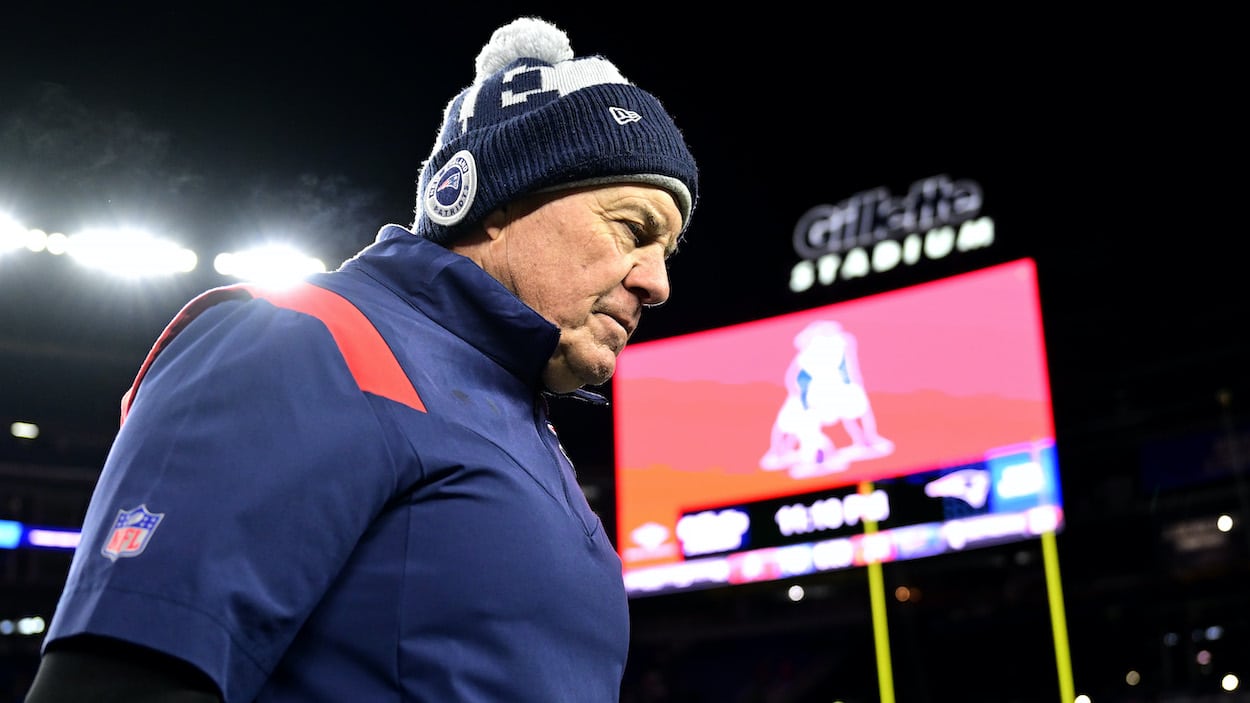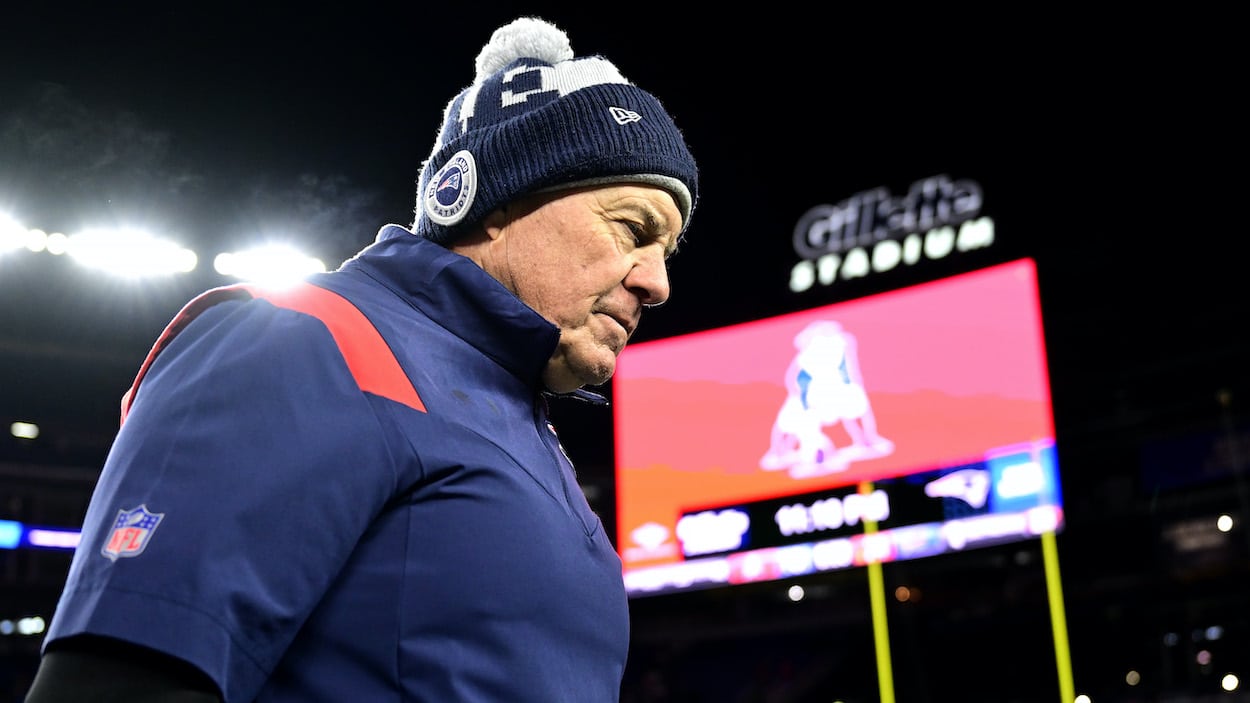 While the money aspect of the Bill Belichick contract has been widely reported, the length of the deal is unknown. There are currently no credible reports as to the number of years on Belichick's deal, which shouldn't come as a surprise in regard to the notoriously private coach and organization.
What we do know is that Belichick is currently 70 years old. That makes him the second-oldest active NFL coach (behind 71-year-old Seahawks coach Pete Carroll) and the sixth-oldest coach in NFL history behind Carroll, Al Saunders (71 in 2018), Marv Levy (72 in 1997), George Halas (72 in 1967) and Romeo Crennel (73 in 2020).
This means Belichick would have to coach until at least 2025 (and outlast Carroll) to become the oldest head coach in NFL history.
How much longer Belichick will go, though, is up for debate. On an episode of Pro Football Talk last year, NFL insider Peter King shared that Belichick once told him, "I'm not going to be hanging around, coaching into my 70s like Marv Levy did."
However, King said he now believes that has changed and that Belichick has "no intention" of stepping down anytime soon.
Mike Florio agreed, sharing a story from an interview with Robert Kraft, who told the insider, "He wants to see Bill Belichick coach into his 80s."
Thanks to the impeccable track record during Belichick's first 20 years at the helm of the Patriots, it seems like — no matter what the Bill Belichick contract situation is — he'll get to call his shot as to when he steps down. And that could be in a year or two or maybe even after another decade.
The fascinating thing to watch is how much patience Kraft and Belichick have if the team continues to underperform season after season.