Patriots Owner Robert Kraft Crashes Devin McCourty Press Conference to Deliver a Special Message
It's not often an NFL owner crashes a player's press conference. And if it does happen, most NFL fans would assume the party crasher would be one of the league's more erratic owners like Mark Davis, Jim Irsay, or Jerry Jones. However, during New England Patriots safety Devin McCourty's press conference this week, Patriots owner Robert Kraft crashed the festivities to deliver a touching tribute to one of his (and the NFL's) longest-tenured players.
New England Patriots owner Robert Kraft delivers a surprise tribute 
As the New England Patriots prepare to play their AFC East rival Buffalo Bills on Thursday Night Football in Week 13, Patriots defensive back Devin McCourty is getting ready to step on an NFL field for the 200th time.
The former Rutgers player, who's played his entire career in New England (including three seasons alongside his twin brother Jason), was talking about this feat in a press conference ahead of the matchup. That's when a small, white-haired man in black track pants and a Patriots hoodie showed up and politely nudged McCourty away from the podium.
It was Pats owner Robert Kraft.
"You know, we don't usually give personal lauding to anyone," Kraft started, referring to the notorious Patriots Way instituted by head coach Bill Belichick. "But special achievement made by special people deserves special recognition."
"Every game he has appeared in, he has started in the last 13 years. So, I want to be the first to congratulate you," Kraft said as he shook McCourty's hand.
To commemorate the accomplishment, Kraft presented the player with a collage of McCourty on a Patriots uniform made up of 200 smaller pictures of McCourty throughout his career.
Following that, Kraft went through some of the numbers associated with McCourty's rare achievement (more on that below) before wrapping up by saying, "I want to thank Devin and congratulate him and tell him how special it is to all of us."
Devin McCourty, by the numbers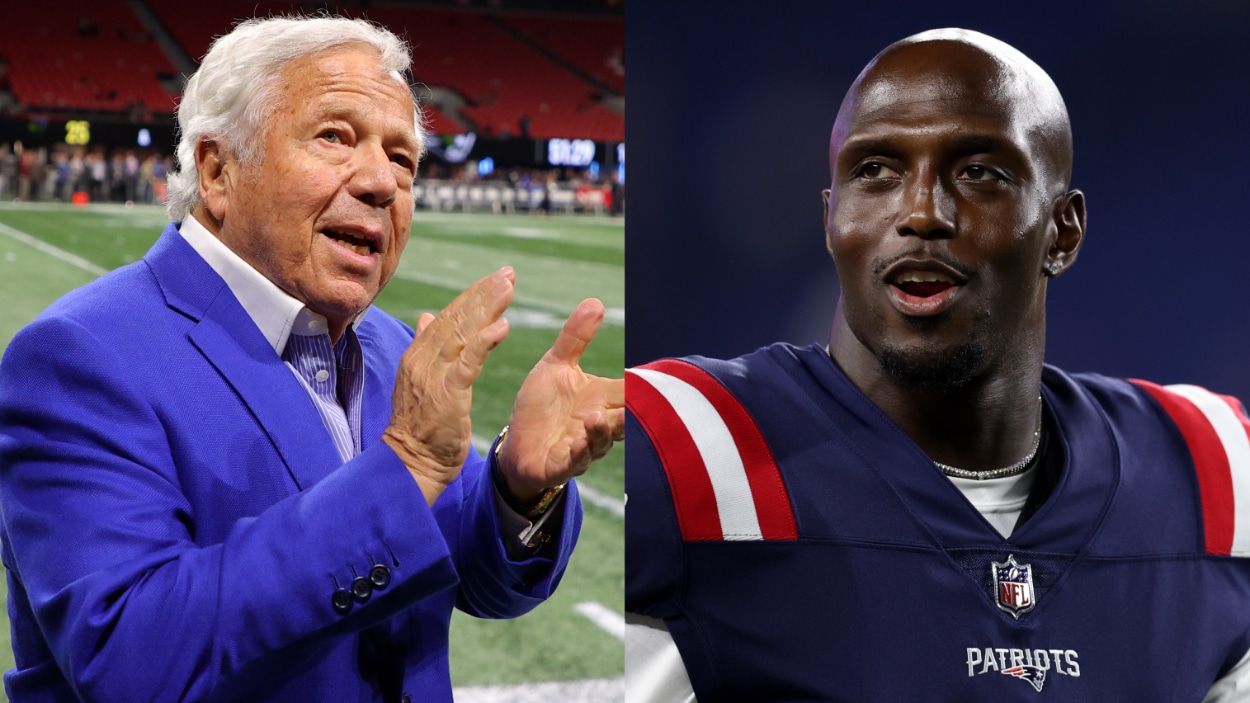 The New England Patriots selected Devin McCourty No. 27 overall, in the 2010 NFL Draft. He started every game his rookie season, and on his way to 200 career starts, he's missed just five games in 13 years.
The defensive back, who's mostly played free safety, has 953 tackles, 3.0 sacks, six fumble recoveries, 33 interceptions, and two defensive touchdowns. He's also made the Pro Bowl twice (2010, 2016) and is a three-time Super Bowl champion.
As Robert Kraft noted in his speech, McCourty will become the 90th NFL player (non-kicker) to start 200 games, the 24th player to play 200 games with the same team, and just the third player in Patriots history to play in that many games exclusively for the franchise, joining Matthew Slater (217) and Julius Adams (206).
The active players who've started more games than McCourty are his former quarterback, Tom Brady (327), Indianapolis Colts QB Matt Ryan (232), Dallas Cowboys offensive tackle Jason Peters (218), Green Bay Packers QB Aaron Rodgers (218), Packers tight end Marcedes Lewis (216), New York Jets OT Duane Brown (210), and Baltimore Ravens defensive tackle Calais Campbell (204).
Of those players, only Rodgers has started all his games for one team.
Playing in and starting 200 NFL games truly puts McCourty in rare air. Whenever his career ends, he won't be a Pro Football Hall of Famer. But he will go down in the history books for his durability, longevity, and loyalty. He'll also be a Patriots legend forever and will likely go into their Ring of Honor someday.