Bill Belichick Needs to Sacrifice His Son to Set the Patriots Up For Long-Term Success
If Bill Belichick still believes in doing what's best for his football team, he needs to cut ties with perhaps his closest colleague.
And no, I'm not referring to his confusing infatuation with oft-criticized and overmatched de-facto offensive coordinator Matt Patricia. 
Rather, if Belichick intends to leave a lasting legacy with the New England Patriots, he must set one of his sons free from the comfy confines of Foxborough before it's too late. Because as much as the second-winningest coach in NFL history may enjoy having one of his offspring as his defensive play caller, the reality is that Steve Belichick is not the best option for the role. 
And if Robert Kraft plans to hand the reins over to his son with any semblance of confidence, the 81-year-old owner better hope his highest-paid employee has the future of the franchise at the forefront of his mind. 
After all, if Bill Belichick lets personal relationships prevent the Patriots from keeping one of the league's most coveted assistants, it could be years before the Krafts celebrate a playoff victory.
Steve Belichick stands in the way of Jerod Mayo moving up the ladder in New England
Since Brian Flores took his talents to South Beach, the Patriots have operated outside the box by not having an official defensive coordinator. Of course, Bill Belichick took that to another level in 2022 by not naming an offensive coordinator, either. 
However, while the no-OC experiment proved to be a colossal mistake, Belichick's decision to put the defense in the hands of a former lacrosse player and a retired Pro Bowl linebacker has mostly worked out for a Patriots team that finished second in points allowed in 2021 and 11th in 2022. 
But just because Steve Belichick and Mayo have managed to make the unconventional setup function well doesn't mean being on the same team is in either of their best interest. 
With Mayo once again linked to head coaching and defensive coordinator vacancies, it's obvious he's widely respected around the league. Yet it's equally apparent that Belichick putting one of his sons in charge of play-calling duties and not one of the best defensive players in franchise history has raised warranted questions about what lies ahead for a team led by a soon-to-be 71-year-old head coach. 
Luckily for both Mayo and Patriots fans, it seems as though the Krafts have already taken measures to make sure the franchise doesn't lose another key coach. With the team surprisingly releasing a statement about working on a contract to keep Mayo around long-term, it certainly looks like the rising linebackers coach will remain in New England. 
But in what capacity? 
While there's been plenty of speculation about whether Mayo will receive an official promotion, this shouldn't even be up for debate.
Bill Belichick must sacrifice his son for the greater good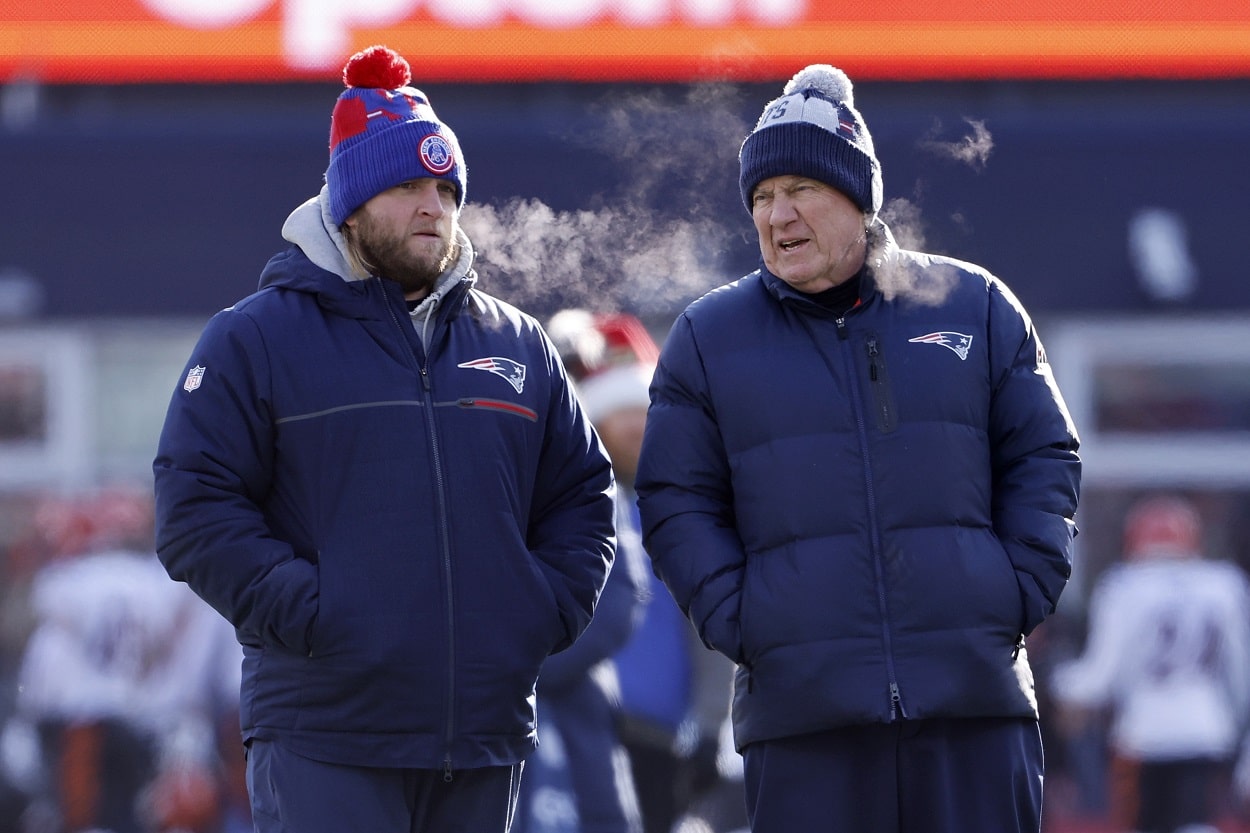 For a coach who traded away stalwarts like Richard Seymour, Randy Moss, Logan Mankins, and Chandler Jones, Bill Belichick faces a tougher test of his business-oriented ways: figuring out a way to move on from Steve Belichick this offseason. 
This has nothing to do with the younger Belichick's abilities. 
Instead, it has everything to do with rewarding Mayo and ensuring the Patriots have a qualified heir to a coach who could walk away at any time, given his age and resume. 
It's simple: As long as Steve Belichick is on his dad's coaching staff, Mayo won't have a chance to truly showcase his skills. And if other teams want to poach him from the Patriots, it makes zero sense for the Krafts to allow that to happen when they would be left with no viable replacement for the man who's been in charge since 2000. 
At this point, Mayo deserves the opportunity to have full command of the defense and prove he can successfully run that side of the ball on his own. In order to do that, though, his boss would have to swallow his pride, call his son into his office, and have a tough conversation about needing to find a new job. 
Ironically, that route might be in the best interest of Mayo, the Patriots, and Steve Belichick. 
Not only would Mayo move into a more prominent role and further cement his case as a head coaching candidate, but his running mate would have a chance to make a name for himself elsewhere. 
A win-win for all parties
Steve Belichick should be open about taking his talents elsewhere, especially given the dynamics in play in Foxborough. Sure, it might be fun working for your father. And it certainly can't hurt to have talented players at your disposal. 
But that doesn't change the fact that Steve Belichick will never be viewed as a viable head coaching candidate if he continues to call New England home. How can teams get a fair assessment of his abilities if he remains in his father's shadow? 
In some ways, Bill Belichick has done his son a disservice by not letting him spread his swings and leave the nest. But after two years of deploying this setup, things need to change for the sake of everyone involved. 
Jerod Mayo must be shown the respect he's earned in the form of a raise, a title promotion, and perhaps something in writing that guarantees he'll at least be considered as Bill Belichick's successor. 
Steve Belichick should look forward to a fresh start, perhaps as a defensive coordinator with a rebuilding franchise. Otherwise, he will stay stagnant in his own career. 
Meanwhile, Bill Belichick should sacrifice his son for his own sake. After two losing seasons in three years, it's clear his way isn't working. 
And based on how quickly the Krafts let fans know that changes will be coming in 2023, the greatest coach in NFL history can't afford to have another disappointing campaign if he wants to break Don Shula's record as a Patriot.