Bill Belichick's Latest Undrafted Free Agent Find Has Gone From Searching for Jobs on LinkedIn and Contemplating Joining the Military to Becoming a Legitimate Threat to Steal a Starting Position That Didn't Appear Up for Grabs
Bill Belichick has a long history of discovering hidden gems and turning overlooked prospects into key contributors. In fact, despite his penchant for blowing early-round picks in recent years, the New England Patriots head coach has continued to rely upon undrafted free agents who've performed well above their pay grade.
However, after spending an unprecedented amount of Robert Kraft's money this offseason and putting together an impressive 2021 NFL draft class, Belichick entered training camp with a talented roster with few discernible holes or open spots. Ironically, though, his latest undrafted free agent find has suddenly become a legitimate threat to steal a starting position that didn't appear up for grabs.
And considering Quinn Nordin seemed prepared to move on from football only a few months ago, the big-legged kicker's rise easily ranks as one of the most intriguing storylines to follow as the Patriots prepare for the upcoming season.
Bill Belichick has found a way to turn undrafted free agents into long-term building blocks
Taking a flyer on Tom Brady changed the course of Belichick's career. However, while the legendary quarterback provided stability, leadership, and elite production for so many years, there's no doubt the Patriots wouldn't have won six Super Bowl titles between 2001-18 without some help from other key contributors. Luckily for Brady, Belichick consistently took under-the-radar players and found roles for them in New England.
In particular, the Patriots benefitted tremendously from signing undrafted free agents. Thanks to some astute work by Belichick and the personnel department, the team received major boosts from players who didn't become NFL draft picks, including:
Malcolm Butler: After going undrafted in 2014 out of West Alabama, he made arguably the biggest play in Super Bowl history by intercepting Russell Wilson at the goal line to save the Patriots from suffering a crushing defeat at the hands of the Seattle Seahawks. Butler started 48 regular-season games for New England before signing a five-year, $61 million contract with the Tennessee Titans in 2018.
David Andrews: Although he didn't hear his name called during the 2015 NFL Draft, the former Georgia Bulldogs center earned a roster spot with the Patriots. Widely respected for his consistent level of play and leadership qualities, Andrews has started 69 games since he entered the league. New England locked up him on a four-year, $19 million extension this offseason.
Jonathan Jones: Despite having elite athleticism, the talented corner went undrafted in 2016. However, Jones showed the ability to cover slot receivers and has since developed into one of the top players at his position. The Patriots rewarded him with a three-year, $21 million contract extension at the beginning of the 2019 season.
J.C. Jackson: In 2017, Belichick took a chance on another gifted defensive back who surprisingly didn't get drafted, and that decision has paid off in a big way for the Patriots. Jackson has racked up 17 interceptions and 30 passes defended since he arrived in New England. The impending free agent should receive a well-deserved raise next offseason, though it remains to be seen whether Belichick will pay up to keep the ball-hawking corner in Foxborough for years to come.
Belichick's latest diamond-in-the-rough signing watched his life take an unexpected turn courtesy of the Patriots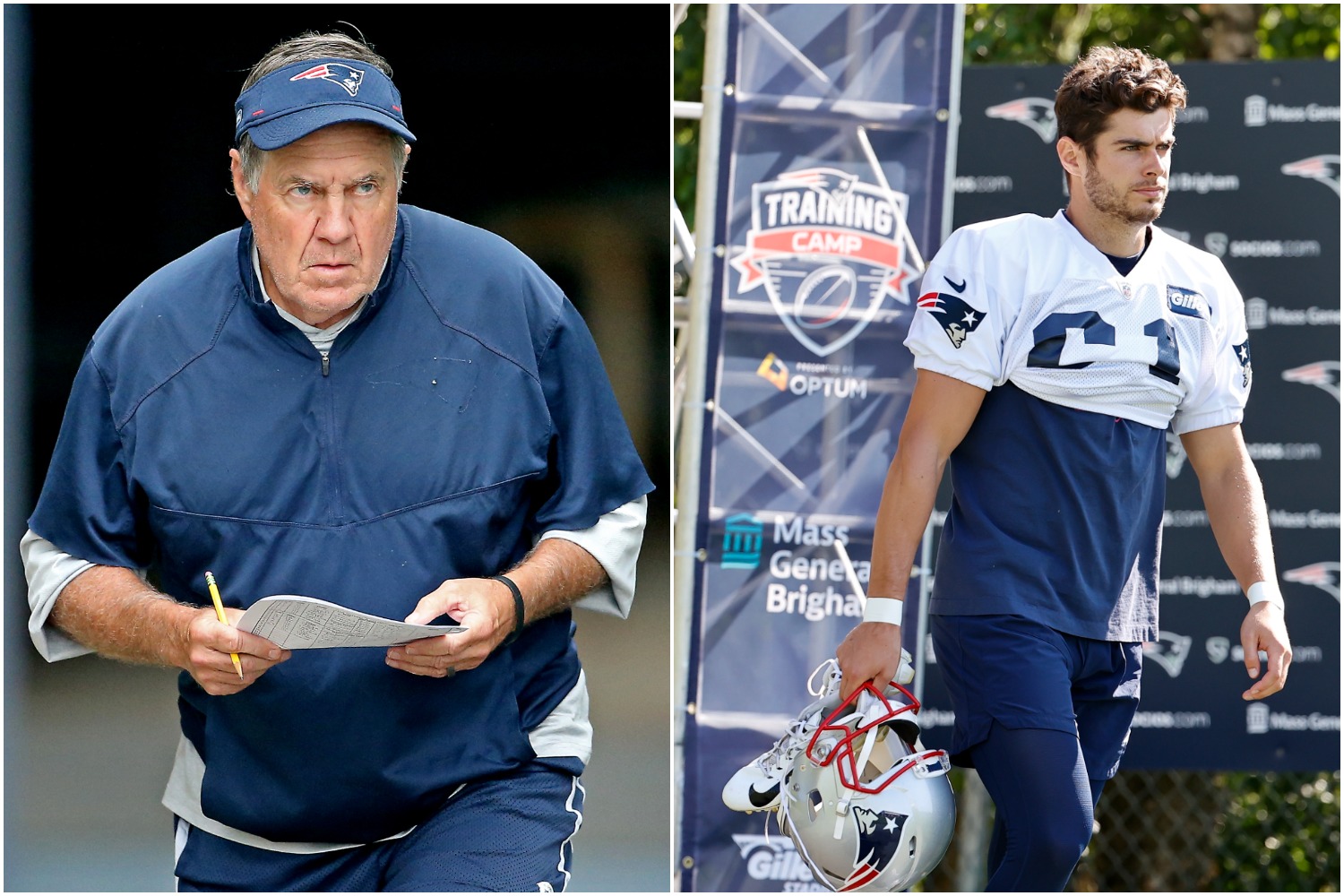 The Patriots have had at least one undrafted free agent make the final roster for 17 straight years.
Will Quinn Nordin extend the streak to 18?
Belichick's latest attempt to mine the UDFA ranks for talent could force New England to think long and hard about the future of the kicker position. After all, the Michigan product has turned heads in training camp by consistently hitting his field-goal attempts from both short and long distances. In Thursday's preseason game against the Washington Football Team, Quinn impressed by converting all three of his field-goal attempts, including a 50-yarder. Although he surprisingly missed an extra point opportunity, the 22-year-old certainly made a rock-solid impression in his pro football debut.
Of course, even Quinn would have to admit that the idea of him playing for Belichick (or any NFL coach) seemed like a pipedream not too long ago.
"I was on LinkedIn looking at jobs. I was thinking about maybe going into the military," he told reporters on Monday. "The Patriots were my only call, so I'm here. I'm doing the best I can, and that's it."
Luckily for Quinn, he got a shot to showcase his skills for a team that needs to find a long-term answer at the position. Instead of entering into adulthood and becoming a rank-and-file worker or military man, he has a viable opportunity to get paid to kick footballs for a living.
That's quite a turnaround for a college grad who didn't have a concrete plan for post-college life. But as the Patriots get deeper into camp and closer to the beginning of the regular season, the idea of Quinn opening the year as the team's starting kicker suddenly seems more realistic than anticipated.
Can Quinn Nordin beat out Nick Folk for New England's starting kicker job?
Can Quinn become the latest undrafted free agent to make New England's roster and help the team win games? That may have seemed like a longshot when he joined the Patriots, but don't be surprised if Belichick gives the promising kicker a chance to collect NFL paychecks for the 2021 season.
Incumbent starter Nick Folk only missed two of his 28 field-goal attempts in 2020. However, the 36-year-old has missed practice time recently with an undisclosed injury. Given his age and status as a short-term solution, Folk could lose his job if Quinn continues to perform well in practice and preseason games.
Belichick would be taking a bit of a risk by moving on from the veteran, but the Patriots also need to get younger at the position. He already blew a 2020 fifth-round pick on Justin Rohrwasser, who got released in March without ever appearing in a single game. If Quinn earns the coaching staff's trust over the coming weeks, why not go all-in with the youth movement?
Then again, maybe rolling with rookies at quarterback and kicker is too much to ask of Bill Belichick.
All statistics courtesy of Pro Football Reference. All contract data courtesy of Spotrac.