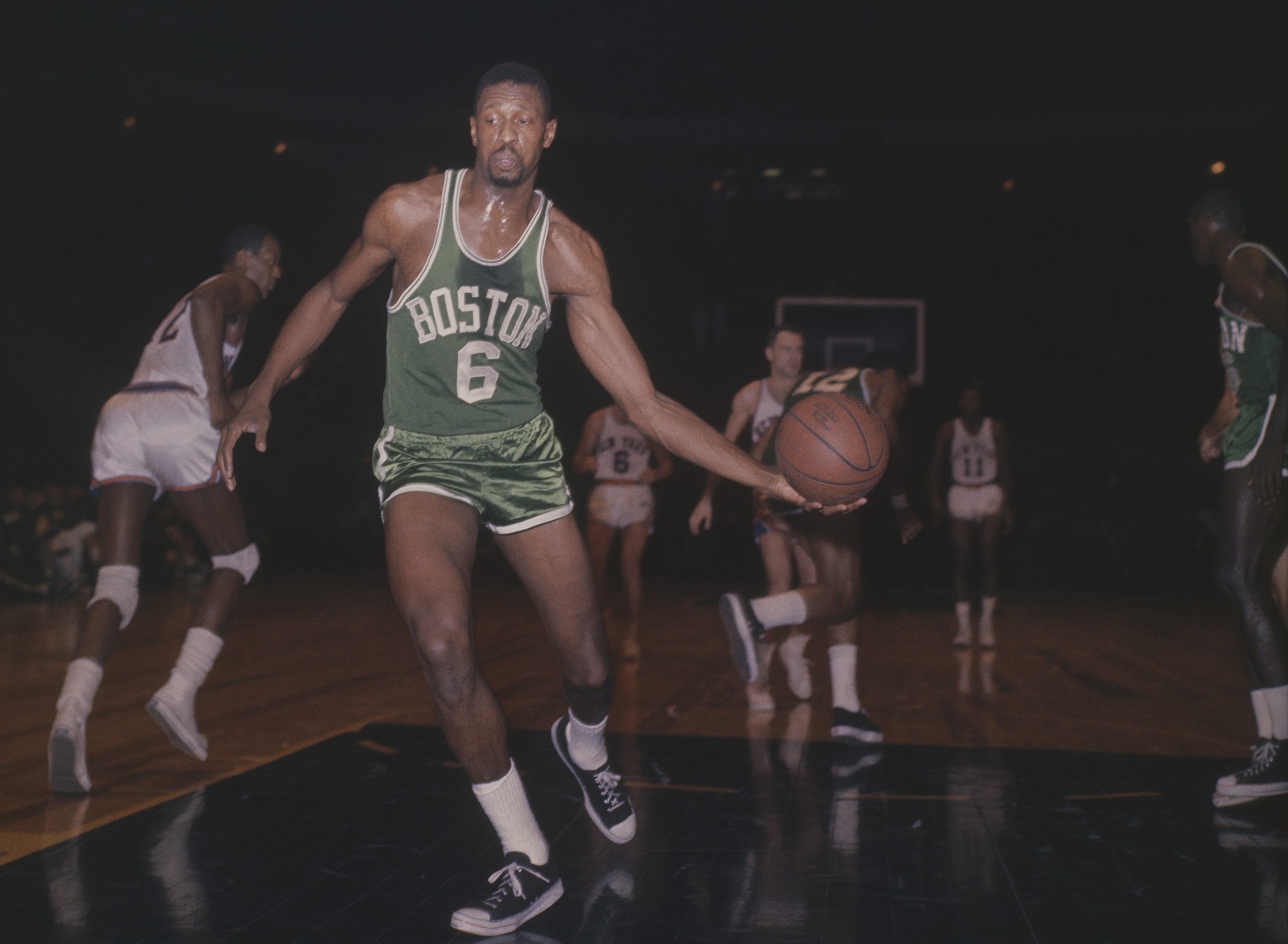 Bill Russell Not the Best Boston Celtics Player During His Era? That's What He Once Implied
Bill Russell once referred to one of his former Boston Celtics teammates as the best all-around player he ever saw.
When it comes to the best Boston Celtics players in franchise history, two names typically stand out — Bill Russell and Larry Bird. Russell and Bird are two of only three NBA players to ever win three straight MVPs, with Wilt Chamberlain being the other.
Throw in Russell's 11 NBA championships, his 12 All-Star appearances, and his five MVPs, and you can make an argument he's the greatest in NBA history. Back in 1974, Russell made a comment that implied he wasn't even the best player on his own team.
Bill Russell was a game-changer with the Boston Celtics
Bill Russell wasn't like those before him. He wasn't even like those he played with. Russell might've been considered a stats-stuffer back in his day because of the absurd number of blocks he had in his career. The only problem was that blocks weren't even considered a stat back then.
Russell helped change that. His focus was on the defensive side of the ball. According to Bleacher Report, several referees who worked Russell's games believe the big man averaged somewhere between six and eight blocks per game.
Russell was always a step ahead of his opponent. For him, the mental game was just as big as putting the ball in the basket or pulling down one of the 22.5 rebounds he averaged in his career.
"Basketball is a game that involves a great deal of psychology," Russell said during the early part of the 1963 season, according to Sports Illustrated. "The psychology in defense is not blocking a shot or stealing a pass or getting the ball away. The psychology is to make the offensive team deviate from their normal habits. This is a game of habits, and the player with the most consistent habits is the best. What I try to do on defense is to make the offensive man do not what he wants but what I want."
Russell said his defense-first mindset was by design. It was his way of separating himself from the rest of the stars.
"In my modest opinion," said Russell, "shooting is of relatively little importance in a player's overall game. Almost all of us in the NBA are All-Americas. We became All-Americas by averaging 20 points or more a game, so by the layman's standards, all of us can shoot. It's the other phases of the game that make the difference." 
Russell said John Havlicek was the best all-around player he ever saw
Russell played 13 years in the NBA and was All-NBA 11 times. He led the NBA in rebounding five times, including his first three seasons in the league.
Russell played much of his career with plenty of Hall of Fame talent around him. With teammates like Bob Cousy, Tom Heinsohn, Sam Jones, Bill Sharman, and John Havlicek, among others, Russell never had to be the main man on his team.
While many consider him the best player in Celtics history, Russell made it sound like that might not be the case. In a 1974 Sports Illustrated article, Russell referred to Havlicek as the "best all-around player I ever saw."
While this comment came before Bird, Michael Jordan, and LeBron James ever saw an NBA court, it's still surprising Russell gave Havlicek those props over Wilt Chamberlain and himself. Or is it? Russell wasn't alone in giving the highest of praise to Havlicek. In a 1978 Sports Illustrated article, Golden State Warriors star Rick Barry and other NBA legends also spoke highly of the man nicknamed "Hondo."
"Havlicek is the only true superstar," Barry said.
"John is the one guy in the NBA who has never made a mistake," Paul Westphal said.
Havlicek won eight championships with the Celtics. Undersized at 6-foot-5, he was an All-Star in the final 13 years of his 16 NBA seasons. He was All-Defense eight times and is a member of the Naismith Memorial Basketball Hall of Fame and the NBA's 75th Anniversary Team. A tremendous athlete, he was also drafted by the Cleveland Browns of the NFL.
When Bill Russell refers to you as the best all-around player he ever saw, there's no higher praise for an NBA player.