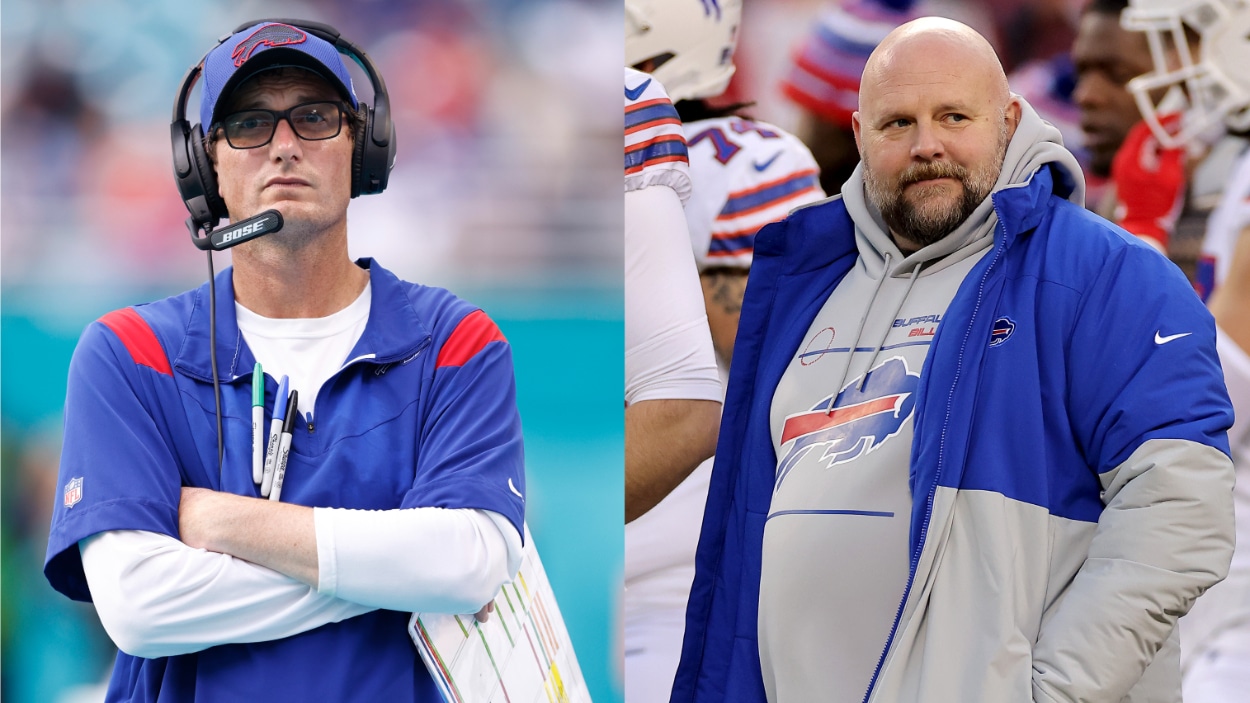 Bills-Bengals: Ken Dorsey Could Cost Buffalo a Divisional Round Win, Just Like Brian Daboll Did Last Season
Ahead of the Bills-Bengals Divisional Round game, Ken Dorsey is making the same mistake Brian Daboll and Leslie Frazier made last season.
The Buffalo Bills wouldn't be in the position they are now — facing the Cincinnati Bengals in the AFC Divisional Round — without the near-seamless transition at offensive coordinator this offseason from Brian Daboll to Ken Dorsey. The former Miami Hurricanes quarterback stepped into the Bills' OC role beautifully and, just like Daboll last year, is now a legitimate NFL head coaching candidate. However, ahead of the Bills-Bengals game, Dorsey is about to make the same mistake Daboll and defensive coordinator Leslie Frazier made last season. And it could again end with a team knocking the Bills out of the playoffs.
Ken Dorsey is interviewing before Divisional Round, just like Brian Daboll and Leslie Frazier did in 2022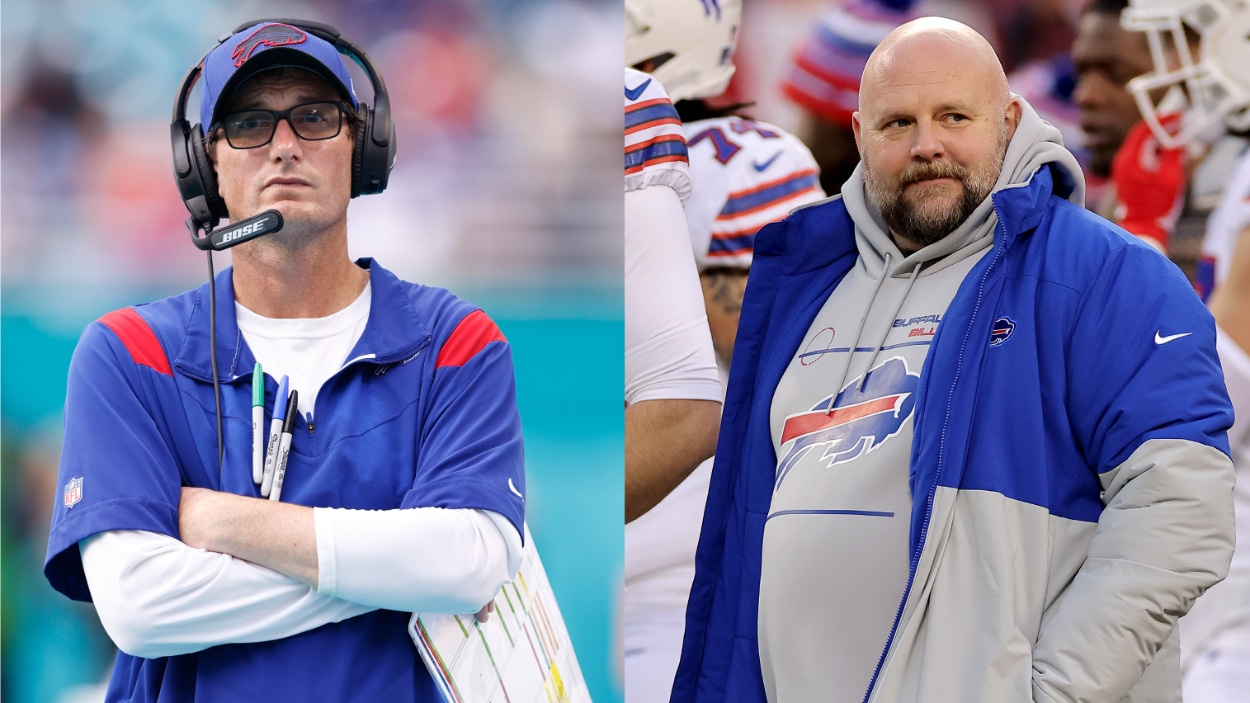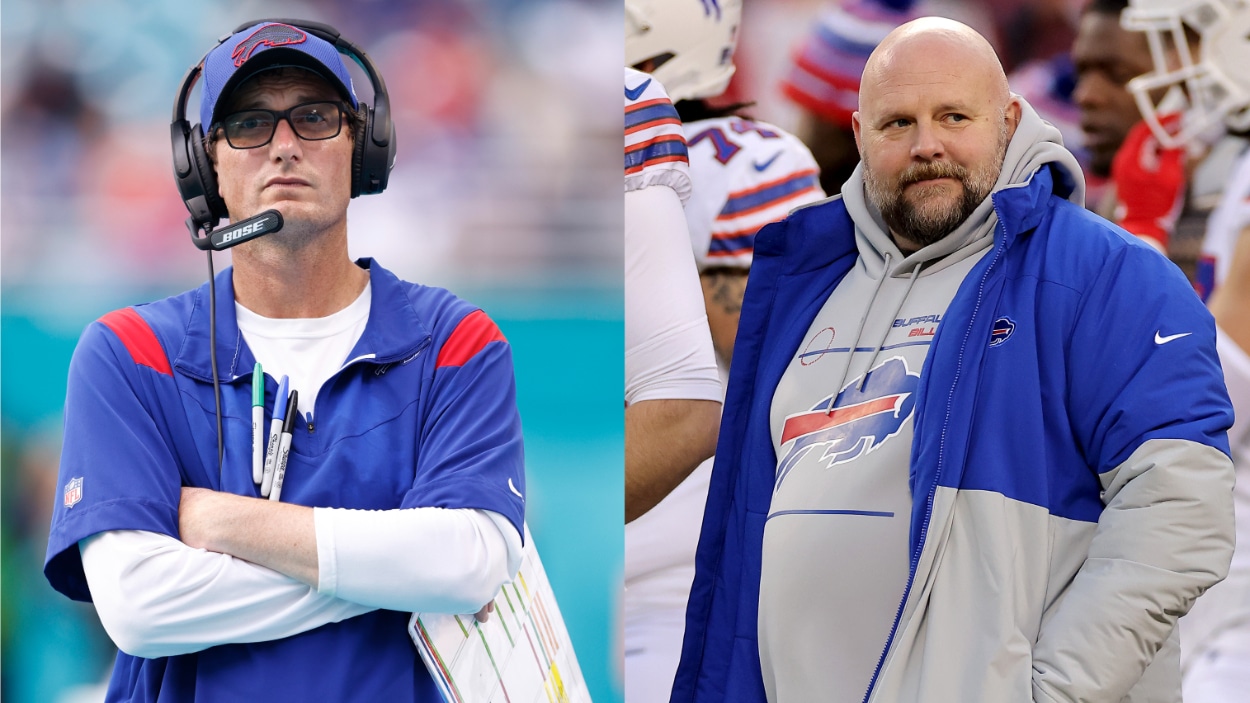 To win a Super Bowl trophy, a franchise needs every person in the organization dialed-in to the task at hand. That's hard to do when you are interviewing for other jobs.
The Buffalo Bills are once again in the AFC Divisional Round, facing last season's AFC Super Bowl representative and one of the best quarterbacks in the NFL. Last year that was Patrick Mahomes and the Kansas City Chiefs, and this time it's Joe Burrow and the Bengals.
At this same point last season, former Bills executive Joe Schoen had taken the general manager job with the New York Giants. And on the Friday before the Bills-Chiefs matchup, he interviewed Brian Daboll for the head coach position, and on Saturday, he interviewed Leslie Frazier.
On that Sunday, January 23, 2022, the Bills offense looked sluggish at times, scoring just 14 points in the first 43:04 of the game. After a furious rally, the Bills came back to take the lead with 0:13 left on the clock before Frazier's defense notoriously melted down and let the Chiefs force overtime, where they ultimately won the game.
On Saturday, January 21, 2023, Ken Dorsey will interview for the Carolina Panthers head job, per NBC Sports, one day before the Bills-Bengals matchup.
It's impossible to say that the Chiefs beat the Bills in 2022 because of Brian Daboll and Leslie Frazier's interviews. But you can say with 100% certainty that their sole focus in the days leading up to that game wasn't on game-planning for Mahomes and company.
Dorsey has now put himself in the same situation.
While no one can be sure whether the interview will affect the OC's preparation or not, we do know that 24 hours before the Bengals-Bills tilt, Dorsey will be spending his time thinking more about the Panthers than the Bengals.
UPDATE: The Panthers announced they completed a virtual interview with Ken Dorsey on Saturday.