Terry Bradshaw, Howie Long Say Buffalo Bills' Super Bowl Hopes are Dead
Howie Long and Terry Bradshaw crushed the Bills' Super Bowl hopes on the FOX pregame show following the latest Von Miller injury news.
The Buffalo Bills have admittedly dealt with a lot of injuries this season. And none have loomed larger than the Von Miller injury. The pass-rusher that the Bills signed in the offseason to get them over the championship hump is now out for the season, and this makes NFL analysts and Hall of Fame players Terry Bradshaw and Howie Long dubious of the Bills' Super Bowl chances in 2022.
Terry Bradshaw and Howie Long say Bills Super Bowl hopes are over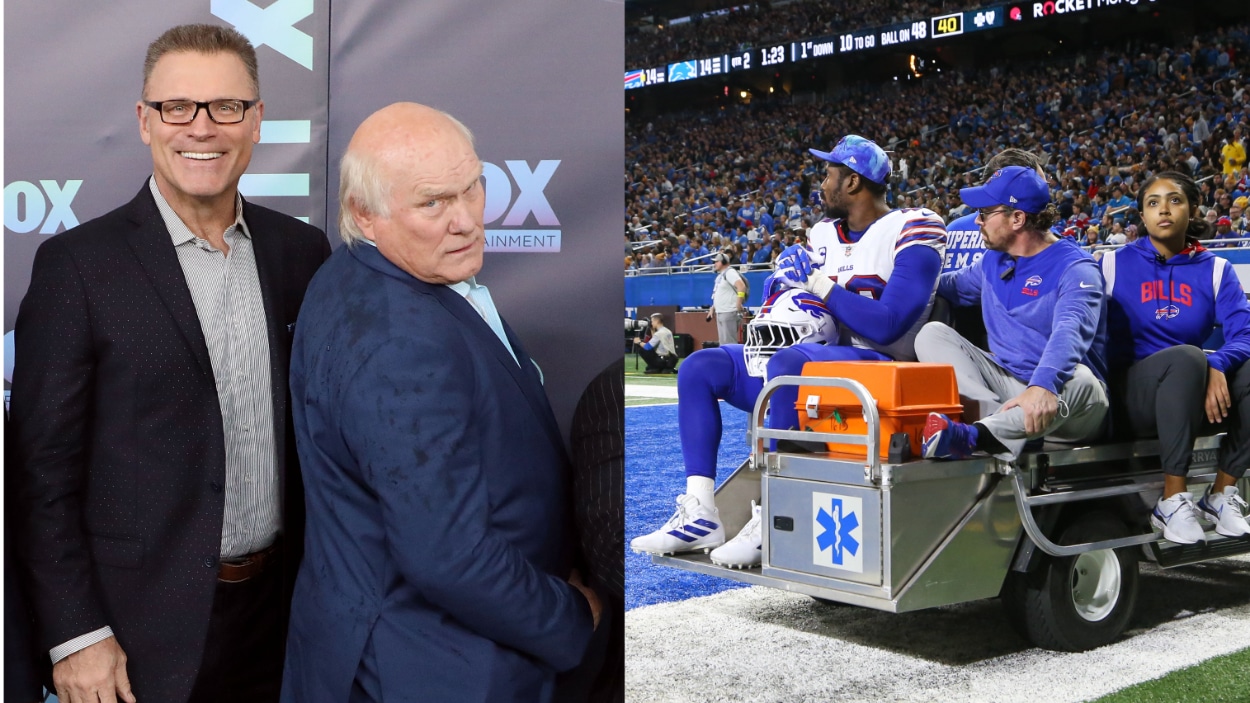 The Buffalo Bills came into the 2022 NFL season as the favorites to win the Super Bowl. Fast forward 14 weeks, though, and injuries and 14 weeks of film on the team have changed some experts' opinions.
As the Bills prepare to try and avenge one of their three 2022 losses vs. the Jets in Week 14, the FOX NFL Sunday crew discussed the Von Miller injury, specifically what it does to the Bills' Super Bowl chances.
Asked about the Bills-Jets game, Michael Strahan and Jimmy Johnson picked the Bills to win, while Terry Bradshaw took the Jets to sweep the season series. Host Curt Menefee then switched gears to the Bills' long-term outlook with Miller now out.
"Are their Super Bowl dreams dead?" Menefee asked the panel.
"No!" Strahan exclaimed. While Howie Long answered, "Yes."
"Go back to that Kansas City game earlier in the year. [Miller had] two sacks, two tackles for loss, seven tackles, six hurries. That's a lot. It's Cincinnati. It's Kansas City," Long explained.
"Von Miller is a game changer. One of the best players to ever play his position in the history of this game," Strahan conceded. "But last year, they should have won without Von Miller. I think he gave them a boost. But at the same time, I don't think it's over."
Bradshaw then shot back, "They thought that's what they needed, a pass-rusher. They got one on Miller, he's gone. Now they've opened up for the Cincinnati Bengals."
And with that, Howie Long and Terry Bradshaw declared the Bills' Super Bowl aspirations are dead.
Von Miller injury latest in the string of Bills defensive injuries
Whether Howie Long and Terry Bradshaw are ultimately right or Michal Strahan is when it comes to the Bills' Super Bowl chances, the fact remains the team — and especially the defensive unit — has suffered tremendous injury blows this season.
The hits started when Pro Bowl safety Micah Hyde went out for the season with a neck injury in Week 2. That was a huge blow to the Bills D, as Hyde and his partner, Jordan Poyer, make up the best safety duo in the NFL.
Speaking of Poyer, he's already missed Weeks 3, 5, 8, and 9 with injuries. And in Week 6, he drove to Kansas City ahead of the Chiefs game because he wasn't cleared to fly with a collapsed lung.
Linebackers Matt Milano and Tremaine Edmunds have combined to miss four games, defensive linemen Ed Oliver, Gregory Rousseau, A.J. Epenesa, and Jordan Phillips have missed nine total games due to injury, and corners Kaiir Elam, Christian Benford, and Dane Jackson have missed seven.
Also, All-Pro CB Tre'Davious White didn't make his return from a 2021 knee injury until Week 12, and the team is easing him back in, giving the star cover man just 49 snaps in his two games back.
Despite the injuries, the Bills are in first place in the AFC heading into Week 14. Whether that will translate into a Bills Super Bowl remains to be seen. If they do, though, hopefully, Michael Strahan will make Howie Long and Terry Bradshaw eat their words.