Bills Mafia Is at It Again, Donating $120,000 and Counting in Honor of a Fallen Fan-Favorite
The most diehard Buffalo Bills fans, known affectionately as Bills Mafia, are one of the most passionate, unruly, and generous fan bases in the NFL and possibly all of pro sports. The group showed off their wild side by taking over New Orleans prior to a Thanksgiving night 31-6 blowout of the Saints. After one of the team's best players, cornerback Tre'Davious White, got hurt during that game, the Bills Mafia switched gears and went into full generosity mode.  
The Buffalo Bills lost All-Pro CB Tre'Davious White for the season on Thanksgiving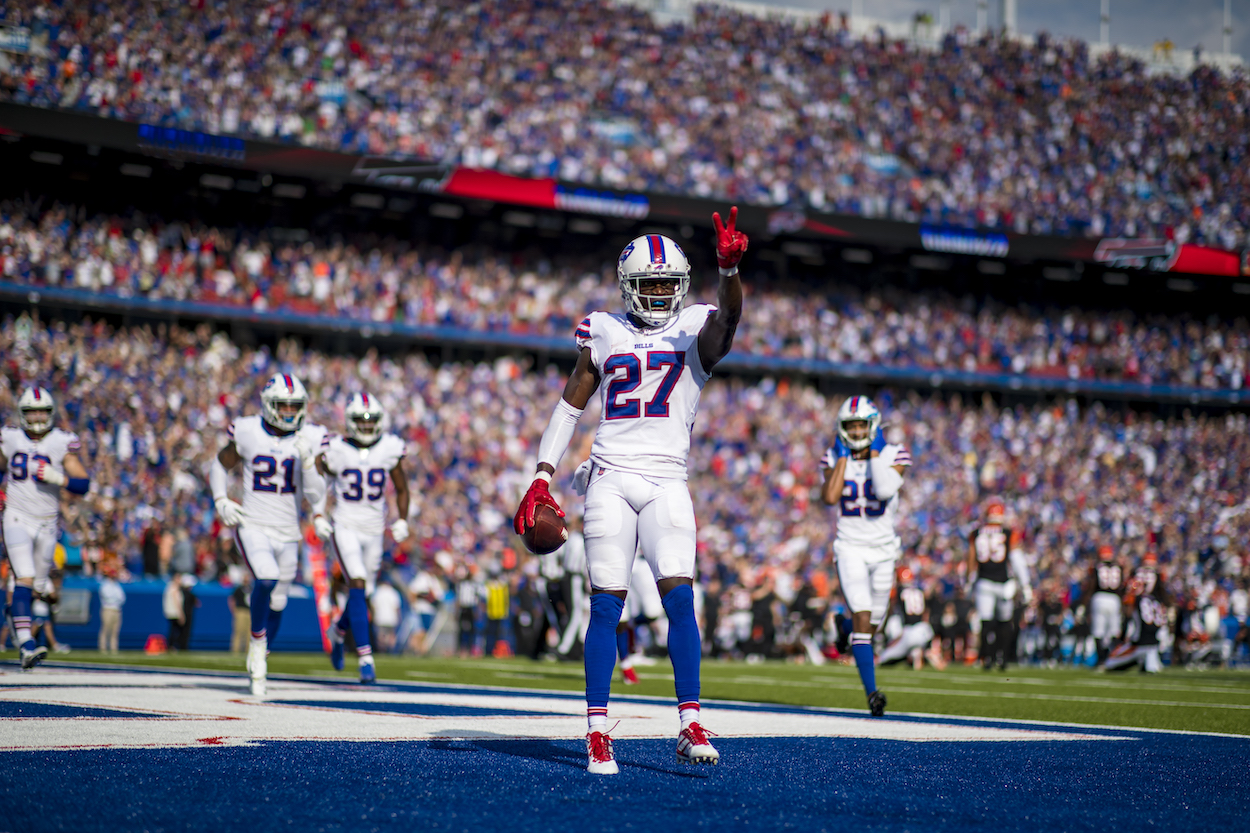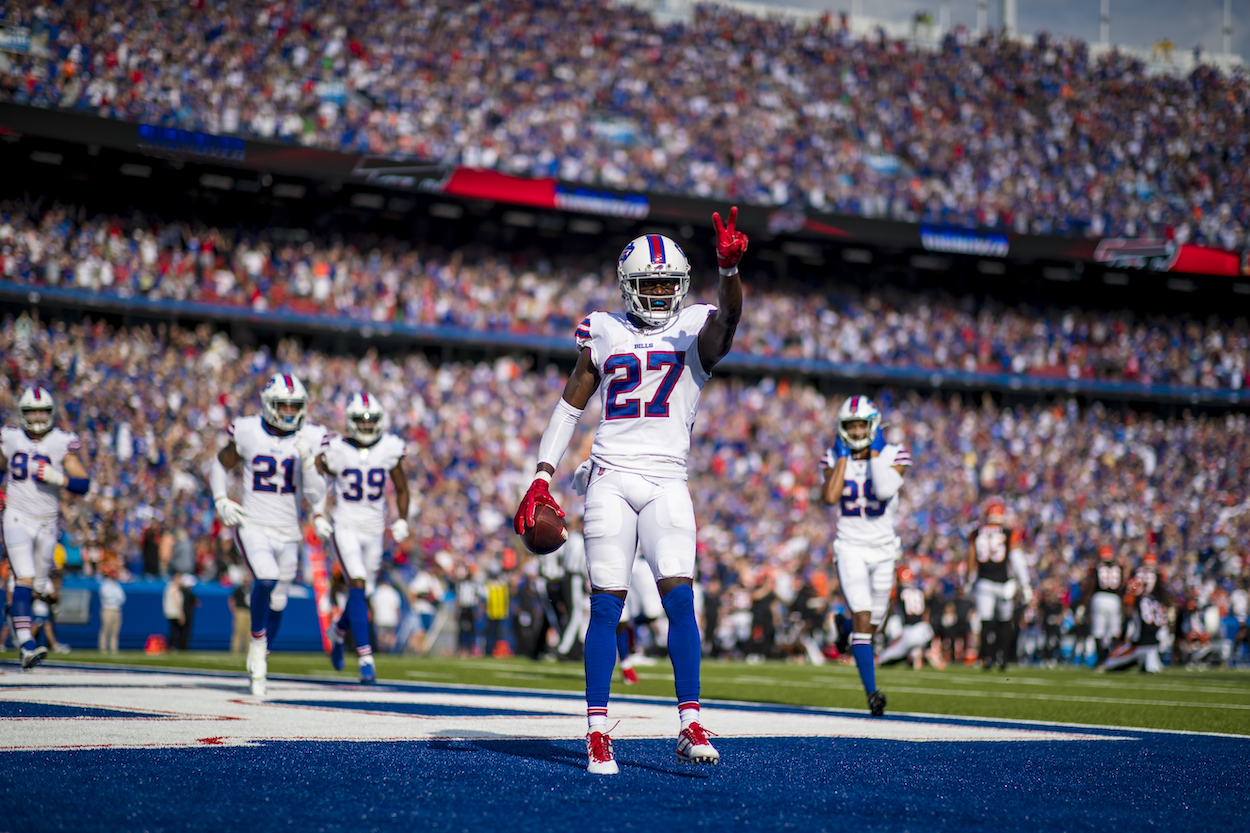 The Buffalo Bills defense is by far the biggest bright spot of the 2021 season for the franchise.
The offense has struggled and downright stunk at times (see: 9-6 loss vs. Jacksonville Jaguars), but the Bills are 7-4 and playing for first place in the AFC East on Week 13's Monday Night Football against the New England Patriots.
Buffalo has dominated on all three levels of defense.
They have one of the strongest D lines in the NFL with young stars like Ed Oliver and Greg Rousseau, two outstanding linebackers in Tremaine Edmunds and Matt Milano, and arguably the best safety duo in the league with Jordan Poyer and Micah Hyde.
The unquestioned best player on the unit, though, is cornerback Tre'Davious White.
White was the Bills' 2017 first-round pick out of LSU. In his five seasons in Western New York, he's recorded 279 tackles, 3.0 sacks, 60 passes defended, and 16 interceptions.
Those numbers earned White two Pro Bowl nods and an All-Pro spot in 2019.
White was having another banner year as a top NFL cover-man when he suffered a devastating injury on Thanksgiving night against the New Orleans Saints. The Louisiana native tore his left ACL and is now out for the season.
While this is awful news for White, his friends, family, teammates, and fans, the Bills Mafia went to work shortly after he went down to give this terrible situation a silver lining.
Bills Mafia are donating to the star defender's charity
The Bills Mafia supports their team at an incredibly high level both on and off the field.
That's why it should come as no surprise that the rabid fans stepped up and started a donation campaign to Tre'Davious White's favorite hometown charity following his season-ending injury.
Shortly after the injury, a group called Bills Mafia Babes started a campaign on Twitter to raise money for the Food Bank of Northwest Louisiana in White's hometown of Shreveport, Louisiana. Donations quickly came pouring in — many in increments of $27 for White's jersey number — and, as of Dec. 3, 2021, the organization brought in more than $120,000 and counting in donations.
"I love that Bills Mafia's embraced [charitable donations] because we're not just helping those players and showing them our love," Bills Mafia Babes president Kristen Kimmick told Buffalo's WIBV 4 News. "We're really helping so many other people in multiple communities."
The outpouring of support from Bills Mafia has touched White personally. In a statement, per the Buffalo News, the All-Pro corner told Bills Mafia:
I am at a loss for words for what the Bills Mafia has done for me and my hometown. It truly means the world to me to have my fans support me in this way, by giving back to my community.

Tre'Davious White statement on Bills Mafia donations
The donations are a touching gesture from Bills Mafia, but it's not the first time and likely not the last that these passionate fans have shown their love with charitable gifts.
The Bills Mafia is known for breaking tables and being charitable
The Bills Mafia is a lot of things. They're loud. They're aggressive. They jump through tables, cover themselves in condiments, and throw things on the field that should never be thrown on fields (google at your own risk).
They are one of, if not the most passionate fan bases in the entire NFL.
And, they also might be the most generous.
Donating $120,000-plus to Tre'Davious White's favorite charity is just the latest example of the Bills Mafia showing their love with their wallets and not just their pregame parking lot antics.
The Bills Mafia's charitable giving started in 2017. During the last week of the season, Andy Dalton threw a last-minute, 49-yard touchdown pass to upset the Baltimore Ravens and give the Bills franchise its first playoff berth in 17 years.
Bills Mafia banded together on social media and started flooding the then-Cincinnati Bengals QB's charity, the Andy and Jordan Dalton Foundation, with donations. The giving trend caught on among Bills fans and, within a few days, the charity raised a staggering $450,000.
Two years later, when one of its own was suffering, the Bills Mafia stepped up in an even bigger way.
When Buffalo's superstar QB Josh Allen's grandmother, Patricia Allen, unexpectedly died during the 2019 season, Bills Mafia again went to work. They started donating to one of Allen's pet charities, John R. Oishei Children's Hospital in Buffalo. Mainly in increments of $17 for their signal-caller's jersey number, Bills Mafia donated over $1.4 million, per CBS Sports, which was enough for the hospital to open a new Patricia Allen Pediatric Recovery Wing.
It's easy to write off another team's fan base as overrated, obnoxious, or just plain unlikeable, and you can think about Bills Mafia that way on game day.
However, when it comes to respecting a group of fans for what they do when their team is not on the field, you have to give it up for Bills Mafia.  
All stats courtesy of Pro Football Reference