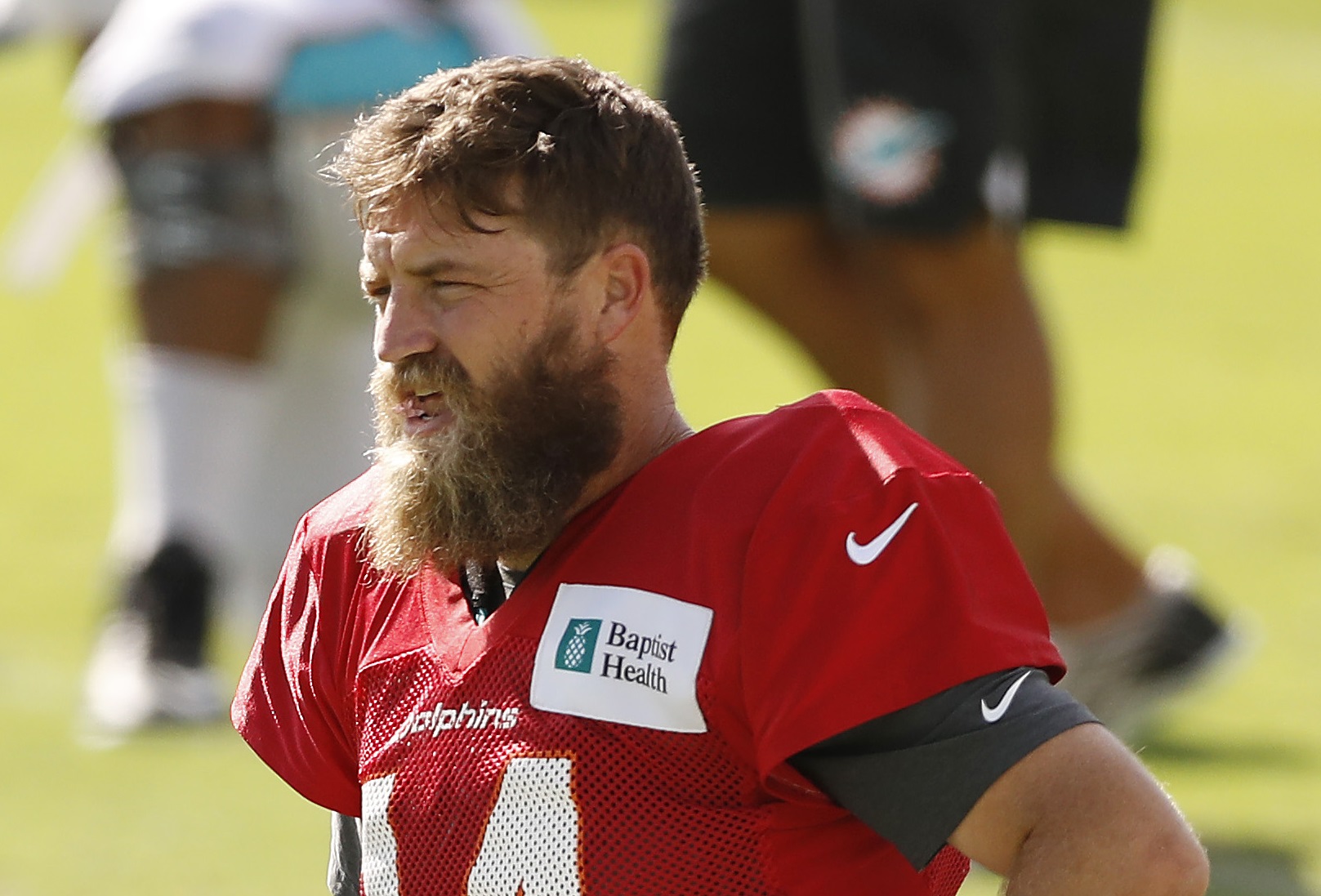 The Bills Mafia Is Paying Tribute to Ryan Fitzpatrick's Deceased Mother $14 at a Time
Buffalo Bills fans have been donating to charity in memory of the mother of Miami Dolphins quarterback Ryan Fitzpatrick.
If all you know about the Bills Mafia is that hardcore Buffalo Bills have a penchant for breaking tables, then you've missed the point. While zany behavior prevails at times, fans of the NFL team do stuff that matters, too. Dallas Cowboys quarterback Andy Dalton saw it first-hand in 2017, and Ryan Fitzpatrick of the Miami Dolphins is seeing it now.
Ryan Fitzpatrick has returned to practice in Miami
The Miami Dolphins were going through stretching before a scrimmage on Aug. 29 when quarterback Ryan Fitzpatrick left the field alongside coach Brian Flores.
Flores returned alone a few minutes later to inform the team that Fitzpatrick's mother had died. Teammates likely suspected what had happened because the veteran quarterback had missed practice a day earlier for what Flores had told reporters was "personal reasons."
Flores said over the weekend that he had told Fitzpatrick to take as much time as he needed, even though the start of the NFL regular season is approaching. But being the pro that he is, Fitzpatrick was back just three days later in his somewhat complex role with the Dolphins.
Fitzpatrick is about to embark on his 16th pro season and second in Miami. With Tua Tagovailoa in his first year and Josh Rosen in his second, the expectation is that Fitzpatrick will be the starting QB in Week 1 but that he will also be tutoring the others along the way. It's likely Tagovailoa will start at some point this year and that the Dolphins will not re-sign Fitzpatrick for 2021.
Buffalo Bills fans remain fond of Ryan Fitzpatrick
Ryan Fitzpatrick has shuffled from team to team in his NFL career, starting games for eight franchises. His longest stay in any one place was with the Buffalo Bills from 2009-12. His numbers were nothing special – 80 touchdowns and 64 interceptions – but Fitzpatrick made the most of what he had to work with there.
He endeared himself to fans, the organization, and the media by being straightforward off the field and a leader on it. Bills fans, who would suffer through 17 seasons without a playoff appearance until 2017, never forgot Fitzpatrick. The so-called Bills Mafia speaks fondly of him in online forums to this day even though the Dolphins are Buffalo's most hated – even more than the Patriots — rival.
Upon hearing the news that Lori Fitzpatrick had died, those Bills fans started looking for a way to show support for their former quarterback. They found it in the form of making charitable donations.
According to The Buffalo News, the Concussion Legacy Foundation has received an influx of $14 donations this week. Fitzpatrick, who has worn No. 14 for 11 of his 16 pro seasons, is one of the foundation's "Team Up Speak Up" ambassadors. He promotes a program that encourages athletes to speak up when they see teammates with concussion symptoms.
By Tuesday, the Concussion Legacy Foundation had traced approximately $15,000 in recent donations back to the Bills Mafia.
The story probably sounds very familiar to Andy Dalton, signed by the Dallas Cowboys earlier this year. Dalton quarterbacked the Cincinnati Bengals to the playoffs four times in nine seasons. But it was his performance in the 2017 regular-season finale that set the stage for the finest moment in Bills Mafia history.
Andy Dalton can tell you all about the Bills Mafia
The 2017 Cincinnati Bengals were out of contention in Week 17 vs. the Baltimore Ravens, who led 27-24 and were just 1:23 away from clinching a playoff spot after Dalton had thrown an interception. However, a penalty negated the play.
On a fourth-and-12 snap just inside Baltimore territory, Dalton hit Tyler Boyd on a pass that went for 49 yards and a touchdown. Coupled with a Buffalo victory over the Miami Dolphins moments earlier, that put the Bills into the playoffs for the first time in 17 seasons.
Once they were done celebrating that night, members of the Bills Mafia looked for ways to thank Dalton for his clutch TD throw. One fan found a link to the Andy and Jordan Dalton Foundation, which was started by the quarterback and his wife to assist sick and physically challenged children and their families.
The fan donated $30 and shared the link on sites frequented by the Bills Mafia. Another member suggested making donations in increments of $17 in reference to the playoff drought, and suddenly the money was flying in bundles of $17, $34, and even $170.
Contributions topped $100,000 in two days. By the time Bills fans were done stepping up, the Daltons' charity had raised more than $450,000 – roughly the foundation's budget for an entire year.
The Bengals' Boyd quickly set up a foundation to help fund youth sports programs in Western Pennsylvania, and Bills fans flooded the account with another $100,000.
When the Bengals came to Buffalo to play a 2018 preseason game, the Bills Mafia saluted him with a standing ovation. The quarterback and his wife reciprocated with a donation to a Buffalo-area charity.