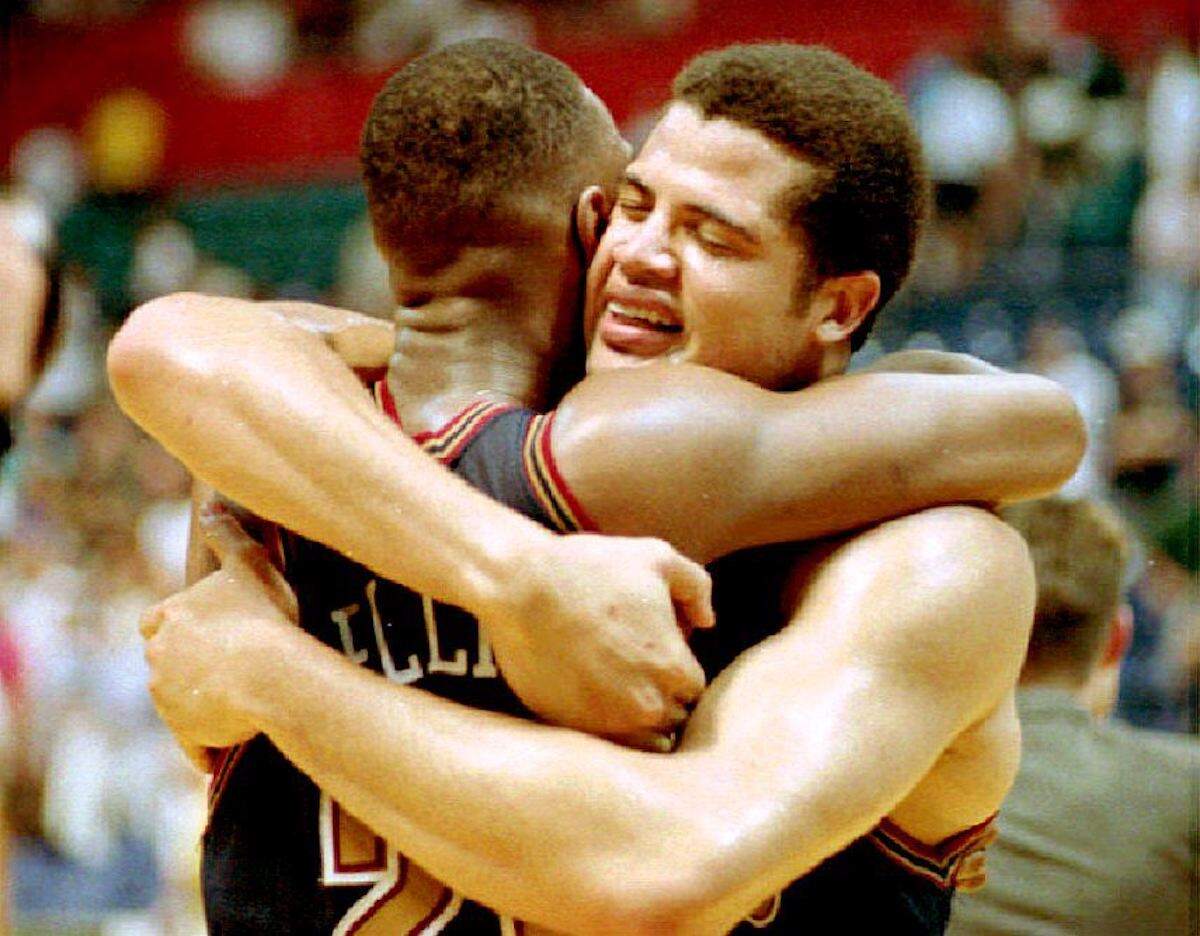 Bison Dele: Why Brian Williams Changed His Name During His 8-Year NBA Career
Bison Dele, formerly known as Brian Williams, had a unique journey through the NBA that included a name change and championship ring.
The NBA employs hundreds of basketball players each year. Each has a distinctive account of how their NBA career unfolded. Bison Dele, formerly known as Brian Williams, had an especially unique journey through the NBA and beyond. The journeyman's eight-year career involved a name change, a championship, and much more.
Brian Williams changed his name to Bison Dele
Brian Williams was born in Fresno, California, on April 6, 1969, reports The New York Times. He and his older brother, Kevin, grew to be tall and athletic. Brian was 6-foot-11 and quickly found success on the basketball court and running track and field. The center played college basketball at the University of Maryland for one season before transferring to the University of Arizona, where he competed for two seasons.
In 1991, the Orlando Magic drafted Williams with the 10th overall pick. He didn't see many minutes during his two seasons in Orlando. After playing two seasons with the Denver Nuggets, Williams competed for the Los Angeles Clippers for one year. His play improved significantly in LA, but he struggled to secure a high-paying contract.
After sitting out much of the 1997–98 season, Williams joined the Chicago Bulls with nine games left on the schedule. The timing couldn't have been better. Williams' place on the depth chart secured him a championship ring as Michael Jordan's Bulls added to their legacy.
In 1998, Brian Williams changed his name to Bison Dele for two reasons. He sought to honor his Cherokee ancestry and honor the first person on his mom's side of the family to be enslaved.
Bison Dele death
Dele spent the last two years of his NBA career with the Detroit Pistons but chose to walk away from $36.45 million and the title of Detroit's highest-paid player before the 1999-2000 season. At age 30, he had some good years left but the center wanted to explore the world and enjoy the lifestyle he'd worked hard for.
Dele had a pilot's license. He played several instruments, traveled to places like Lebanon and Australia, and learned to sail, buying a catamaran along the way.
In July 2002, Dele took a trip on his boat, the Hakuna Matata, with his girlfriend, Serena Karlan; his older brother, who had changed his name to Miles Dabord; and boat captain Bertrand Saldo. The boat was supposed to go from Tahiti to Hawaii. However, July 8 was the last day anyone heard from Dele, Karlan, and Saldo. The three have never been found and are all presumed dead.
Bison Dele brother
Meanwhile, Bison Dele's brother, Miles Dabord, brought the boat back to Tahiti. he was the only one on board. Authorities found traces of blood on the Hakuna Matata. It didn't take long before they honed in on him as the suspect in the murders of Dele, Karlan, and Saldo.
Dabord's girlfriend told authorities about what he said happened, including his claim that it was an accident. Just a few weeks after the presumed deaths of Dele, Karlan, and Saldo, Dabord was caught trying to buy a large amount of gold while impersonating his deceased brother.
With authorities closing in around him, Dabord died by suicide by overdosing on insulin. He eventually died from a coma. Though it's impossible to know what really happened on the boat, investigators believe Dabord killed them all and threw them into the sea.