Bob Baffert Desperately Blames a Groom's Urine and 'Cancel Culture' for Kentucky Derby Winner Medina Spirit's Failed Drug Test
Hall of Fame horse trainer Bob Baffert has gone through a whirlwind of emotions over the past week and a half. Last Sunday, he made history by winning his seventh Kentucky Derby as a trainer, the most in horse racing history. But after a week of jubilation, Baffert's mood drastically changed when Medina Spirit tested positive for the steroid betamethasone.
Now the famed horse trainer is scrambling to do some damage control, and his latest excuses for Medina Spirit's failed drug test are truly something else.
Medina Spirit failed a drug test after winning the Kentucky Derby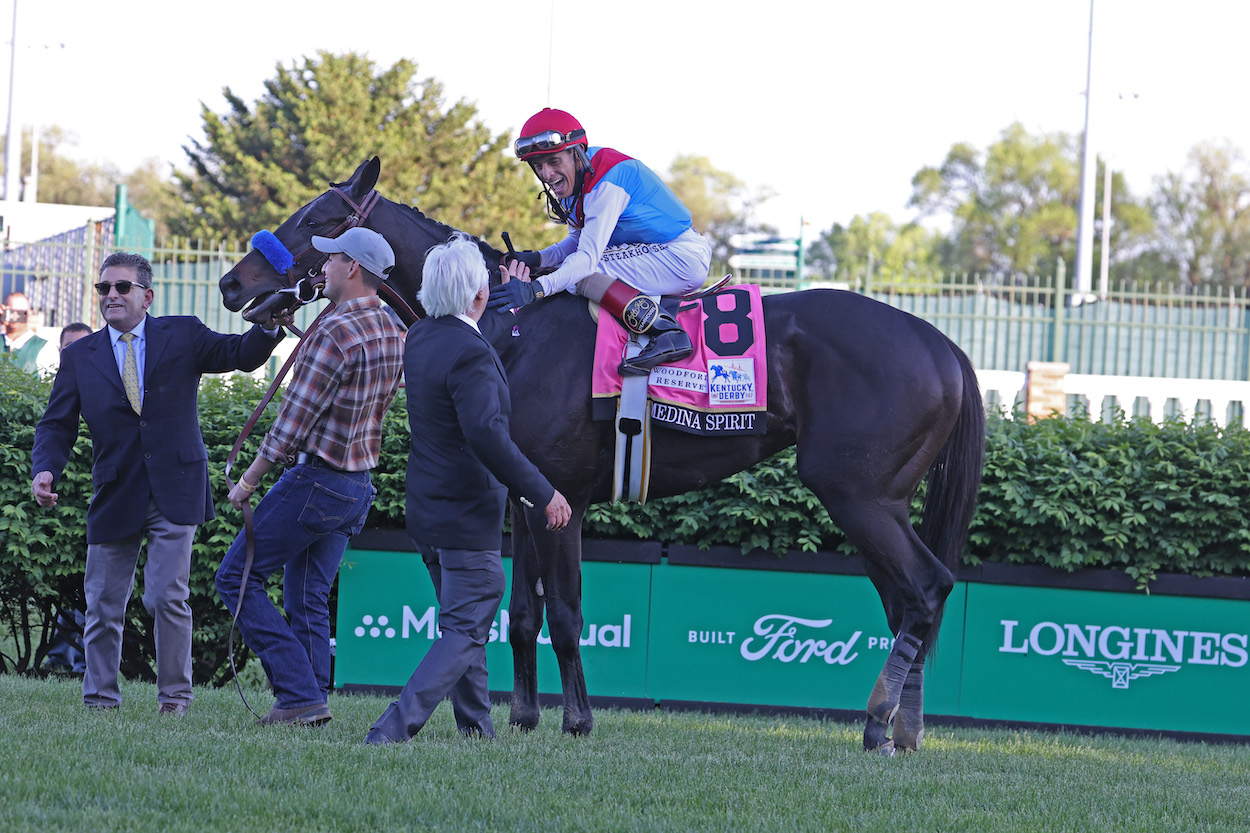 On Sunday, just over a week after Medina Spirit triumphed at the 147th Kentucky Derby, the horse racing world was stunned by the announcement that the colt had tested positive for the banned substance betamethasone. Medina Spirit's Kentucky Derby victory stands for now, but its place in horse racing history is still in jeopardy.
If the horse fails a second drug test from a second sample, it will be disqualified from the race, and Mandaloun will be declared the new winner.
On Monday, Baffert appeared on Fox News' America's Newsroom with Bill Hemmer and Dana Perino to claim his innocence.
"We did not cheat to win the Kentucky Derby," he said. "I want to protect my legacy. I've trained great horses. I've trained the best horses that have run through there. My record proves it. This is horrible what has happened. The horse never got that medication. It's an injustice to the horse. He's a great horse. He ran hard. He deserved to win that race and it kills me because these horses are like my children and for something to happen to him like that is horrible."
Trainer Bob Baffert blames cancel culture for failed drug test
During his appearance on Fox News, Baffert vehemently denied any wrongdoing in regards to the failed test. He went on to say that the amount of betamethasone found in Medina Spirit's system wouldn't have even given it a competitive advantage over the field.
"It did not happen. That horse has never been treated with [betamethasone]," Baffert said. "Actually, it's a legal therapeutic medicine and the amount that was in it wouldn't have any effect on the horse anyway. But we don't. … That horse was never treated with that and so that's the disturbing part of it."
The Hall of Fame trainer even went as far as to say "cancel culture" is the reason for the backlash he's now receiving.
"Churchill Downs came out with that statement – that was pretty harsh," he continued. "We live in a different world now. This America is different. It was like a cancel culture kind of a thing so they're reviewing it. I haven't been told anything. We're prepared to run [in the Preakness]."
Baffert claims Medina Spirit ate hay that was contaminated with a groom's urine
The excuses didn't stop at cancel culture.
According to Rick Bozich of WDRB.com, the trainer blamed a groom for ingesting cough medicine and urinating on some hay in Medina Spirit's barn. He said the horse ate some of the contaminated hay, which could've caused the positive test.
As of now, Medina Spirit is still eligible to race in the Preakness Stakes this coming Saturday.